Word on the street > AE Industry Intelligence: Issue 57
AE Industry Intelligence: Issue 57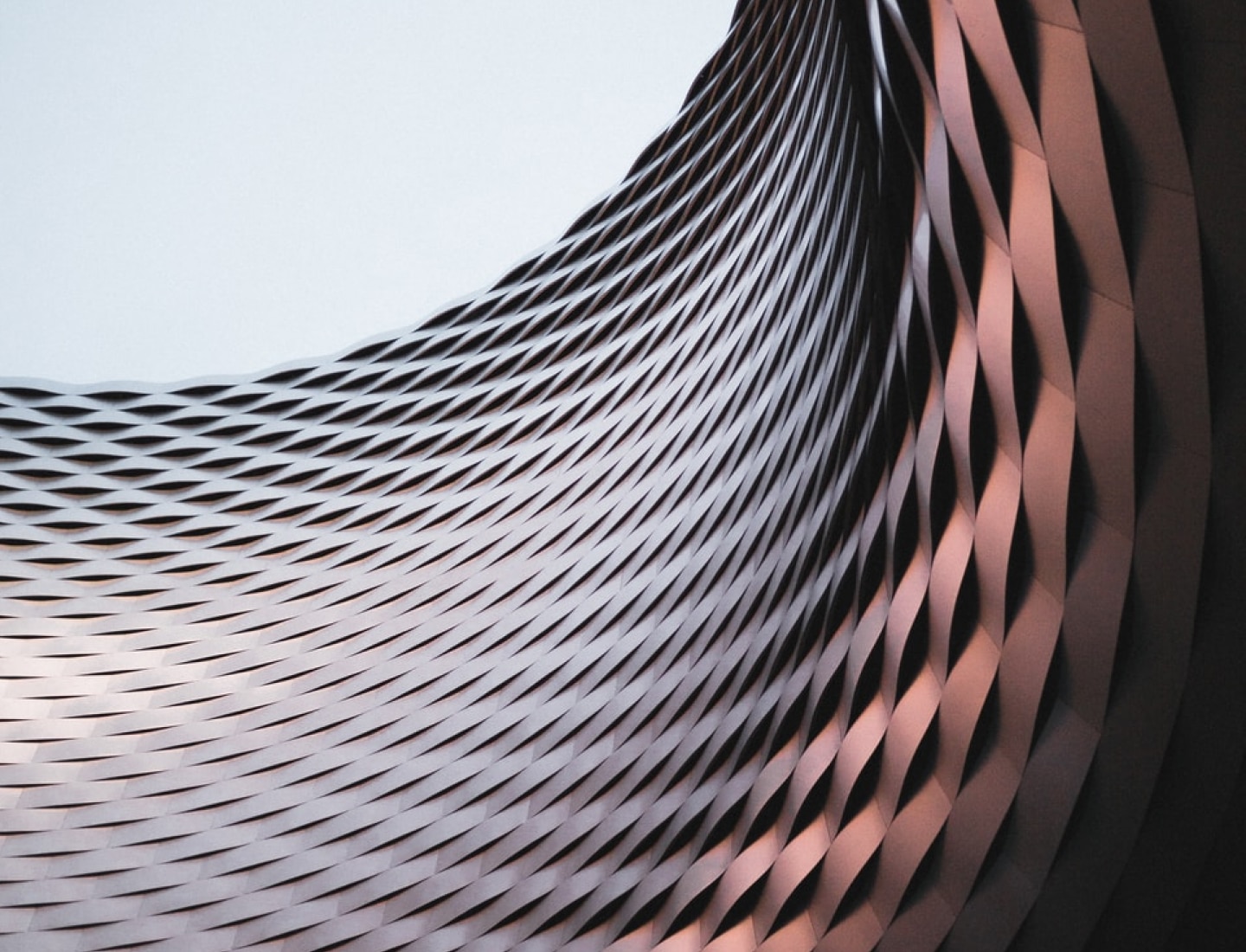 "Two ways. Gradually, then suddenly."
The title is a line from Hemingway's The Sun Also Rises. In the novel, it's a response to a question "How did you go bankrupt?" It speaks to habits (in this case poor ones) and their inevitable consequences. It's the premise for that greatest of Gen-X questions "How did I get here?" (Released over 40 years ago!) But not all habits are bad. Positive habits – actions intentionally repeated – lead to wonderful outcomes. It's up to A/E leaders to embody those positive habits if they want their firms to be successful.
It's not a new concept: From Seth Godin's Drip to Darren Hardy's Compound Effect to Will Durant's quote (though most frequently misattributed to Aristotle) "Excellence is a habit." What happens "gradually" – whether by design or neglect—compounds over time resulting "suddenly" in something massively positive or negative.
It begins and ends with values: When you have the time, take a random spin through the websites of the ENR Top 500 design firms*. What's striking is how similar the sets of values (sometimes "core" sometimes not) espoused by each firm are. Repeated themes include Integrity, Collaboration, Innovation, Quality, Learning, Service, Excellence. Less frequent but growing themes include Safety, Financial Performance, DE&I, Legacy.*Editor's note: Ignore this recommendation – you have more productive things to do.
Like a Sunday in TJ: Talk is cheap, but it's not free. For most A/E leadership teams it's simple to craft a set of values – but it's far from easy to actually live them. The daily positive habits (vigilance, curiosity, proactiveness, empathy) of leaders serve to elevate the performance of those around them and ultimately the firm. Conversely, their negative habits (acceptance of status quo, procrastination, shirking responsibility, unwillingness to learn) have the opposite effect. When leaders don't walk the talk – they squander leadership capital.
A year of reckoning: In every A/E firm, the massive, accelerated disruption of the past year has "suddenly" brought to center stage the "gradual" good and bad habits that existed pre-pandemic. The results are playing out across the industry – positively and negatively. Here are two examples.
It's not like you didn't see it coming: Over the last few months, an increasing number of CEOs have shared with me their disappointment with how individual principals on their leadership teams failed to step up during the multiple crises of 2020. In some cases, the failure was a surprise. But in most, the limitations of the individual had been clear long before. They had been passengers not drivers – "good, not great." But you and your team continued to tolerate them – unable or unwilling to confront their underperformance. And then when you needed them most they folded and morphed from a gradual annoyance to suddenly one more item on your "to do" list. It's not like you didn't see it coming.
A tireless commitment to continuous improvement: This week industry leader Terracon (ENR #24) announced its acquisition of geospatial intelligence technology firm Pivvot. The acquisition complements Terracon's other proprietary technology offerings Stage1 and TARGETID. None of these innovations "suddenly" or magically appeared at Terracon. They are the result of a culture that values curiosity. Gradually and over years, the firm's leaders, managers and employees have invested dollars and time and sweat equity to develop and deploy these tech differentiators.
The damp layer of clay: One of my mentors in the A/E industry introduced me to this concept. He was frustrated how his messaging about vision and values was at best filtered or at worst blocked by his management team (said damp layer of clay – and no, this was not a geotechnical firm). This communication "gap" sets up the situation where bad habits take hold and good habits go to die. Please don't let it happen at your firm.
Speaking of gradually, then suddenly: This animation of how China has outpaced the U.S in skyscraper development is pretty eye-opening. The "suddenly" starts around one minute in.
M&A Update: It was all the "7s" this week in U.S. M&A – seven new deals announced and the pace of consolidation up 7% year over year. Is there any stopping this train?
Speaking of gradually then suddenly…: Early bird pricing for our upcoming CEO & C-suite VR Conference expires at midnight eastern tonight! Network and learn with CEOs, CFOs, CMOs, CTOs and CPOs (maybe even C-3POs) from around the country on June 9 and 10 in VR! This first-ever two-day themed VR Conference will focus on Strategy + Execution and M&A/Capitalization. Click here for early-bird registration pricing and for multi-attendee discounts.
Live and in-person October Texas M&A Symposium! Our M&A Symposium series is back live and in-person with our 6th Texas M&A Symposium in Houston this October 21 and 22. Join us as we host at the super sleek Post Oak Hotel (the ONLY Five Star Hotel & Spa in Houston). Network with A/E executives and investors from Texas and around the nation. Get the latest M&A trends, stats and best practices from industry experts, buyers, and sellers. We're proud to once again partner with our friends at ACEC Texas on this premier industry event. Click here for updates and to be notified when registration opens.
Who we're following on Twitter. We can't deny it. We like to follow (and listen to) Marketplace and their sister brand Marketplace Tech. Great for business, market and tech insights and info.
Questions? Insights? What changes have been gradual and then sudden in your business? Email Mick Morrissey @ [email protected] or call him @ 508.380.1868.
Four Factors to Watch
1. Economy
While the US economy continues to heat up, finding employees is the nation's fundamental constraint. In April, the US economy added only 266,000 jobs, well below economists' predictions of 1 million, and unemployment inched up to 6.1%. Concerns over safety and childcare, the temptation of early retirement, and stimulus checks as well as extended unemployment benefits appear to be contributing factors to the evaporation of the labor pool. The labor force participation rate (the percentage of the adult population either working or actively seeking work) reached 61.7% in April which is the highest rate in over a year. But prior to the pandemic, 1977 was the last time the level has been that low. Bank of America estimated that 4.6 million workers who would have been working before the pandemic took hold are currently in a holding pattern. The labor pool is expected to fill back up as the pandemic recedes, but it won't reach pre-pandemic levels anytime soon.
2. COVID-19 Case Numbers
In the last week, the seven-day average of daily COVID cases dropped from 51,500 to 45,100. As vaccinations increase, sharper drops in daily cases are expected. The seven-day average of daily fatalities dropped slightly from 697 to 693. Seven-day averages of COVID cases ticked up in California, but dropped in Texas and Florida:
California: from 1,700 to 1,905
Texas: from 3,190 to 2,650
Florida: from 5,310 to 4,320
3. Employment
First-time jobless claims fell from 590,000 (adjusted the previous week) to 498,000 last week, and were below the Dow Jones projection of 527,000. It is the first time claims have come in under 500,000 since the pandemic began. Continuing claims continues to hover just under 3.7 million.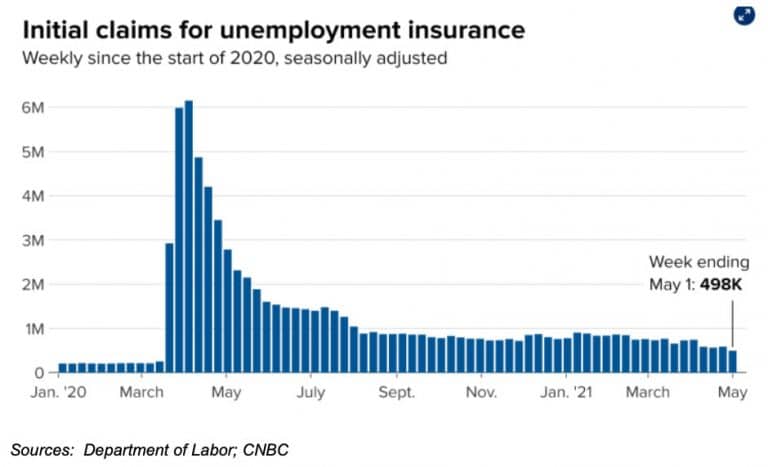 4. COVID Vaccine Update
According to information collected by Bloomberg, more than 1.24 billion doses have been administered across 174 countries. The latest rate was roughly 18.9 million doses a day. In the U.S., 255 million doses have been administered so far. In the last week, an average of 2.09 million doses per day were given. The U.S. will soon be at a point where half of the population will have received at least one dose.
Subscribe to our Newsletters
Stay up-to-date in real-time.