Market intelligence digest > Health Care and Bridge Markets
Market Intelligence Digest: Health Care and Bridge Markets
Welcome to the Market Intelligence Digest—the latest market information for AE industry decision-makers.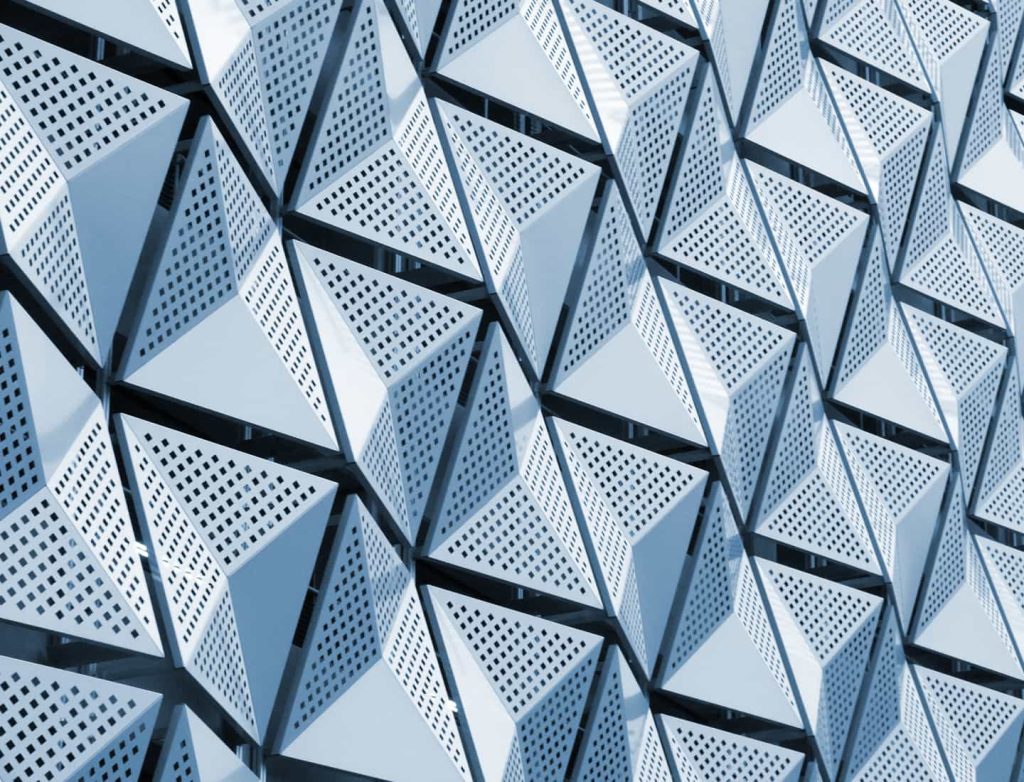 In this issue we discuss challenges faced by the health care market and how the bridges market is picking up steam across the country.
Challenged During the Pandemic, the Health Care Market Continues to Adapt
Health care markets continue to diversify despite dealing with ongoing adversities related to staffing and profitability. Much like companies in the AE industry that are struggling to find and retain talent, health care organizations are going through a similar issue but on a larger scale. Relying on contract labor has added cost pressures to the health sector. In addition, business models and the competitive landscape have been changing. CVS has invested over $10 billion to go vertical, and Amazon entered the hybrid care sector with the acquisition of One Medical. There are many new aspects within health care to be captured and understood by architects and engineers focused on this industry.
As discussed in our market snapshots last month, there is a patient movement pattern away from large hospital systems into an environment where clinics and outpatient centers are sprawling. Additionally, the industry will be shifting part of its focus (and spending) from diagnosis and treatment toward prevention and physical and mental health. With constant innovation and revolving demand, health care leaders need to have capital ready for new and improved facilities. Project work will continue to keep architects, engineers, and contractors busy, but the nature and size of projects may experience significant change as the industry adapts to new norms and an increased use of technology and patient data analytics.
The Health Care Market Snapshot
Overview
The health care category of construction includes hospitals, medical buildings, and special care facilities (e.g., nursing homes, drug clinics, and adult care centers).

Approximately 79% of total health care construction is private.

Hospitals make up about 53% of total construction.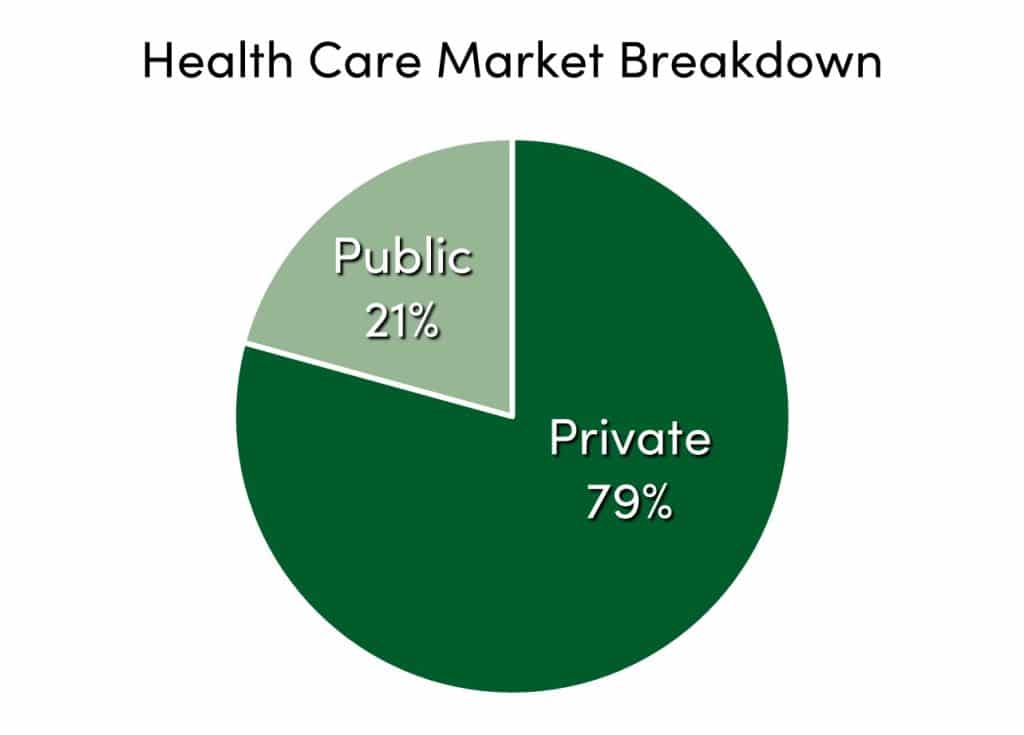 Market Size
$52.6 billion*
*Based on Value of Construction Put in Place (CPiP) – 2022 (U.S. Census Bureau)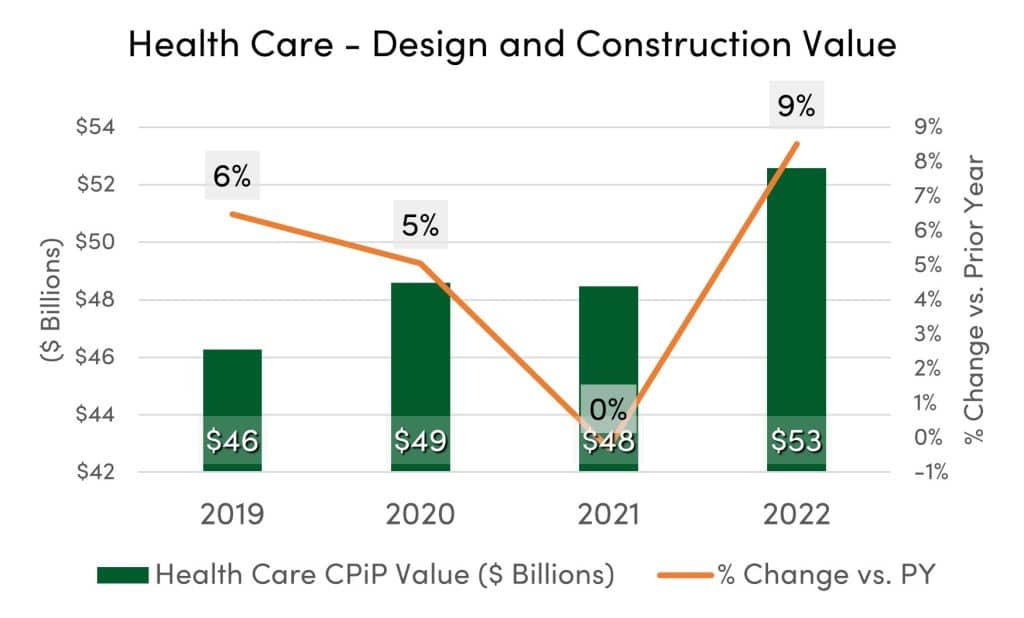 Outlook
Within construction subsectors, hospital construction is expected to have one of the highest growth rates in the next five years. The AIA's Consensus Construction Forecast projects a 5.5% increase for the health care sector in 2023.
Operators in the sector are expected to benefit from technological innovation and the digitization of health care (physical, virtual, and at-home), which will create efficiencies and increase access to care.
Increased M&A activity and investment from private equity over the next few years is likely to help the sector with capital investments for new facilities as well as staff training and development.
The health care and life sciences industry has unique requirements that will continue to impact construction processes, particularly those related to HVAC and plumbing.
Drivers
Population aging and growth
Increasing demand for health care services (health expenditures)
Federal funding for Medicare and Medicaid
Age and condition of buildings and building components
Technology advancements in diagnosis and care delivery
Trends
Increase in demand for outpatient services, while shifting away from hospitals.
The concept of resiliency for hospitals was accentuated during the pandemic when many hospitals were running above capacity and struggled to maintain standards of care. The U.S Department of Health and Human Services (HHS) has implemented climate preparedness and mitigation as part of its strategic plan.
MEP-related improvements and automation.
Health care tenants such as urgent care, occupational, and wellness centers are increasingly infiltrating retail space, helping to boost foot traffic.
Large retailers such as Walmart, Walgreens, and Amazon are investing heavily in medical services, bringing technology advancements in health care delivery.
Design concepts that favor staff well-being to improve recruitment and retention.
Hot Spots
Medical offices and clinics
Areas where aging population migrates to (mainly in the Sun Belt)
Acquisitive companies and management groups
For more health care market intelligence or to learn how our research can support your entry and expansion into this and other sectors, set up a call with Rafael Barbosa by clicking here, or email him at rbarbosa@morrisseygoodale.com
A New Wave of Work on Bridges is Underway
Bridge infrastructure is due for an upgrade throughout the United States. Although bridge construction has seen declines since 2019 according to the U.S. Census Bureau, activity is expected to increase over the next few years. One-third of bridges in the U.S. needs to be replaced or repaired. And while the percentage of structurally deficient bridges has been decreasing, it would take almost 70 years to complete all that work at the current pace. Safety, speed, and flexibility will be key for public agencies and engineering companies to get the job done.
The AEC industry has been leveraging innovations in design and construction techniques to make the process safer, more cost-effective, and less disruptive. The use of advanced design, inspection, and monitoring technologies as well as innovative construction methods and high-performance materials will be key factors for companies to successfully complete all the projects ahead. Over $43 billion will be available through federal programs that were originated with the IIJA. The Bridge Formula Program (BFP), for example, sets aside $27 billion in advance appropriations to states over a five-year period. In 2022, the value of state and local government bridge contracts awarded rose in 40 states, reaching $22.4 billion and increasing by 26%.
The Bridges Market Snapshot
Overview
The bridges category of construction includes bridges and vehicular or pedestrian overhead crossings. It is reported by the U.S. Census Bureau's Value of Construction Put in Place (CPiP) Survey under the highway and street category.
In 2022, total bridge CPiP accounted for 17% of total highway and street CPiP ($109 billion).
According to the American Society of Civil Engineers (ASCE), there are more than 617,000 bridges across the United States, and over 40% are at least 40 years old.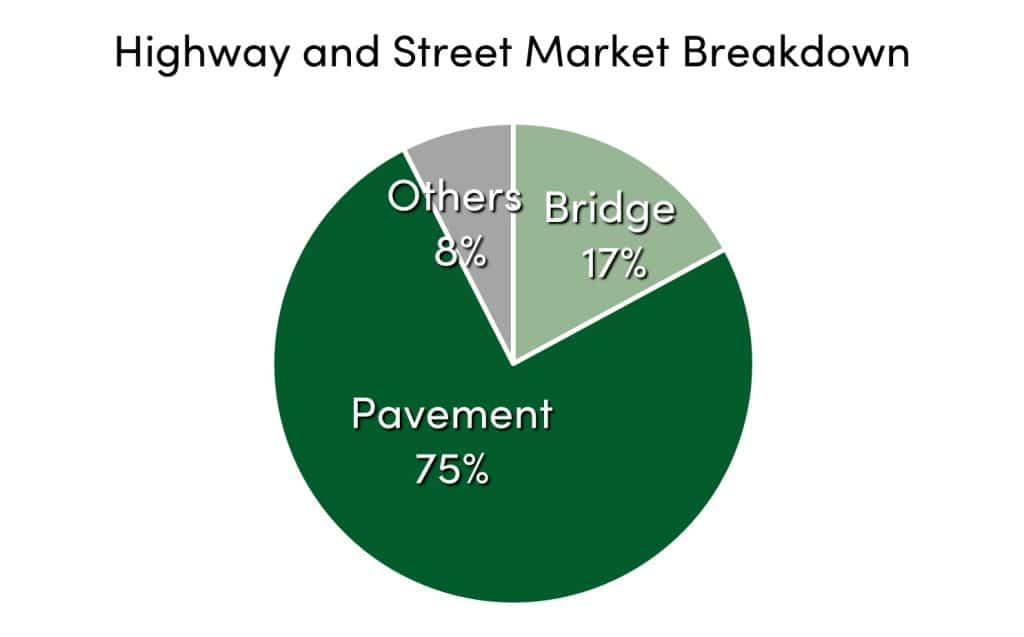 Market Size
$18.3 billion*
*Based on Value of Construction Put in Place (CPiP) – 2022 (U.S. Census Bureau)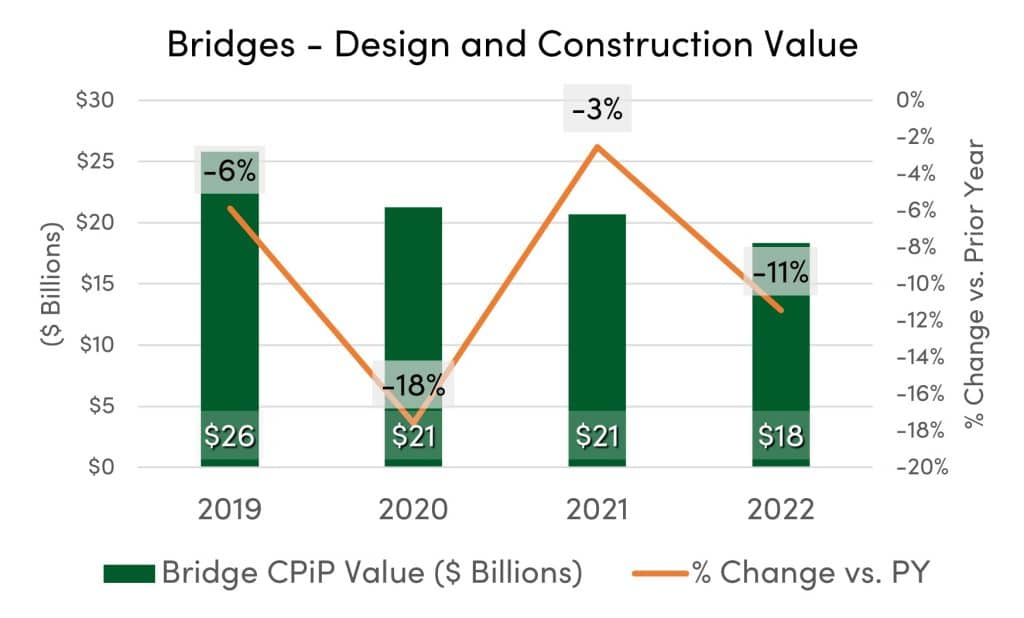 Outlook
Industry economists forecast bridges construction activity to increase in 2023. Whether the increase will be by single or double digits will be dictated by public agencies' ability to appropriate funds and release project opportunities.
The percentage of bridges in good condition has been trending lower, while the share of bridges in fair condition has been trending higher.
Across the 50 U.S. states, over 230,000 bridges need repair and rehabilitation work as these structures reach the end of their useful life.
Bridge management and structural inspection programs are in the process of being optimized, becoming a relatively profitable discipline.
Innovative prefab and accelerated bridge construction (ABC) methods, while faced with challenges, will enable the work to be performed in a more cost-effective manner and with minimum traffic delays.
Drivers
Bridge infrastructure aging and deterioration
Population growth and geographical dispersal
Federal, state, and local government transportation funding
Price of cement
Private nonresidential and residential construction
Trends
New design and construction methods contribute to increased bridge service life.

Different techniques for accelerated bridge construction and prefabrication reduce onsite construction and minimize mobility impacts.
Advanced materials like self-healing concrete, high-performance steel and coatings can help extend the useful life of bridge structures.
Due to their non-corrosiveness, durability, lightweight, and other features, Fiber-Reinforced Polymer (FRP) components offer a competitive innovation in bridge structure reinforcement. States like Florida (FDOT) and Pennsylvania (PennDOT) have incorporated these systems into project specifications for small- and medium-span deck bridges.

Advanced bridge assessments and inspection techniques help improve accuracy and reduce labor time.

UAVs, LiDAR, and thermography tools are changing the way bridge evaluations are done. These non-destructive methods are leading to safer processes while reducing the need for post-processing with the use of edge devices and machine learning.

Bridge Information Modeling (BrIM) software produces advanced 3D models that allow for not only improved graphical and geotechnical representation, but also greater collaboration among stakeholders. When combined with various sources of data (i.e., LiDAR, IoT sensors, GPS, SCADA systems), Bridge Information Modeling enables efficiencies in areas beyond design and construction, becoming a key component for asset management programs.
In addition to making smarter technical and business decisions about when and how to perform work on bridges, more focus is being placed by the industry on efforts to reduce embodied carbon (EC) in bridge structures.
Hot Spots
States with structurally deficient (SD) bridges (Source: FHWA):

Top five states in number of SD bridges: Iowa, Pennsylvania, Illinois, Missouri, and Oklahoma.
Top five states in percentage of SD bridges: West Virginia, Iowa, South Dakota, Rhode Island, and Maine.
Top five states in SD bridges area as a percentage of total state area: Rhode Island, West Virginia, Illinois, New York, and Massachusetts.

New federal bridge programs (BFP and BIP) started with the IIJA will make $43 billion dollars available in funding.
For more bridges market intelligence or to learn how our research can support your entry and expansion into this and other sectors, set up a call with Rafael Barbosa by clicking here, or email him at rbarbosa@morrisseygoodale.com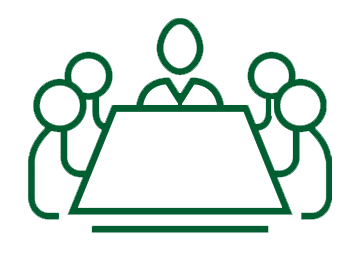 Are you interested in serving on an AE firm Board of Directors? 
We have numerous clients that are seeking qualified industry executives to serve on their boards. If you're interested, please upload your resume here.
June 7-9, 2023 Las Vegas, NV
Western States M&A, Strategy, and Innovation Symposium
Over two plus information-packed days, come together to discuss strategy, innovation, and M&A trends while networking with AE industry executives.
Register Now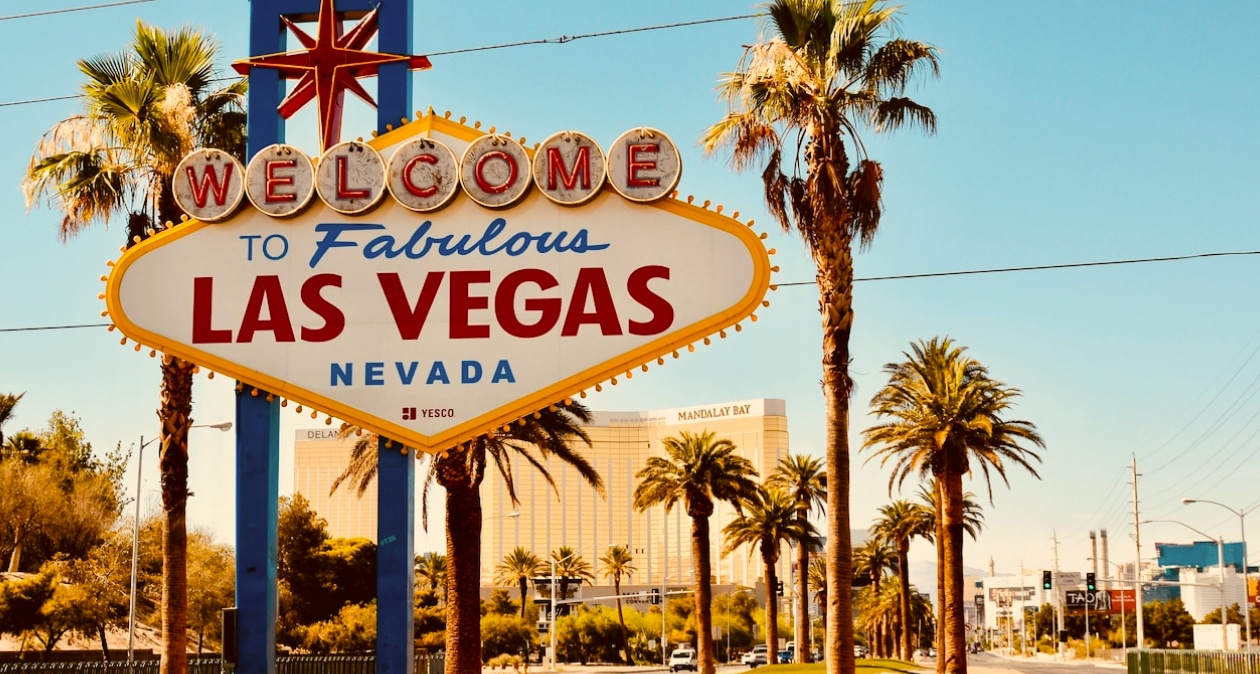 Subscribe to our Newsletters
Stay up-to-date in real-time.