Market intelligence digest > Office | Wastewater
Market Intelligence Digest: Office | Wastewater Markets
Welcome to the Market Intelligence Digest—the latest market information for AE industry decision-makers.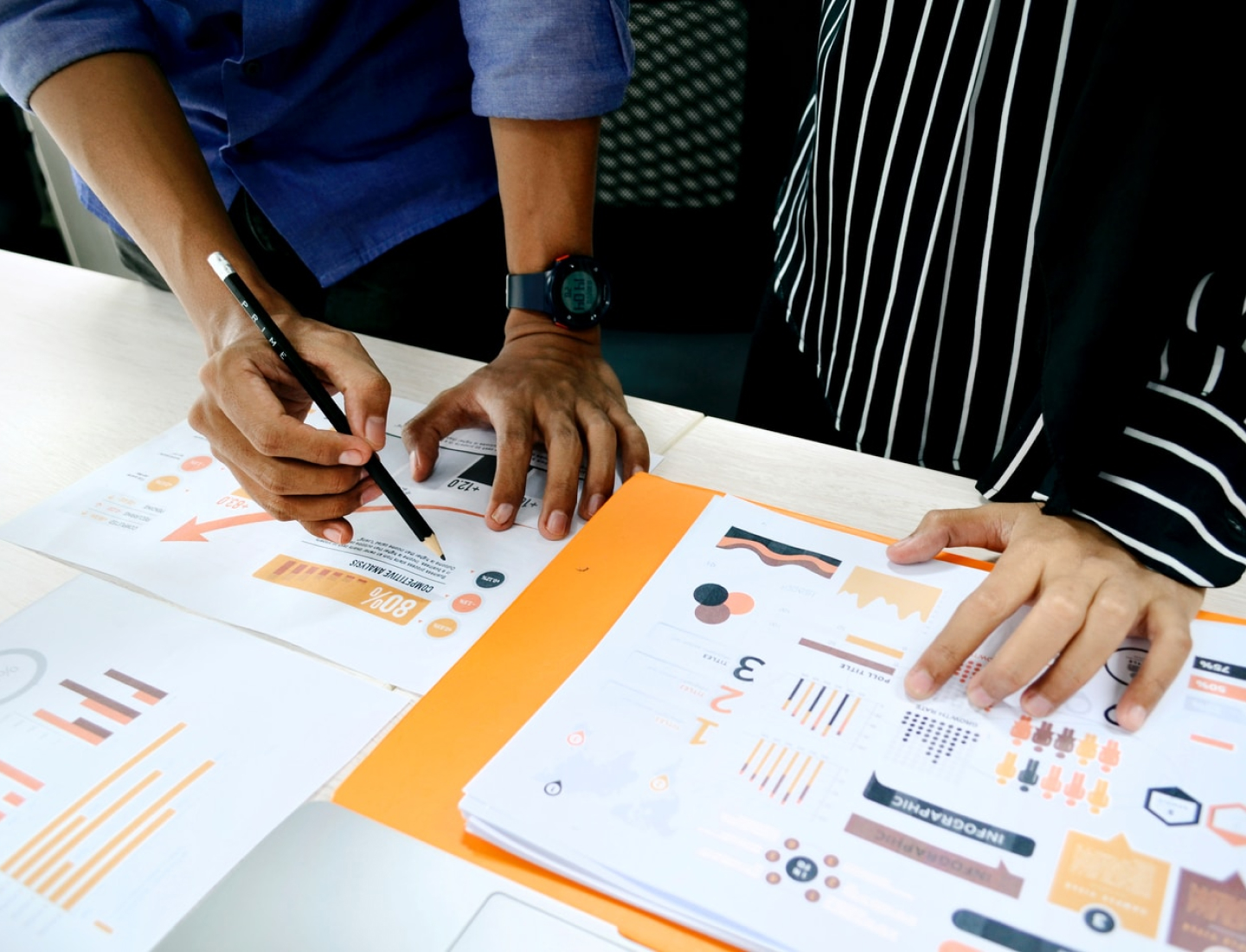 In this issue we explore the evolving office market and the rapidly growing wastewater market.
Office Market Undergoes Significant Changes
The office market will continue to decline and is likely to stabilize in 2024 (maybe 2025). One of the main reasons is the workforce's adjustment to remote or hybrid work environments, which, like many trends, accelerated during the pandemic. In many areas where there is strong economic and population growth, the effects won't be as severe. According to Cushman & Wakefield, one-fourth of the U.S. office market had declines in YoY vacancy rates at the end of 2022.
On January 30, the Kastle Systems Back to Work Barometer, which tracks daily and weekly building occupancy in major U.S. metropolitan areas, registered levels above 50% for the first time since the start of the pandemic. Within the AE Industry, a small fraction of the office market, about one-third of firms allow employees to decide how often and when to go into the office. Only 17% require all employees to be in the office every day (Source: ACEC).
This end market for design and construction is going through an adjustment phase where remote work became more established and occupancy levels are slowly creeping up. When it's all said and done, employers will likely have to shed a portion of their office real estate occupancy. This may lead to more subleasing activity, conversions, and modernization of office environments.
The Office Market Snapshot
Overview
The office category of construction primarily includes administration buildings, computer centers, office buildings, and professional buildings.

Approximately 86% of total office construction is private.
Government-owned buildings include city halls, courthouses, state capitols, and other municipal buildings.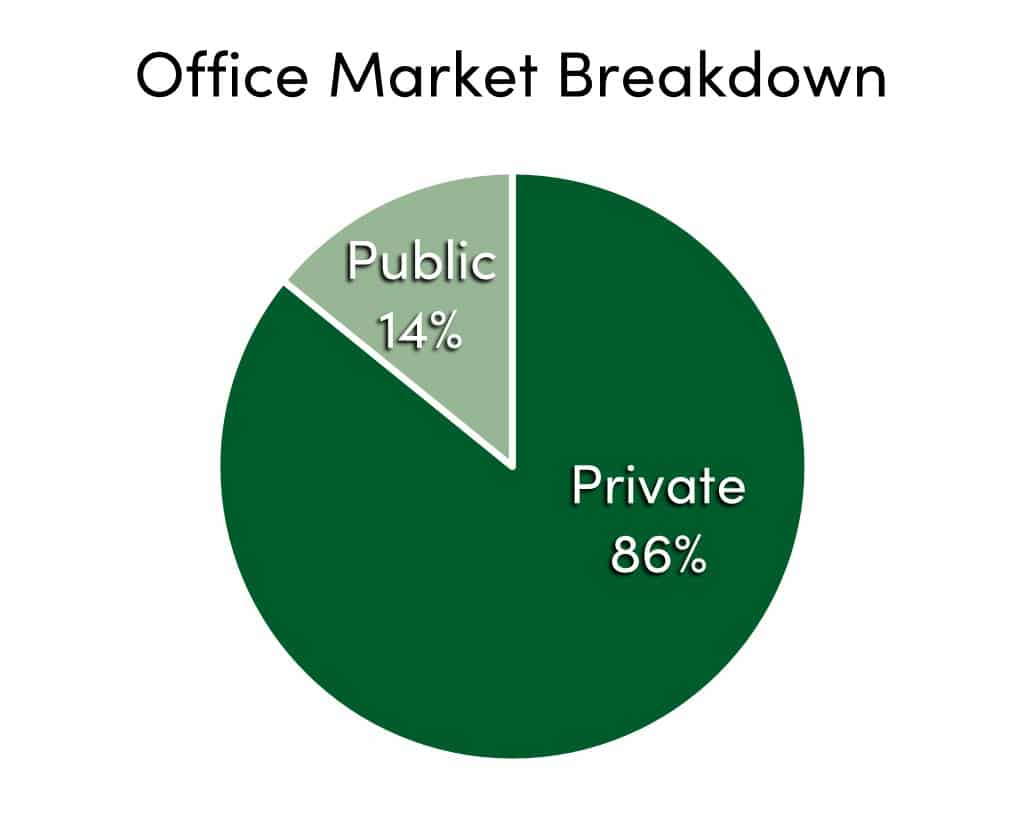 Market Size*: $87.2 billion=
*Based on Value of Construction Put in Place (CPiP) – 2022 preliminary estimate (U.S. Census Bureau)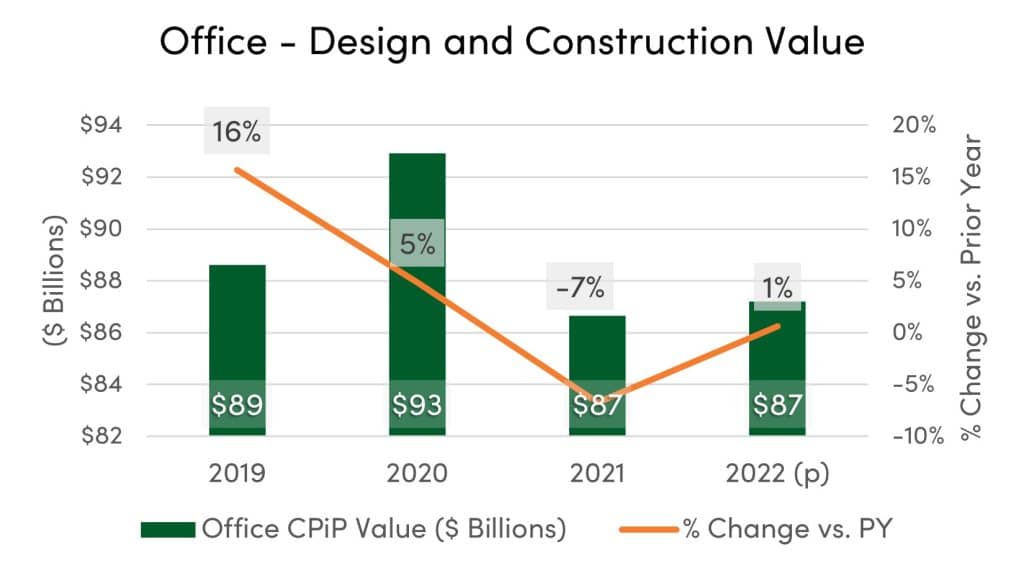 Outlook
The market for office building design and construction is expected to decline in 2023.
The increase in remote work and hybrid arrangements is driving office vacancies. However, it will increase demand for redesigns and improvements favoring collaboration, space sharing, energy efficiency, and well-being.
Changing occupancy patterns (e.g., days of the week) may impact building operations and maintenance needs.
Drivers
Microdrivers
Number and size of companies that require office space, which are primarily in professional, business, and government services (major tenants are typically finance, insurance, and real estate firms)
Office rental vacancy
Adaptation to remote work model and flexible workspace environments
Availability of 5G networks and advancements in remote technologies
Macrodrivers
Value of private nonresidential construction
Corporate profits
Yield on 10-year Treasury note
Population movement between dense/urban and suburban areas
Trends
Office renovations will integrate the remote and in-person employee experience. While most employees are willing to work in the office at least a few days a week, workers and companies continue to adapt and adhere to remote work, work from home, and hybrid models with flexible workspace environments.
Equipment, technologies, and expertise on building operations and HVAC systems may need to be adapted to meet the requirements for flexibility and wellness within office environments.
Data-driven design and space concept testing will increase. Augmented reality is an increasing trend being used for commercial office designers and developers.
Hot Spots
MEP services, including demand for sophisticated HVAC systems
Lighting design services
Areas/sectors/companies focused on:

Sustainability goals
Stringent energy code requirements
LEED certification
Strict in-office work policies (low tolerance for remote work)

Urban markets with strong population growth will likely have solid opportunities for office design and construction.

The latest U.S. Census data show these states among the top 10 in both numeric and percentage population growth: Florida, Texas, South Carolina, North Carolina, Idaho, Arizona, and Utah.
For more office market intelligence or to learn how our research can support your entry and expansion into this and other sectors, set up a call with Rafael Barbosa by clicking here, or email him at [email protected].
Wastewater Design and Construction to Continue Double-Digit Growth in 2023
Aged infrastructure, capacity constraints, technology advancements, and the changing regulatory environment will drive many of the upcoming projects in the wastewater sector. The sewage and waste disposal category of construction, as reported by the U.S. Census Bureau, ended 2022 at almost $32 billion dollars, a 14% increase from 2021. Most forecasts predict double-digit increase in activity for 2023 and continued growth in subsequent years.
Funding sources for wastewater projects include public bonds, federal low-interest loans, and state loans. The Clean Water State Revolving Fund program, managed by the EPA, will make approximately $13 billion available for system improvements and addressing PFAS contamination over the next five (maybe more) years. Additionally, the Water Infrastructure Finance and Innovation Act (WIFIA) program can fund development and implementation activities for eligible projects.
Underserved communities in Arizona, New Mexico, North Carolina, Alabama, Kentucky, Mississippi, and West Virginia are part of a pilot to overhaul inadequate wastewater systems. The Closing America's Wastewater Access Gap Community Initiative is a joint program funded by the EPA and the USDA Rural Development. It is intended to establish best practices for similar implementations in other parts of the country with critical wastewater infrastructure issues.
To get these and other projects done, many engineering firms and their clients are scratching their heads to overcome confusion from the BABA (Build American Buy American) provision from the IIJA, which extended the reach of the rule to apply towards the wastewater sector. This is concerning, as many wastewater technologies and equipment come from abroad. With the expiration of waivers, there is a higher risk for delays and increased costs to implement the much-needed upgrades and improvements to wastewater systems throughout the country.
The Wastewater Market Snapshot
Overview
The wastewater category of construction primarily includes wastewater and sewage plants, pipelines, and pump stations.

Approximately 98% of total wastewater construction is public.
The U.S. has more than 16,000 wastewater treatment plants and over 800,000 miles of public sewers, along with 500,000 miles of private lateral sewers.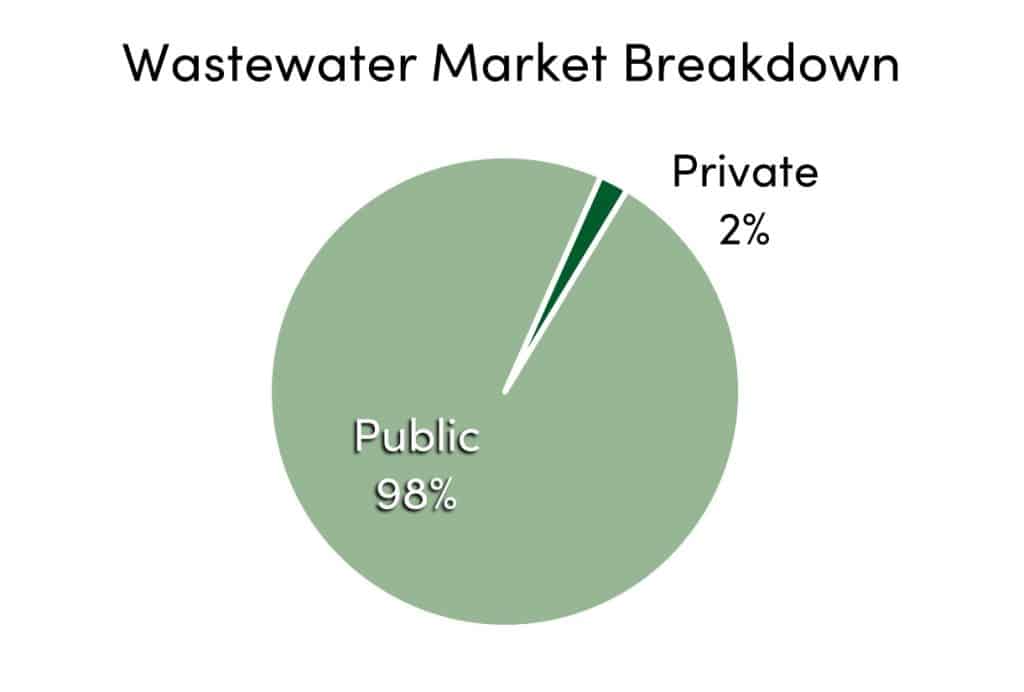 Market Size*: $31.9 billion
*Based on Value of Construction Put in Place (CPiP) – 2022 preliminary estimate (U.S. Census Bureau)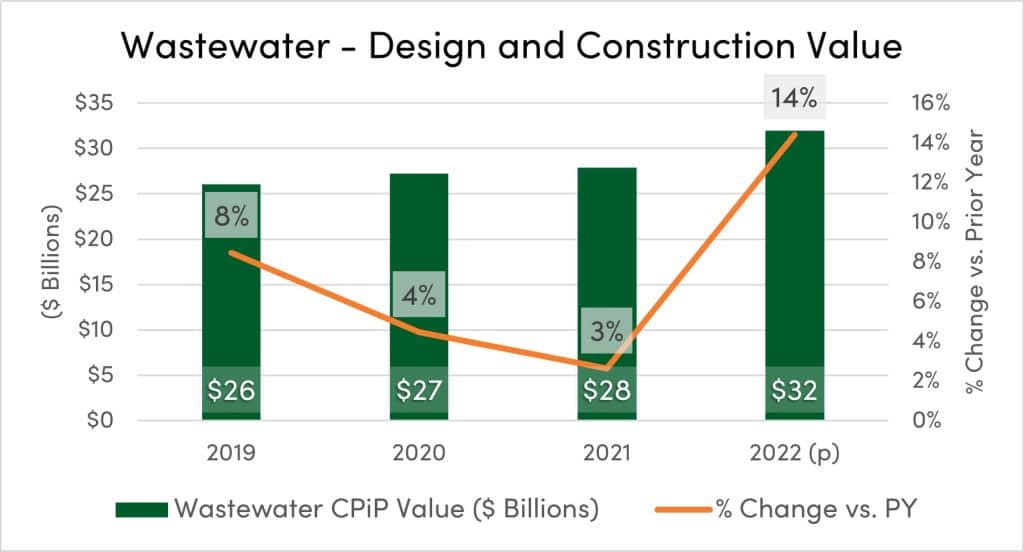 Outlook
The market for wastewater design and construction is expected to go up significantly over the next few years due to substantial government funding to upgrade systems that are reaching the end of their useful life (40 to 50 years). Funding for Clean Water State Revolving Fund programs nearly doubled in FY 2022, and appropriations for FY 2023 surpass $4 billion.
In addition to aging infrastructure, owners and operators will continue to focus on addressing regulatory compliance, emerging contaminants, and energy efficiency.
Extreme drought and rainfall events are driving water reuse/recycling and resiliency projects.
Drivers
Regulatory changes for emerging contaminants
Frequency of extreme weather events (droughts and rainfalls)
Expansion of manufacturing industries
Growth in population and urbanization
Value of sewage utilities construction
Local and state government investment
Trends
IoT systems for operational and quality data collection
Artificial intelligence (AI) and machine learning for preliminary designs of wastewater facilities
Systems for generation of alternative sources of energy such as thermal hydrolysis and microbial fuel cells
Solar photocatalytic treatment systems for carbon reduction in organic content
Microalgae-based technologies
AI tools for managing membrane bioreactor technologies (MBR)
Wastewater monitoring of population viral infection trends
Natural solutions for reduction of stormwater runoff
Hot Spots
Water contaminants (PFAS, lead)
Services and technologies focused on process optimization and resource management
Water reuse and recycling
Government funding programs:

EPA State Revolving Funds
Water Infrastructure Finance and Innovation Act (WIFIA)
Public-Private Partnerships

States with the most wastewater compliance major violations are in EPA regions 4, 5, and 6.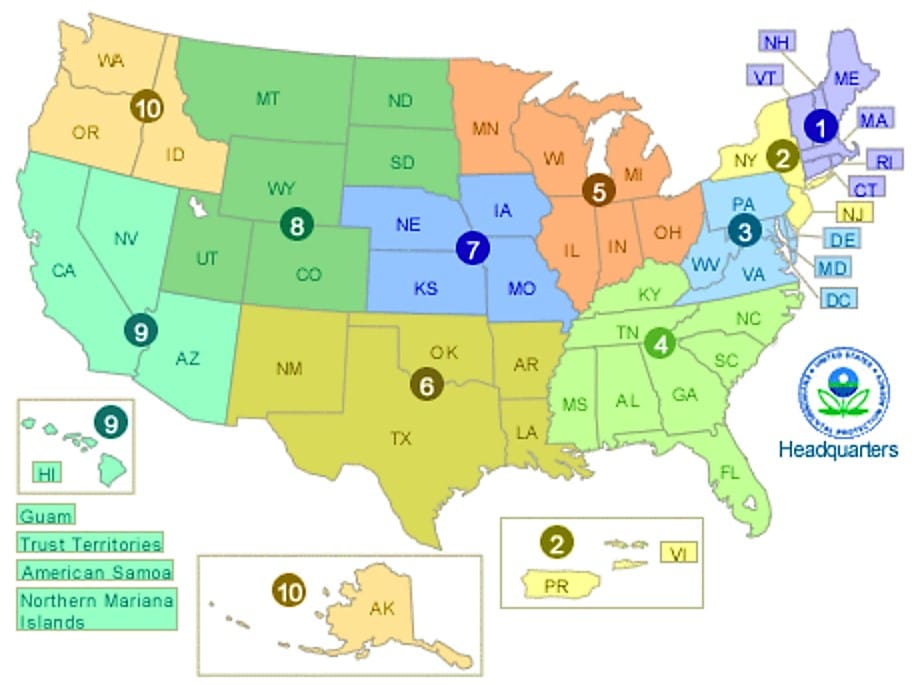 For more wastewater market intelligence or to learn how our research can support your entry and expansion into this and other sectors, set up a call with Rafael Barbosa by clicking here, or email him at [email protected].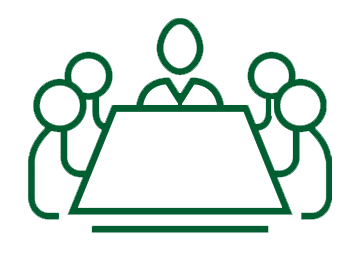 Are you interested in serving on an AE firm Board of Directors? 
We have numerous clients that are seeking qualified industry executives to serve on their boards. If you're interested, please upload your resume here.
October 25-27, 2023 Houston, TX
Texas and Southern States M&A, Strategy, and Innovation Symposium
Over two information-packed days, come together to discuss strategy, innovation, and M&A trends while networking with AE industry executives.
View Details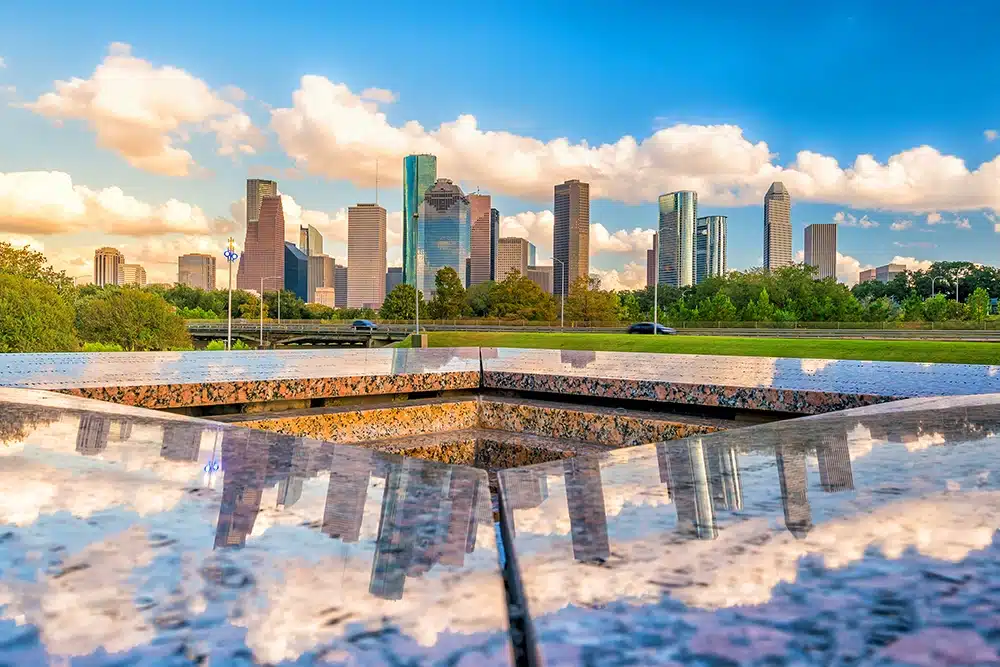 Subscribe to our Newsletters
Stay up-to-date in real-time.