Word on the street > AE Industry Intelligence: Issue 55
AE Industry Intelligence: Issue 55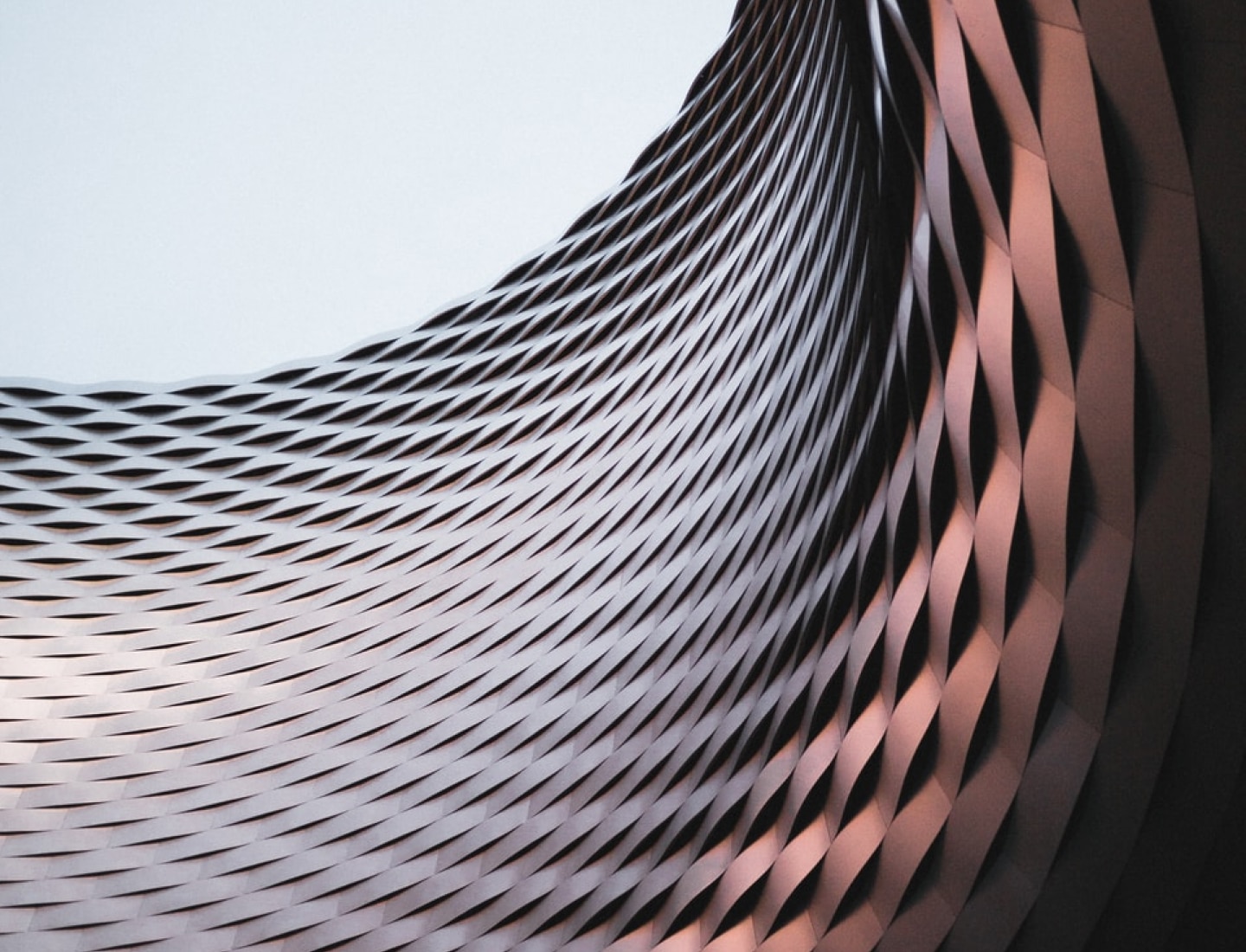 A blow-out first quarter for M&A: The remaking of the A/E industry accelerates
The pandemic has been the great accelerator of trends. In our industry it vaulted technology from "nice to have" to "need to have" (see digitization, video communications, VR/AR mixed reality, Artificial Intelligence, etc.). Within the period of thirty days last Spring, it renegotiated the legacy firm/employee relationship from "You work in this office during these hours" to "Where and when would you like to work and would you like us to send you one or two monitors?" And, it has swung open the flood gates to a tidal wave of consolidation and recapitalization, as we've seen in this first quarter of 2021.
A sneak preview: In this Friday's M&A Update, we'll be releasing our review, commentary and full infographic of Q1 A/E industry M&A. We're giving readers of Word on the Street a early look today. The stats speak to an industry hurtling toward an entirely new business model.
More records smashed: With 108 transactions announced in Q1, not only was it the most active first quarter on record, it was also the hottest three months ever. The pace of industry consolidation has doubled since 2017. From everything we are seeing we expect the pace to only increase. The industry may very well be on track for its first ever year with 400-plus deals.
Destination California: For the past three years, Texas has seen more deals than any other state. Not so this first quarter. With twenty-one announced deals, California led the U.S. in terms of consolidation. The Golden State accounted for almost one-fifth of all transactions in the first three months. Florida was second with twelve deals. Texas was a distant third in the single digits with eight transactions.
Priority #1 – geographic growth: Acquisition activity taking place across state lines hit an all-time high in Q1. Over two-thirds of transactions involved a buyer in one state entering — or growing its existing business in — another state. This is the highest level of cross-border activity on record. The industry is expanding in response to robust nationwide demand and buyers are feeling confident about the future. (Pro tip for sellers – this stat means that your future buyer is likely from out of state.)
Median seller size ticks up: After steadily – if slowly – declining over the past three years, the median seller size in Q1 increased to $3.2 million and 22 employees. Last year it stood at $2.5 million and 18 employees. We're seeing a corresponding uptick in valuations as the median deal size increases. Seven ENR Top 500 design firms sold or were recapitalized in the first quarter. On a related note, the median buyer size in Q1 was $89.4 million in revenue – about where it has been for the past three years.
Capitalization shifts: Almost one-third of all transactions in the first quarter involved recapitalization by either a private equity fund or a family office, or an acquisition by a firm backed by one or the other. Private capital's remake in the industry continues unabated. It's now the capital model for thirteen percent of the ENR Top 100 Design firms. One in ten first quarter transactions involved a publicly traded buyer. We're seeing a definite uptick in terms of interest on the part of "the publics" in the U.S. market.
M&A Update: In another busy week for deals, industry leader Dewberry announced the acquisition of Hydro Solutions Consulting (Lakeland, FL). Congratulations also to Dewberry on moving up on this year's ENR list of the Top 500 Design firms!
CEO and C-suite Virtual Reality Conference expands! We've received a ton of requests to expand participation in our VR events beyond CEOs. So, we've opened eligibility for our next Virtual Reality Conference in June to CEOs and C-suite executives (folks who report directly to the CEO). So, beyond CEOs you'll be networking and learning with CFOs, CMOs, CTOs and CPOs! This first-ever two-day themed VR Conference will focus on Strategy + Execution and M&A/Capitalization. Click here for early-bird registration pricing and for multi-attendee discounts.
Live and in person October Texas M&A Symposium! Our M&A Symposium series is back live and in person with our 6th Texas M&A Symposium in Houston this October 21 and 22. Join us as we host at the super sleek Post Oak Hotel (the ONLY Five Star Hotel & Spa in Houston). Network with A/E executives and investors from Texas and around the nation. Get the latest M&A trends, stats and best practices from industry experts, buyers, and sellers. We're proud to once again partner with our friends at ACEC Texas on this premier industry event. Click here for updates and to be notified when registration opens.
Who we're following on Twitter: We were fired up to see the official announcement from Smith Seckman Reid (SSR) of Susan Osterberg and Mike Rogers assuming the roles of Chief Operating Officer and Chief Growth Officer respectively.
Questions? Insights? How are you seeing the industry changing? Email Mick Morrissey @ [email protected] or call him @ 508.380.1868.
Four Factors to Watch
1. Infrastructure Stimulus Bill
Infrastructure stimulus hard ball is officially underway in Congress as a group of Senate Republicans framed their own version of an infrastructure plan late last week. The plan is about a quarter of the scale of the Biden-backed $2 Trillion plan. The Republican plan's sticker price is $568 billion and does not include a number of social programs featured in the plan formulated by the Democrats.
Highlights of the Republican plan include:
$299 billion for roads and bridges
$65 billion for broadband
$61 billion for public transit
$44 billion for airports
$35 billion for drinking water and wastewater systems
$20 billion for railways
$17 billion for ports and inland waterways
$14 billion for water storage
$13 billion for safety measures
While a Republican outline could be considered progress simply because of the focus spent on the infrastructure topic, the two approaches are clearly far apart as are their respective definitions of "infrastructure."
2. COVID-19 Case Numbers
In the last week, the seven-day average of daily COVID cases dropped from 68,400 to 59,900 the previous week. For context, on January 8, over 300,000 new cases were reported. The seven-day average of daily fatalities dropped from 750 to 711. Seven-day averages of COVID cases trended down in California, Texas, and Florida:
California: from 2,840 to 2,220
Texas: from 3,380 to 3,310
Florida: from 6,200 to 5,820
3. Employment
Jobless claims fell from 576,000 to 547,000 last week, and came in under the Dow Jones projection of 603,000. It is the lowest weekly mark since the pandemic began in earnest in March 2020. Continuing claims dropped 34,000 to 3.67 million.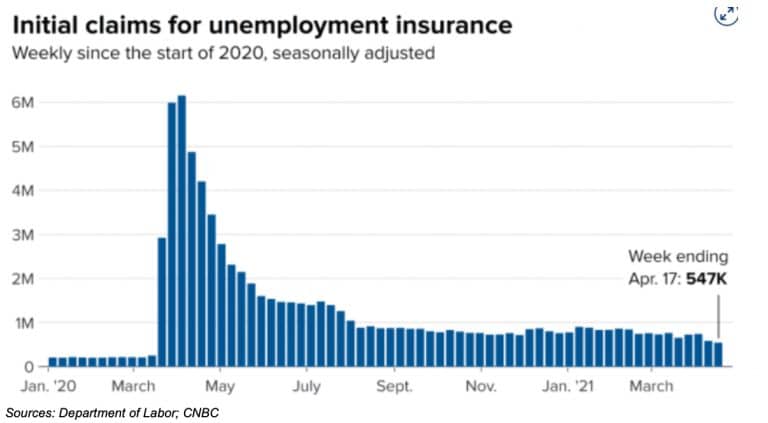 4. COVID Vaccine Update
According to information collected by Bloomberg, 1 billion doses in 172 countries have been administered, compared to 849 million doses in 155 countries the week before. The average number of daily doses in to 18.5 million from 16.6 million the week before. The number of doses delivered is enough to vaccinate about 6.6% of the global population, up from 5.9% the previous week.
To date, 226 million doses have been administered in the U.S., up from 209 million last week. An average of 2.82 million doses per day are now being administered, which is down from the daily rate of 3.19 million last week. The temporary halt of the Johnson & Johnson vaccine factored into the downward trend.
Subscribe to our Newsletters
Stay up-to-date in real-time.