Word on the street > AE Industry Intelligence: Issue 43
AE Industry Intelligence: Issue 43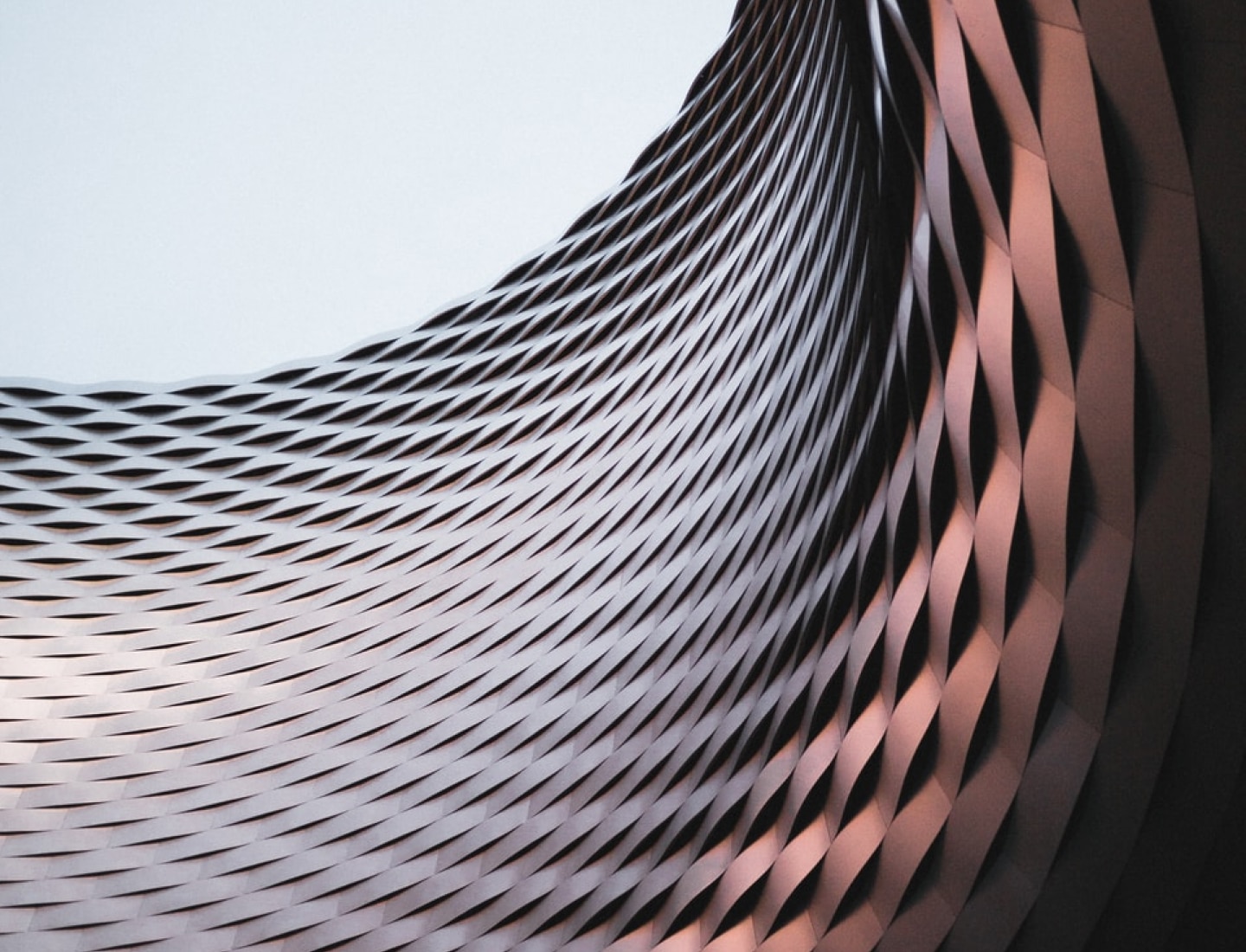 Let's get Phygital: Reflections on Q1 CEO Week
We had three goals for our second Virtual Reality (VR) CEO Week. The first was to provide a unique forum for CEOs to meaningfully connect, engage, learn, and have fun at a time when it is impractical to travel and get together in person. The second was to create a space for them to experiment with VR technology and experience its power to foster collaboration internally for their people and connect externally with their clients. The third was to take the feedback from those pioneering CEOs who joined us for our first VR conference last September and incorporate as many of their suggested "deltas" as possible.
We're thankful to the 80-plus CEOs from 34 states and Canada who chose to join us for the conference last week. Their participation created rich and deep peer-to-peer conversations. Throughout the week in VR Sydney, Australia, CEOs enjoyed the opportunity to interact with 3-D models, explore Australia via 10 curated excursions, and enjoyed a handpicked selection of Australian snacks (the vegemite elicited a lot of feedback) and handcrafted Aussie cocktails from their Down Under Supply Pack. Here are some of the highlights from the week:
Welcome to 2021 and the New Reality. The week kicked off with CEOs discussing the outlook for this "transition year" between the pandemic and the post-pandemic worlds. In seven concurrent meetings CEOs discussed a wide variety of topics including prioritization of soft skills development for managers (especially empathy and managing remotely); capitalizing on the remote working phenomenon to hire employees in lower cost regions; that women in the AE workforce are being left behind; and struggles with managing the remote workforce. With respect to this last topic, there are real concerns that firm cultures are unravelling in real time. CEOs are doing everything they can to keep connected to their people and to keep their people connected to each other.
Mental health top of mind. Common to all of the Monday discussions was the topic of mental health. Firms are making extraordinary investments in mental health support for their people. There were many innovative examples shared of wellness support including Wellness Apps, Wellness Mondays exclusively dedicated to mental wellness, and third-party mental health counseling programs.
"You say vaccine, I say policy headache". 2021 is going to be remembered as the year CEOs navigated their firms through the introduction of the vaccines – and it's going to be messy. Discussions ranged from how client demands would dictate internal vaccination policies to the impact of vaccination choices by employees on the cost of self-insured health plans. Most CEOs say that 2022 is when there will be a return to "normal" in terms of the working environment. Only to say in the next breath that they realize that there is no going back to normal and that the future for their firm is a blend of #remotehybriddigital.
The secret lives of markets. Overall CEOs are optimistic about the outlook for this transition year. Many (most?) firms are coming off of record years in 2020 and their backlogs in general remain robust. However, almost every market sector is exhibiting dramatic variance in sub-sector performances. For example, while the travel and hospitality sector overall is down, we heard from CEOs that certain sub-sectors like luxury ski resorts and timeshare developments are booming. Similarly, one CEO spoke to a decline in the automotive manufacturing sector while another CEO in the same group indicated that his firm could not keep up with the demand they were seeing in their (electric) automotive business. For the most part declines in the oil and gas markets are being offset by demands in the renewables sectors. CEOs were roughly split down the middle as to whether there would be a meaningful Federal infrastructure stimulus bill in 2021. There was relatively more confidence in individual state commitments to funding infrastructure investments.
You're doing WHAT now!? Some of the most intriguing Monday discussions involved the pretty amazing difference between how firms in different regions are navigating the pandemic. West Coast, Midwest, and Northeast CEOs – whose firms have been feeling the strain of a mostly remote business model for almost a year – listened in surprise (and a little bit of envy) as their peers from the Sun Belt discussed how most of their workforces were largely working in the office and feeling a LOT more connected with each other and clients.
What's the longer-term outlook? CEOs largely fell into three camps in how they viewed the future. Those in the first camp saw another Roaring 20s era already underway. CEOs in the second camp were very concerned about impacts to public sector funding beginning in 2022. Those in the third camp have basically given up making predictions given the overriding themes of complexity and uncertainty at play nationally in the socio-economic and political realms.
Phygital: It's a brave new world. Tuesday's topic was Trends beyond the Pandemic. Discussions included: the decline in the direct employee ownership model and increase in ESOPs and private equity/family office capital models; the continued move to digitization of services, and the importance of Phygitization – the blending of the best of the physical and digital worlds in the post pandemic AE workplace and interface with clients.
Don't just work from anywhere – run your firm from anywhere! We began to see this trend in our last CEO Week and it's gathering steam. Leaders have figured that not only can their people work from anywhere – but they too can run their firms from anywhere that has high-speed internet. Not surprisingly, CEOs from firms in the northern climes are choosing to ride out some or all of this transition year in sunnier locales down South.
Sustaining and strengthening culture through the pandemic. This was the theme for Wednesday. CEOs spoke of the importance of "storytelling" in sustaining culture. Through the pandemic, many have been using technology to tell stories across their entire firm's footprint to promote connection and culture through VLOGGING, videos (one CEO has made 40 culture videos since the pandemic hit – one a week!), and the creation of digital "hallway conversations" and "water cooler chats" to replicate those invaluable traditional pre-pandemic social connection points. One popular choice for this is Houseparty. CEOs also spoke to increased philanthropic initiatives and investments to reinforce company values. Some firms are paying stipends to support the employee costs of working from home (high-speed internet, bigger monitors, soundproofing, etc.).
Diversity, Equity & Inclusion. This was a major topic of discussion on Wednesday. The frustration around the topic – really three distinct topics – was palpable. Many CEOs are looking for ways to move the needle on both gender and racial diversity in their firms but see a lack of diversity in the industry overall. (Of note – out of 80 industry executives joining us in VR – 11 were women.) Many CEOs view the selection of Board members as an opportunity to reinforce a commitment to diversity of gender and race. With respect to inclusion, one CEO discussed discouraging alcohol at remote social events since it sets up an environment where teetotalling employees may feel excluded.
CEOs are learning they cannot control everything. They've realized how "command and control" they were being about work-from-home policies pre-pandemic. They're acknowledging there are some good things that happened with culture this past year — more compassion, more trust, more empathy. CEOs have realized they were not thinking as much about expectations for what they want their firm culture to produce, and that without those expectations, they may have been doing a lot of things that don't really matter.
It's lonely (and exhausting) at the top. Thursday's theme was the role and current mindset of today's AE firm leader. CEOs are really looking forward to 2022 – because they're not going to get no relief in 2021. After aging about a decade in 2020, many are anticipating another year of non-stop, never-seen-before challenges in 2021. For many, the pandemic has stolen the time and space that they relied on in pre-pandemic times to reflect, recharge, and grow. The pandemic has forced them to delegate more responsibility. For CEOs of smaller firms, it has been one long tough slog as they have had less opportunities to delegate. Universally, CEOs feel the weight of leading their firms to success while keeping their people safe and healthy in these extraordinary times.
Everything has been politicized. One of the cool features of our conference room in VR Sydney, Australia was our 3-D elephant model which any meeting participant could place in the middle of the room when we approached some touchy subjects. We found that the elephant made an appearance every day when the subject of politics came up. Many CEOs feel that their leadership teams are being required to take positions on political and social matters and resent having to do so as any messaging appears to upset one or more internal demographics.
On Friday CEOs were introduced to many practical collaboration applications of VR. Most CEOs were already familiar with design applications of virtual reality. On Friday they got to see how the technology can facilitate collaboration internally and with clients. They saw how to bring in the real world into VR through live desktops and file systems, internet, and livestreaming to foster collaboration among physically distant teams. They witnessed blended realities (VR and Augmented Reality (AR)) in action as their meeting facilitators entered the VR space via mobile devices and without headsets (this is kind of mind blowing). This feature dramatically increases the reach of the VR space to allow firms to easily engage with teammates or clients or town meeting attendees who do not have VR headsets. They saw how to develop VR video content for deployment in the real world (great for internal messaging and building deeper relationships with clients in a socially distant world). They viewed a variety of bespoke VR spaces designed to foster collaboration, learning, and reinforcement of important cultural aspects for firms (imagine on-boarding new employees in a space that is an exact replica of your physical office with all the important cultural cues visible and available). And they experienced the awesome VR "jump" when they transported to a totally new 3-D VR space (in this case a Mountain Lodge). While not exactly like the jumps in the best movie of all time Inception, this one allowed the CEOs to see why the "breakout rooms" in fully immersive 3-D VR blow away anything in 2-D Zoom or Teams.
Plus/Delta shows us the way forward. We received a ton of feedback from attendees on pluses— i.e., what they want more of in our upcoming VR CEO Week in June (including more time for discussions, more cocktail time, and more Morrissey Goodale content)— and deltas— i.e., changes/additions (including the ability for private one-on-one conversations between CEOs, more and different VR spaces, 3-D presentations on the outlook for the AE industry, and opening/closing large-group plenary sessions). We love the pluses; we grow with the deltas. We're on it! This week we will be releasing the schedule for our 2021 VR Conferences and Events. Click here to be kept up to date.
The pace of industry consolidation is down 7% over the last 12 months. However, this is largely due to a timing effect related to the dramatic freezing of the M&A market in Spring 2020 after record performance last January and February. Given the market activity we are seeing currently we fully expect M&A levels to be up by 10% by the end of Q1.
If you have questions about this week's "Word on the Street," or need help planning for or navigating your firm's New Reality or if you would like to debate why Inception is not the greatest movie ever then call Mick Morrissey @ 508.380.1868 or email him at mmorrissey@morrisseygoodale.com
Four Factors to Watch
1. Economy
While U.S. GDP grew in the 4th quarter, it was still about 5% smaller than what it likely would have been without the pandemic. The recovery is about as strong as it can be until the pandemic dissipates. But when that does finally happen, the economy is expected to improve quickly and real progress can be made in getting millions of those jobless back to work.
Fourth quarter growth was a bit slow, but also narrow. Consumer spending accounted for 68% of economic activity before the pandemic but slid slightly in the fourth quarter. Lower spending on food services and transportation was expected given the spike of COVID cases, but household purchases of furniture and appliances, however, had been a major source of strength. This recent drop may be an indication that consumers have reached their limit, at least for the time being.
But optimism remains because Americans have saved an extra $1.6 trillion in 2020 due to lower consumption and significant government aid. Once the pandemic is finally in the rearview mirror, household balance sheets are expected to help fuel a strong recovery.
2. COVID-19 Case Numbers
In the last week, the seven-day average of COVID cases has dropped from 181,000 a day to about 151,000. The seven-day average of fatalities has only dropped slightly. Seven-day averages of COVID cases in the largest states have fallen in the last week, as well:
California: 29,100 to 20,800
Texas: 18,800 to 17,200
Florida: 11,400 to 10,500
3. Jobless Claims
According to the Labor Department, jobless claims totaled 847,000 for the week. The previous week's level was revised up by 14,000 from 900,000 to 914,000. Continuing claims also dropped by 203,000 to 4.77 million.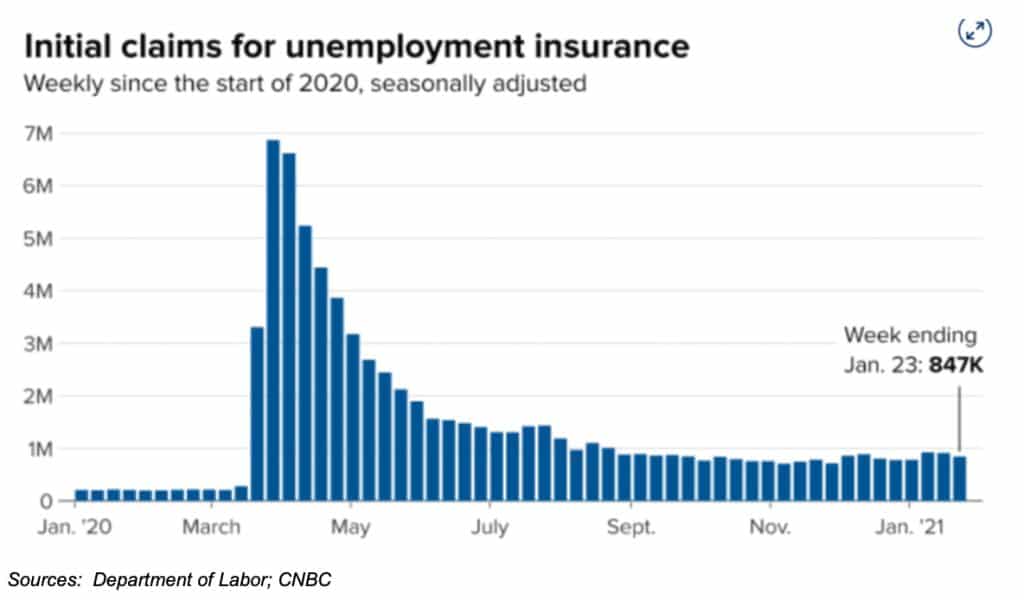 4. COVID Vaccine Distribution
According to information collected by Bloomberg, 94.4 million doses in 61 countries have been administered. An average of roughly 4.47 million doses are now given each day around the world, up from 2.95 million the previous week.
To date, 30.5 million shots have been given in the U.S., up from 19.8 million last week. An average of 1.35 million doses per day are now being administered compared to 983,000 last week. Across the U.S., 9 doses have been administered for every 100 people and 61% of the shots delivered to states thus far have been administered, compared to 6 doses per 100 people and 50% of the shots.
In addition, Johnson & Johnson announced its single-dose vaccine provided strong protection against COVID-19, potentially offering another powerful tool in combatting COVID-19 as well as the worldwide rise in virus mutations; however, the results showed an efficacy rate drop from 72 percent in the United States to 57 percent in South Africa, where a highly contagious variant is driving most cases.
Subscribe to our Newsletters
Stay up-to-date in real-time.