Word on the street > AE Industry Intelligence: Issue 34
AE Industry Intelligence: Issue 34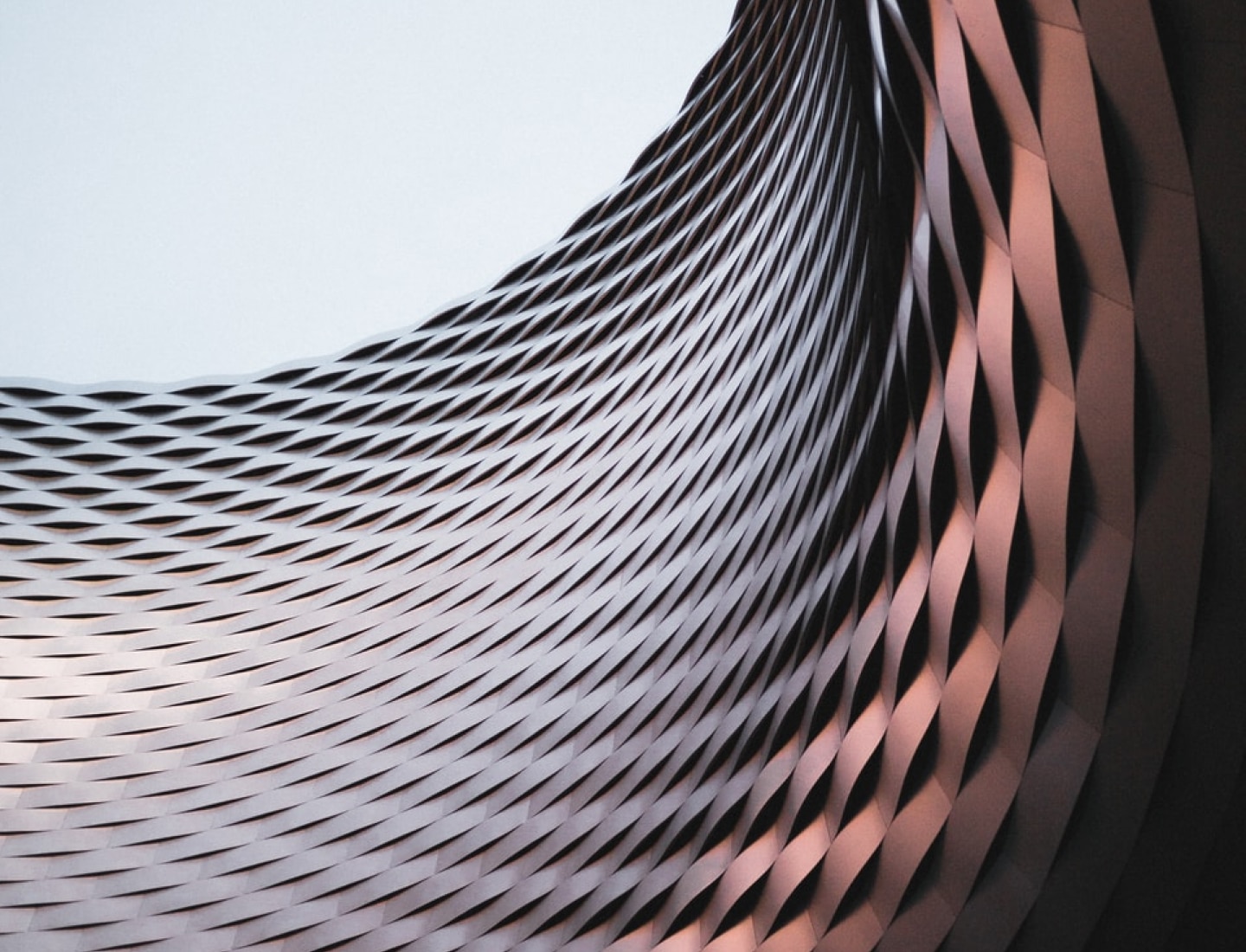 2020 will set a record for industry profits. Could 2021 be even better?
The A/E industry is having a banner year. Many (most?) firms will see record sales, revenues and profits in 2020. During a tumultuous year for the nation, our industry has forged ahead, demonstrated remarkable resiliency and agility, and invested in transformational technologies at an accelerated pace. Firms large and small have continued to serve their clients and take care of their employees.
Despite this record year, worries have persisted about the short-term outlook. Speak with CEOs and a common theme is that they have been expecting a slowdown and/or erosion of backlog to show up in the 3rd quarter or 4th quarter of 2020. The same concerns are manifested in industry surveys. The ACEC Research Institute's September industry survey shows large percentages of leaders concerned about a decline in business over the next 12 months. The most recent AIA survey is similarly gloomy about the outlook for the balance of 2020 and full-year 2021.
But it would appear that there is a disconnect between what's happening on the ground and industry surveys. Based on their backlogs, plenty of A/E and environmental firms around the country are expecting the boom to continue deep into 2021.
Publicly traded industry leaders are reporting strong backlogs headed into 2021. Stantec, Tetra Tech, NV5, and Atlas Technical Consultants all reported either record or close to record backlogs heading into the new year. And these tailwinds are playing out throughout the industry.
Sunbelt development shows strength. Residential AND commercial development in Arizona in general and in and around Phoenix in particular continues at a frenetic pace. After some concerning times earlier in the year due to the pandemic when many firms saw multiple projects put on hold, civil and surveying firms are seeing strong demand and expect it to continue well into the new year. Some firms are even turning away work as they do not have the capacity to take on new projects and execute on them successfully.
Florida is also booming likes its 2019. Architecture firms up and down the gulf coast of Florida indicating that they are having a hard time keeping up with the demand in the private sector. Senior living, mixed-use, and hotel/casino sectors are moving forward with major developments.
Private sector development outlook in Carolinas and Georgia is robust through the first half of 2021. It's not unusual to hear from firms that their backlog is holding at 8 to 12 months— higher than it's ever been and no sign of immediate erosion. Residential development is providing optimism well into the new year for many A/E firms in these three states. Healthcare and higher education are more mixed, but still with strength in certain regions. Warehouse and distribution center development is robust through 2021.
Surveying and civil engineering firms in the Northeast are also struggling to keep up with demand. Continued refinancing and repurposing of commercial sites, and on-going strength in residential development (have you tried to buy a house in Portland, ME, Cape Cod, or Westchester County, NY recently!?) have swelled backlogs from 60 days to 6 months. Architecture and interiors firms are also benefitting massively from these conditions.
The same pattern applies around Washington DC. Architectural design, civil engineering and site work in residential development and certain niches of the commercial sector are going strong, including Loudon County in Northern Virginia, one of the fastest-growing counties in the U.S., as well as the DC suburbs in Maryland and Delaware. Firms in and around the nation's capital see this work lasting well into 2021.
California firms are as busy as ever. Many are looking to staff up now and the first half of 2021. Residential development in all regions of the state continues to see investment to meet strong demand. The agricultural and water resources markets in the Central Valley are notably robust. This is benefitting regional players and smaller architecture, civil, and surveying firms up and down the state. Firms are seeing some signs of weakness in the public sector, however. While projects are being put out for design, it's unclear if they will make it through to construction. Many firms are still reporting record backlogs of a year or more— taking them well into the new year.
E-commerce will drive national demand for A/E services beyond 2021. With the nation Zooming into work, shopping for Pelotons on-line and binge-watching The Queen's Gambit and My Octopus Teacher on Netflix, the outlook for data centers and warehouse/distribution centers is positive well beyond the new year. The speed of deployment for these facilities rivals anything seen since the boom in the rollout of cell towers 20-plus years ago.
Life Sciences will carry many firms through 2022. Massive investments in drug and bio-tech research and development will drive facilities design and associated infrastructure development around the country. States best positioned for these developments are primarily Massachusetts, Colorado, and California, and also Utah, New Mexico, Maryland, and Delaware. EPC and commissioning firms serving this sector are expecting continued top-line and bottom-line growth well into 2021. Their big challenge? Finding qualified staff to meet the demand.
Could 2021 be another great year for the industry? It certainly looks like many firms are once again entering the new year with record backlogs to carry them through the first half of the year. Not all sectors, of course, will be as robust— but there is plenty to suggest that 2021 could be another very good year for firms that have positioned themselves in the right markets.
"Virtual" is so 2020 – Virtual Reality is the future! Our next Virtual Reality (VR) CEO Week is now over 50% full. 100 A/E & Environmental firm CEOs and presidents will come together in game-changing VR to discuss industry changes, trends, and best practices. CEOs can attend for the week or choose the days that work best for them. You have to experience VR to believe it. Early-bird registration is available through midnight November 30.
Lead your organization into the future and be the VR Trailblazer for your firm. Learn how you can use VR to create a competitive edge in 2021. Select either our CEO VR Trailblazer Package or our Leadership Team VR Trailblazer Package to explore a whole new world of possibilities for your firm.
It was another bumper week for industry consolidation – with deals down just 3% over last year. And every region is seeing M&A activity – this week we reported on deals in KY, PA, FL, NV, DE, and OH. (Note: This was a fun combo for the anagramers on our team!)
If you have questions about this week's "Word on the Street," or need help planning for or navigating the New Reality, call Mick Morrissey @ 508.380.1868 or email him at [email protected].
Four Factors to Watch
Infrastructure Stimulus (TBD)
With infrastructure stimulus plan discussions seemingly on hold until the next administration fully takes shape, below are the major investments that are expected to be featured in a Democratic-led infrastructure bill, should one come to pass:
500,000 electric vehicle charging stations by 2030
$400 billion for clean energy
$100 billion to modernize schools
$50 billion to repairing roads and bridges in first year
$10 billion for transit; zero-emission public transport
6 million buildings and homes upgrade; $300 billion for housing construction
Investment in water/sewer systems
Expanded broadband to rural areas
Banning of new permits for oil and gas drilling on federal land and offshore
Creation of 1 million jobs in the auto industry and 1 million jobs in construction
250,000 jobs in climate-smart ag, resilience, and conservation
COVID-19 Case Numbers
Just last week, we noted the jump of daily COVID cases in the U.S. from 75,000 in September to over 120,000. Heading into last weekend, daily cases in the U.S. eclipsed 180,000. Nearly 11 million people in the U.S. have had confirmed coronavirus infections.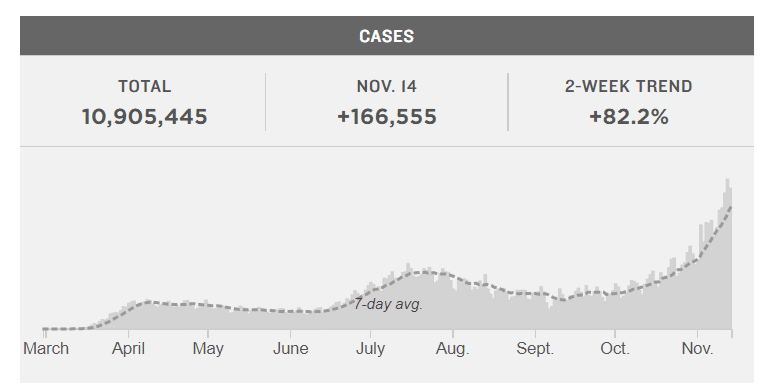 Jobless Claims
First-time claims for unemployment insurance declined for the fourth straight week, signaling the continued gradual improvement of the labor market. Weekly job claims were down from 757,000 the previous week to 709,000 last week, beating the expectations of top economists by more than 30,000 claims. Weekly claims are nudging town toward the pre-coronavirus pandemic record of 695,000 set in 1982. Continuing claims also fell 436,000 to 6.79 million.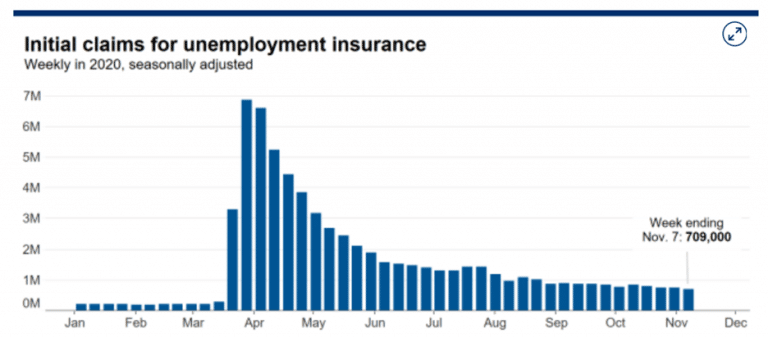 Vaccine Developments
After Pfizer's announcement last Monday that its vaccine proved to be 90+% effective, emergency approval from the Food and Drug Administration is expected relatively soon. The FDA will also likely grant approval for other vaccines when their trials are complete. Moncef Slaoui, the scientific lead on Operation Warp Speed, expects to have 20 million doses of a vaccine ready in December, with another 25-30 million available each following month– a number that could increase over time. Slaoui expects FDA approval before the end of the year for two vaccines. Vaccines are expected to be available to the average American by April.
Subscribe to our Newsletters
Stay up-to-date in real-time.