Word on the street > Issue 112
Word on the Street: Issue 112
Weekly real-time market and industry intelligence from Morrissey Goodale firm leaders.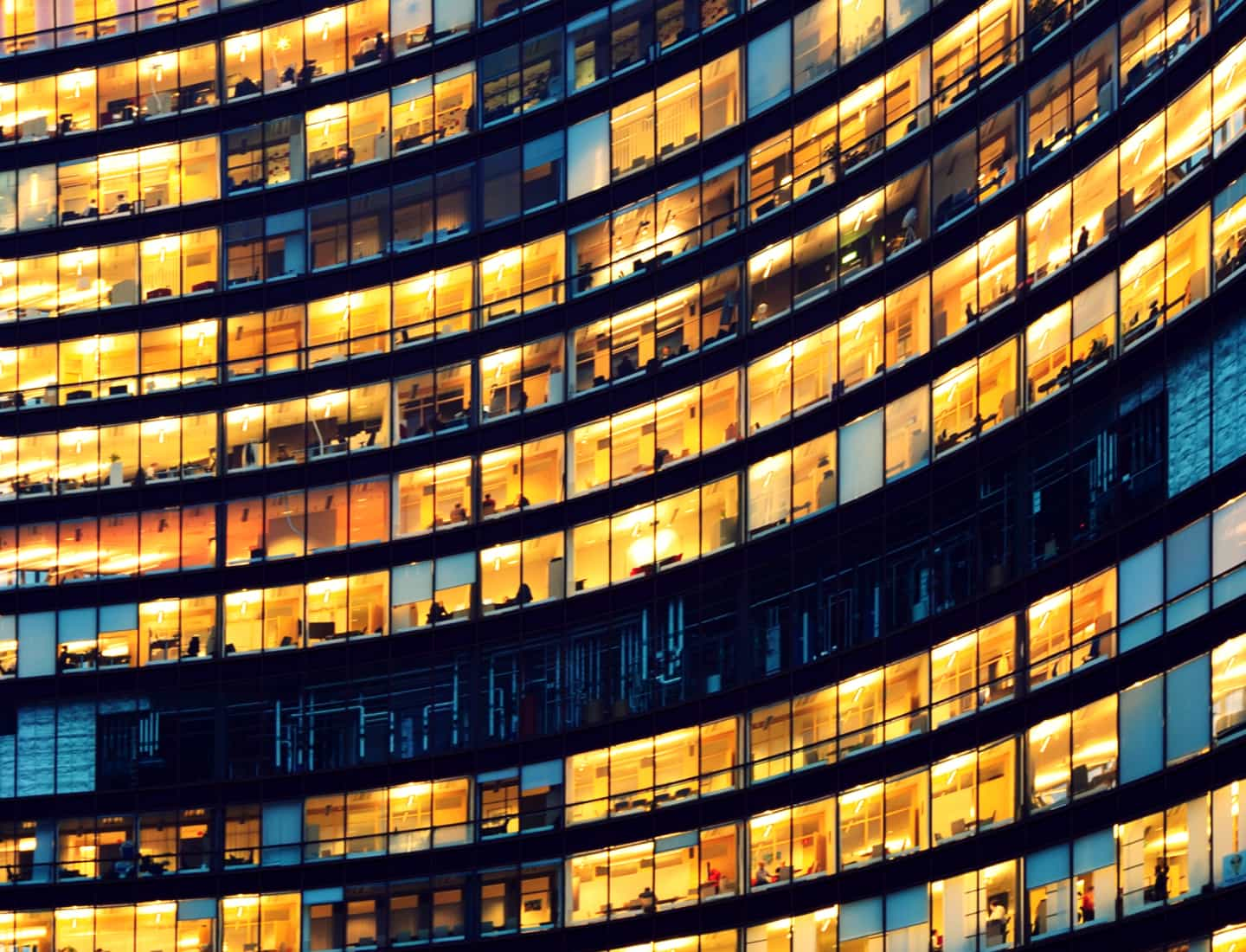 The Secret Wants & Needs of Design Firms & PE/FO
Last week, The Mannik & Smith Group (MSG) (Maumee, OH) (ENR #320) announced their strategic partnership with Trilon Group (Denver, CO), which is backed by Alpine Investors (San Francisco, CA), a "people-driven private equity firm." (Congratulations to both firms on this tremendous partnership. We were privileged that the MSG team chose us to act as their strategic advisor.)
In doing so, MSG became the 39th ENR Top 500 Design Firm to announce an outside recapitalization event (defined as either a sale to a strategic buyer or a recapitalization by private equity (PE) or family office (FO)—or for the purposes of this article "PE/FO") since January 2021.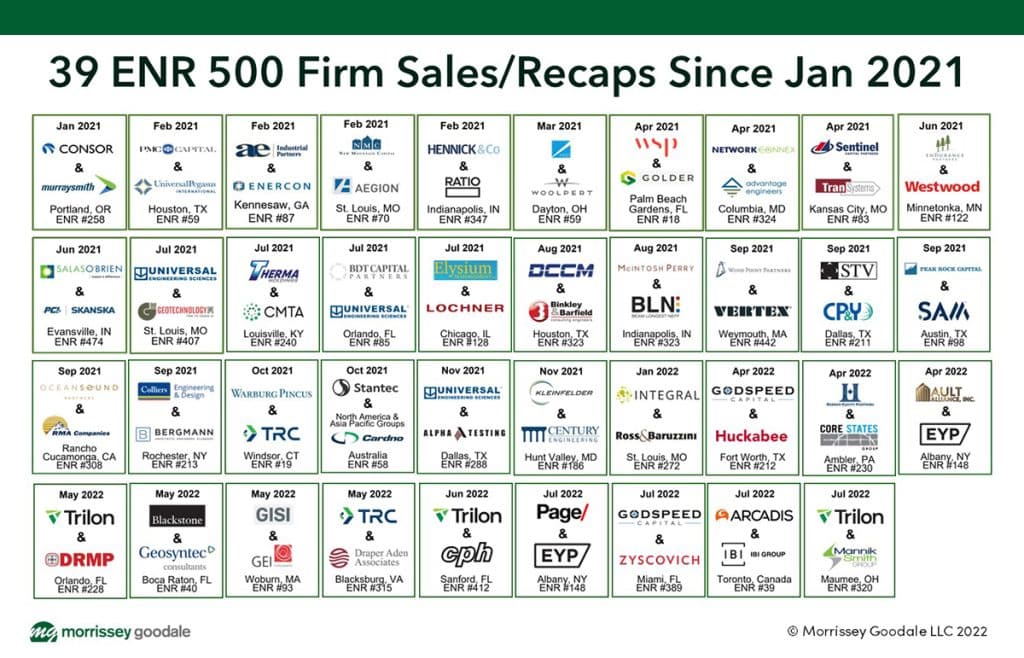 In any given year prior to the pandemic, maybe 10 of the ENR Top 500 firms would recapitalize externally. That all changed in 2021 when 26 of the top design firms chose this strategic option. Year-to-date, we've already seen 13 top designers make the same strategic decision. And Word on the Street is aware of at least 20 such transactions in advanced stages right now. (About half of those will fall apart at the altar.) This year will see record levels of recapitalization among the ENR Top 500. What's really interesting about this trend is that 32 of the 39 recapitalizations (86%) involve PE/FO capital.
We are often asked why this is happening, why a growing number of the industry's top designers are swapping out their traditional employee-ownership or ESOP capitalization model in favor of one that involves outside PE/FO. Well, it's all down to the secret wants and needs of leading design firms.
Can't get there from here

: In the press release from the MSG/Trilon combination, MSG CEO Dean Niese says, "Over the past year, our leadership team carefully considered many options and partners that could help us accelerate our strategic plan." The key phrase here is "accelerate our strategic plan." Better than one-third of the top designers that made the choice to recapitalize with PE/FO since January 2021 did so because they were unable to achieve their strategic growth goals fast enough with their existing capital model. They had it all. Record financial performance? Check. Confidence about leadership and ownership transition? Check. Robust and growing backlog with great clients? Check. High-performing, optimistic leadership teams? Check. However, they could not grow fast enough. Specifically, they were unable to grow through acquisitions. Why? Well, ironically because they couldn't compete with the pricing or terms offered by PE/FO industry players. So, they chose to recapitalize with PE/FO to allow them to reach their goals. Put these firms squarely in the "wants" camp for PE/FO.

Faded glory

: Another one-third of these 32 designers chose PE/FO because of what I like to call "brand/operations asymmetry." These are firms that have a strong brand in the industry. This brand might result from a portfolio of work that includes iconic projects. Or possibly they're known for being industry leaders in a particular technical niche or project type. But they've lost their way operationally. Their brand would suggest they should be generating 20%-plus profit annually. But some combination of leadership dysfunction, management incompetence, or operational inefficiencies has driven profitability to single digits, putting the firm's future viability in peril. In these cases, PE/FO has essentially "saved" the firm and presents the opportunity for everyone involved to better leverage the power of the brand. These firms needed a PE/FO solution to repair the business and match their bottom lines with their brand potentials.

After the love is gone

: The rest of these firms chose PE/FO because they'd either forgotten how to—or no longer wanted to—grow. They were super-profitable, "cash machines" even. But they'd seen anemic or flat growth before and through the pandemic. These typically were firms where the founders had stuck around way too long. There was no leadership transition plan in place (the best candidates had been driven off or had chosen to leave). These firms needed PE/FO to buy out "the old guard" and inject new life into the firm.

Two roads diverged in a yellow wood

: But why did these 32 firms elect a PE/FO solution to their challenges and not a sale to a strategic acquirer? There are likely two reasons. The first is that most "pure" recapitalizations by PE/FO allow the recapitalized firm to keep its brand name as a platform to build around going forward. This is super-appealing to leadership teams. The second is that since before the pandemic, PE/FO buyers have been presenting very attractive deal terms and conditions to ENR 500 firms and as a result have been "winning" more often than losing out on those firms that they target for acquisition.
Quo Vadis: We're keeping a close eye on this trend and its first- and second-degree effects for our industry. As far as 2022 is concerned, the secret wants and needs of the industry's leading design firms will continue to fuel their recapitalizations (interest rates allowing). Right now, there's no end in sight. (Where have I heard that before?)
Thoughts, insights? What's your view of the recapitalization of the design industry? To connect with Mick Morrissey, email him at mmorrissey@morrisseygoodale.com or text/call at 508.380.1868.
CEO Spotlight: The Millenial Leader
Last week, I visited with Tyler Mathews, president of England-Thims & Miller (ETM), the highly respected Florida-based, ENR Top 500 engineering and planning firm that consults to infrastructure and land development clients.
Tyler is the real deal and a balanced leader. He's collaborative yet decisive, socially engaging yet direct, and spirited yet measured. And he happens to be a Millennial.
I talked with Tyler about what it's like being a Millennial leader in today's AE industry
MGOOD: Tyler, thank you for contributing to Word on the Street!
TYLER: Any time!
MGOOD: First of all, what's it like being the Millennial president of a firm in the AE industry? What are some of the advantages and challenges?
TYLER: I took the role in December of last year. It has been a fun and wild ride over these past seven months. On the advantage side, a large percentage lot of our workforce is Millennial and Gen Z, so I can very much relate to a huge tranche of our existing workforce—and I know what appeals to the workforce we are trying to hire. We run a robust intern and talent development program, and I am focused on continuing to make ETM the best place for our current interns and new hires to build their entire career and life. On the other hand, the age discrepancy with my older colleagues can be perceived as a challenge. I have a lot of colleagues who are 10-30 years my senior, and I have a great deal of respect for their character, life experiences, and commitment to the longevity of our firm. I try not to apologize for my age, but I have to recognize that, at times it's the elephant in the room. My approach is to address it when needed, be polite and respectful, and move forward with leading the organization with our core team that has a vision for where we are headed.
MGOOD: What are you learning?
TYLER: First and foremost, I am learning how much I don't know—that's for sure. But I also continue to learn—and reemphasize within the firm—how much of a team sport this profession really is. Successful companies in our industry are living, breathing organisms that entail so much specialized expertise in so many areas that one person simply can't cover it all. Rather, collaborative teams of people who excel in their specific lanes are required to do the work of our firm. Have the right people in the right seat on the right bus. Also, we're willing to get outside experts plugged in as appropriate. As an example of the right outside experts, I am very thankful for the work Morrissey Goodale does as a consultant to our leadership team
MGOOD: Thank you, Tyler! The check's in the mail! Now then, how did you prepare for the role of ETM's president?
TYLER: We try to have a culture where people run the job to a degree before they get the title, and that's true at every level of our company. The same thing is true for my position as president. For the last few years, I have been growing more into a leadership role and given more leash to run and perform for my partners and clients. This began as a project manager, having access to help pitch the next year business plan to our Executive Leadership Team. That quickly evolved into serving in a leadership capacity in our Land Development business unit and being invited to join the Executive Leadership Team. From there, I was given the opportunity to be in the room for all kinds of new discussions, assessments, and decisions. I very much appreciate that my promotion to president was at a point where we have the current and past CEO still in the building as opposed to waiting for them to be out the door prior to a new appointment by the board. Like so many roles in our profession, you learn this job by doing it, so overlapping with partners who have been leading ETM for 40+ years is invaluable.
MGOOD: What role were you in before you became president?
TYLER: I was on the core team of partners that ran our 70-person land development business unit. This opportunity created a very natural path to firm-wide leadership since that business unit is so ingrained in a significant portion of what we do as a firm. Also worth mentioning is that as I assumed the title of president, we also appointed a new EVP and VP of land development, and brought in eight more equity partners. I have great partners, and together we lead this business. It's a team sport.
MGOOD: What aspects of the role, if any, turned out the way you expected?
TYLER: I had been told to expect to feel the weight of the organization, and if anything, I still underestimated it a bit. There is something about becoming the official steward that brings the reality of success and failure into sharp focus. We have hundreds of people that expect to have a job and a rewarding career, and as leaders, we owe that to them. We also have dozens of clients who are trusting us to deliver excellence for them. It's a lot of weight, and that weight lived up to the expectations. I am so thankful we didn't wait another five years to make the transition. If I didn't have the backup of the current and past CEO still in the building, that weight might have been too much to bear.
MGOOD: What surprised you?
TYLER: I didn't expect the full magnitude of the transition. I have been around ETM a long time, but assuming the new role was more of a transition than I was expecting. The new role has brought into focus the reality of how difficult it can be to determine what should get my attention and what shouldn't. It is so easy to allow the circumstances to determine my schedule and priorities. At times, the urgent item is the right thing to focus on. Other times, catering to circumstances is just allowing the urgent to overwhelm the important.
MGOOD: What are your most important responsibilities as president of ETM?
TYLER: This question has had an evolving answer for ETM. About 40 years ago we were 20 people and 4 partners, and 100% focused on private land development clients. Today, we are over 280 people and 33 partners with a broad reaching set of services and clients. The role of president had different priorities in our past than today, and will of course be different in 10 years. Today, everything I am focused on really fits into two camps; working with our team to maintain the delivery of excellent service to clients and making sure that ETM is the best place for our 280 colleagues to build their career and their life. These responsibilities materialize into a lot of initiatives, but everything is about making sure ETM is the best place possible for our clients and our colleagues. We have a tag line of 'Trusted Advisors, Creating Community'. This defines both the role we fulfill for our clients and the ultimate purpose of our work.
MGOOD: Looking ahead, what are you excited about? What are you concerned about?
TYLER: We have a powerful combination of gray-haired wisdom with deep knowledge and relationships, but we also have a lot of 18-40 year-olds. Those groups married together mean so much for us and our clients—and we are well-positioned to leverage that. As for concerns, the economy is always there, especially sitting here mid-2022. We keep a keen eye on how our clients are weathering the economy and try to focus on things we can control.
MGOOD: What changes are happening right before our eyes in the AE industry?
TYLER: In some ways, our business serves the same needs it did when it was founded in 1977—helping clients in the infrastructure or land development arena eliminate risk and deliver a best-in-class product. And while the methods of executing our business and building the culture of what our talent expects have definitely evolved, I see them as opportunities to continue to live out our core mission of being Trusted Advisors, Creating Community.
Would you like help with your firm's leadership transition? Call Mark Goodale at 508.254.3914 or send an email to mgoodale@morrisseygoodale.com.
50 in 50: Iowa
50 states in 50 weeks: U.S. states economic and infrastructure highlights.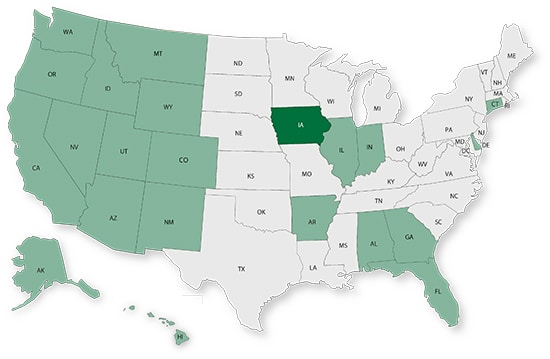 Key Economic Indicators
GDP: $180.3 billion
GDP 5-year compounded annual growth rate (CAGR) (2017-2021): 1.4% (U.S: 1.6%)
GDP per capita: $56,387 (U.S.: $58,154)
Population: 3.2 million
Population 5-year CAGR (2017-2021): 0.4% (U.S.: 0.5%)
Unemployment: 2.6% (U.S.: 3.9%)
Economic outlook ranking: #32 out of 50
Fiscal health ranking: #9 out of 50
Overall tax climate ranking: #38 out of 50
Key Sectors and Metro Areas
Top five industry sectors by 2021 GDP:
Sector
GDP ($ billions)
% of total GDP
Manufacturing
31.1
17.2%
Finance and Insurance
25.4
14.1%
Agriculture, forestry, fishing and hunting
19.7
10.9%
Real estate and rental and leasing
16.3
9.0%
State and local
16.2
9.0%
Top three industry sectors by GDP 5-year CAGR (2017-2021):
Sector
GDP 5-year CAGR
Agriculture, forestry, fishing and hunting
13.8%
Management of companies and enterprises
10.4%
Finance and insurance
4.2%
Top three metro areas by GDP:
Des Moines-West Des Moines
Davenport-Moline-Rock Island
Cedar Rapids
Top three metro areas by population 5-year CAGR (2016-2020):
Des Moines-West Des Moines
Iowa City
Cedar Rapids
Infrastructure Highlights
Infrastructure: ASCE Infrastructure Grade (2019): C
Iowa's bridges, dams, and inland waterways are in poor condition according to the last survey conducted by the ASCE. Lock and dam systems such as the Keokuk's on the Upper Mississippi River are important landmarks for the region's export markets. There are 26 locks between St. Louis and St. Paul and many of them were built in the late 30's with a 50-year life expectancy.
The state received better grades than those of the overall U.S. in Aviation, Energy, Levees, Public Parks, Roads, Solid Waste, and Wastewater. Iowa leaders have been focusing on numerous transportation issues and encouraging grant applications like the ones available for school bus emissions. The program's grant application deadline is August 19, and it plans to convert diesel engines to run on battery, propane, or compressed natural gas. Another priority for Iowa is addressing nearly 4,500 structurally deficient bridges, which are mostly under county jurisdictions.
Over the next five years, Iowa's Bipartisan Infrastructure Law (BIL) funds will address the following categories of projects (additional funds may be deployed as federal grants get awarded to states):
Funds
Improvement Area
$3.4 billion
Roads and highways
$638 million
Water infrastructure
$432 million
Bridges replacement and repair
$305 million
Public transportation
$120 million
Airports
$100 million
Broadband (minimum allocation)
$51 million
Electric vehicle (EV) charging network
$21 million
Wildfires protection
$15 million
Cyberattacks protection
Construction spending (Value of Construction Put in Place – CPiP):
Private Nonresidential 2020 CPiP: $4.2 billion; -9.2% 5-year CAGR (2016-2020), below overall U.S. CAGR of 2.0%
State & Local 2020 CPiP: $5.4 billion; 5.6% 5-year CAGR (2016-2020), above overall U.S. CAGR of 4.8%
AE Industry
ENR 500 firm headquarters (2022): 6
M&A activity since 2018:
16 deals with buyers from Iowa
9 deals with sellers from Iowa
For customized market research, contact Rafael Barbosa at rbarbosa@morrisseygoodale.com or 972.266.4955. Connect with him on LinkedIn.
Weekly M&A Round Up
Congratulations to The Mannik & Smith Group (MSG) (Maumee, OH): The nationally ranked engineering firm announced a strategic partnership with Trilon Group (Denver, CO), a family of infrastructure consulting businesses. MSG will lead Trilon's Midwest Platform with a focus on environment, transportation, water, and community infrastructure markets. We feel privileged that the MSG team trusted us to advise them on this transaction.
Another congratulations to Project Design Consultants (PDC) (San Diego, CA): The Southern California civil engineering, surveying, planning, and landscape architecture firm joined fast-growing Bowman (Reston, VA), a multi-disciplinary professional services firm offering a broad range of energy, infrastructure, real estate, and environmental management solutions. We're thankful that the PDC trusted us to initiate and advise them with this strategic initiative.
Industry M&A is up 25% over the past 12 months: Last week saw new transactions announced in OH, CA, CO, PA, VA, GA, WA, NC, TX, FL, and RI.
If you'd like to know more about our M&A services, and how we can help you either confidentially sell your firm or grow through acquisition then please contact Nick Belitz, Principal, at nbelitz@morrisseygoodale.com or 303.656.6151.
Subscribe to our Newsletters
Stay up-to-date in real-time.