M&A Annual Review > 2022 Year-in-Review and Look Ahead
2022 AE Industry M&A: Year-in-Review and Look Ahead
Check out the accompanying INFOGRAPHIC for more stats and details.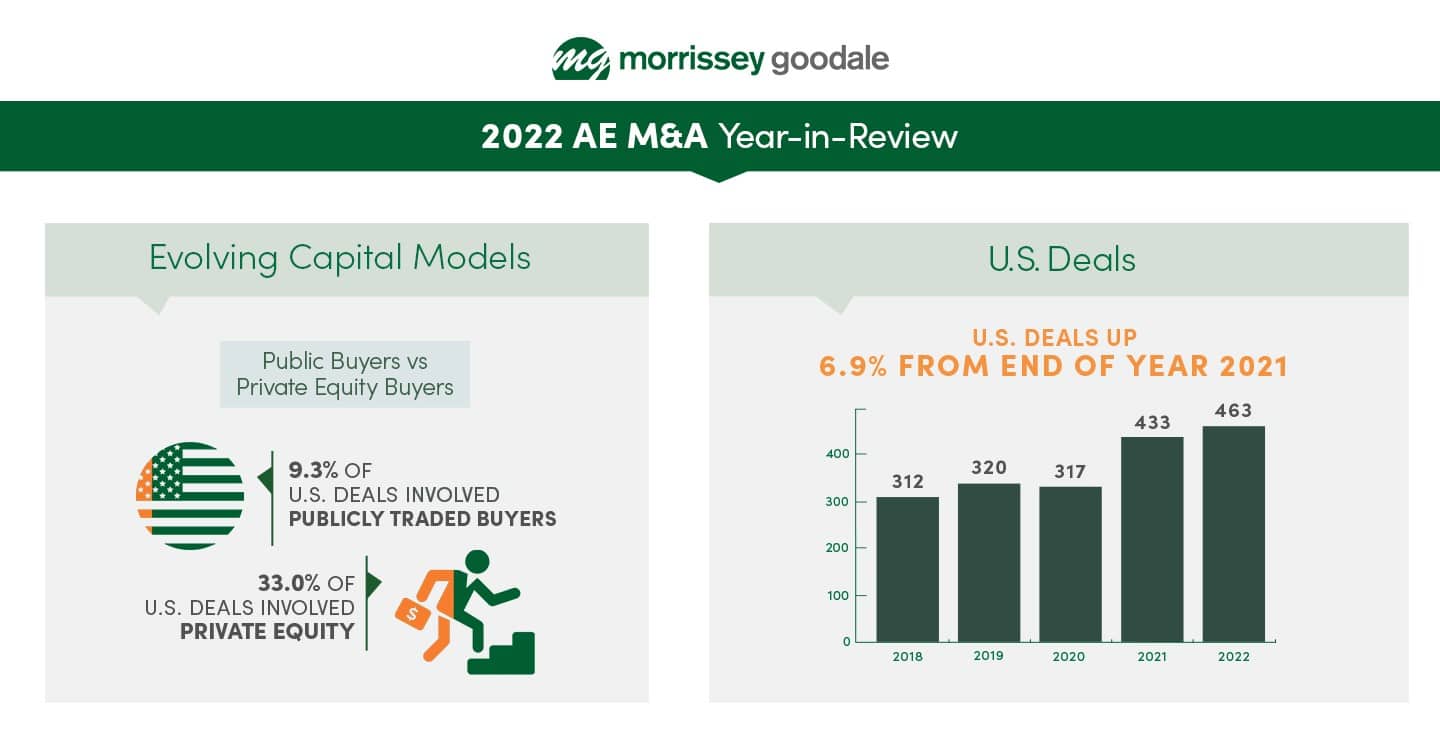 Industry M&A Activity Reached Peak Volume in 2022 – Second Half Slowdown Points to a Cooling Off in the Pace of Transactions
AE industry M&A activity reached peak volume in 2022, with a record 463 U.S. transactions announced during the calendar year. Strong economic tailwinds coupled with a generational retirement wave and a pressurized market for industry talent continued to fuel robust demand for deals amongst buyers and sellers of all shapes and sizes, lifting M&A to four consecutive quarters of 100-plus transactions in 2022. Even with M&A increasing 7% year-over-year, the headline numbers provide only a small snapshot of the trends seen in 2022 and a glimpse of where M&A activity is headed in 2023.
Hyperactive to Highly Active
Dealmakers entered 2022 with rose-colored glasses buoyed by elevated backlog, expectations of significant federal infrastructure spending, and record capital availability from private equity and strategic acquirers. By mid-year, emerging geopolitical concerns, supply chain instability, persistent inflation, and rising borrowing costs began to take shape. These factors, and more, fueled a degree of uncertainty that led announced deals to drop 22% in the second half of the year, and finish at the lowest levels since Q4 2020. However, we must remember that 2021 and 2022 represented all-time highs of deal-making and the pace of transactions we saw in the last several months of 2022 still eclipsed the tallies during the same time period just a few years ago.
Engineered for M&A Success
317 unique industry buyers combined to complete the 463 acquisitions made in 2022. 44 different AE and environmental firms completed more than one acquisition last year; 29 completed three or more deals; and the industry's ten most prolific buyers accounted for 67 deals, or nearly 15% of all U.S. M&A activity in 2022.
Leading employee-owned engineering design firm, IMEG (ENR #71), took the crown as the industry's most prolific buyer in 2022 with nine deals announced, followed by Ardurra (ENR #114), Bowman (ENR #118), and Trilon, who each reported eight transactions in the calendar year.
Across the board, interest from financial sponsors in the industry remained strong, as private equity-backed companies accounted for 153 transactions, or 33% of all deals, in 2022, while employee-owned and publicly traded buyers accounted for 58% and 9% of deals, respectively.
Bigger ≠ Buyer
A record 45.6% of industry transactions involved ENR 500 ranked firms in 2022. The industry's biggest firms weren't all buyers, either. In 2021, the number of deals involving ENR 500 sellers ballooned to 26. In 2022, 21 more ENR-ranked organizations joined the list of firms who, driven by the same supply-side drivers of leadership & ownership transition; record valuations; and a changed competitive environment cashed out at a rate never seen before.
The State(s) of U.S. Infrastructure
Buyers continue to cast their eyes toward the "Smile States," or those on either coast or in the Sunbelt, when making strategic transactions. The usual hot-beds of M&A activity — Texas, Florida and California – were responsible for 34% of all deals in 2022, with California deals bolstered by the state's large economy and Texas and Florida benefitting from lower taxes, lower cost of living, and generally warm climate. All states enjoy long-term needs for engineering and architectural design.
Texas topped all states for sales in 2022 with 55 deals. Florida, which had never seen more than 26 firms sold in a calendar year prior to 2021, surged to 53 firm sales in 2022, followed closely by California, with 52 sales. Pennsylvania, New York, and Massachusetts, three Northeast States, also combined for more than 65 deals in 2022.
A rerun of the unprecedented M&A activity seen in 2022 seems unlikely as the current macroeconomic and financing environments continue to create uncertainty and constraint for dealmakers. Still, with the need to expand and improve U.S. infrastructure only projected to grow, and industry backlog levels standing at unprecedented levels, we can expect deal volume to remain well above pre-pandemic for the foreseeable future.
To learn more about what's going on in the world of M&A, or if you need assistance with your merger or acquisition, contact Jon Escobar @ (224) 577-8595 or [email protected].
Subscribe to our Newsletters
Stay up-to-date in real-time.