blog > The Future of AEC Design Firms: The Numbers Driving the Industry
The Future of AEC Design Firms: The Numbers Driving the Industry
by Jon Escobar
Every year, the ENR highlights the top engineering firms in the industry. Learn what this year's Top 500 list means for AEC design firms and industry trends.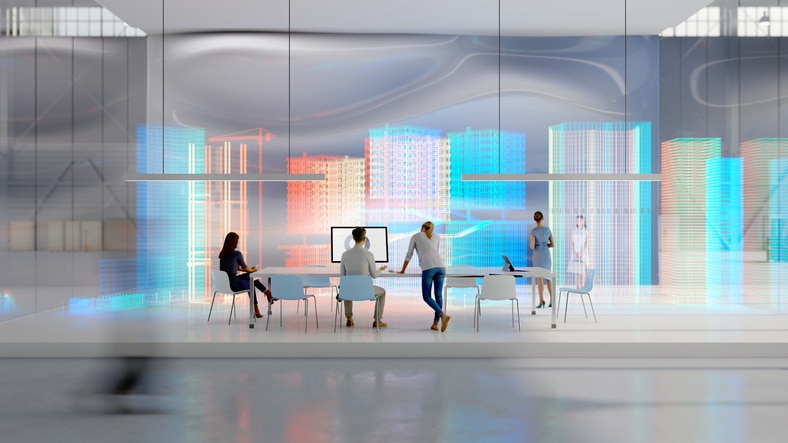 The annual Top 500 Design Firms list published by Engineering News-Record (ENR) charts the shifting fortunes of prominent AEC design firms and sheds light on emerging engineering industry trends. Compiling the ranking of the top engineering firms and top architecture firms and interpreting the information is a massive and important undertaking by ENR's researchers and journalists. The list's importance in shaping and benchmarking the AE industry cannot be overstated.
This year, the list of the largest AEC design firms also reveals how the AE industry is changing and the pace of that change. Let's decode what's happening in the industry by looking at some of the numbers from the 2022 ENR Top 500.
500: The AE Industry Standard
Over time, the Engineering News-Record (ENR) 500 list itself has become a touchstone for aspirational industry firms (There are many AE firm strategic plans that begin with: "Our vision is to be an ENR Top 200 firm by 2027!"). It's the Match.com for the many private equity and family offices that are looking to find the perfect design firm platform in which to invest in the AE industry. Visit their offices, and you'll find the ENR on their desks right beside Fortune and Forbes. It's the Tripadvisor for strategic acquirers from around the globe ("We need to acquire a leading infrastructure firm headquartered in North Carolina. Where can we find the names of those firms?"). The Top 500 list is both the starting point and a reflection of the changes in the industry.
15: The Declining Popularity of the Employee-Owned/ESOP Model
Fifteen is the percentage of the ENR Top 100 firms that are capitalized by private equity (it's 13.5% for the Top 200). The speed at which the private-equity model has been adopted by the industry's largest design firms is stunning. As shown in Figure 1, the percentage has almost quadrupled from just 4% in 2016. Over the same period, the number of Top 100 Design Firms that are publicly traded directly or indirectly has remained pretty constant at between 19 and 20 each year. However, the employee-owned and/or ESOP capitalization model has steadily declined in popularity among the industry's top designers. Just two-thirds of the ENR Top 100 are now employee and/or ESOP-owned — down from three-quarters in 2016. Will this recapitalization of the industry's leading AEC design firms continue? The next number suggests that it will.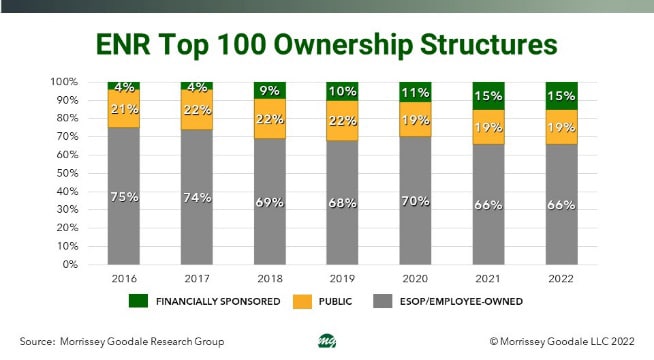 90: The Influx of Private Equity
Ninety is the percentage of sales or recapitalizations of ENR Top 500 firms in calendar year 2021 that involved private equity. Figure 2 below shows the 25 ENR Top 500 Design Firms acquired or recapitalized by private equity between January 2021 and April 2022. What happens if this 90% number holds up going forward? Well, Morrissey Goodale is projecting that, on average, between 25 and 30 of the ENR Top 500 firms will sell or recapitalize every year through the end of 2026. Assuming 90% of those firms choose private equity, then it's likely one-third of the industry's top designers will no longer be employee-owned by the time the calendar turns to 2027. Instead, they will be capitalized by outside equity.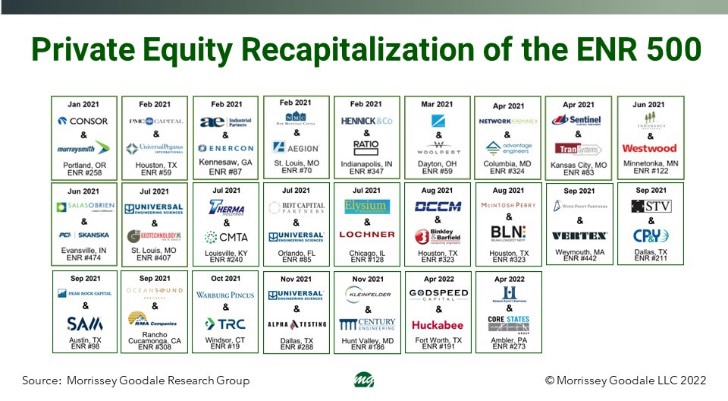 174: DCCM Shows Swift Growth in Private-Equity Model
The number 174 is the position on the Top 500 list occupied by DCCM (Houston, TX). DCCM stands for Design, Consulting, Construction Management. The firm was not on the list in 2021. In fact, DCCM didn't even exist as an operating firm in 2020. Rather, it was a plan, an intention, a thesis on the part of a private equity group. In 2020 and 2021, that group invested in and acquired five design firms in Texas, California, and Georgia (R.G. Miller Engineers, Miller Survey Group, Binkley & Barfield, Coastland, and Rochester) and created DCCM along the way. The time from "idea" to Top 200 Design Firm was less than two years. This rapid growth pattern is reflected in the other private equity-backed firms on the Top 500 list. Collectively, their average annual growth rate outstrips the rates of the publicly traded and employee/ESOP-owned designers.
The Future of AEC Design Firm Ownership
Where is this all heading? Morrissey Goodale's research and work suggest that private equity will continue to recapitalize the design industry and supplant employee ownership at a rapid clip over the next five years. Of the 3,100 firms that will sell over the next five years, 1,100 of them will be to a private-equity investor or operating firm.
As a result, M&A valuations will continue to increase over the next five years. Upper-quartile M&A multiples will hover in and around the mid-teens on trailing 12 months EBITDA. Median multiples will linger just shy of 10x. Lower-quartile multiples will remain flat south of 5x.
The domino effect is that overall valuations will begin to decline after 2026 as strategic and portfolio acquirers focus more on disruptive technology investments outside of traditional AE and environmental consulting firms. Those AE firms that successfully integrate disruptive tech into their businesses will see their values hold, if not increase. However, the bottom will fall out for the median and lower-quartile firms as buyer demand will disappear.
Helping AEC Design Firms Make the Most of the Numbers
It's important to understand the state of the market if you're involved in it, but it's equally important to understand that Morrissey Goodale's professionals are experts at navigating it; we specialize in helping AEC Design Firms become and remain successful. Our merger and acquisition experts are the leading market advisors for private equity-backed transactions in the AE industry. Our consultants work with architecture, engineering, and environmental firms to understand the pros and cons of private equity and its suitability for your firm. We assist AE firms in finding and selecting the right private equity or family office partner, navigating the right offer for your firm, and achieving optimal transaction terms.
Morrissey Goodale also works with private equity firms and family offices to help them understand the AE and environmental industry. Using our unmatched industry network and database, we can identify platform investments and add-on acquisitions and recruit executive-level talent to lead and grow private equity firms' new investments. Click here to see a list of private-equity transactions facilitated by Morrissey Goodale.
Contact us today to find out how Morrissey Goodale can help your firm.
March 20-22, 2024 Miami, FL
Southeast M&A and Business Symposium
Over two information-packed days, come together to discuss strategy, innovation, and M&A trends while networking with AE industry executives.
View Details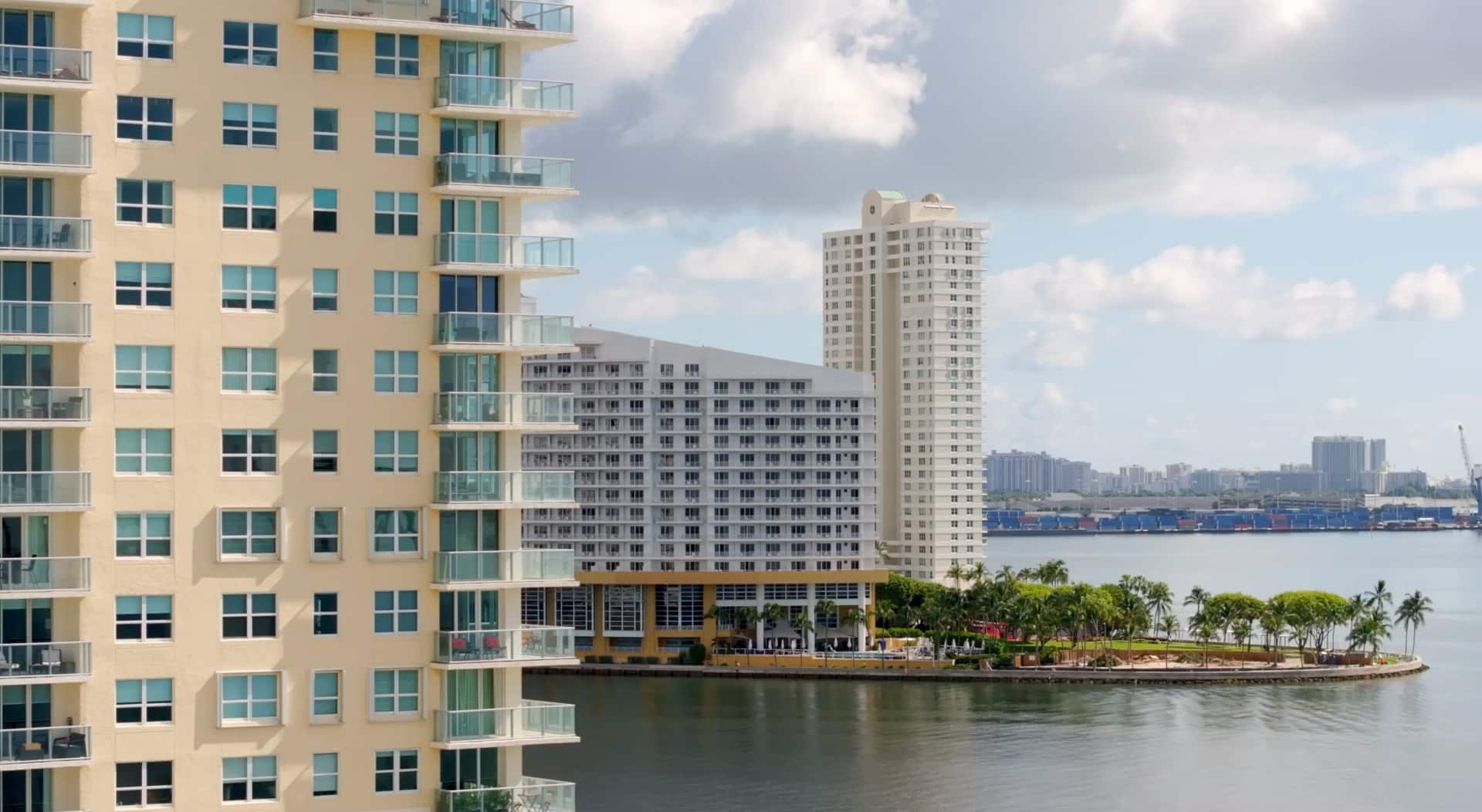 Subscribe to our Newsletters
Stay up-to-date in real-time.