Virtual Reality Services
Remote work. Shrinking travel budgets. Zoom fatigue. It's harder than ever to run an architecture, engineering, or environmental consulting firm today.
We're here to help. Morrissey Goodale has designed cutting-edge Virtual Reality (VR) and Augmented Reality (AR) solutions. You can use VR for work by bringing together project teams, connecting with clients, and hiring and onboarding new employees through interactive 3-D avatars that create deeper connections than those made by staring at videoconference screens.
Morrissey Goodale's VR for workplace solutions allows AE firms to position themselves as market leaders. We offer VR packages for industry trailblazers, and our virtual reality experts can train your firm in this exciting new technology. In addition, Morrissey Goodale hosts fully immersive VR/AR learning and networking events for CEOs and C-suite executives at AE and environmental firms.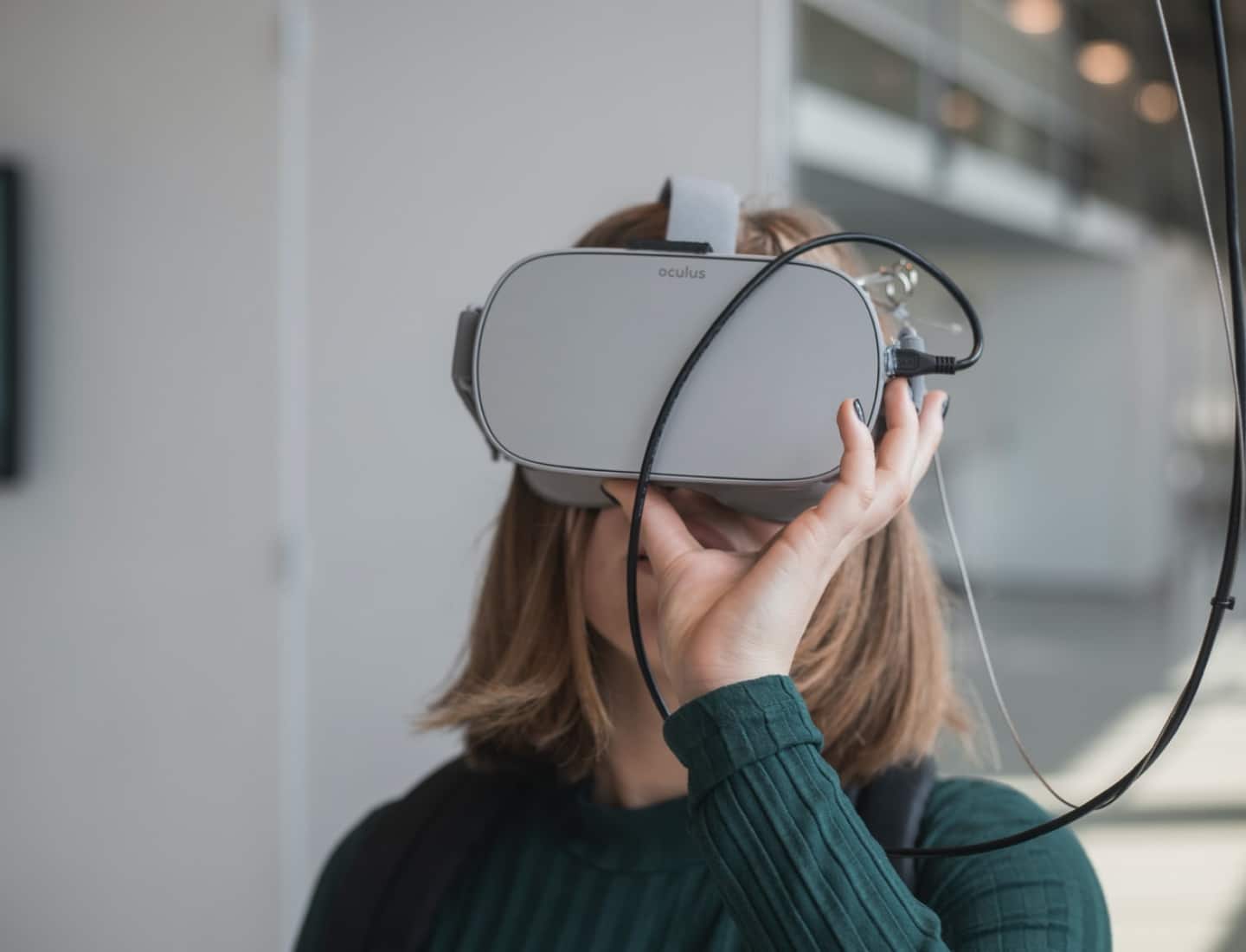 VR Solutions Shaping the AE Industry
Morrissey Goodale's VR workplace solutions allow remote staff to interact and collaborate like never before—no matter where they live.
VR allows firms to maintain company culture even when everyone's working remotely.
Wow clients by allowing them to see how their projects will look using 3-D designs in your custom-branded VR environment.
Meet potential hires in your VR environment, so you can make more informed hiring decisions.
Virtual Reality Packages
CEO Trailblazer
$5,000
Experience the power of VR/AR. See it in action and find out how the various applications can benefit your firm.
CEO Oculus headset and set up (the Oculus headset is yours to keep)
Two one-hour VR coaching sessions at the Morrissey Goodale VRCampus (no need to travel; it's virtual)
One-hour tour of VR applications for your firm on the Morrissey Goodale VRCampus
24/7 access to the Morrissey Goodale VRCampus
Buy Now
Leadership Team Trailblazer
Starting at $15,000*
Explore the VR/AR world with your leadership team. Experience the technology with each other and brainstorm how to apply VR/AR at your firm.
Oculus headsets and set up for up to five executive team members (the Oculus headsets are yours to keep)
Two one-hour team VR group coaching sessions at the Morrissey Goodale VRCampus (no need to travel; it's virtual)
One-hour tour of VR applications for your firm on the Morrissey Goodale VRCampus
24/7 access to the Morrissey Goodale VRCampus
Buy Now
*Should you wish to introduce more than five of your executive team to the VR/AR Leadership team Trailblazer package the additional investment is $3,000 per person.
What VR Clients are
saying about
Morrissey Goodale
"My oh my! This week was like none other before in my life, that's saying a lot for 2020! Morrissey Goodale pulled off an impactful and therapeutic Virtual Reality CEO summit high above the Sydney Opera House. In small groups, we had the chance to share stories, best practices, challenge one another and learn from one another about this most unusual and transformative year. I appreciated the candor from both old and new friends that are leaders in the AEC industry. We shared about our 2020 experiences, what we are wrestling with today and what we expect the future to bring. What a spectacular week! Well done MG team!"
Darin Anderson, CEO
Salas O'Brien (ENR #147)
"I have had the pleasure of attending the Morrissey Goodale Virtual Reality CEO Conference this week. I was not sure what to expect. I will admit, I am very impressed with the interaction and "connected" feel of operating/meeting/collaborating in VR. It definitely sits in the middle of "In person" and Zoom. While zoom has certain benefits, VR has the benefit that while you are under the hood you are 100% engaged, there is no multi-tasking. The conversations have been impressive, allowed us to create new connections and expand our networks, and felt like we were in the room discussing the areas and issues facing AEC CEOs in a rapidly evolving industry."
Kurt Bergman, CEO
AEC Portfolio at NewHold LLC
"I have really enjoyed CEO week and found it extremely valuable. Thank you for making it an extremely unique event."
Jeff Brink, CEO
DCI Engineers (ENR #312)
"Thanks to MG for an incredible workshop in a virtual world. I am new to virtual reality and expected it to be difficult, however with 30 minutes of training from the technology team at MG I was able to quickly and easily enter a virtual round table with exceptional CEOs who openly discussed any current topics. The format was well thought out, and captured my full attention from start to finish. The diverse cross section of attendees provided invaluable feedback and sparked new ideas that will help T-O Engineers continue to grow and prosper."
J.R. Norvell
T-O Engineers (Meridian, ID)
"Morrissey Goodale has done it again! At a time where meeting with colleagues seemed impossible they delivered beyond all expectations with a mind blowing virtual reality experience! They found the perfect mix of great CEOs talking about real time challenges in an industry leading environment – hats off to the entire MG team for your progressive thinking and bringing us all together when we needed it most!"
Scott Cattran, CEO
Woolpert (ENR #72)
"I applaud the bold step of conceiving and planning out a virtual reality CEO conference. The advertisements of it caught my attention and made me curious. The "reality" of the VR conference was that it became a great nudge to me as a leader to remember to keep trying and contemplating new things. What at first seemed like a fun novelty, became a multi-day focus time for me of how to embrace and utilize VR for my leadership team and VHB as we continue to evolve our company to become the company we need to be for our people and our clients. A big THANK YOU to the MG Team!"
Mike Carragher, CEO
VHB (ENR #55)
"Use of virtual reality technology with the small group format resulted in highly engaged discussions between CEOs. Morrissey Goodale's CEO Week was an outstanding and unique experience. I honestly overlooked the fact that we were not actually together because of the technology and format. Stay with it MG as you've found a creative way to challenge and benefit A/E/C leaders!"
Dean Niese, CEO
The Mannik & Smith Group (ENR #291)
"The Morrissey Goodale CEO Week VR conference is a great example adapting during COVID-19. While many conferences have provided value utilizing Zoom/Teams to connect people, MG took it to the next level and provided an experience that was much more meaningful in connecting CEOs while optimizing and sharing new technology. While it didn't replace being in person, I believe it was the next best thing. Timely topics and great discussion amongst my peers."
Jason Poppen, CEO
HR Green (ENR #204)
"I have commented to our leadership team several times throughout this pandemic that the professionals at MG have really "upped their game" over the last 6 months. They have provided timely and insightful information to their clients and AE industry to help guide us into this new reality! The VR CEO week is just another example of how the MG team has opened my eyes to how my firm can be more successful in this new reality and how VR and other advanced technologies can be a part of our daily business activities. Well done MG team!!!"
Steve Lane, CEO
Smith Seckman Reid (ENR #198)
"I was skeptical at first with the Virtual Reality presentation format but it was actually a much better experience than I expected. It felt much more engaging than just staring at a screen on Zoom or Teams call. Thank you Morrissey Goodale for thinking out of the box and showing me an entirely new way of communication that was the next best thing to physically being in a room all together. Totally cool experience and look forward to the next one!"
Kevin Haney, President/CEO
Maser Consulting P.A. (ENR #108)
"Excellent opportunity to share insights and planning with other industry leaders."
Frederik Riefkohl, President
CSA Group Program Management (ENR #28)
"Morrissey Goodale and its team have notched it up during these unprecedented times. They introduced the CEOs to an exceptional experience and a look into the future of communication and collaboration. I commend the MG team for taking the initiative to get proficient at VR and taking the time to coach all the CEOs on the use of this technology. Flawless execution! Thank you."
Sandeep Patil, CEO
CONSOR Engineers, LLC (ENR #125)
"I had no idea what to expect, but I was pleasantly rewarded with a great CEO forum experience. Many of us are dealing with the same management issues, and attempting to dive into the VR/AR world was just one more thing that we could share our experiences about….while laughing a little at ourselves and our skillsets."
Jonathan Kramer, President
OHM Advisors (ENR #245)
"This was my second VR experience with MG. I entered both of them curious but skeptical. Thanks for daring to put on an event like this and pushing our envelope and comfort zones. The future of VR is bright and I expect it to take on an increased significance in our industry in the next several years."
Stewart Osgood
DOWL, Seattle, WA (ENR #202)
"I thought the conference hit the mark in terms of exposing C-suite attendees to the power, potential, and current limitations of VR technology. The session moderators were very good, and the range of participant experiences, services, territories, and firm sizes made for easy-flowing, candid group discussions. I also enjoyed the last day when Mick demonstrated how the tech can be deployed – very helpful."
Mike Battle, COO
EA Engineering, Science, and Technology (ENR #145)
"I love the format and will continue to attend these. Great job to the MG team."
Chris Solomon, President & CEO
SAM Companies (ENR #93)
"As the saying goes, "you build it and they will come", I think Morrisey Goodale is "building" a pathway for a future with widespread use of VR for collaboration in the AEC universe. A future that because of the pandemic, has arrived 10 to 15 years early. Once the CEOs get over their initial apprehensions and the feeling of novelty wears into usage as an essential tool of business, the rank and file are sure to follow. Who remembers the mid-nineties when the cell phones came into existence, and who can live without one now?"
Sanjay Agrawal, PE, SE, President & CEO
AG&E Structural Engenuity, Addison, TX
"After strapping on a VR Headset and spending CEO Week with the Morrissey Goodale team, I came away with a deeper respect for their industry intelligence. Thank you for the opportunity to experience the future possibilities for our industry! For me the week started awkward and uncomfortable, but soon became enlightening and rewarding through the rich VR program and amazing industry leaders. Great discussions of real challenges in the unreal."
Shawn Mahoney, CEO
OAC Services (Seattle, WA)
"Having never experienced anything with VR prior to the CEO week, I had no idea what to expect. The experience was incredible, thought provoking, and a huge innovative stimulus. To enjoy this experience with a great group of talented professionals was impactful. Hats off to the MG team for making it all happen."
Todd Kenner, President
RESPEC (Rapid City, SD)
"Thank you Morrissey Goodale for an outstanding CEO Week event. It was the first time I have used Virtual Reality and I really enjoyed the experience. In the midst of a pandemic, MG made it happen! We were able to have impactful discussions among CEOs of several companies across the USA. We learned how our respective businesses were affected by the coronavirus. It was interesting to hear how other CEOs were handling the COVID 19 situation at both a personal and professional level. I'm looking forward to the next event. Congratulations to the Morrissey Goodale Team!"
Dave DeLizza, CEO
Pennoni (ENR #96)
"Morrissey Goodale has been a great source of industry information to me and my firm throughout the pandemic. As a result I was excited for the opportunity to experience the Virtual Reality CEO Week event and get to know more about the capabilities of VR in the AEC industry. The week provided ample time for me to become comfortable with the basics of virtual navigation while also engaging in valuable discussions with other industry leaders. From my perspective, I can see the unlimited potential in VR for transforming the industry and returned to my organization with great ideas on how we could immediately start to apply some of the aspects in our operations."
Jason Fralick, President
Herbert, Rowland & Grubic Inc. (ENR #404)
"CEO Week has been a fantastic event for me. This unique forum has allowed me to have a somewhat shared experience with other peers, leaders and friends from throughout the industry. We've had rich discussions about the challenges and opportunities the current environment is creating within our firms and I've really had a chance to grow and learn from the others. Beyond the inspiring conversations, we've had a compelling immersion into the Virtual Reality experience to better understand how this technology may be utilized in our industry in the very near future."
Mike Munn, CEO
McAdams (ENR #355)
"Incredibly impactful event. Morrissey Goodale pushed way beyond the envelope with this VR event. If I had seen nothing but the VR technology, it would have been well worth it. But to sit in small virtual rooms with other amazing CEOs for facilitated discussions was quantum learning. What a great concept that was worth every second of participation."
John Kissinger, CEO
GRAEF (ENR #374)
"As we encourage our innovative RS&H project teams to explore and lean into emerging technology, Morrissey-Goodale's virtual conference provided me a great opportunity to do just that alongside industry peers! The topics and discussion were insightful and the experience was further magnified by helping us to envision aspects of our potential future. Well worth the investment of time!"
David Sweeney, President
RS&H (ENR #48)
"The virtual reality was great. We could see everybody "face to face" and had a very good discussion with everyone able to participate."
Andy Platz, CEO
Mead & Hunt (ENR #111)
"The VR session was totally engrossing, and a step closer to real interaction than an on-line meeting. Facilitators did an excellent job creating a robust sharing environment using the "lean coffee" principles, and CEOs were universally open and candid about the experiences, challenges and opportunities that we share as CEOs. The small-session format ensured that input was meaningful and that everyone reflected and engaged. This was a worthy investment of both time and money."
Jon Christensen, President & CEO
Kleinschmidt (Pittsfield, ME)
"The CEO Week was a great opportunity to interact in a meaningful manner with other CEOs. As a small business owner, I have found myself working in a bit of a vacuum with my team and my clients, without people to talk to about the bigger picture – this really filled that need for me. Also, the VR was great and I am already looking into it for my team, we are going to be on limited face-to-face for a long time, and I think that this will be a great way to stay connected."
Holly Stone, President
Stone Security Engineering
"Simply put, VR unleashed a heightened level of collaboration and connection to share ideas and lessons learned. It's like 'being there!'"
Matt Ryan, CEO
S&ME (ENR #105)
"Morrisey Goodale has just done a fantastic job of recognizing a challenge in our industry when bridging a loss of culture, integrating technology and communicating with a team never seemed so impossible. For me this was the second opportunity to immerse myself in a virtual reality experience while being exposed to the real time challenges our industry leaders face on a day in day out basis. Kudos to the entire team, in making this experience unforgettable and something I can apply across our greater organization going forward."
Matt Bissett, Managing Principal
Atwell LLC (ENR #121)
Let's Talk!
About how we can help you grow, strengthen, and plan for your AE firm's future.