Morrissey Goodale can assist in complex matters of valuation, ownership transition, and financial management so that you can make informed decisions about your personal future as well as that of your A/E firm.
Owners of architecture, engineering, and environmental consulting firms have too much at risk to not adequately prepare for their financial future. Our team of consultants has deep A/E industry knowledge combined with decades of experience to help you accurately determine the true value of your firm, maximize the return on your personal investment, and advise you on which internal and external ownership transition plans are right for your firm.
Our financial advisory services include:
Morrissey Goodale's certified appraisers have the capability and experience to accurately and impartially determine the value of your firm. Whether for a possible outside sale or merger, an internal transition or ESOP, estate or tax planning, litigation support, or other purpose, we can help you determine whether you need an informal estimate of your firm's value, a limited valuation, or a fully documented narrative report—and then deliver it.
Whether you are rewarding key employees with shares or investigating options for cashing out, Morrissey Goodale's experienced consultants can help you weigh internal and external transition options. We can help you develop and execute a firm-specific ownership transition plan that adequately compensates current shareholders, makes stock affordable for the next generation of leaders, and ensures your company's long-term viability.
Morrissey Goodale has considerable experience in this often overlooked area. We can work with you to design a firm-specific incentive compensation plan that suits your particular needs and provides the proper balance between incentivizing employees and rewarding shareholders.
Latest Thinking on the AEC Industry
Valuation Ownership Transition Services
GET ANSWERS TO YOUR QUESTIONS ABOUT VALUATION
Hear about business valuation from Morrissey Goodale Principal Consultant Nick Belitz, CVA.
A/E Valuation & Ownership Transition Advisor
Sign up today for Morrissey Goodale's free A/E Valuation & Ownership Transition Advisor e-newsletter and get expert insight on A/E firm valuations and business successions delivered to your inbox.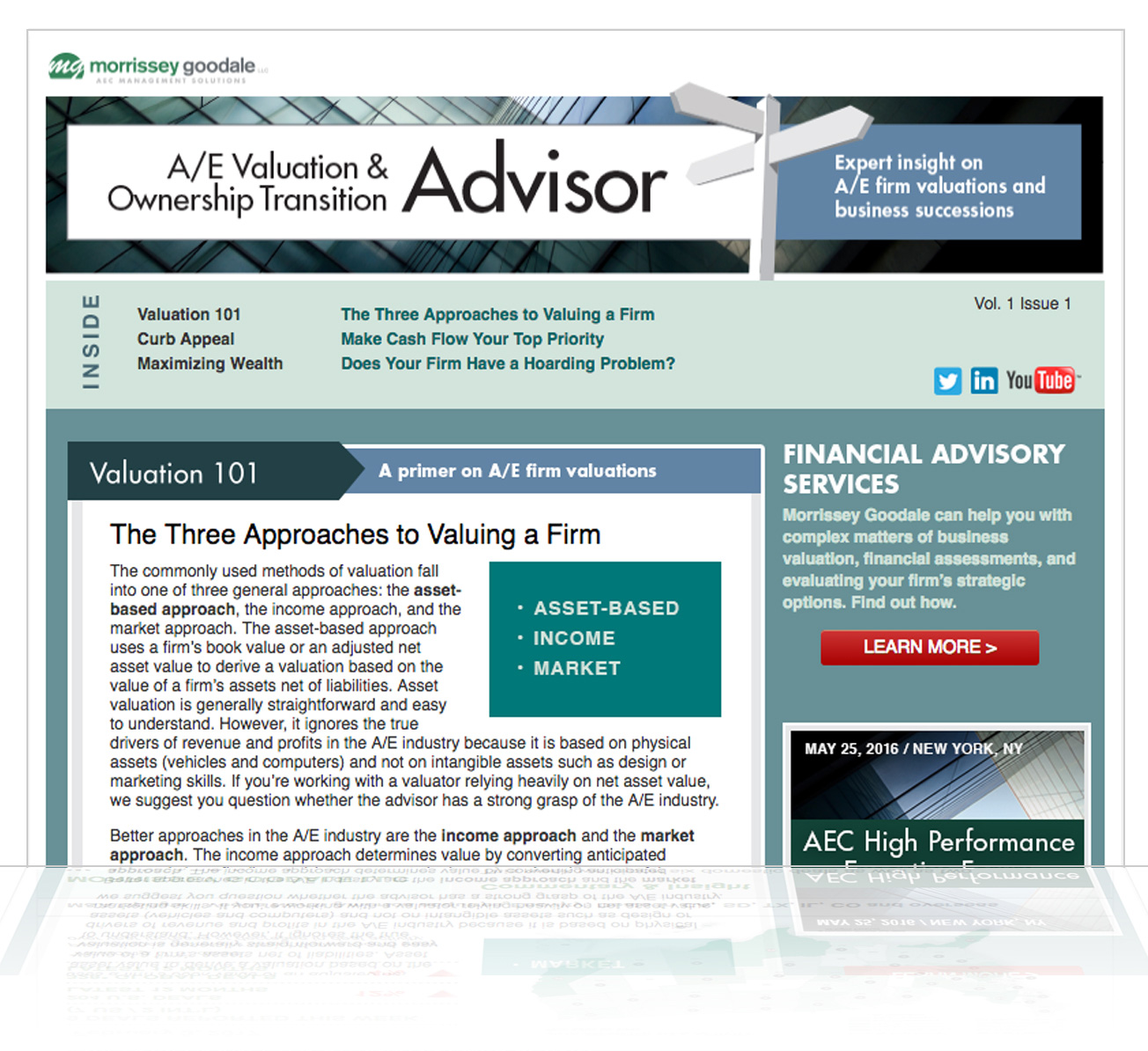 Meet Our Consultants
With decades of A/E industry experience, Morrissey Goodale's consultants are uniquely positioned to help determine the value of your firm, and advise you on which internal and external ownership transition plans are right for you.
Call one of our consultants to discuss how Morrissey Goodale can help your firm.