September 21, 2020
PLACE YOUR BETS FOR 2021
Next year's outlook for the A/E industry is – to put it delicately – challenging. Non-residential buildings construction is expected to contract 5%. State and municipal budgets will see revenue shortfalls comparable to the Great Recession. Combined, these speak to a smaller market for A/E & environmental consulting services with plenty of potential for downward pressure on margins.
While the overall market will contract in 2021, there will be opportunities for growth. Some of these will be in existing sectors. Others will be in new "markets" created by the pandemic.
So even though Las Vegas casinos are hurting these days, A/E leadership teams are busy placing their bets on where to invest for growth in 2021. But assessing market opportunities and creating pursuit plans for next year is going to a very different exercise than in the past.
The pandemic has remade every market. So leadership teams are compelled to view markets through a completely different lens than they did pre-COVID. For instance, commercial and retail markets over the last decade consisted largely of delivering services to support new and expanding developments with ample opportunities for a wide variety of architecture, civil, and site development firms. However, in 2021, the opportunities for growth in this market will accrue to design firms that understand how to repurpose and redesign existing commercial properties and facilities to safely engage with customers and tenants.
The pandemic also complicates market analysis for 2021. Facility design considerations and market demands will change markedly over the course of 2021 as owners move from a pre-vaccine decision-making environment to a (hopefully) post-vaccine one. In the past, leadership teams could make assumptions about the "steady state" of any particular market for a 12-month, or longer, period – not so in 2021. Uncertainty around the post-election socio-political environment further complicates market analysis for the upcoming year.
Leadership teams need to focus on two leading indicators for a successful 2021. First, they need listen to what their clients are saying about how their fortunes are changing. Second, they need to look at the macro socio-economic trends that are playing out. Connecting both of these dots will allow teams to better use this 4th quarter of 2020 to position for success in growth markets in 2021and exit out of losing positions. So where are some of the growth markets next year?
All things "housing" will continue to thrive through 2021. This market continues to be hot as a biscuit. The combination of low mortgage rates, a crisis of supply, and pandemic-driven migration to suburban and rural areas provides ample tail winds well into 2021. The major risk to the market is if the unemployment rate remains stubbornly high. This market will provide growth opportunities for regional and local design and consulting engineering firms and also for some of the nation's largest architectural designers that have multi-family or mixed-use portfolios.
Some states and municipalities will fare better than others. Initial estimates of state revenue shortfalls vary widely – from approximately 4% in Iowa to 16% in Hawaii. Some states – like Texas – were in a stronger fiscal condition prior to the arrival of COVID compared with states like Illinois. Depending on the composition of their tax base, certain cities will be hit harder than others. Public works and other spending in relatively stronger states and municipalities will favor firms on the ground there. Out-of-state firms will likely need to acquire or open an office to access the work.
By and large, the federal markets will continue to be robust. Unlike most states and municipalities, the federal government is not required to have a balanced budget.  This massive purchaser of A/E & environmental services will continue to roll on in 2021. Federal spending priorities, however, will change if there is a change in administration. Access to the federal market is largely reserved for the largest industry players, firms with deep-dive expertise, or those with SBE or other special  designations and security clearances.
Life sciences will boom. This sector has attracted billions in venture and institutional investments in 2020 which is driving a boom in the development of R&D facilities – in cities and on university campuses – that will last well beyond 2021. This sector will provide tremendous backlog for specialized architectural, MEP, refrigeration, and structural designers.
Industry and manufacturing to reshore. The pandemic exposed major weaknesses in global supply chains and has prompted manufacturers to accelerate plans to reshore production and sourcing back to North America. This will favor industrial engineering firms and R&D facility designers – especially in those with a footprint in the Southern and Southeast states such as Alabama and South Carolina that are friendly to industry and manufacturing.
Warehouses and distribution centers will be in demand. The pandemic has served to accelerate the move to on-line retail. Amazon is opening 100 distribution centers just this month. On-line retailers will drive strong demand for A/E and environmental services in this sector and associated cargo facilities at airports through 2021 across North America.
Data centers will be needed to support growing technology. Closely related to the movement to on-line retailing and everything tech is the power to process all of the data necessary for its success. Design and development of data centers will be another growth market in 2021, benefitting A/E, MEP, and site development firms.
Environmental health & safety (EHS) will impact value of facility assets. Facility owners and managers will continue to see EHS – both pre- and post-vaccine – as critical to the successful marketing and operations of their assets. Big winners here in 2021 will be environmental consulting and management firms that can deliver accurate analysis and scalable and reliable solutions across regional and national facility portfolios.
Where government budgets fall, look for government privatization and outsourcing to rise. Much like we saw through and after the Great Recession, budget shortfalls will create incentives for state and local governments to privatize and outsource services. This trend will create growth opportunities for consulting engineering and environmental consulting firms with technology and proprietary software offerings.
Meanwhile, industry M&A continues to rebound to pre-pandemic levels. With much of the activity involving firms serving growth markets. M&A is down just 9% over last year's record-breaking pace. Buyers are looking for quality firms to help them grow in 2021 and buyers are eager to get deals closed at this year's tax rates. Join us for our 4th quarter livestream U.S. M&A Symposium on October 22nd and 23rd. Register live for one or both days to have the option to connect with buyers, sellers, and investors. Or choose to purchase the session recordings when we make them available. But hurry, the early bird rate flies away this Wednesday!
CEO Week sold out – but another VR+AR event is on the way for Q1. We're at the start of our CEO Week – the first of its kind fully immersive VR+AR event designed exclusively for industry CEOs and presidents. This event sold out FAST! And CEOs clearly want to connect and collaborate in virtual reality because the wait list for our Q1 2021 VR+AR event is growing fast! Click here to be placed on the wait list and experience how you can use VR+AR to connect your leadership team, employees, and clients like never before.
If you have questions about this week's Word on the Street or if you need help navigating the New Reality call or Mick Morrissey @ 508.380.1868 or email him at [email protected].
To see last week's Word on the Street report click here>
TRANSITIONING OWNERSHIP IN THE NEW REALITY 
The challenge is obvious: as a selling shareholder, you want to sell for a price that reflects the value of the firm you've built, probably over decades.  Yet with so much uncertainty ahead, buyers may not want to take the risk of promising you that full payout.
One avenue to consider is an "earn out" – that is, to make the ultimate price you get contingent on the subsequent performance of the company.  If the firm's business proceeds as expected, sellers get the payout they expect.  If it deteriorates, they forego some of their payout for the good of the firm.  And if the firm's performance takes off, they get to share in the wealth and receive a higher payout than they otherwise would.
To see how it works, imagine a firm with $15 million in net revenue and a 12% profit margin, with a valuation of $10 million.  In a simple sale, the sellers would just get $10 million in cash, paid over a period of several years.  With an earn out, those guaranteed payments might be reduced to $6 million, with an earnout that ranged from $0 if the company's profits declined to $8 million if they accelerated.  The sellers take some risk, but in this scenario they also have the opportunity to increase their payout by 40% if the company is highly successful.
From a buyer's perspective, the earn out means less risk.  In our industry, internal buyers usually have to take out loans, either from a bank or the company, to pay for their stock.  If all goes well, the firm generates enough profits that the buyers can use their distributions to pay back the loans.  But if the business runs into difficulty, the distributions dry up and the buyers have to pay the loan out of their own pockets, a burden which can be substantial.  An earn out can ease some of the financial pressure by reducing the required payments if the firm is less profitable.  On the flip side the earn out will attenuate some of the buyers' windfall if the firm's profits grow rapidly.
Earn outs have another advantage: they give the selling shareholders a strong financial incentive to help enable a smooth transition, transfer skills and client relationships to the new partners and be available for mentoring.  While most selling shareholders are eager to do this anyway, a financial incentive always helps.
As an additional means of mitigating risk for both buyers and sellers in the near to medium-term, the parties may agree to an option to extend the purchase and sale period by one or more years.  Think of this as the opportunity for a "mulligan year."  If performance one year lags – for instance if a firm's normal base of clients is hurt by COVID-related delays – the parties may agree to simply suspend share payments that year and extend the term of the loan to give the firm time to recover.  Payments resume with interest when performance normalizes.
Earn out provisions in buyouts may be useful in normal times, and they are regularly used in external sales with an asymmetry of information between buyers and sellers.  They're currently less common for internal transitions (likely due to the added complexity) but the benefits are undeniable, especially in uncertain times like the present. At Morrissey Goodale, we expect to see such provisions used more and more in the internal context.
If you would like help transitioning ownership in your firm, call Allie Tepper at 917.291.1410 or email him at [email protected].

Find, hire, onboard. Remotely!
Despite COVID-19, the shortage of capable A/E professionals remains the fundamental constraint to sustainable, profitable growth. And with a vaccine still months away, the challenge to find, hire, and onboard great people has only gotten tougher. One of the A/E industry's top recruiters, Lisa Elster, shares her secrets for remote recruiting in the New Reality in this timely, insightful, and COMPLIMENTARY webinar.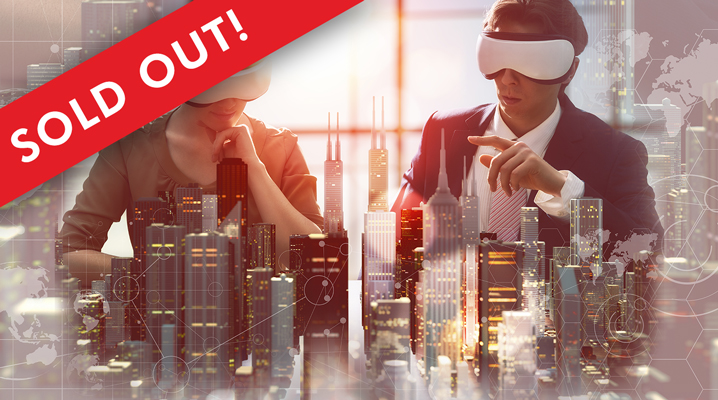 CEO Week
Virtual & Augmented Reality
Sept 21-25, 2020 • VR & AR Event
A unique Virtual & Augmented Reality event exclusively for A/E CEOs and presidents.
Registration is Sold Out!
To learn more about Morrissey Goodale's business consulting services, including strategic planning, merger & acquisition advisory, valuation & ownership transition, recruiting, and more, click here.

+ INTELLIGENCE
Build your knowledge with Morrissey Goodale's leading industry e-publications and also receive The Morrissey Goodale Quarterly.
+ PREMIUM
Stream Morrissey Goodale's NEW REALITY quarterly webinars + Think with the best minds in the industry at Morrissey Goodale's virtual THINK-TANK with top A/E firm principals + INTELLIGENCE publications.
+ ALL ACCESS
An hour of one-on-one consultation per quarter with a Morrissey Goodale senior consultant + 10% off of all Morrissey Goodale events + PREMIUM + INTELLIGENCE publications.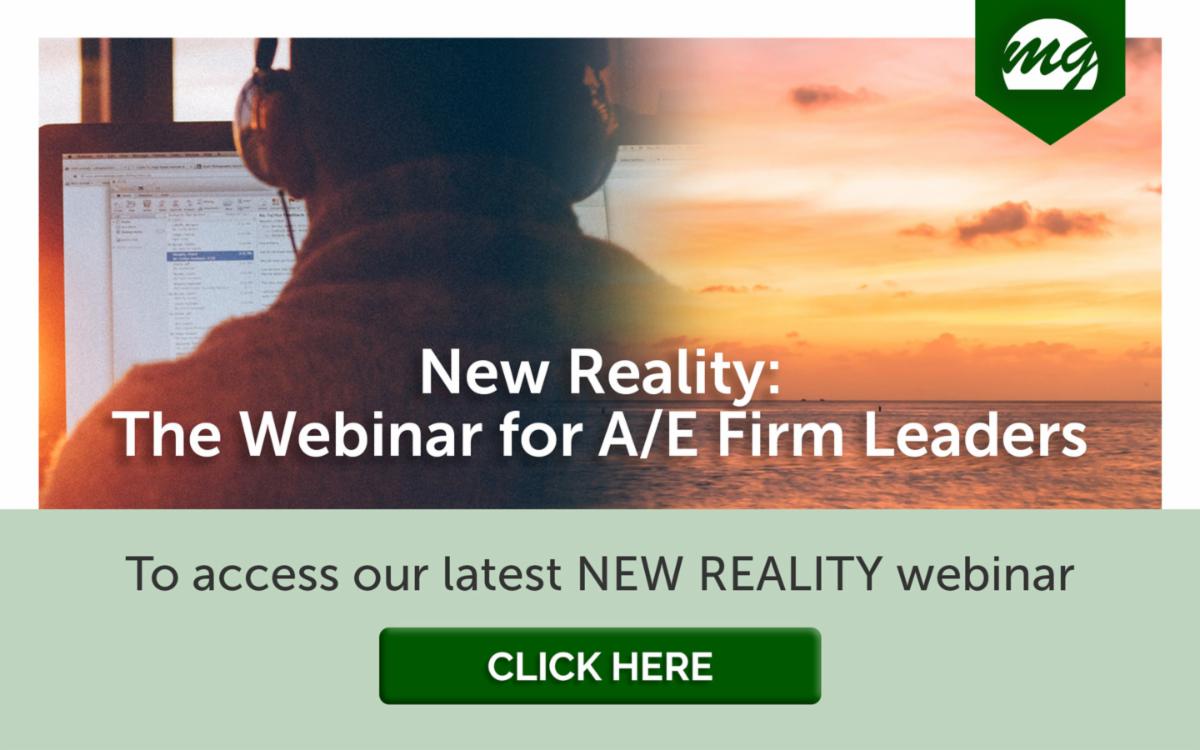 With a Morrissey Goodale PLUS annual PREMIUM or ALL-ACCESS membership you will be able to livestream our quarterly NEW REALITY webinars and have access to other features, such as our quarterly virtual THINK TANK where A/E leaders gather to talk about best practices and preparing for the future.