September 14, 2020
WHAT'S KEEPING CEOs FROM GETTING THEIR FIVE FULL HOURS OF SLEEP THIS FALL? 
A/E CEOs had a lot on their minds in January. 2019 had been another record year for their firm. Backlog headed into 2020 was at an all-time high – as was their firm's internal stock valuation. Sure, there some worries about whether the longest economic expansion in modern history was going to come to an end in 2020 (Spoiler alert – it did.) But by and large CEOs were navigating "the usual" set of challenges— how to meet their 2020 goals while building a sustainable firm. By and large, CEO sleep patterns were regular.
Then March happened. And through the spring and summer industry CEOs faced— and for the most part overcame— a set of unprecedented challenges for their firms.  From construction shutdowns in some states to closing offices and directing entire firms to work from home in most others, A/E industry leaders navigated the fast-moving crisis successfully. All the while they made sure their firms delivered on their— in many cases— increased commitments to clients. Sure, they may have lost a couple of hours of sleep a night in the early days of the crisis figuring out PPP loans etc., but who needs a full eight hours anyway, they thought. And they figured that their new commitment to 15 minutes of meditation and deep-breathing exercises before dawn more than made up for any loss of sleep.
Now as the Fall approaches and the pandemic persists, sleep-deprived CEOs are finding that a new set of worries is keeping them up at night. Serious responsibilities weigh heavily on their shoulders. For many AE CEOs, 2020 has revealed the meaning of "it's lonely at the top" like never before.
How will I continue to keep my employees safe? Employee safety has taken on a grim new dimension in 2020. This wretched virus has taken the lives of industry employees, managers, and presidents, and it has sickened many others. But now more and more employees— for a variety of reasons— are looking to return to their offices. At the same time, clients are placing increased demands on firms in the field.  Combined, these factors have the potential to expose more employees to the virus. CEOs are acutely aware of the risks and worry how to keep their employees safe while balancing the demands of the business— especially as the winter flu season approaches.
How will I develop my team and employees? In addition to keeping their employees safe, CEOs are struggling to help them keep on track with their professional development and professional growth. In-person (internal or external) learning is on hold (who thought we would miss brown bag lunch and learns so much?) Many certification and registration exams are delayed or up in the air. Rightly or wrongly, employees are prioritizing the tsunami of work that they are facing over taking on-line training courses.  And the social capital developed during team-building Zoom calls is well…different than what's developed in person. Ironically, with expenses dramatically down this year, CEOs have more money than ever to spend on training and development. They're worried about a lost year— or more— of development for their team.
How do I guide my firm to success in 2021? Business planning for the past decade had been pretty standard for most CEOs.  Assume an overall growing economy, expand where the firm was strong, make strategic investments (in other words take limited risks) to develop new markets and develop complementary or adjacent services. Business planning for next year will be way Overall, the market for A/E services will contract, it will be more competitive and there will be downward pressure on fees. But there will be growth markets and there will be new markets created by the pandemic. CEOs need to ask tough questions to figure out the lifecycles, entry points, and success factors of these markets and then position or repurpose current resources to be successful. The Great Recession playbook provides some of the economy-driven tactics for 2021— but it doesn't provide the pandemic-driven strategies. CEOs are worried about finding the right moves to be successful next year.
How do I position my firm to sustainably grow post-vaccine and post-pandemic? There is no shortage of thought pieces about how facilities and infrastructure will be remade in the New Reality. Nor is there a dearth of articles about a reimagined socio-economic future. While CEOs are preparing to lead their firms through the unknown of 2021 (which will be no small feat in and of itself), they have one eye on what the longer-term future holds for their firm and this industry. However, the "long-term" timeframe is being compressed like never before. To quote Lenin, "There are decades where nothing happens; and there are weeks where decades happen."  CEOs are leading at a time when decades are happening in weeks.
How do I make sure I'm getting this right? Ralph Christie, the former Chairman & CEO of iconic industry firm Merrick & Company (ENR #143) kicked off a strategic planning meeting during the Great Recession with a line that has stuck with me ever since (and I'm paraphrasing here)— "If anyone tells you that they've seen anything like this before (meaning the economic implosion at the time), they're lying."  (Note: Merrick went on to be super successful through the Great Recession and beyond, AND successfully transitioned leadership successfully.) Today's CEOs have navigated an unprecedented set of challenges over the past 6 months, and the next 18 months will likely be even more challenging. CEOs don't have even close to all of the answers. ("If anyone tells you they've seen this before……..") They need to dig deep to provide the leadership and direction that their people need from them and that only they themselves can provide. In the dead of night, many CEOs worry about the future and their ability to lead through this crisis.
THE common characteristic of industry CEOs is that they put their employees and firms first— before themselves and their own needs. For many, their firm is an extension of their family. CEOs have spent the last six months worrying about how to take care of their firms and their families during the crisis. And they know that they will need to continue to be vigilant to ensure the safety of both over the next 18 months. CEOs need to stay healthy— emotionally and physically— for the sakes of their firms and their families. There is an unrelenting wave of challenges ahead. Self-care is important and CEOs should make sure they prioritize their health headed into 2021. (That includes getting enough sleep – five hours doesn't cut it.)
Meanwhile, industry M&A continues to rebound. Driven by record deal-making activity in August and September, the pace of U.S. industry consolidation is now down just 8% over last year's record-setting pace. Sellers are looking to close their deals before the end of the year in case taxes go up next year under a new administration.  Buyers are looking for quality firms to help them navigate 2021. Join us for our 4th quarter livestream US M&A Symposium on October 22nd and 23rd.  Register live for one or both days to have the option to connect with buyers, sellers, and investors.  Or choose to purchase the session recordings when we make them available.
CEO Week — the first of its kind fully immersive VR+AR event exclusively for industry CEOs and presidents is sold out. But CEOs clearly want to connect and share as the wait list for our Q1 2021 VR+AR event is growing fast! Click here to be placed on the wait list and experience how you can use VR+AR to connect your leadership team and employees like never before.
Lastly, our thoughts are with all of our readers, their families, the entire AE community and beyond in the West as they deal with these terrible fires. God speed.
To see last week's WORD ON THE STREET report click here>
FOUR FACTORS TO WATCH
1. Infrastructure Stimulus Watch 
While Congress has been dealing with COVID-19, all remains quiet on the nation's transportation funding front. The Fast Act, established in 2015 with $305 billion in long-term funding for surface transportation and infrastructure, expires at the end of the month.  Without a continuing resolution to extend funding beyond September 30, federal funding for highway and other transportation projects will shut down. It is expected that Congress will pass an extension of the existing FAST Act – likely for 12 months through the end of FY'21. The extension will likely provide the same level of funding as in the final year of the FAST Act, but there are efforts underway to try to increase the funding levels if the needed revenue can be identified.
2. COVID-19 Case Numbers 

Daily cases seem to be once again slowly declining. Several weeks ago, the one-day tally spiked to nearly 76,000 new cases. Since then, daily cases have dropped below 50,000 and for the last week or so have hovered between roughly 30,000 and 40,000 cases.  Two weeks ago, new cases ranged from about 55,000 to 69,000.  The same downward trend in cases can be seen in some of the larger states that were hit hardest over the summer.  Since reporting a daily new-case high of over 15,000 last month, Florida daily cases have been averaging 6000 to 7000 new cases a day. Texas cases peaked at nearly 15,000 new cases in a single day earlier in the summer.  At the beginning of last month, the state averaged just under 7,000 new cases a day. A month and a half later, Texas is now routinely recording under 4,000 cases a day. California case numbers were generally in the 7,000 to 8,000 range at the beginning of August compared to a high of nearly 13,000 in a single day in July.  Cases are now in the range of 3,000 a day or less.  Arizona was recording nearly 5,000 new cases a day in July. Daily totals now average below 1,000 a day, dipping as low as 81 less than a week ago.  However, as children return to school with full-time and part-time schedules, another spike in cases could be on its way.
3. Jobless Claims 
Weekly jobless claims totaled 884,000 last week vs. estimates of 850,000.  Continuing claims now stand at 13.385 million which represents an increase of 93,000 from the previous week.  As the summer wanes, the strong job increases seem to be tailing off with it.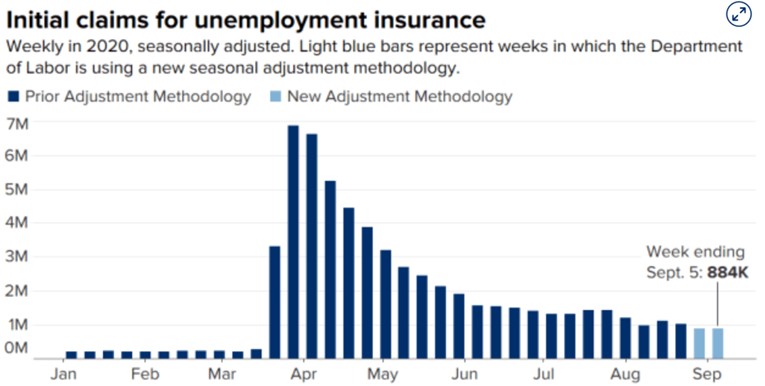 Sources:  Department of Labor; CNBC
4. Vaccine Developments 

Pfizer and BioNTech are expanding the Phase 3 trial of their Covid-19 vaccine by 50% (44,000 participants, up from an initial goal of 30,000), which could help the companies to collect more data and to increase the diversity of the participants.  Moderna, which started its trial on the same day as Pfizer, intends to increase the diversity of trial participants in its study, as well, even if it slows down the study. And since the Pfizer/BioNTech vaccine's second shot is given after three weeks while Moderna's second shot is given after four weeks, it is expected that Pfizer's study will finish sooner.  But the Pfizer/BioNTech vaccine could also prove to be problematic to distribute on a large scale since the vaccine must be kept at a temperature of -70 degrees Celsius. Johnson & Johnson plans to begin what would be the largest, late-stage trial testing a potential coronavirus vaccine in September, enrolling up to 60,000 healthy subjects.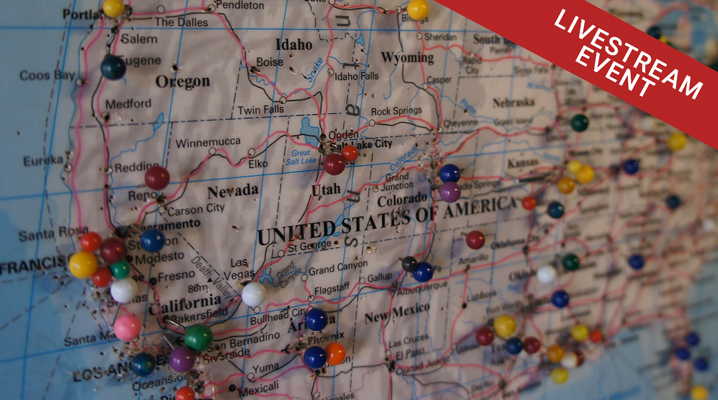 Fourth Quarter U.S.
M&A Symposium
Oct 22-23, 2020 • Livestream Event
Deal-making in turbulent times:
For A/E and environmental buyers, sellers and investors navigating the new normal.

Find, hire, onboard. Remotely!
Despite COVID-19, the shortage of capable A/E professionals remains the fundamental constraint to sustainable, profitable growth. And with a vaccine still months away, the challenge to find, hire, and onboard great people has only gotten tougher. One of the A/E industry's top recruiters, Lisa Elster, shares her secrets for remote recruiting in the New Reality in this timely, insightful, and COMPLIMENTARY webinar.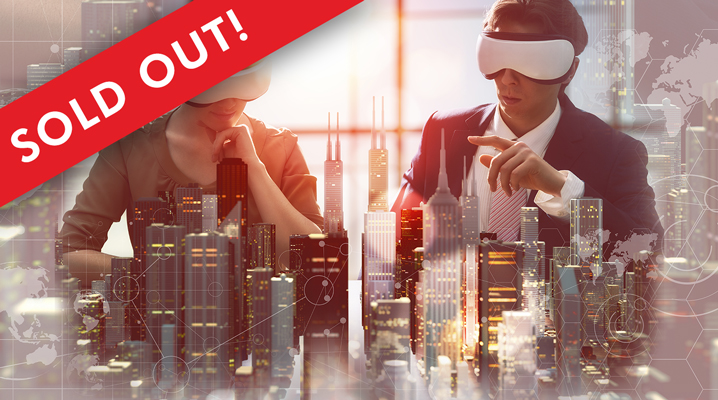 CEO Week
Virtual & Augmented Reality
Sept 21-25, 2020 • VR & AR Event
A unique Virtual & Augmented Reality event exclusively for A/E CEOs and presidents.
Registration is Sold Out!
To learn more about Morrissey Goodale's business consulting services, including strategic planning, merger & acquisition advisory, valuation & ownership transition, recruiting, and more, click here.

+ INTELLIGENCE
Build your knowledge with Morrissey Goodale's leading industry e-publications and also receive The Morrissey Goodale Quarterly.
+ PREMIUM
Stream Morrissey Goodale's NEW REALITY quarterly webinars + Think with the best minds in the industry at Morrissey Goodale's virtual THINK-TANK with top A/E firm principals + INTELLIGENCE publications.
+ ALL ACCESS
An hour of one-on-one consultation per quarter with a Morrissey Goodale senior consultant + 10% off of all Morrissey Goodale events + PREMIUM + INTELLIGENCE publications.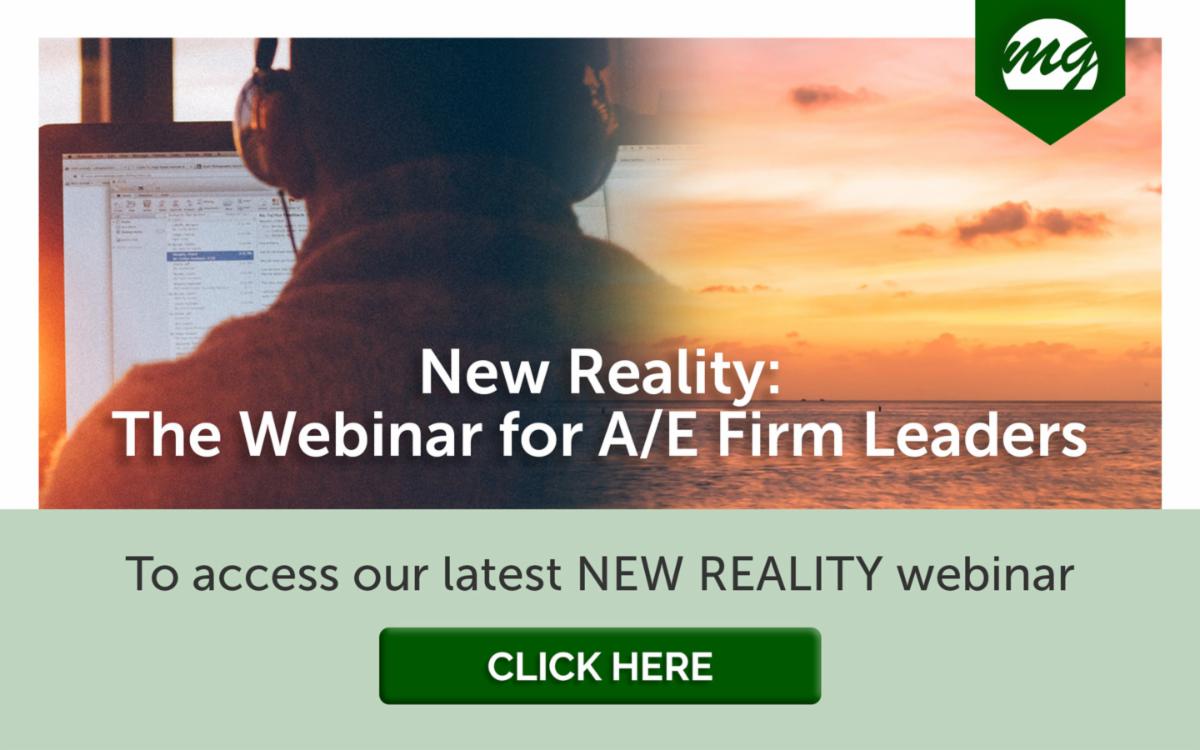 With a Morrissey Goodale PLUS annual PREMIUM or ALL-ACCESS membership you will be able to livestream our quarterly NEW REALITY webinars and have access to other features, such as our quarterly virtual THINK TANK where A/E leaders gather to talk about best practices and preparing for the future.