August 17, 2020
THE SUMMER OF 2020: SURPRISINGLY STRONG, UNIFORMLY INCONSISTENT
"We're up 10%" is the most frequently cited year-over-year top line growth that we are hearing from design & environmental firm CEOs. Of course, there's dispersion around that figure with some firms reporting higher and lower percentages, but for many firms, revenue for the first eight months of 2020 are shaping up to be a record.
This mirrors the performance of the industry's publicly traded firms. Industry leaders such as TetraTech, Stantec, NV5, and Atlas Technical Consultants all reported strong revenue performance for the first half of the year.
The top-line bonanza is playing out from coast to coast. In California, the summer construction season is in full swing with firms in the field having trouble keeping up with the pace of demand. Some of the drivers? Residential development, distribution centers (on-line retail is crushing it), and public works (especially transportation). And in the office, designers that are both well-managed and are thought leaders in specific sectors are booking backlog well into 2021.
It's a similar dynamic in the Southeast and South. Firms are busy and backlogs are building with residential development and distribution centers both red hot. Also, as global supply chains shorten, manufacturing is moving back to the U.S. and driving site development and infrastructure work in business-friendly Southeast states.
However, the industry's national growth overlays unprecedented market shifts and dislocations. It's hard to find consistency within any of the three primary revenue drivers for our industry— the public, private, and institutional sectors. Within each there are winners and losers, all propelled by the public health crisis. This dynamic presents dramatic, fast-paced, overwhelming demand for some firms, while leaving others scrambling.
Pandemic-induced changes ripple through the industry in a depressingly predictable pattern. For example, repositioning of facilities to treat COVID patients was a strong market in the Northeast in the spring. Thankfully, this demand was short-lived. However, this trend is now playing out in Texas and the South. And hospitals in former virus hot spots of the Northeast are currently left dealing with budget deficits resulting from massive numbers of deferred elective surgeries and drops in trips to the ER.
The more things change for bricks-and-mortar retail, the more they stay the same. In a repeat of what we saw a decade ago in the Great Recession, the super-discounted, bargain-basement brands (Family Dollar, Dollar Tree, Big Lots, etc.) are expanding their physical footprint and creating opportunities for designers and environmental firms. However, most other retail sectors are moving on-line – and fast.
For transportation firms a new interest in…public health? Clients are seeing a greater interest in the design of bike paths and walking and running trails as towns and cities plan for mobility in the New Reality.
You'd need an advanced degree to understand the Higher Education market. Some colleges are bringing students back to campus and are expanding their infrastructure while other universities in the same zip code are going fully remote for the fall semester and cutting back capital expenditures. We know of two architecture firms in the same college town. One designer is having to cut staff; their dorm projects have been cancelled since only two-thirds of the students are coming back to campus. Across town, their competitor is ramping up to do more laboratory design work at the campus while trying to meet the surge in residential demand.
The public sector is generally strong nationwide, but firms are seeing backlogs slightly declining or just about holding now. All eyes are on Washington for the much-needed stimulus plan.
Energy sector projects are continuing at reduced levels. Oil and gas project for mid-size and smaller producers are continuing, but with expectations that capital spending will be reduced in 2021.
The digital and "quest for the cure" nature of society's New Reality points to the sectors that are providing consistent and sustainable demand for design services – data centers, laboratories, R&D facilities, life sciences, and consumer products manufacturing.
Will the growth of the first eight months continue through the back half of the year? Most CEOs are being cautious and reserving judgment about how the balance of the year will play out. Many are indicating that they expect things to slow down and that 2020 may end up replicating their performance in 2019 (which for many firms was a record anyway). Visibility on 2021 is mixed to "fuzzy" (the latter being a technical forecasting term).
The era of complacency is dead. For the five years prior to the pandemic, most design and environmental firms had more work than they could handle. Combined with the fact that good talent was "hard to find" many management teams became complacent about pursuing opportunities that required "too much" hustle or hard work. (Why put in the extra effort if they were already having a record year was the thinking.) Not anymore. There is a sense now all around the industry that every potential project is precious and leadership teams are hyper focused winning everything to build backlog.
It's the next best thing to being together! Registrations for CEO Week – the first of its kind fully-immersive VR+AR event exclusively for industry CEOs and presidents— are off the charts. In five curated 90-minute VR+AR sessions this September industry CEOs and presidents from around the country will come together in 3-D virtual reality to workshop the most important and pressing challenges for their firms and our industry. CEO Week provides a unique forum for CEOs and presidents to safely network and engage with each other while reimagining the future of their firms. If you're a CEO who wants to lean into your firm's New Reality, register for CEO week today.
The pace of industry consolidation continues to rebound as we approach the fall. After spending much of the summer tracking down 19% at 2017 levels, the 12-month rolling average of design and environmental firm deals ended the week down just 13% on Friday (up from negative 14% last week). To learn why industry M&A is rebounding, hear from the industry's most prolific acquirers, and connect virtually with buyers, sellers, and investors, join us for our livestream 4th Quarter U.S. M&A Symposium on October 22nd and 23rd.
If you have questions about this week's WORD ON THE STREET or if you need help navigating the New Reality call or Mick Morrissey @ 508.380.1868 or email him at [email protected].
To see last week's WORD ON THE STREET report click here>
FOUR FACTORS TO WATCH
1. Infrastructure Stimulus Watch 

When it comes to an Infrastructure stimulus bill, no news is not good news.  And that's the current situation.  All is quiet after a short-lived burst of fanfare in July when the House passed its broad, $2 trillion infrastructure bill. But the Senate had already declared it dead on the scene before the ink dried while the White House quickly lined up against it, as well. Recently, most of Congress' attention has been spent on an economic stimulus package— and there's no agreement on that, either. House Democrats passed the $3.4 trillion Heroes Act in May while Senate Republicans introduced the $1 trillion HEALS Act at the end of July. Negotiations broke off a week ago, and Thursday the Senate adjourned through Labor Day. If something positive does happen on the infrastructure front, it likely won't be during the run-up to the November election.
2. COVID-19 Case Numbers

Daily cases seem to be slowly declining. A month ago, the one-day tally spiked to nearly 76,000 new cases. Two weeks ago, new cases ranged from about 55,000 to 69,000. In the last week, new cases have averaged approximately 50,000 a day. The same slightly downward trend in cases can be seen in some of the larger states that were hit hard in the last several weeks.  Since reporting a daily new-case high of over 15,000 last month, Florida daily cases have been averaging 6000 to 7000 new cases a day. Texas cases peaked at nearly 15,000 new cases in a single day last month, but in the last week, the state has averaged under 7,000 new cases a day. California case numbers are generally in the 7,000 to 8,000 range compared to a high of nearly 13,000 in a single day last month.  At the beginning of last month, Arizona recorded nearly 5,000 new cases a day. Daily totals now average about 1,000 a day, dipping as low as 600 in the last week.
3. Jobless Claims

First-time jobless claims totaled 963,000 the week ending August 8, beating the Wall Street estimate of 1.1 million. It's the first time weekly claims have been under 1 million since March 14, when 282,000 claims were filed.  While jobless claims are still high, they are a far cry from the last week in March when 6.87 million people filed for unemployment. Total claims stand at 15.5 million, which is down about 600,000 from the previous week and about 9.5 million from the high-water mark of about 25 million in May.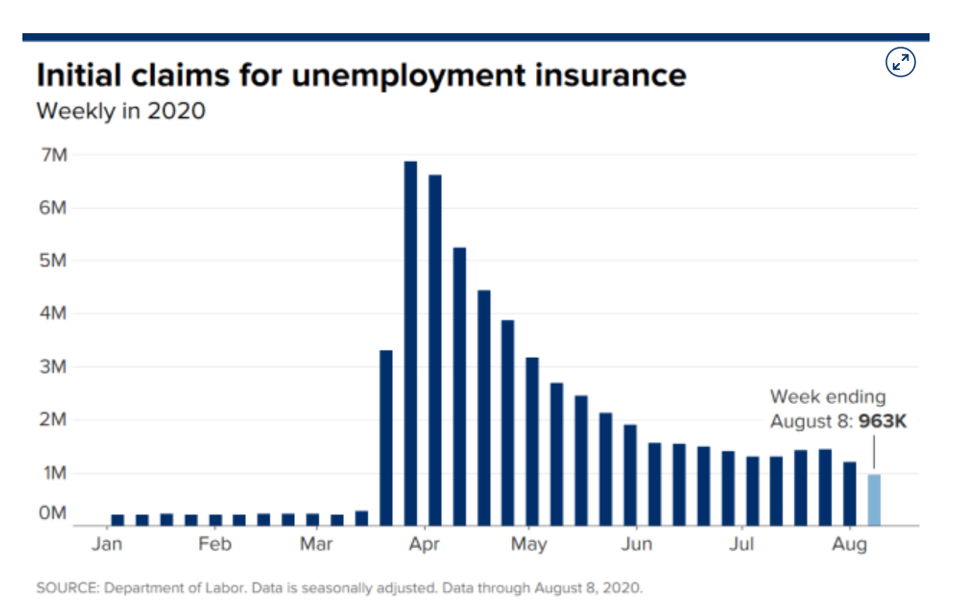 4. Vaccine Developments


In a deal with Moderna announced this week, federal agencies negotiated a sliding scale of payments, according to Reuters. Moderna will receive it's full $1.5-billion from the federal government if its vaccine receives regulatory clearance by January 31, 2021. If it falls short of that timing goal, 1.2 billion will be paid out.
U.S. government payments to other vaccine producers are also conditional on initiating clinical trials by early fall and establishing manufacturing capabilities by the end of the year, with terms varied by company.
Last week, Vladimir Putin announced that Russia had approved a coronavirus vaccine, apparently without large-scale clinical tests. Many healthcare officials expressed concern about the risk associated with skipping Phase 3 trials.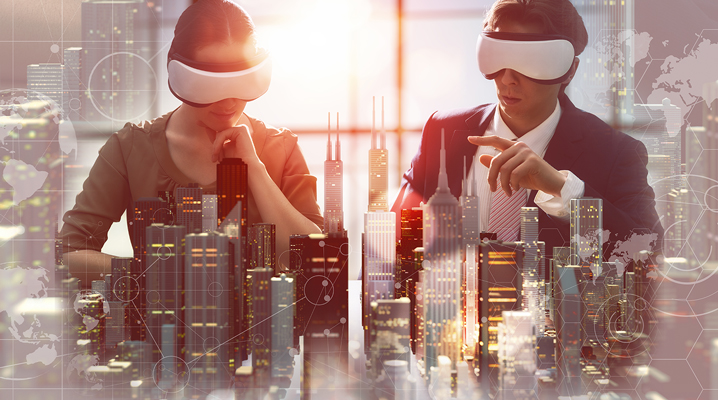 CEO Week
Virtual & Augmented Reality
Sept 21-25, 2020 • VR & AR Event
A unique Virtual & Augmented Reality event exclusively for A/E CEOs and presidents.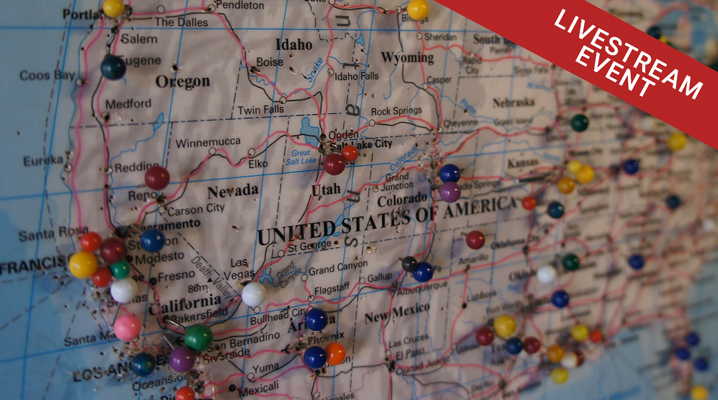 Fourth Quarter U.S.
M&A Symposium
Oct 22-23, 2020 • Livestream Event
Deal-making in turbulent times:
For A/E and environmental buyers, sellers and investors navigating the new normal.
To learn more about Morrissey Goodale's business consulting services, including strategic planning, merger & acquisition advisory, valuation & ownership transition, recruiting, and more, click here.

+ INTELLIGENCE
Build your knowledge with Morrissey Goodale's leading industry e-publications and also receive The Morrissey Goodale Quarterly.
+ PREMIUM
Stream Morrissey Goodale's NEW REALITY quarterly webinars + Think with the best minds in the industry at Morrissey Goodale's virtual THINK-TANK with top A/E firm principals + INTELLIGENCE publications.
+ ALL ACCESS
An hour of one-on-one consultation per quarter with a Morrissey Goodale senior consultant + 10% off of all Morrissey Goodale events + PREMIUM + INTELLIGENCE publications.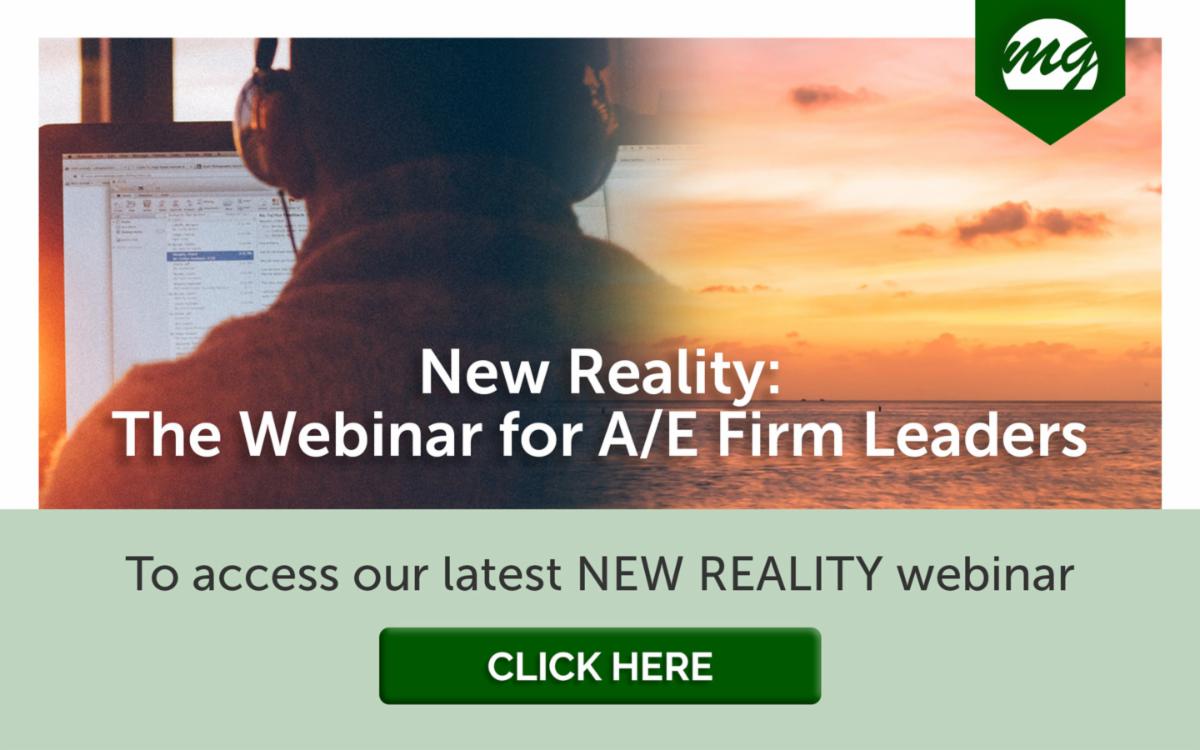 With a Morrissey Goodale PLUS annual PREMIUM or ALL-ACCESS membership you will be able to livestream our quarterly NEW REALITY webinars and have access to other features, such as our quarterly virtual THINK TANK where A/E leaders gather to talk about best practices and preparing for the future.