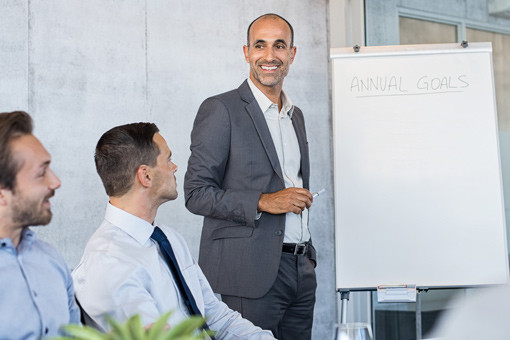 Strategic planning is a tool that many Architecture and Engineering firms use to create a blueprint or map to get them from where they are now to where they want to be in the future. There are firms that manage to grow and be successful without strategic planning, so why do it if that's the case?
The answer is like the guy willing to drive for miles trying to find the place he wants to go, but refuses to either use a GPS device, or stop and ask for directions. He may get to the place he's going, but perhaps he could've gotten there a lot faster with fewer headaches, saving gas money on top of that had he asked for directions.
If a firm leader would like to avoid those headaches, he/she can use strategic planning.  It's simply the process of creating a blueprint to help a firm get from where it is now to where it wants to be going forward. Here's how it works:
Employee surveys. This exercise is an opportunity for management to learn what's going on in all five areas of the organization including Marketing/Business Development, Human Resources, Operations, Finance/Accounting, and IT. These surveys often uncover interesting data that will be very useful in the planning process.
Client perception surveys. Regardless of whether the feedback is good or bad, collecting information from clients when it comes to firm performance is quite valuable.
Data collection. The A/E industry is very competitive. And given this issue, it's important to understand the firm's strengths and weaknesses relative to the competition before moving forward. We can only do that by surveying employees and clients, then collecting the data, and learning from it.
There are very low barriers to opening and Architectural, Engineering, Planning, or Environmental Consulting firm. Any licensed Architect, for example, could hang up a shingle tomorrow. There is also plenty of competition in many areas, which puts demands on keeping pricing low, even though talent continues to be hard to find. By taking the data and comparing it to the competition, firms can get a good idea where they stand in the marketplace.
SWOT analysis report. Once firm leaders know how they match up against the competition, they can identify their strengths, weaknesses, opportunities, and threats (SWOT) they face going forward. This includes everything from high turnover and recruitment costs (human resources) to above average collection periods (finance/accounting). If the firm is lacking in any area, those weaknesses could pose threats, if they're competing against firms offering better benefits, and providing better services.
Business Plan. Once a firm knows its strengths, weaknesses, areas of opportunities, and threats they face, firm leaders can put together a written business plan. It should include a Mission (why the firm exists), Vision (what the firm wants to be), Core Values (Principles), and an action plan to get from where the firm is now to where the firm wants to be going forward.
Another modification to the traditional strategic planning process is called the A3 Analysis.  This trial and error process can be done with all, one, or any combination of the five parts of the company.  It's similar in that surveys are conducted, and data is collected.  The A3, however, identifies root causes, and analyzes the problems and develops "counter measures" or potential solutions.
The A3 process then includes evaluating the counter measures to see how they addressed the problems, what if any new problems surfaced, and what was learned.  While it's like traditional strategic planning, finding the solution is an ongoing improvement process that prevents reports from merely being created simply to collect dust on some manager's shelf.   http://www.leanproject.com/what-we-do/key-components/lean-transformation/study-action-team/