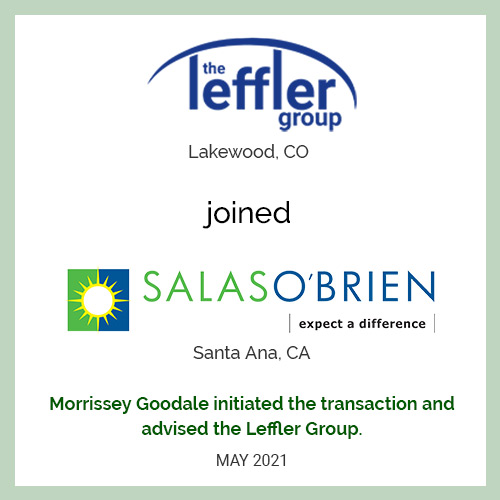 Natick, MA (May 19, 2021) – Salas O'Brien, a facility planning, design, construction management, and commissioning firm with offices across the United States, announced today the acquisition of Denver-based the Leffler Group.
The Leffler Group represents the latest in a series of structural-focused mergers for Salas O'Brien, creating a combined firm of 41 offices with more than 1,000 team members and 260 registered professionals.
"Salas O'Brien is a perfect fit for the Leffler team," said Russ Leffler, CEO of the Leffler Group. "As we take the next step in our mutual growth, the Leffler Group and Salas O'Brien have a bright future together based on values that are so clearly complementary."
The Leffler Group will continue to be managed by its current leaders and will adopt the Salas O'Brien name after a transition period. The Leffler team will also collaborate with other structural engineering team members within Salas O'Brien and will begin offering a single point of contact for a wide variety of in-house engineering and related services.
Morrissey Goodale, a specialized management consulting and research firm exclusively serving the architecture, engineering, and environmental consulting industries, acted as Financial and M&A Advisor on behalf of the Leffler Group. Brendon Cussio, Principal Consultant at Morrissey Goodale, served as the firm's lead advisor.
About Morrissey Goodale:
Morrissey Goodale has helped hundreds of clients transform and grow their architecture, engineering, and environmental consulting companies into high-level performers through strategic business planning, mergers and acquisition advisory, marketing and business development, executive search and human resources, leadership development, and business valuation and financial advisory services. Morrissey Goodale's team of M&A consultants assist throughout the M&A process, from preparing firms for a transaction to a successful integration. Morrissey Goodale's extensive network of relationships with AEC industry decision-makers around the globe uniquely qualifies the firm to identify the right buyers or sellers and guide AE firms through the complex merger or acquisition process, from conception to close.
For more information, visit www.morrisseygoodale.com or call 508-650-0040, or email [email protected].