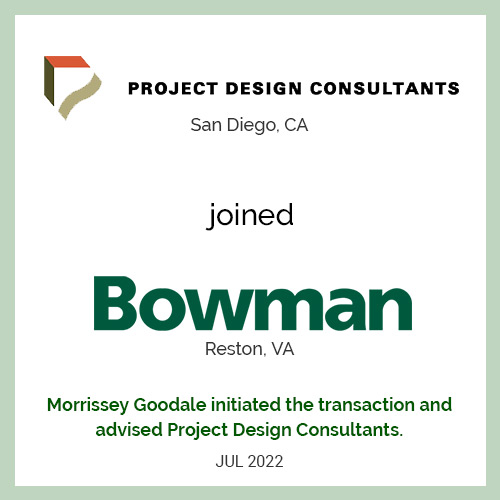 Project Design Consultants (PDC), a civil engineering, surveying, planning, and landscape architecture firm that serves public and private clients throughout Southern California, joined multi-disciplinary consulting firm Bowman.
Under the leadership of Greg Shields, the firm's CEO, PDC provides engineering services that manage change and add value to infrastructure projects involving public works for municipal agencies, utility service providers, urban and suburban mixed-use developers, hospitality, and entertainment venue owners, and commercial and healthcare facility operators.
"PDC presents a compelling opportunity for Bowman to advance our market expansion and service diversification initiatives," said Gary Bowman, CEO of Bowman. "California is a new frontier for us, and we are fortunate that Greg and the PDC management team will be leading the effort. The team of professionals at PDC will fit right into the Bowman organization and we will immediately support each other and maximize our collective utilization. PDC's well-respected and long-standing market presence will add both depth and breadth to our mix of business and will promote our strategic initiative to expand our base of revenue both into Southern California and with key public sector and utility clients."
Morrissey Goodale initiated the transaction and advised PDC.