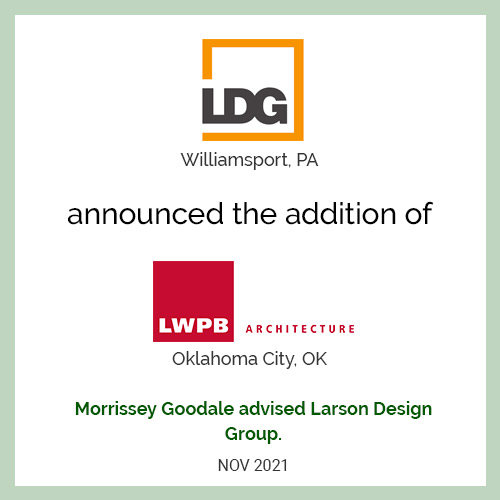 Natick, MA (November 15, 2021) – Larson Design Group (LDG), a national architecture, engineering and professional consulting firm, announced that Oklahoma-based LWPB Inc., a leading architecture and interior design firm, will join its team as a subsidiary, effective January 2022. The expanded LDG team will bring complementary offerings through 15 offices in seven states, further positioning both organizations for sustainable national growth.
"We have a long history of working with LWPB, and we are very excited for them to join our team as we expand our national growth strategy in Federal and Educations markets," said David Martin, LDG's president and CEO. "Combining LWPB's experience and expertise in these markets with our national reach positions LDG to better serve current and future clients. As we move forward together, we eagerly anticipate the mutual benefits for each organization, along with fostering a shared corporate culture that focuses on excellence for our clients and their projects, as well as our employees."
Headquartered in Williamsport, PA, LDG is a 370-plus person firm that has expanded from its original footprint in Pennsylvania to offices in New York, West Virginia, Florida, Ohio, and Arizona.
Morrissey Goodale, a specialized management consulting and research firm exclusively serving the architecture, engineering, and environmental consulting industries, acted as Financial and M&A Advisor on behalf of LDG. Jon Escobar, Consultant at Morrissey Goodale, and Jeff Lookup, Principal Consultant at Morrissey Goodale, served as the firm's lead advisors.
About Morrissey Goodale:

Morrissey Goodale has helped hundreds of clients transform and grow their architecture, engineering, and environmental consulting companies into high-level performers through strategic business planning, mergers and acquisition advisory, marketing and business development, executive search and human resources, leadership development, and business valuation and financial advisory services. Morrissey Goodale's team of M&A consultants assist throughout the M&A process, from preparing firms for a transaction to a successful integration. Morrissey Goodale's extensive network of relationships with AEC industry decision-makers around the globe uniquely qualifies the firm to identify the right buyers or sellers and guide AE firms through the complex merger or acquisition process, from conception to close. For more information, visit www.morrisseygoodale.com or call 508-650-0040, or email [email protected]