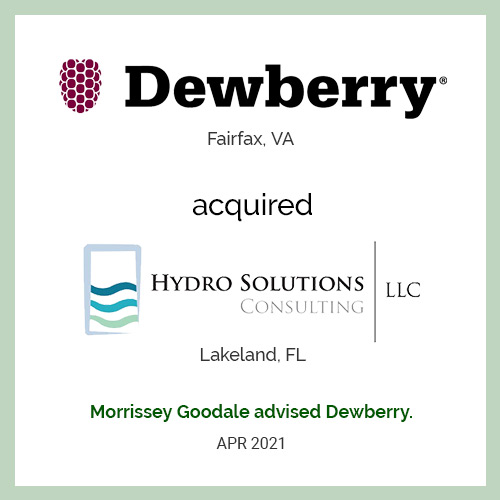 Natick, MA (April 19, 2021) – Dewberry, a privately held professional services firm, announced today the acquisition of Florida-based Hydro Solutions Consulting, LLC forming Dewberry | Hydro.

Established in 1956, Dewberry is a leading, market-facing firm with a proven history of providing professional services to a wide variety of public- and private-sector clients, headquartered in Fairfax, Virginia, with more than 50 locations and 2,000+ professionals nationwide. Recognized for combining unsurpassed commitment to client service with deep subject matter expertise, Dewberry is dedicated to solving clients'​ most complex challenges and transforming their communities.
With the acquisition of Hydro, both firms will be in position to "better serve new and existing clients" with the "strategic opportunity to expand our water practice in Florida and the southeast," said Dewberry Chief Operating Office Dan Pleasant.
"Hydro is excited to join Dewberry, allowing us to better provide value to our clients by increasing our staff and delivering expertise with resources from a national firm that shares our same culture and values," said Hydro Solutions Consulting, LLC President Robert Beltran.
Dewberry | Hydro, the firm's existing leadership and staff will continue to delivery the "one water" platform through water infrastructure, permitting, utilities visioning, natural systems and geospatial and mapping to clients in the state/local markets. Dewberry currently has 300 employees across 14 offices in Florida.
Morrissey Goodale, a specialized management consulting and research firm exclusively serving the architecture, engineering, and environmental consulting industries, acted as Financial and M&A Advisor on behalf of Dewberry. Jeff Lookup, CM&AA, Principal Consultant at Morrissey Goodale, served as the firm's lead advisor.
About Morrissey Goodale:
Morrissey Goodale has helped hundreds of clients transform and grow their architecture, engineering, and environmental consulting companies into high-level performers through strategic business planning, mergers and acquisition advisory, marketing and business development, executive search and human resources, leadership development, and business valuation and financial advisory services. Morrissey Goodale's team of M&A consultants assist throughout the M&A process, from preparing firms for a transaction to a successful integration. Morrissey Goodale's extensive network of relationships with AEC industry decision-makers around the globe uniquely qualifies the firm to identify the right buyers or sellers and guide AE firms through the complex merger or acquisition process, from conception to close.
For more information, visit www.morrisseygoodale.com or call 508-650-0040, or email [email protected].