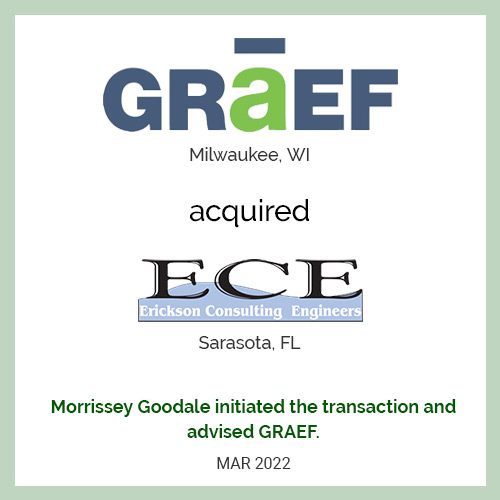 Multi-discipline engineering, planning, and design firm GRAEF completed the acquisition of Erickson Consulting Engineers (ECE), a coastal and civil engineering firm based in Sarasota, FL. The acquisition also includes ownership of ECE's partner company, Coastal Design and Engineering (CDE), a civil, coastal and environmental firm located in Turks and Caicos Islands.
Creating ten total offices for GRAEF, ECE and CDE will join the firm's eight other locations in Orlando and Miami, Florida; Milwaukee, Green Bay, and Madison, Wisconsin; Chicago, Illinois (2); and Minneapolis, Minnesota.
"This partnership greatly enhances our Coastal and Civil Engineering capabilities and is another step toward the realization of our vision of benefitting society by providing solutions for many of the major natural and man-made environmental challenges of the 21st century," said John Kissinger, GRAEF President and CEO. "We are excited to team with ECE and CDE as we work to continuously improve coastal regions, and hope to use our combined experience in Engineering, Planning and Design to benefit individuals, institutions and communities."
Morrissey Goodale LLC initiated the transaction and advised GRAEF.