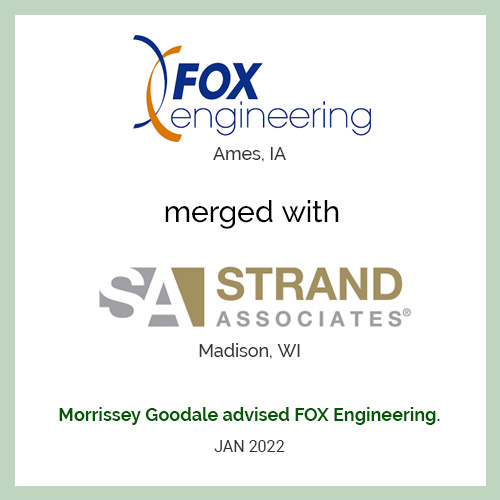 Environmental engineering firm, FOX Engineering Associates, announced its merger with Strand Associates, a civil and environmental engineering public and private sector clients throughout the US.
Beginning as a civil engineering and land surveying firm in 1959, growth and specialization of the environmental division in water and wastewater treatment facility planning and design led to creation of FOX Engineering Associates in 1993. Strand and FOX are well known and respected consulting firms that have been serving Iowa for more than 20 years. As a result of the merger, the firm's Iowa office will be known as FOX Strand, Inc.
"We are immensely proud of the many innovative projects we have designed and completed in Iowa; however, we are most thankful for the relationships we have formed over the years. We are excited to continue serving Iowa communities, businesses, and industries as FOX Strand, Inc. Merging with Strand, an exceptional service-oriented firm, will enable us to grow these relationships by providing expanded services," states FOX Engineering President, Steve Troyer, P.E., BCEE.
Morrissey Goodale advised FOX Engineering on the transaction.