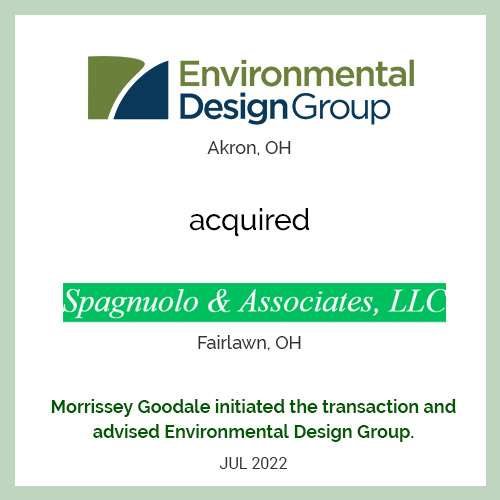 Environmental Design Group (EDG) announced the acquisition of Spagnuolo & Associates, effective July 8, 2022. The acquisition of Spagnuolo & Associates, a civil engineering and land survey consulting firm in Fairlawn, Ohio, provides EDG the opportunity to continue to enhance its valued services.
The acquisition will allow EDG to expand its land development, survey, geospatial, data collection, and mapping services utilizing the latest technologies available in the industry. It will also enhance the firm's ability to continue to serve its clients along the project life cycle, from pre-project planning and programming, due diligence, funding assistance and procurement, planning, design, bidding, and construction management services.
Morrissey Goodale initiated the transaction and advised EDG.