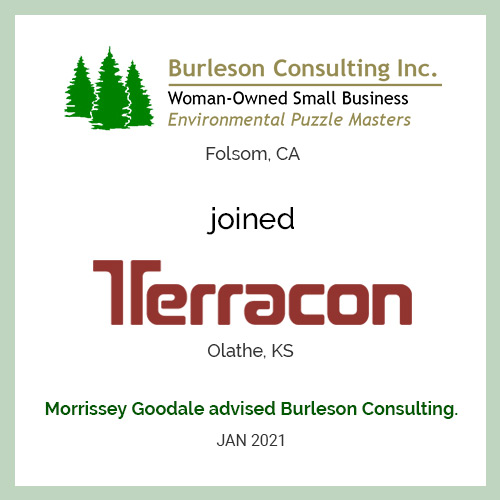 Burleson Consulting, Inc. (Folsom, CA) joined Terracon (Olathe, KS) (ENR #22)
Morrissey Goodale advised Burleson Consulting, Inc.
"Navigating the environmental compliance and permitting process can be challenging and time-consuming for many of our clients," said Gayle Packer, Terracon president and CEO. "The addition of Burleson further strengthens our existing environmental practice in California and the Western U.S., and complements our focus on delivering an outstanding client experience throughout the project life cycle."
All Burleson's 14 employees will immediately become part of Terracon. The firm will continue to operate locally as Burleson Consulting Inc., A Terracon Company, and the transition will be seamless for clients.