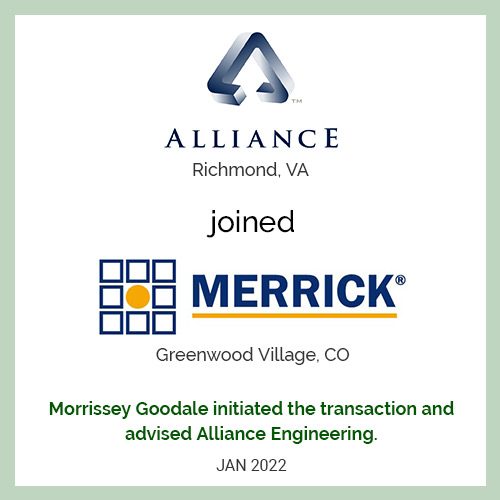 Alliance Engineering (Alliance), an engineering, design, construction management, and program management services firm that serves the food & personal care, industrial, manufacturing, and power generation sectors, has joined Merrick & Company, an international engineering, architecture, surveying, and geospatial solutions firm.
Kevin Kokal, PE, CEO and Co-Founder of Alliance, said, "We'll continue to bring the quality and expertise our clients associate with Alliance, now backed by the resources and breadth of Merrick. Combining forces with Merrick will benefit both our clients and our staff, and we look forward to everything to come."
"Merrick and Alliance are a strong cultural fit and share a similar focus: being a trusted brand for delivering a full complement of engineering services to all markets," said Christopher Sherry, PE, CEO and President of Merrick. The acquisition adds three new office locations for Merrick in Richmond, VA; Newport News, VA; and Baltimore, MD, which expands the Mid-Atlantic focus of Merrick's industrial practice and strengthens the geographic reach of all Merrick's business units.
Morrissey Goodale, a specialized management consulting and research firm exclusively serving the architecture, engineering, and environmental consulting industries, acted as Financial and M&A Advisor on behalf of Alliance. Nick Belitz, Principal at Morrissey Goodale, served as the firm's lead advisor.
About Morrissey Goodale:
Morrissey Goodale has helped hundreds of clients transform and grow their architecture, engineering, and environmental consulting companies into high-level performers through strategic business planning, mergers and acquisition advisory, marketing and business development, executive search and human resources, leadership development, and business valuation and financial advisory services. Morrissey Goodale's team of M&A consultants assist throughout the M&A process, from preparing firms for a transaction to a successful integration.
Morrissey Goodale's extensive network of relationships with AEC industry decision-makers around the globe uniquely qualifies the firm to identify the right buyers or sellers and guide AE firms through the complex merger or acquisition process, from conception to close.
For more information, visit www.morrisseygoodale.com or call 508-650-0040, or email [email protected]