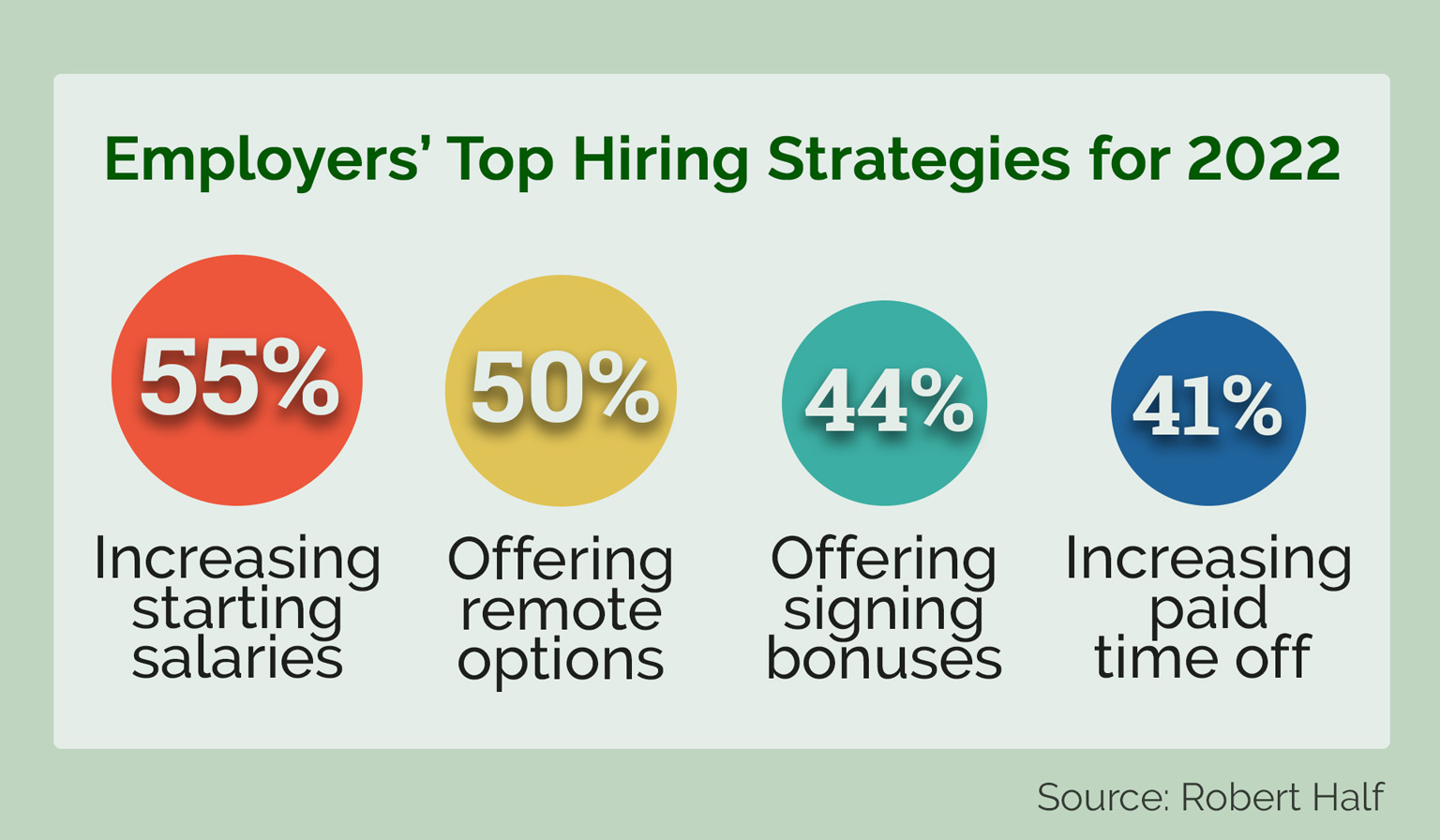 New Laws Require Salary Ranges in Job Listings
More than 15 states now prohibit employers from asking job hunters about their salary histories, according to HR Dive, and new laws in Colorado and New York City aimed at narrowing gender-pay gaps are going further by requiring companies to publish salary ranges in their job listings. New York City's new rule, set to take effect in May, will mandate that companies with four or more employees working in the city list minimum and maximum salaries when advertising jobs, promotions, or transfer opportunities for positions within the city. Violators face potential fines and civil penalties. A similar law implemented in Colorado last year requires companies with at least one employee in the state to list pay ranges and benefits in their job postings—including for remote jobs that could be performed in Colorado. (In addition, California, Connecticut, Maryland, Nevada, Rhode Island, and Washington have passed laws that mandate the disclosure of pay ranges to job candidates during the interview process.) Such public publication of salary ranges will interest not only job seekers, of course. While companies will gain insight into salaries offered by the competition, their employees will also see where their paychecks fall on the spectrum advertised to applicants—and they may not be happy if they aren't on the upper end. Firms forced to disclose salary ranges may want to consider conducting pay audits in addition to strategizing plans to address the concerns of potentially unhappy employees. 
Survey Highlights Architecture Firm Staffing Challenges
As the Great Resignation upends the labor market, architecture firms are more worried about recruiting—rather than retaining—workers. According to a December 2021 survey by the American Institute of Architects (AIA), 42% of architecture firms report that recruiting staff is a very serious problem for them while 14% say the same about retaining employees. The AIA found that larger firms, those located in the South, and those with institutional specializations are the most likely to characterize recruiting as a very serious problem. When asked to list the three most effective strategies they have implemented or plan to initiate to address staffing issues, firms ranked increasing salaries to retain staff (cited by 36%), offering additional employee perks such as remote working and a four-day work week (cited by 34%), and increasing salary offerings to attract qualified candidates (cited by 29%) at the top. If their staffing problems become even more acute in the coming months, 21% of firms said they would consider hiring contract workers and 18% would explore the outsourcing of projects to domestic firms.

Regional Health Practice Director
The Regional Health Practice Director (RHPD) has the responsibility of growing the health practice in the Seattle/Pacific Northwest Region.

Call the Morrissey Goodale Executive Search team today!
Lisa Elster
Executive Search Director
508.758.0191

As an outsourced AEC operations executive, Mark Sheeran empowers firm leaders to elevate and focus on generating ideas, big relationships, and being the visionaries they were meant to be.
• Connect vision with execution today
• Drive focus, cadence, and communication
• Remove barriers and obstacles to execution

VP OF ENVIRONMENTAL
Northeast: 25+ years experience
AE experience in the oil, gas and energy sectors.

VICE PRESIDENT

Location open: 25+ years of experience.
AE firm experience in operations, strategy, M&A, and integration AE.

CFO/FINANCE LEADER
Minnesota: 25+ years experience.
Growth minded AE finance leader with operational experience.

DIRECTOR OF OPERATIONS
Boston, MA: 15+ years of experience.
Experienced in opening and growing an office and responsible for client relationship management, project management, oversight of staff, and business development.

DIRECTOR OF ELECTRICAL ENGINEERING
Denver/Colorado Springs, CO: 25+ years of experience.
Experienced in client relationship management, project management, and business development.

SENIOR ELECTRICAL ENGINEER
Avon, CO (fully remote): 15+ years of experience.
Experienced in commercial, education, institutional, hospitality, government, healthcare, and industrial sectors.
AEC Industry Events
Morrissey Goodale Events
Morrissey Goodale's AEC event attendees have the chance to learn proven strategies and tactics, recharge their batteries, network with their peers, and return to the office with new ideas and best practices for leading their firms into the future.
Join us for the latest M&A information including trends and up-to-date deal pricing data, and participate in best practice panel discussions on strategy, innovation and M&A. This is the #1 West Coast and Western States networking forum for AE & environmental industry executives, buyers, sellers and investors.
Western States M&A, Strategy and Innovation Symposium
June 8-9, 2022
San Francisco, CA
Over two information-packed days, leaders from AE firms across the country will come together to discuss how to advance their firms and drive growth. You'll learn about the strategy, innovation and M&A trends that are converging to reshape the AE industry, while networking with industry executives, buyers, sellers and investors.
Texas and Southern States M&A, Strategy and Innovation Symposium
October 12-13, 2022  –  Houston, TX