Symposium Waitlist
Join our waitlist. We will notify you of any openings that become available.
* = required fields
PRICING
Registration fee ………. $1,595
Your registration fee includes the June 8th networking lunch, cocktail reception and the full day of events and materials on June 9th, as well as breakfast, lunch, and a post-symposium cocktail reception.
Registration rates for industry vendors, consultants and advisors
Posted registration fees are exclusively for (a) principals and employees of AE and environmental consulting firms and (b) principals and employees of private equity funds or family offices. Registration fees for industry vendors and consultants may be obtained by contacting our Events Director Corinne McCanse at [email protected].
"The M&A Symposium was a great and informative event."
Pat Moyer, Chief Financial Officer
Garcia and Associates, San Anselmo, CA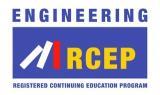 ENGINEERING REGISTERED CONTINUING EDUCATION PROGRAM
Earn up to 8.00 Professional Development Hours
Morrissey Goodale has met the standards and requirements of the Registered Continuing Education Program. Credit earned on completion of this program will be reported to RCEP. Certificates of Completion will be issued to all participants. Complaints regarding registered providers may be sent to RCEP at www.RCEP.net.