Oct 24-25, 2018 • Omni La Mansion del Rio • San Antonio

If you're a Texas AE or environmental consulting firm leader—or if your firm wants to grow in the Texas market—then this event is for you.
Texas is the hottest market for architectural, engineering and environmental consulting firms. The Lone Star state is an economic powerhouse with the most business-friendly regulatory environment in the US. Unparalleled population growth will create even greater demand for design, engineering and environmental services. And with four of the nation's largest and fastest-growing cities and some of the greatest design and engineering schools it is THE state to hire and retain those elusive millennials.
But changes are afoot. Leadership in many Texas firms is aging and succession planning is a huge challenge. Public-private partnerships (PPPs) and alternative delivery models are transforming how owners are purchasing AE and environmental services. Technology advances are changing how work gets done. The competitive environment is evolving daily. In 2018, Texas will see more mergers of AE and environmental firms than any other state.
Attend the Texas #AE Industry Conference – delve into what's next for Texas AE and environmental consulting, and how you can be successful here.
Hear from Texas experts and AE leaders on the future of the Texas AE & Environmental market. Get up-to-date on the economic, regulatory and legislative forecasts for the Texas market. Understand the outlook for the Texas AE industry and what opportunities and challenges lie ahead for your firm. Network with Texas and out-of-state firms to build valuable business relationships.
Customize your conference experience.
Choose from three conference breakout sessions:
Texas Water
TxDOT
Texas Commercial Markets
Add to your experience with a Pre-Conference Workshop:
Strategic Business Planning Workshop
Ownership Transition and M&A Workshop
CONFERENCE REGISTRATION
PRICING
Registration fee……….. $950
ACEC TX members* ….. $875
Contact ACEC TX for code.
ADD A HALF‑DAY
PRE‑CONFERENCE WORKSHOP
October 24, 2018

ENHANCE YOUR EXPERIENCE
Choose from 2 high-energy options!
Additional half-day workshop….. $495
* Code required for discounted ACEC TX member pricing.
Your Conference Registration fee includes all receptions and networking sessions, all conference day sessions, breakfast and lunch, and materials for each attendee. Please note: the Conference Registration fee does not include Pre-Conference Workshops.
Read What Past Attendees Have To Say
"The individuals and firms that attended were first rate, so the networking was as valuable as the sessions."

John Kissinger

President & CEO, GRAEF, Milwaukee, WI

"The Texas AE Conference provided me with the trends and economic drivers shaping the Texas marketplace that helped inform my strategy to grow my business in Texas."

Bungane Mehlomakulu

Principal, Integral Group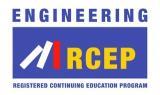 ENGINEERING REGISTERED CONTINUING EDUCATION PROGRAM
Earn 5.50 Professional Development Hours
Morrissey Goodale has met the standards and requirements of the Registered Continuing Education Program. Credit earned on completion of this program will be reported to RCEP. Certificates of Completion will be issued to all participants. Complaints regarding registered providers may be sent to RCEP at www.RCEP.net.