Oct 24-25, 2018 • Omni La Mansion del Rio • San Antonio

Texas #AE Industry Conference Agenda
Every year, the Texas #AE Industry Conference agenda provides the most current, relevant, in-depth information for AE leadership teams focused on the Texas market. Here's what we have in store this year.
Check back here for additional agenda details and updates as we near the meeting date.
Pre-Conference Workshops
Add to your experience—choose from two pre-conference workshops:
Strategic Business Planning
Ownership Transition and M&A
Welcome Reception
El Capistrano
Omni La Mansion del Rio
Keynote: Texas Political Outlook
Ross Ramsey
Executive Editor and Co-Founder, The Texas Tribune
Keynote: Texas Economic Outlook
Dr. Ray Perryman
President and CEO, The Perryman Group
Texas CEO Panel
Dale D. Conger, President, Cobb, Fendley & Associates, Inc. (Houston, TX, ENR #247)
Mitch Fortner, President, KSA (Longview, TX)
Peter Fearn, President, RPS Group (Houston, TX, ENR #371)
Pat Kunz, President, Halff Associates (Richardson, TX, ENR #128)
LUNCH SPEAKER
Glenn Hegar
Texas Comptroller
Lifetime Achievement Award
HONOREE
James R. Royer, PE (TC&B, AECOM)
Texas Water
Robert R. Puente, President and CEO, San Antonio Water System
Rep. Lyle Larson, Chair, House Natural Resource Committee

TxDOT and Transportation
Mario Jorge, San Antonio District Engineer, TxDOT
Vic Boyer, CEO, San Antonio Mobility Coalition
Texas Commercial Markets
Charles Kaplan, Commercial Real Estate Advisor, Investment Realty Company
Michael Schoenbrun, San Antonio City Partner, Weitzman
A Look at Corpus Christi and the Coastal Bend
Greg Smith 
Corpus Christi City Council Member
Keynote: The Outlook for Texas Business
Jeff Moseley
CEO, Texas Association of Business
Reception at Omni La Mansion del Rio
CONFERENCE REGISTRATION
PRICING
Registration fee……….. $950
ACEC TX members*….. $875
Contact ACEC TX for code.
ADD A HALF‑DAY
PRE‑CONFERENCE WORKSHOP
October 24, 2018

ENHANCE YOUR EXPERIENCE
Choose from 2 high-energy options!
Additional half-day workshop….. $495
* Code required for discounted ACEC TX member pricing.
Your Conference Registration fee includes all receptions and networking sessions, all conference day sessions, breakfast and lunch, and materials for each attendee. Please note: the Conference Registration fee does not include Pre-Conference Workshops.
"The material was so in-depth, so informative, that it made me think more in-depth about our situation and where we are headed."
John Kissinger
President & CEO, GRAEF
"The Texas AE Industry Conference was insightful, informative, and exceeded my expectation. The Morrissey Goodale Team assembled a great mix of presentations and I expect to attend more functions they convene in the future. Whether your firm is mature in the market, or expanding in the market, organically or through M&A, this conference is for all."
Ryan J Venable
Principal / Director, Braun Intertec Corporation
"Appropriate content, great networking, and a who's who in the Texas marketplace."
Mark Isaak
Vice President, Johnson Mirmiran & Thompson (JMT)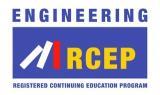 ENGINEERING REGISTERED CONTINUING EDUCATION PROGRAM
Conference: Earn 5.50 Professional Development Hours
Workshop: Earn 2.50 Professional Development Hours
Morrissey Goodale has met the standards and requirements of the Registered Continuing Education Program. Credit earned on completion of this program will be reported to RCEP. Certificates of Completion will be issued to all participants. Complaints regarding registered providers may be sent to RCEP at www.RCEP.net.