Word on the street > When Opportunity Knocks
Word on the Street: Issue 143
Weekly real-time market and industry intelligence from Morrissey Goodale firm leaders.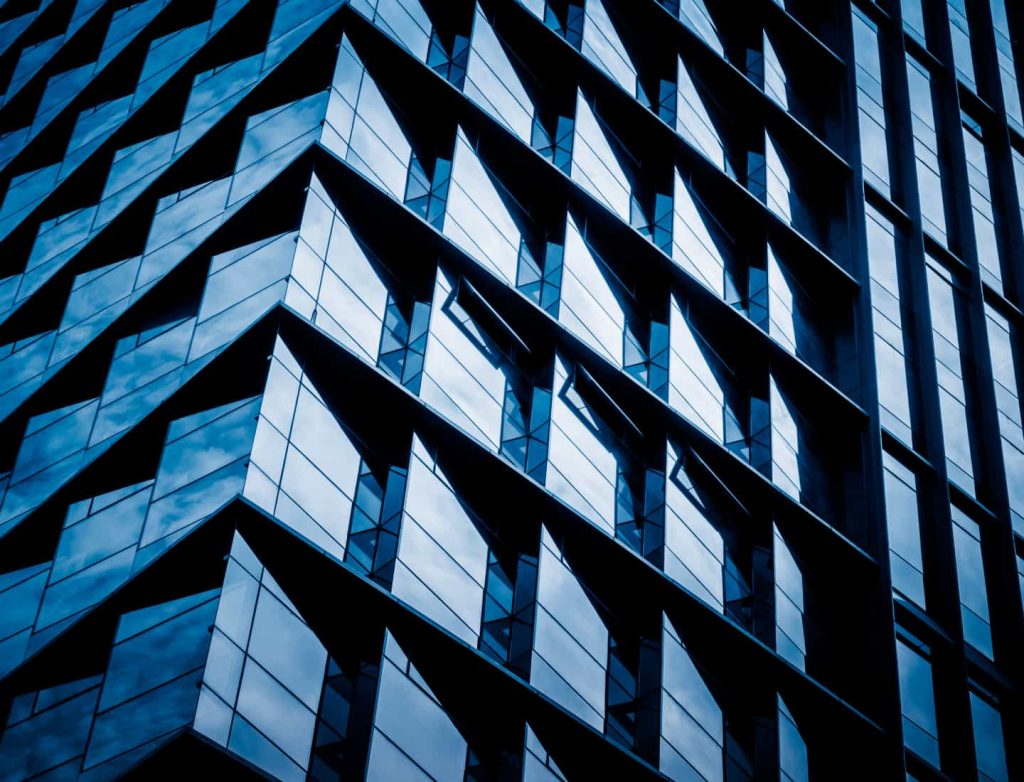 When Opportunity Knocks
An investor and his business partners were gearing up to celebrate one of their latest milestone achievements. The trio had just closed their third private equity fund at $500 million and left the office a little early to commemorate the event with champagne and ribeye at a nice downtown restaurant.
As they were being seated, Tom, the senior partner of Slippery Rock Capital, noticed a woman sitting by herself at the next table, maniacally pecking away on her laptop. Scattered about were numerous papers and plans. Her untouched meal had reached room temperature a long time ago.
Curious, and feeling somewhat of a kinship with a person so obviously driven, Tom introduced himself and asked the woman to take a break and have a seat at his table. After a few handshakes and sharing a bit of his own story, Tom asked her why she was working so feverishly in a relatively empty restaurant on a Thursday afternoon.
She smiled a bit wearily and said, "Do I look that frazzled?" Her name was Ann, and she owned Ann B. Engineering, LLC, a successful, growing civil engineering firm that was celebrating its 10th anniversary this year—well today, actually. She had been at the restaurant most of the afternoon working on a rather challenging bridge project. She had met with her client earlier that day for lunch and instead of wasting time driving across town to return to the office, she decided to stay put while things were still fresh in her mind. It would be quiet enough until the dinner crowd started to show up.
Tom nodded in approval and flashed his partners a quick look they'd seen before—he was onto something. Could it really be this easy? An engineering and construction investment was Slippery Rock's priority in this third fund, and he may have walked right into a solution. With $1.2 trillion of federal investment coming through the IIJA over the next five years, the opportunity was there to generate significant returns—with the right investments, of course.
Ann shared that prior to starting her own company, she spent several years working for an ENR Top 500 firm—and not completely by choice. She began her career at a local firm where her hard work and dedication eventually led her to the position of being one of six minority shareholders identified to eventually buy out the founding principals.
But that didn't happen. Unbeknownst to Ann, the founding principals made the decision to sell the firm externally, cash out, and retire soon thereafter. The six would-be next-generation leaders were left behind to ride out the duration of their employment agreements—and without a shot at ownership in the newly formed organization.
"The founders must've been offered quite a deal," said Paul, one of the partners.
"Can't blame them. The market has been hot the last few years," added Brian, the other partner.
Ann steered the conversation away from the deal details and said, "The sale was actually a blessing in disguise. I had made enough money in the transition to feel comfortable starting my own company. It was a risk. But it was also a dream I always hoped to pursue—and I decided it was the right time to go for it. I have to say, it was the best business decision I ever made."
"Ann, are you looking to grow your firm?" Tom asked.
"Yes," said Ann. "But it's next to impossible to find people."
Paul then asked Ann about the firm's markets, clients, and geographic expansion plans, and Brian began to inquire about the kind of margins a firm like hers could produce. Ann was beginning to feel the conversation was turning into an inquisition, and Tom recognized it.
"What do you love about running your own firm?" asked Tom in an attempt to relieve the pressure unwittingly applied by his partners. Ann went on at some length about the satisfaction of building a purpose-driven organization with great people who helped create a unique culture. And she didn't have a boss. But as Ann went on, she also began to acknowledge how tough the road had been—the long days and nights, having a hand in every decision big and small, watching the books, and spending the firm's 10-year anniversary alone in a restaurant working on a bridge project. She was also worried about the mountain of backlog that kept growing—and whether she'd be able to hire enough people to get through it all.
"Sounds like you have your hands full," said Tom. "You need to increase your prices, and with the greater revenue, scale your headcount. With more staff, you could take on bigger projects, and with bigger projects, you could generate higher profits. You know, Ann," Tom continued, "we've bought, built, and exited nine businesses over the last five years, and we can help you, too."
"We could help you expand and acquire!" added Paul, perhaps a touch too excitedly. "With just a little leverage, we could add offices in every major metropolitan area in the region, building the firm's capabilities in transportation, water, power, and more!"
"Lots of synergies there," nodded Brian.
"Think of it, Ann—$3 million of revenue could be $50 million of revenue before you know it," concluded Tom.
"But how long would all that take?" Ann asked.
"Oh, five to seven years or so," Tom replied.
"But what then?" Ann inquired.
"When the time is right, we would sell the company," said Tom. "Hopefully for somewhere in the 8-10x EBITDA range by then. At that point, you could wind down or even retire." With a laugh and a half-shrug, Tom added, "You could even start your own firm again."
If you were Ann, what would you have done?
Would you have smiled, packed up, and said, "Gentlemen, it's been real nice talking with you. It's been a long day. Enjoy your meal." Or would you have inquired about what a deal might look like and how it would work? Maybe you'd even have considered reviewing an LOI at some point.
Ann had not considered the idea of selling her firm or bringing on an investor, so she had some thinking to do after she left the restaurant. An "exit" wasn't her motivation. That's not why Ann started her business 10 years ago. Besides, her best employees joined her precisely because hers was a small firm with a family atmosphere—and she had talked with them many times before about handing over the reins at some point. She knew exactly what it felt like to have that particular rug pulled out from under her. But she also had to admit that suddenly having the wherewithal to scale up the business would be exciting, and the ceiling would actually be much higher for her people. A sudden and significant boost to her bank account wouldn't be the worst thing in the world, either.
It might very well be that on a given day, any one of us could be a potential seller—to the right buyer, at the right time, under the right circumstances, and for the right price. So, when opportunity knocks on your door, will you open it? If you do, answering these three questions will help you arrive at a sound decision:
1) What potential advantages would a sale bring?
2) How big would each advantage be?
3) How important would each advantage be to you, your employees, your clients, and your company's future?
Ultimately, a sale may not be for you. But you'll never know for sure unless you're open to at least considering the possibilities.
To learn more about mergers & acquisitions, call Jon Escobar at 224.577.8595 or send an email to jescobar@morrisseygoodale.com.
CEO Spotlight—What Makes This CEO Tick?
– Mark Goodale
Todd Kenner is CEO of RESPEC, the South Dakota-based engineering, sciences, and technology firm. Throughout the nearly 20 years I've known Todd, he's always had a positive outlook, regardless of the circumstances. I connected with Todd last week and took the opportunity to explore what keeps him on the bright side of things more often than not. Here's what he had to say:


What do you enjoy most about your profession?


Simply, the people and the projects. Our profession is dominated by honest, solution-oriented individuals. This makes for a positive, half-full environment in which to solve challenges.


What do you mean by "half-full environment"?


Half-full refers to looking for the opportunity a certain situation or project represents versus what is not there, or the potential loss of a situation. Further, everything we do influences and positively impacts quality of life. For example, in 2018, we developed the Big Sioux River Flood Information System (BSRFIS). The system provided real-time stream conditions, flood forecasting, and inundation mapping for an 8,500-square-mile watershed. The watershed had frequently experienced significant flooding, causing impacts to property and putting human life in jeopardy. The system takes real-time weather data and predicts areas susceptible to flooding. With an advanced understanding of the potential impacts of a coming weather event, public officials can be proactive in notifying the public to ensure public safety and take preemptive measures to minimize property damage. In 2020, ACEC recognized the BSRFIS for an Excellence Award for innovation.


What passions do you have outside of work?


I took up running in my late 20s and continue to run daily. I also like to do most anything outdoors: hike, bike, and golf. I enjoy doing.


How do you handle the stress and challenges associated with your role?


It's taken awhile, but keeping things in perspective has helped me deal with the inherent stress of running a business. Understanding the best- and worst-case scenarios in each situation and knowing that the solution will fall somewhere in between has allowed me to find clarity in the most stressful situations.


Can you give an example of a situation where you applied perspective to help you keep an even keel?


I'll give you two. First, the pandemic was a situation no one had encountered before. A tremendous amount of uncertainty created a potential environment for over-reaction. Knowing that there were many variables completely out of our control, we focused on three things: keeping our employees healthy and safe, fulfilling our client commitments, and maintaining strong cash flow. We communicated extensively and provided regular updates in each area. As more information became available, we adapted our approach. Second, a few years ago we had a large, three-year, technology platform development project that never seemed to get on the right path. There was tremendous exposure for the company and the client. We kept the project team focused on delivering while we engaged a management team that scenario planned for the worst- and best-case outcomes. The management team engaged with the client leadership working towards an outcome both parties could accept. It was a significant challenge to keep the leadership of both parties focused on the outcome versus getting dragged down into how we got into this position. In the end, we found middle ground both parties could accept.


What keeps you motivated to keep at it?


Understanding what you truly enjoy doing and putting yourself in the best position to focus on those things. Equally important is working with a great team of talented professionals, making a difference, and creating opportunities.


How do you maintain a work-life balance, or do you?


I've gotten better at work-life balance throughout my career. You must make time for your family and yourself. Further, it is a quality thing versus a quantity. You can be present but not engaged. Like work, you must be fully engaged for those outside of work activities to provide the balance that everyone needs.


What is your philosophy on failure?


Failure provides a great opportunity to learn, but the fear of failure can be paralyzing. I have learned more from failure than success. Often with success, you are too busy celebrating—and you think you actually have something figured out so learning stops there. But with failure, it forces you to understand the missteps and how not to repeat them. I like to use a baseball analogy when it comes to the opportunity that failure represents: if you absolutely must hit the ball every time you step up to the plate, don't get out of the dugout.


What made you want to take on the role of being a CEO in this industry?


The challenge of leading an organization is exciting. The opportunity to align a diverse group of professionals around a vision and plan is really motivating. Realizing the impact you can have on so many lives is truly rewarding.


What has contributed most to the success you've achieved?


Having a supportive family has been significant. Surrounding myself with a talented, motivated team has been equally important. Playing the long game and dividing by "we" has also been key. Making decisions for lasting success that are in the best interest of the organization versus decisions that may provide short-term success and only benefit one or a few individuals.


Sometimes long-term decisions might not be the most popular ones. How do you keep people aligned in those situations?


It is difficult in all cases to get 100% alignment on long-term decisions. In those cases, you clearly communicate the why, finding alignment with a majority of the management team. In the end, you must have the courage to act.
Todd's father owned Howard's Body Shop, an automotive business started by Todd's grandfather. From an early age, Todd was taught to make do with what was at hand and to be happy with the results. In fact, his first new car was a Pinto—one he constructed from two other Pintos. Perhaps lessons and experiences like those have a lot to do with Todd's glass-half-full mindset. By the way, Todd recently found the original Howard's Body Shop neon sign at the local historical society. He's getting the neon repaired and will hang it in his son-in-law's boat shop in Rapid City, South Dakota.
Market Snapshot: Airports (Part 1)
Weekly market intelligence data and insights for AE firm leaders.
Overview
The design and construction market for airports focuses on passenger and freight terminals, runway pavement and lighting, hangars, space facilities, air traffic towers, and aircraft storage and maintenance buildings.
According to the U.S. Census Bureau, total airport construction spending in 2022 was $17.2 billion.
Based on 2022 totals, air passenger terminals represent 63% of the total air transportation construction and runways account for 30%.
Airports Market Breakdown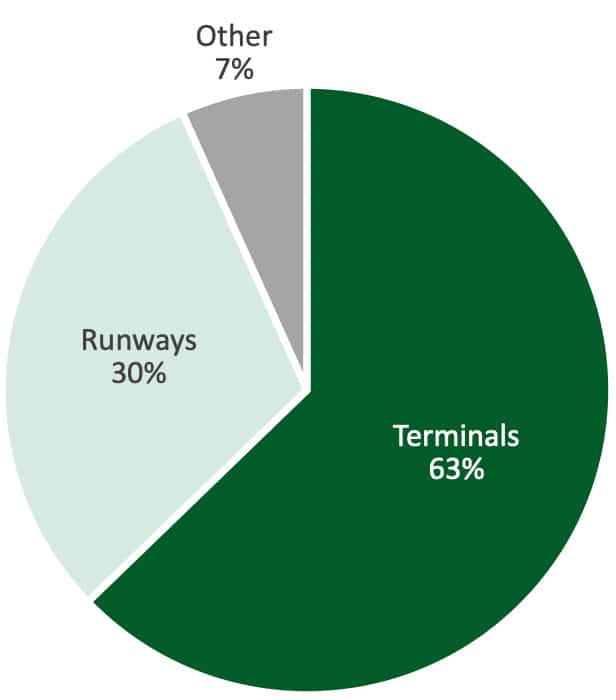 Market Size
$17.2 billion*
*Based on Value of State and Local Construction Put in Place (CPiP) – 2022 (U.S. Census Bureau).
Airports – Design and Construction Value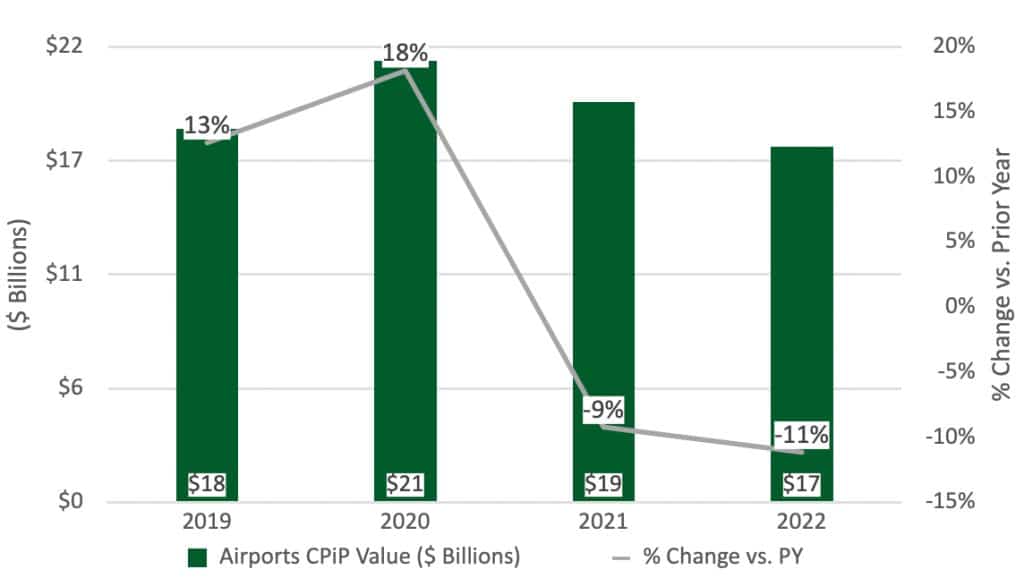 Outlook
Overall airport construction spending is expected to have a strong 2023 as many airports have secured federal funding for infrastructure improvements.
The airline industry is poised to have a profitable year after three years of downturn and passenger levels still below 85% of what they were in 2019.
Airports have struggled to maintain and improve aircraft and passenger flow as well as security operations within aviation facilities throughout the country. With air travel demand expected to pick up in 2023, aviation leaders will be looking to avoid chaotic situations.
The industry will be infused with new government funding over the next few years. The IIJA authorized $25 billion in funds for airport projects. Of this amount, $15 billion of Airport Infrastructure Grants (AIG) funding is going towards runways, taxiways, safety, and sustainability projects, and $2.9 billion of AIG funds has been made available for FY 2023, according to the FAA. The remaining $10 billion is split between terminal and air traffic control projects.
The industry is geared towards providing an overall better passenger experience, with focus on convenience and wellness.
Many airports will be establishing and improving energy efficiency and weather resiliency features.
As more focus is placed on passenger-related infrastructure, air cargo activity might be pushed down on the priority list as many shipping companies are shifting some volume away from the segment.
In next week's issue, we'll look at trends and hot spots for this sector. To learn what's ahead for other markets, check out Morrissey Goodale's 2023 Market Outlook for the AE Industry. Click here to access recording and materials.
To learn more about market intelligence and research from Morrissey Goodale, schedule an intro call with Rafael Barbosa. Connect with him on LinkedIn.
Weekly M&A Round Up
Congratulations to Allied Resources Group (Exton, PA): The parent company to a collection of engineering, inspection, staffing, and technology solutions companies acquired R.T. Patterson (Pittsburgh, PA), a firm that offers engineering and construction assistance services to multiple industries. The addition of R.T. Patterson will enable ARG to offer a broader range of services to clients and accelerate growth, while strengthening the firm's geographic footprint from the Midwest through the Northeast and Mid-Atlantic regions. We're thankful that the ARG team trusted us to initiate and advise them on this transaction.
Thirteen deals last week: Last week saw five new deals announced around the country in PA, CA, FL, and WA. Overseas there were nine new transactions in a number of countries including Australia, Saudi Arabia, France, and Canada. Deal activity over the latest 12 months is down 7%, while global deal activity is down 1%. You can check all of last week's M&A news here.
.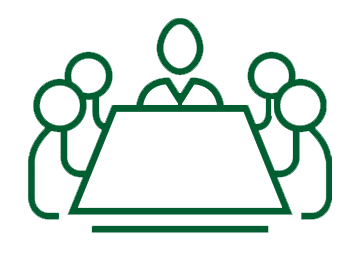 Are you interested in serving on an AE firm Board of Directors? 
We have numerous clients that are seeking qualified industry executives to serve on their boards. If you're interested, please upload your resume here.
June 7-9, 2023 Las Vegas, NV
Western States M&A, Strategy, and Innovation Symposium
Over two plus information-packed days, come together to discuss strategy, innovation, and M&A trends while networking with AE industry executives.
Register Now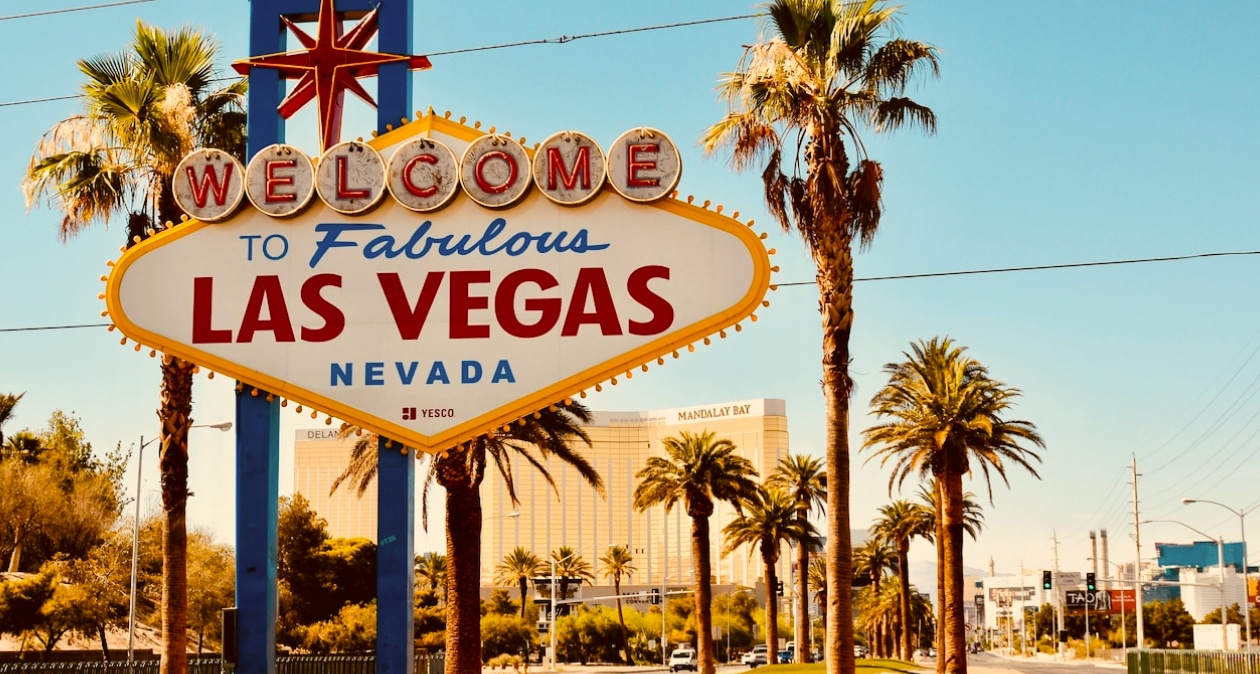 Subscribe to our Newsletters
Stay up-to-date in real-time.