Word on the street > Issue 115
Word on the Street: Issue 115
Weekly real-time market and industry intelligence from Morrissey Goodale firm leaders.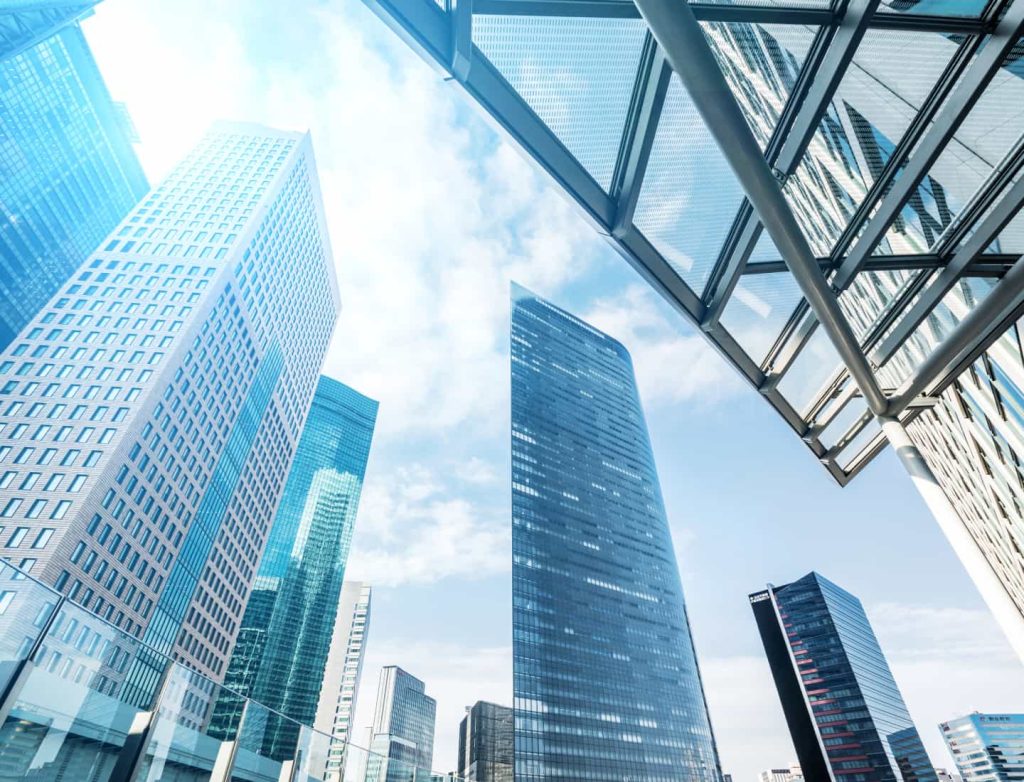 Selling your firm? It's time for an out-of-body experience
Selling your AE or environmental firm can be a daunting process. Most owners only do it once, although there is an exclusive "club" who have sold, then bought back, then resold their firms—making money on each transaction—with generally a buyer of European extraction on the other side of the deal. But I digress (not for the first time, I'll admit).
Sellers who get the best deals for their firm (highest values, superior terms, optimal integration) know one thing above all else. And it requires an out-of-body experience.
The blind spot: Too many sellers think that they are selling their civil engineering firm, or their architecture practice, or their environmental business, or their surveying and mapping outfit. Or they believe that they are selling access to their people, clients, or intellectual property. While all of those are technically true, none come close to capturing what buyers are actually buying. These sellers have a massive blind spot about what their real value is in the eyes of the buyer. And that blind spot equates to "money left on the table" (a phrase that I personally believe needs to be driven out of the vernacular—Digression #2).
Think different: When selling your firm, you need to unlearn how you've traditionally referred to the business. You have to be prepared to throw away your "elevator speech." All that muscle memory of how you've referenced your experience from the inside needs to be undone. Instead—like every good rugby move—you need to get outside, and into the minds of the buyers. You need an out-of-body experience. It's like "Freaky Friday"—but for transactions and without Jamie Lee Curtis.
The "Aha!" moment: This occurs for sellers when they step into the shoes of the buyers. They see themselves in a totally different way—in a whole new light. They understand what it is the buyers are "getting" or "achieving" through the acquisition. It's that moment when Neo recognizes the Matrix for what it is and that he's The One. And it's at that "Aha!" moment when the path forward for sellers becomes clear.
Seller, meet your buyers: The M&A market today is dominated by two types of buyers. The first are brand-name AE and environmental firms—for the most part listed on the ENR Top 500 Design Firms and ENR Top 200 Environmental Firms. Let's call this first group "Strategics" for want of a better description. The second are private-equity groups or family offices (PEFOs) that are looking to enter the AE and environmental industry through a platform in one fell swoop or a series of close-to-simultaneous acquisitions that will then be rebranded and combined.
How the Strategic sees you: Not surprisingly, every Strategic buyer has a strategic plan. (If they don't have one (ask them for it), then don't sell to them because it won't end well. In fact, it probably won't happen at all as they are most likely a Tire Kicker (or Time Waster) disguised as a Strategic.) That strategic plan will have a vision for (hopefully) profitable growth designed to increase the value of the firm. That growth will come from geographic expansion, or new competencies/services, or new end markets. And that, dear seller, is how a Strategic buyer sees you. You're a way for them to make progress against their strategic plan. You're a "goal" or "objective." Part of a "strategy." Someone assigned your firm as their "action item." So, your job is to figure out where you rank in terms of the priorities and timing of the buyer's strategic plan. If the buyer's top strategic priority is higher education in the Midwest and you're a college and university designer in Chicagoland that works for Northwestern and Loyola, then bingo—that's your "Aha!" moment.
How the PEFO sees you: The PEFO is looking to invest capital—either theirs or someone else's—in the AE and environmental industry. That decision was made after about three years of studying this industry to validate/confirm an "investment thesis." (Note to self, three years of study should result in the conferring of some sort of "Understanding the AE Industry" degree—with a graduation speech.) Your firm (brand) fits into that thesis. Yours is one of many firms that the PEFO will invest in (acquire) over the next several years to build a larger entity that will be more valuable than the sum of its parts. Your firm is—to put it indelicately—either a platform or a building block. And in this market, both of those are valued by assigning a multiple to your trailing 12 months of EBITDA. The more attractive you are in terms of the thesis, the larger you are, the better performing you are—the higher the multiple.
Sellers need to think like Harley Davidson: Harley makes great motorcycles. But Harley doesn't sell motorcycles. It sells a lifestyle that their customers want. And it monetizes every aspect of that lifestyle from the bike to the bandana. To be a successful seller in this market, think like Harley. Understand how the potential buyers of your firm view you and what they need/want. And then negotiate with that knowledge.
Thoughts, insights, questions? Contact Mick Morrissey at [email protected] or 508.380.1868.
CEO Spotlight: The Pursuit of Innovation
Recently, I had breakfast with Cyrus Izzo, co-president of Syska Hennessy, the Manhattan-based, global, full-service engineering firm that specializes in MEP, information and communication technology (ICT), and commissioning for the government and commercial sectors from 19 national and international offices. As we were catching up on business and swapping stories about our families at a delightful pâtissierie on 6th Avenue, Cyrus began to tell me about Syska Hennessy's latest innovation strategy. But since there were meetings to run and trains to catch, we scheduled a follow-up call so we could take a deeper dive into the subject.
Here's how it went:

Mark Goodale, Morrissey Goodale
Cyrus, it was great catching up in New York City! I'm glad to know how well things are going at the firm, and thank you for contributing to Word on the Street!
Cyrus Izzo, Syska Hennessey
It was great to see you, too! And thanks for thinking of us for this article.
Mark
We began to talk about the pursuit of innovation at Syska Hennessey, and it sounded intriguing. What is driving this strategic direction?
Cyrus
Historically, the culture of Syska Hennessy has always been about being on the leading edge. Clients who expect us to push them know that there are a lot of good firms out there doing good work. But when there is a complex problem to solve, that's when we shine. Back in 2015 when we worked on our strategic plan with you, we incorporated the concept of innovation into our 2025 vision statement—and about two or three years ago, we got formal about it.
Mark
How did you gain traction?
Cyrus
The first part of our strategy was to establish a wholly owned subsidiary called Syska Innovations, LLC. Its mission is to drive innovation not only through our own firm, but the industry as well. We began by getting every team in each practice area in all of our locations to look for innovative solutions on every project, and highlight them. We knew every innovation wouldn't be a moon shot. Sometimes there are little things we do for our clients that are innovative, and they add up to giant leaps over time. Our chief technical officer, Rob Ioanna, is doing a good job of broadening our culture of innovation by establishing an in-house corporate ideation program and helping us determine where and when we will invest the necessary time and dollars to develop innovative concepts.
Mark
Is innovation also expected from the administrative side of the business?
Cyrus
It quickly dawned on us that we should seek innovation from our Business Advisory groups, like HR, accounting, IS, legal, marketing, and IT. The effort has been bearing fruit. For example, we unveiled a new ERP system and created informative dashboards for our PMs to help them make grounded assessments and sound decisions about their projects. In any event, we put the challenge out there and a lot of energy is building up behind it.
Mark
What is Syska Innovations' investment strategy?
Cyrus
We act as technical advisors for venture capital firms like Borealis Ventures and Shadow Ventures, and we also make commitments to some of these types of funds. While these sorts of investments are more transactional in nature, they keep us in the game and in the conversation, and reinforce that we want to be all in. We're certainly not just dipping our toe in the water. If something is in our field of expertise, we want to pilot it and bring that new technology to the table. Syska Innovations is making direct investments into firms like Enviro Power, creator of the SmartWatt boiler, which not only gives off heat, but can generate electricity for less money and with fewer emissions than buying juice from the grid. We help steer the rollouts of these kinds of products and test-drive them.
Mark
Do you need to find early adopters to participate?
Cyrus
It's certainly important that we get like-minded clients who want to beta-test new, innovative products. You'd be amazed at how many of them want to be involved with these kinds of opportunities. For example, we're using OpenSpace with a number of our clients. OpenSpace created next-generation 360° construction photo documentation software, and one of its features allows you to record 150,000 square feet per hour, hands-free, with images automatically mapped to plans. We're also test-driving a smart air valve solution for air distribution systems that could be a game changer—and the list goes on. We want to be there when these products are born so we can help nurture them into their next versions and build a feedback loop between the client and the product or service creator. We are building an ecosystem of sorts because we want to be the instigators of disruption—not the ones in the back of the pack being dragged across the finish line.
Mark
You also mentioned something called AEC Angels. What is that?
Cyrus
It's another leg of our innovation strategy that gets us exposure to a broad range of technology—some of which is outside of our expertise—that otherwise would fly under our radar. We formed a group with like-minded firms called AEC Angels that cover a wide variety of disciplines. It's a group that includes Thornton Tomasetti, STO Building Group, and SHoP Architects. We're all experienced firms that are interested in assessing, testing, and accelerating innovative technologies. We realized we were all talking about these kinds of things internally, so why not create a platform to look at all disciplines from a broader base?
Mark
It seems like Syska Hennessy's drive to innovate goes beyond the goal of making money.
Cyrus
We have lots of irons in the fire, all with the common goal of remaining on the leading edge, identifying opportunities to improve our own business and our clients' businesses, and never being caught off guard in a meeting when someone asks us if we saw that cool, new product. We want to be the ones showcasing the new innovation. And while we aren't looking to lose money, ROI truly is secondary. The primary driver is to be a driver of change. Our industry can often feel a little stodgy to others, unfortunately. Our goal is to flip that equation and make people aware of the really neat things we are doing to improve the built environment. In the not-so-distant future, we will very much be changing how projects are conceived, designed, constructed, and operated—maybe not always in a radical way, but certainly in a positive one. It's important that our people have this kind of drive and vision, and share our core value of innovation. Defining that DNA helps us with recruiting and retention, and supports people's progress through our organization. We want people who are driven to create something that's beyond your father's Oldsmobile—we want to design the next Tesla.
Learn more about developing a digital strategy for your firm by calling Mark Goodale at 508.254.3914 or sending an email to [email protected].
50 in 50: Louisiana
50 states in 50 weeks: U.S. states economic and infrastructure highlights.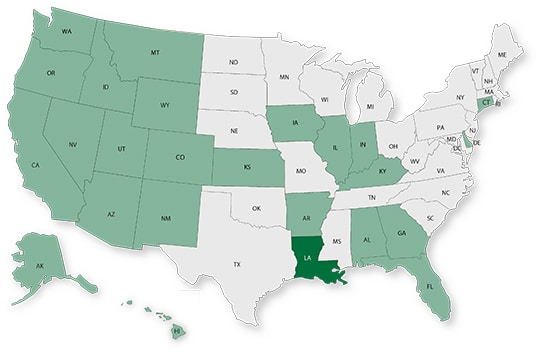 Key Economic Indicators
GDP: $227.7 billion
GDP 5-year compounded annual growth rate (CAGR) (2017-2021): -0.7% (U.S: 1.6%)
GDP per capita: $49,855 (U.S.: $58,154)
Population: 4.6 million
Population 5-year CAGR (2017-2021): -0.3% (U.S.: 0.5%)
Unemployment: 3.8% (U.S.: 3.9%)
Economic outlook ranking: 20 out of 50
Fiscal health ranking: 40 out of 50
Overall tax climate ranking: 42 out of 50
Key Sectors and Metro Areas
Top five industry sectors by 2021 GDP:
Sector
GDP ($ billions)
% of total GDP
Manufacturing
49.2
21.6%
Real estate and rental and leasing
24.0
11.0%
State and local
18.4
8.1%
Health care and social assistance
18.1
7.9%
Retail trade
14.6
6.4%
Top three industry sectors by GDP 5-year CAGR (2017-2021):
Sector
GDP 5-year CAGR
Administrative and support and waste management and remediation services
3.3%
Finance and insurance
3.3%
Agriculture, forestry, fishing and hunting
2.8%
Top three metro areas by GDP:
New Orleans-Metairie
Baton Rouge
Shreveport-Bossier City
Top three metro areas by population percentage increase in 2021 vs. 2020:
Hammond
Lafayette
Baton Rouge
Infrastructure Highlights
Infrastructure: ASCE Infrastructure Grade (2017): D+
Louisiana's roads, bridges, inland waterways, coastal areas, and drinking water infrastructure are in poor condition according to the last survey conducted by the ASCE.
The state is ranked fourth in the nation in total bridge area and a relatively high percentage of them require structural attention, hence why the state is receiving over $1 billion in bridge funding over the next five years. Last week, the state's development secretary Shawn D. Wilson announced that Louisiana will receive $63 million from the RAISE grant program as directed by the Bipartisan Infrastructure Law (BIL). The discretionary funds will be allocated to roadways and transportation projects, including the Baton Rouge-New Orleans Inter-City Rail Service. Over the next five years, Louisiana's BIL funds will address the following categories of projects (additional funds may be deployed as federal grants get awarded to states):
Funds
Improvement Area
$4.8 billion
Roads and highways
$1.0 billion
Bridges replacement and repair
$580 million
Water infrastructure
$470 million
Public transportation
$179 million
Airports
$100 million
Broadband (minimum allocation)
$73 million
Electric vehicle (EV) charging network
$20 million
Wildfires protection
$17 million
Cyberattacks protection
Construction spending (Value of Construction Put in Place – CPiP):
Private Nonresidential 2021 CPiP: $5.1 billion; -23.9% 5-year CAGR (2017-2021), below overall U.S. CAGR of 1.4%
State & Local 2021 CPiP: $4.1 billion; -0.9% 5-year CAGR (2017-2021), below overall U.S. CAGR of 4.0%

ENR 500 firm headquarters (2022): 1
M&A activity since 2018:
21 deals with buyers from Louisiana
20 deals with sellers from Louisiana
For customized market research, contact Rafael Barbosa at [email protected] or 972.266.4955. Connect with him on LinkedIn.
Weekly M&A Round Up
Industry M&A is up 21% over the past 12 months: Last week saw new transactions announced in TX, PA, and NJ. You can check all the week's M&A news here.
If you'd like to know more about our M&A services, and how we can help you either confidentially sell your firm or grow through acquisition then please contact Nick Belitz, Principal, at [email protected] or 303.656.6151.
Subscribe to our Newsletters
Stay up-to-date in real-time.