Word on the street > Issue 108
Word on the Street: Issue 108
Weekly real-time market and industry intelligence from Morrissey Goodale firm leaders.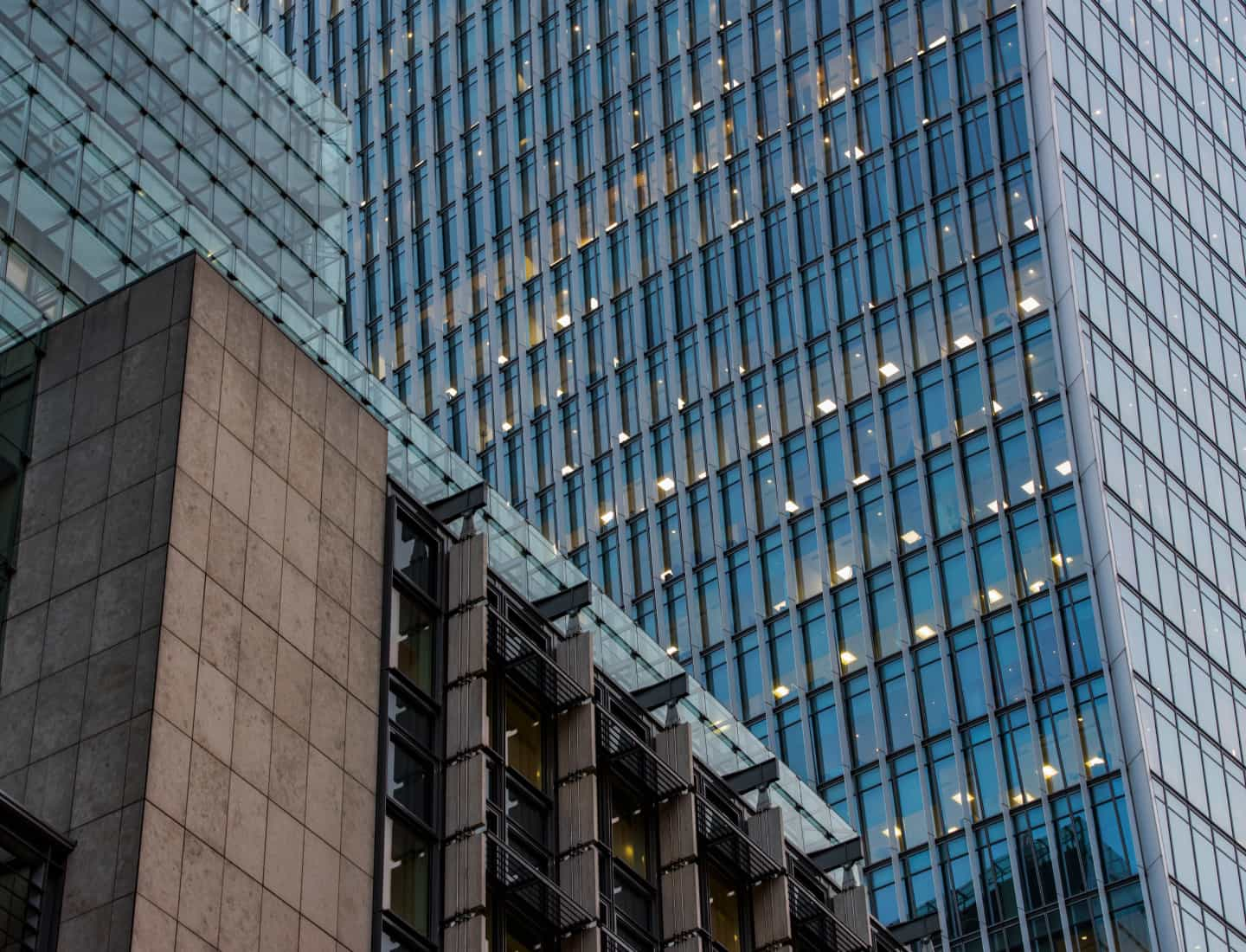 Backlogs to the Rescue?
Economic warning signs are everywhere. Last week, the stock market dipped into bear market territory. James Gorman, Morgan Stanley's CEO, raised his estimate of the odds of a recession to 50-50 (up from 30%). Inflation is eating away at the value of everything like a plague-hungry locust. However, these storm clouds on the horizon haven't shaken the optimism of the industry at large. Nor do they appear to be dimming the outlook for the industry's publicly traded firms, whose recent crop of quarterly reports are apparently locust-free. What could be the reason? Let's take a look.
A record-breaking quarter: On May 5, NV5 Global, Inc. (NASDAQ: NVEE) reported "a record first quarter, generating double-digit growth in gross revenues, net income, adjusted EBITDA, and earnings per share." Per CEO Dickerson Wright: "We enter the second quarter with a strong backlog and pipeline to build upon our growth in 2022 and are increasing our full-year guidance." This included increasing gross revenues to a range of $785 million to $810 million (previously $773 million to $802 million). A "strong backlog and pipeline" are in positive contrast to some of the gloomier indicators in the larger economy.
Increasing backlog: On May 4, Tetra Tech, Inc. (NASDAQ: TTEK) also reported a record quarter. Management reported "record second-quarter results in revenue, net revenue, and operating income. Revenue in the second quarter totaled $853 million and revenue, net of subcontractor costs (net revenue), was $700 million, up 13% and 17% year-over-year, respectively." Importantly—as an indicator of where the AE industry may be heading as opposed to the overall economy—management also reported that "backlog increased to $3.61 billion, up 15% year-over-year."
It may not be a record: But "robust" sounds really good—especially when accompanied by increasing backlog. On May 11, WSP Global Inc. (TSX: WSP) reported "a strong start to the year, with 12.7% organic net revenue growth, significant increase in backlog, and solid improvement in adjusted EBITDA, adjusted EBITDA margin, and adjusted net earnings per share." Taking a deeper dive into backlog: "Backlog on April 2, 2022, stood at $11.0 billion, representing 12.1 months of revenues. In the twelve-month period ended April 2, 2022, backlog grew organically by 15.8% across all reportable segments and by 6.2% when compared to December 31, 2021." Twelve months of backlog is good in anyone's books—and provides a great buffer to an economic downturn.
More good news from the north: On May 11, Stantec Inc. (TSX, NYSE: STN) also reported good news: "Stantec delivered solid first quarter earnings on the strength of 19.5% net revenue growth and reaffirms its guidance for the full year. Every regional and business operating unit delivered organic net revenue growth and recent acquisitions generated double-digit growth. Backlog continues to grow, rising to a record $5.4 billion, with continued growing momentum in the U.S." Another positive reference to backlog. Maybe there are some clues for the industry by looking deeper: "Contract backlog stands at $5.4 billion on March 31, 2022, a new record that reflects 6.8% organic growth from December 31, 2021. Like net revenues, organic backlog growth was achieved across all of Stantec's regional and business operating units. U.S. operations led with organic backlog growth of 9.8%. Infrastructure and Energy & Resources achieved double-digit organic backlog growth, and Environmental Services' backlog of $1.1 billion is a high-water mark for this business. Contract backlog represents approximately 14 months of work—an increase of one month from December 31, 2021." A record 14 months of backlog with increases across all major sectors is an encouraging sign for the industry.
Keep backlogs weird: On May 10, Austin-headquartered Atlas Technical Consultants, Inc. (NASDAQ: ATCX) announced positive first-quarter results, "Gross revenue grew 9.7% to $135.2 million, driven by 6% organic growth and the contribution from acquisitions. Adjusted EBITDA increased 13.4% to $16.5 million, and represented 12.2% of gross revenue, driven by higher revenues, benefits of scale, improved pricing, and strong operational execution." Not only was performance strong, but "backlog reached another record level at $851 million, up 5% from fourth quarter 2021, and up 24% compared to last year. Awards continue to be driven by infrastructure and environmental markets." Per CEO Joe Boyer: "We had strong organic growth in the first quarter, achieved another record level of backlog, and are on track for another record year in 2022." Backlogs would appear to be at record levels around the industry.
Backlogs as insulation: Backlogs were at record highs when the industry entered the pandemic in March 2020—kicking off a period of remarkably strong performance. Backlogs are again at record levels, which could make the difference for the AE and environmental industry in the face of a possible recession.
Questions, thoughts, ideas? To connect with Mick Morrissey, email him at [email protected] or text/call at 508.380.1868.
4 Ways To Get Ready For Belt-tightening
Unlike the pandemic, the next industry disruptor won't sneak up on us. If we do see an economic downturn, the writing will have been on the wall for some time. The latest warning came last week when the Federal Reserve raised its key interest rate three-quarters of a point—the largest such move in almost 30 years—in an attempt to tamp down sky-high inflation. And it might not stop there. Fed Chairman Jerome Powell said that another three-quarter-point increase is possible in late July if inflation continues to dog the economy.
The move came on the heels of reports that inflation had unexpectedly jumped to 8.6%—enough of a jolt to cause significant anxiety in the markets. The question now is whether this strategy will trigger a recession. Fed officials are already forecasting that unemployment will exceed 4% in 2024—a level that many economists consider to be in the economic danger zone.

With the sword of Damocles hanging over our heads, here's what you need to do should the economy take a turn for the worse:
Put a lid on costs. Labor is the obvious place to start looking for ways to shed a few pounds when things get tight. While the inclination might be to cut the cheaper, more inexperienced staff, that approach comes with the inherent risk of becoming a top-heavy organization with eroding profitability. Think about it. Your highest-priced people will be doing the work traditionally executed by lower-paid staff—and in many cases, much less efficiently. If your firm has principals on a glide path with low utilization and weak sales, start your cost savings there.
Keep on recruiting. In a downturn, you need smart, hard-working, drama-less professionals to keep the engine running. So over-invest here. You won't hit a home run every time, but with a potential downturn looming, you need to do everything you can to ensure you have resilient employees who, in the words of immortal ring announcer, Michael Buffer, are ready to rumble. Be in non-stop recruiting mode and manage your recruiters. I know this is going to sound harsh, but you need to make them feel the whip all the way around the track. For your part, you need to be ready to hire good candidates. Qualified people have never been harder to find, and if you refuse to make an offer before first interviewing four or five other candidates, you will lose—it's that simple. I've seen it dozens of times. In any case, successful recruiting allows you to deal with non-performance and entitlement by, as the saying goes, changing the people—or changing the people.
Market even more. With backlogs as strong as they are (see Mick Morrissey's article above), the last thing many of you want is more work. But as hard as it might be to believe, now is the time to stomp on the marketing gas pedal. Marketing is like a freight train. It takes a long time to slow down. But once it stops, it takes a lot of effort to get it going again. And if it grinds to halt during a recession, building momentum may be impossible until the economy recovers. And who knows what condition your firm will be in by then?
Take care of the firm's staff and clients—and yourself. If a recession becomes imminent, reassure the staff that your firm's leadership is continually monitoring the situation and will make decisions that are in the best interest of the company and its people. Leverage technology to its fullest to keep operations running and the staff informed. Schedule catch-up meetings with your most important clients to find out what needs and concerns they have, and what you can do to help. And finally, take care of yourself (actually, start this today if you aren't doing so already). You can't do much for your company if you don't take care of yourself. Diet, exercise, and proper rest will keep you at your best when your company needs you most.
There's nothing wrong with hoping to avoid a recession—unless you aren't planning for one.
To learn how Morrissey Goodale can help your firm achieve success in any kind of weather, call Mark Goodale at 508.254.3914 or send an email to [email protected].
50 in 50: Florida
50 states in 50 weeks: U.S. states economic and infrastructure highlights.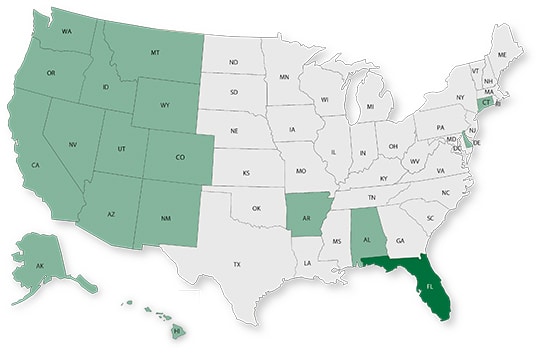 Key Economic Indicators
GDP: $1.0 trillion
GDP 5-year compounded annual growth rate (CAGR) (2017-2021): 2.5% (U.S: 1.6%)
GDP per capita: $47,489 (U.S.: $58,154)
Population: 21.8 million
Population 5-year CAGR (2017-2021): 0.9% (U.S.: 0.5%)
Unemployment: 3.0% (U.S.: 3.9%)
Economic outlook ranking: #8 out of 50
Fiscal health ranking: #16 out of 50
Overall tax climate ranking: #4 out of 50
Key Sectors and Metro Areas
Top five industry sectors by 2021 GDP:
Sector
GDP ($ billions)
% of total GDP
Real estate and rental and leasing
183.4
18.2%
Health care and social assistance
86.6
8.6%
Professional, scientific, and technical services
81.8
8.1%
Retail trade
75.4
7.5%
Wholesale Trade
69.9
6.9%
Top three industry sectors by GDP 5-year CAGR (2017-2021):
Sector
GDP 5-year CAGR
Management of companies and enterprises
8.8%
Finance and insurance
6.4%
Information
5.5%
Top three metro areas by GDP:
Miami-Fort Lauderdale-Pompano Beach
Tampa-St. Petersburg-Clearwater
Orlando-Kissimmee-Sanford
Top three metro areas by population 5-year CAGR (2016-2020):
The Villages
Lakeland-Winter Haven
Punta Gorda
Infrastructure Highlights
Infrastructure: ASCE Infrastructure Grade (2021): C
In Florida, according to the ASCE, the infrastructure for schools, levees, coastal areas, and stormwater is considered mediocre or poor. Approximately 62% of Florida's shoreline shows signs of erosion, with 50% at critical levels. In addition to concerns with coastal areas, the state is working towards addressing water and wastewater systems infrastructure, which together are estimated to need over $40 billion in investments in the next two decades. On the transportation front, the state's DOT will be receiving over $13 billion from federal funds, which is 35% more than the amount provided by the FAST Act. In total, Florida will receive over $19 billion from the Bipartisan Infrastructure Law over the next five years, divided into the following categories of projects (additional funds may be deployed as federal grants get awarded to states):
Funds
Improvement Area
$13.1 billion
Roads and highways
$2.6 billion
Public Transportation
$1.6 billion
Water infrastructure
$1.2 billion
Airports
$245 million
Bridges replacement and repair
$198 million
Electric vehicle (EV) charging network
$100 million
Broadband (minimum allocation)
$29 million
Cyberattacks protection
$26 million
Wildfires protection
Construction spending (Value of Construction Put in Place – CPiP):
Private Nonresidential 2020 CPiP: $23.2 billion; 12.9% 5-year CAGR (2016-2020), above overall U.S. CAGR of 2.0%
State & Local 2020 CPiP: $16.3 billion; 6.2% 5-year CAGR (2016-2020), above overall U.S. CAGR of 4.8%
AE Industry
ENR 500 firm headquarters (2022): 18
M&A activity since 2018:
117 deals with buyers from Florida
139 deals with sellers from Florida
For customized market research, contact Rafael Barbosa at [email protected] or 972.266.4955. Connect with him on LinkedIn.
Weekly M&A Round Up
Congratulations to our client Ramey Kemp Associates (Raleigh, NC): The award-winning transportation consulting firm announced a strategic partnership with Trilon Group (Denver, CO), a family of infrastructure-focused businesses backed by private equity firm Alpine Investors (San Francisco, CA). We're thankful that the team at Ramey Kemp trusted us to initiate and advise them with this strategic initiative.
Industry M&A is up 31% over the past 12 months: Last week saw new transactions announced in NC, NY, CA, AZ, FL, MO, LA, PA, and MD.
If you'd like to know more about our M&A services, and how we can help you either confidentially sell your firm or grow through acquisition then please contact Nick Belitz, Principal, at [email protected] or 303.656.6151.
Subscribe to our Newsletters
Stay up-to-date in real-time.