Word on the street > Issue 100
Word on the Street: Issue 100
Weekly real-time market and industry intelligence from Morrissey Goodale firm leaders.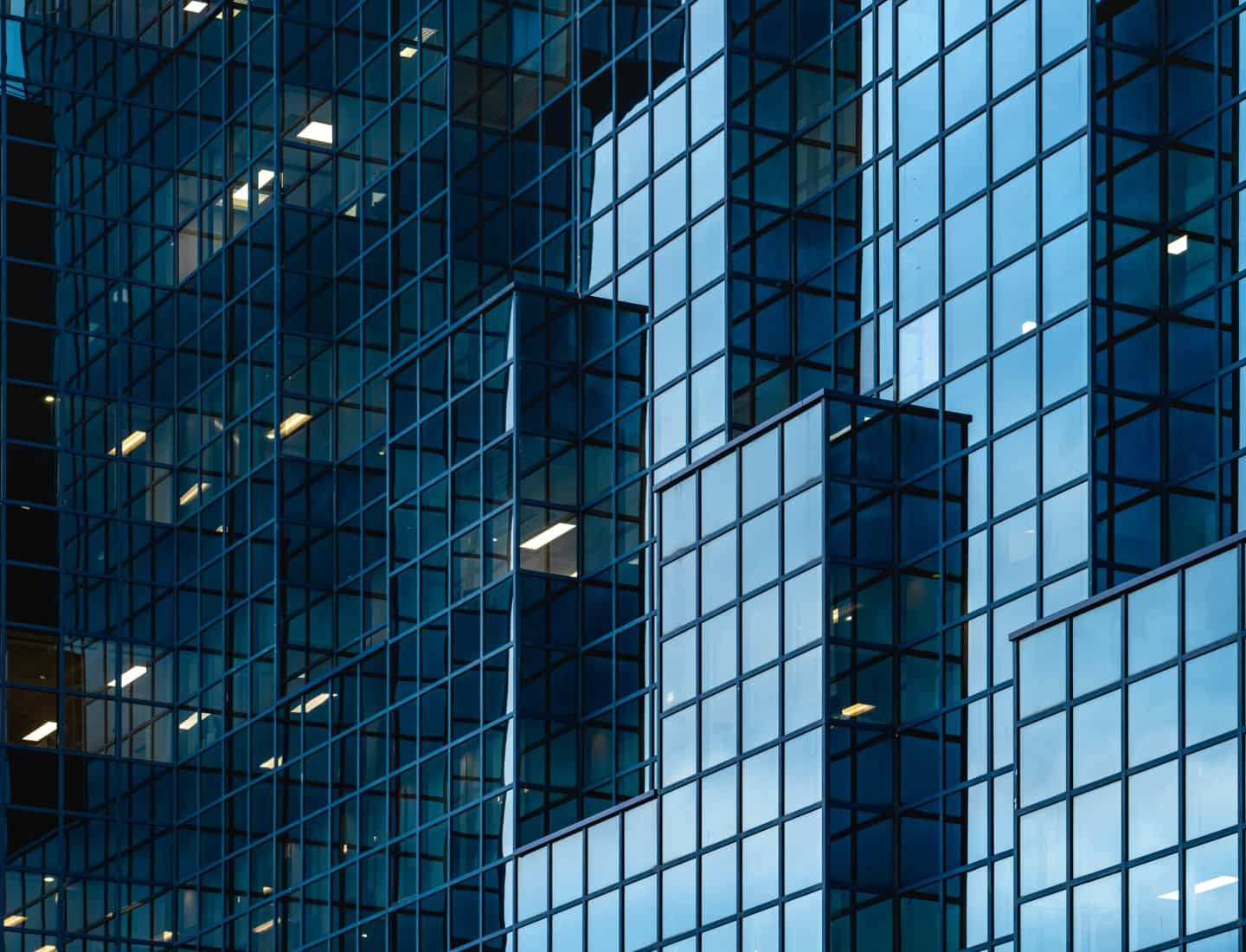 Strategy Rethink — How To Win In The West
Strategy 101: Back in the good old days (pre-COVID, pre-hybrid, pre-crypto), most leading AE and environmental leadership teams incorporated the concept of U.S. Megaregions into their strategic planning. These were the 10 geographies where most of the 40% population growth anticipated in the U.S. between 2010 and 2050 would take place per the America 2050 prospectus from the Regional Plan Association.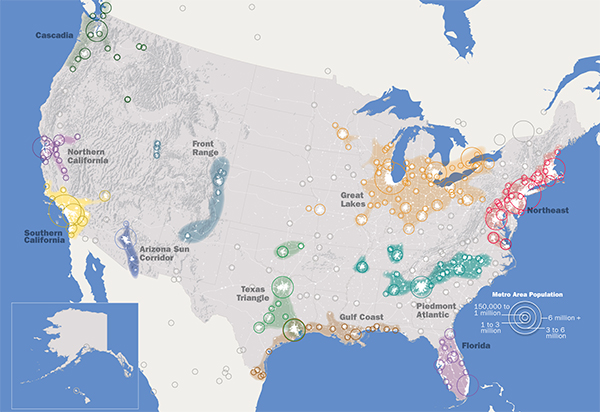 Megaregions (Source: Regional Plan Association)
Follow the growth: From an AE or environmental firm strategic planning perspective, these Megaregions were the equivalent of "follow the money." Population growth drives infrastructure development drives construction drives AE and environmental services. Better for a firm to be in a growing region than a declining one. Much of the M&A activity that we've seen in the industry since 2018 has reflected the planned growth of firms into the Texas Triangle, Piedmont Atlantic, Gulf Coast, and Florida Megaregions. In the Western U.S. leading AE and environmental firms have focused their growth initiatives on the Arizona Sun Corridor, Cascadia, and the Northern and Southern California Megaregions.
But things are changing—fast: However, America 2050 didn't (couldn't?) anticipate the pandemic nor its impact on growth patterns—particularly those in the Western U.S. where now the fastest growth is not in those Western Megaregions, but in the Intermountain West—the states between the Rockies and the West Coast. The 2020 U.S. Census shows that 6 of the 10 fastest-growing states in the U.S. are in the West (Idaho, Arizona, Nevada, Utah, Washington, and Montana). Prior to the pandemic, these states were already seeing robust growth. Post-pandemic, they are red hot (or green hot as depicted in the Population Growth by County graphic below). Often this growth is at the expense of a number of coastal California counties.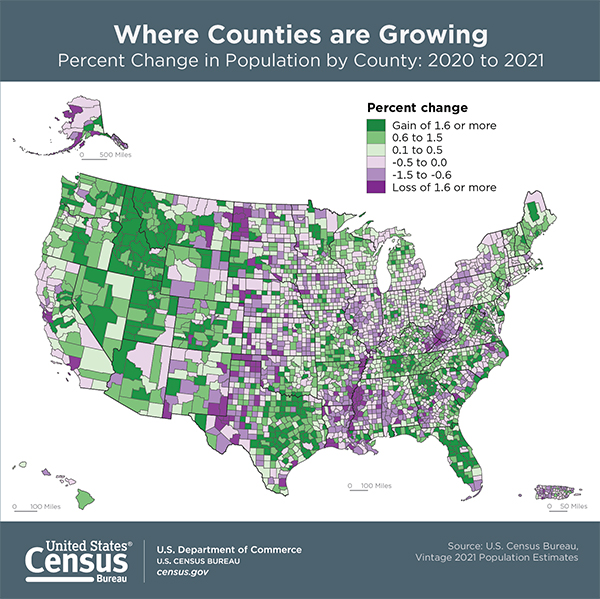 Population Growth by County 2020-2021 (Source: U.S. Census Bureau)
With growth come challenges and more: Much like the rest of the AE and environmental industry, firms in the Intermountain West are booming. They are seeing record profits. Their backlogs are strong. They are confident about sustained growth given the diversity of factors contributing to the economic conditions in their states. Not for them the boom then bust fracking-driven cycle of last decade. They are also seeing a lot of interest from out-of-state firms that would like to acquire them. These out-of-towners are looking to position themselves on the ground for anticipated future growth.
An imbalanced industry: Over three-quarters of the ENR Top 500 design firms are headquartered east of the Rockies. And most of these have either zero footprint at all in the Western U.S. or are significantly under-represented in these fast-growing states. Firms that aspire to be "national" need to have a robust Western business. Without it, it's impossible to be the preferred provider for clients with coast-to-coast demands. Or to claim national expertise in water, transportation, and energy infrastructure.
National strategy rethought: In the past, when these leading firms considered growth in the "West," they viewed California and Washington as the primary entry points via acquisition or a new office. They were attracted to the large, diverse economies of both states. They took advantage of the more frequent non-stop flights to metro areas in those states (pre-pandemic these were a relatively more important factor in acquisition and organizational integration). Today that mindset is shifting, as a greater number of firms east of the Rockies view the entirety of the Western U.S. as viable for investment. However, being successful in the Intermountain West can be challenging for out-of-state firms that are unprepared for the unique geographic and cultural nuances of the region. Just because you're successful in Butte doesn't mean you can roll out the same plan in Billings, Bozeman, or Boise. Local partnerships and local knowledge are the key.
Regional competitive reshuffle: Firms in the West are adjusting their business models to these new growth patterns. More offices are being opened and projects pursued in the Intermountain West by firms that have traditionally thrived in coastal California. At the same time, firms in the Intermountain West are expanding beyond state lines to take advantage of opportunities in adjacent states for which they are well-positioned.
Consolidation stats: These changes are playing out in the industry consolidation patterns being seen in the Western U.S. Mergers and acquisitions in the West jumped a whopping 51% between 2019 and 2021. Six in ten of those transactions were completed by firms headquartered east of the Rockies. When looking at firms headquartered in the Western U.S., California firms were the most-active acquirers.
The upshot: The industry in the Western U.S. is booming—and changing. The opportunities for faster and sustained growth are expanding beyond where they have been traditionally. The competitive map is changing as firms from east of the Rockies seek to expand westward and Western firms look to position themselves in faster-growing regions.
The West's awake! As previously mentioned, 6 of the nation's 10 fastest-growing states (Idaho, Arizona, Nevada, Utah, Washington, and Montana) are in the West. Our Western States M&A, Strategy and Innovation Symposium brings principals from those states and the other Western states of California, Colorado, Oregon, Wyoming, New Mexico, Hawaii, and Alaska together with industry execs and investors from all over North America. The Symposium features sessions on M&A trends (including how the industry in the West is consolidating) and firm valuations. There are best practice panel discussions on strategy, innovation, deal-making, and firm integration. And there's networking—so much networking! You can view the firms that are attending here. Space is limited to 150, so don't delay, register here to reserve your place.
The M&A beat goes on: Industry M&A is up 41% over the past 12 months. Last week saw 15 (15!) new transactions announced including two in the Western U.S. Last week also saw two more ENR Top 500 firms recapitalized by private equity.
Consolidation nation? If you're thinking there seems to be a lot of M&A activity this year, you're right! This first quarter of 2022 has been the most active three months of industry M&A ever! Here are the 15 transactions announced since the beginning of the year that the Morrissey Goodale M&A team has helped make happen. If you're interested in selling your firm, email Vice President Brendon Cussio at bcussio@morrisseygoodale.com. Or if you're interested in our buy-side services, contact Vice President Jon Escobar at jescobar@morrisseygoodale.com. We're here to help.
Questions? Insights? How important is the Western U.S. to your firm's future? Email Mick at mmorrissey@morrisseygoodale.com or text him at 508.380.1868.
CEO Spotlight: Working The West
Last week, I caught up with Jim Brady, President and CEO of Wilson & Company, to talk all things West. Here's a transcript of our discussion:

: Hi Jim. Thanks for sharing your thoughts with Word on the Street. Please describe your firm for our readers.
JIM BRADY: Wilson & Company is a 600-person, multi-discipline AE firm primarily based west of the Mississippi. We work with a lot of typical client types like municipalities, DOTs, railroads, schools, and the Federal government.

: What's your background?
JIM BRADY: I was with the Colorado DOT before I joined Wilson & Company. I've been with the firm for 22 years. I led our transportation business, then became COO for five years before being selected for the CEO role in the fall of 2020. I officially started as CEO in January of 2021.

: What's your vision for Wilson & Company?
JIM BRADY: When we think about the future, we strive to align our vision with our purpose. And our purpose is bringing people together to work on their craft and accomplish great things. To do that, we try to create a terrific employee experience. We couple that with a vision for how we'd like to grow our firm—and that is in the more rapidly growing regions of the country. We are seeing and experiencing that growth in Arizona, Colorado, and Utah, and to an extent in New Mexico, as well—the Four Corners (at least that's what we call it). When you have strong population growth, you need what we do—clean water, roads, schools—things like that. We are high on this part of the country and aim to be in line with that growth. We think it will continue.

: What's happening in the West these days? What are the big demand drivers for AE services?
JIM BRADY: There is just a lot of in-migration into Arizona, Utah, and Colorado, in particular. And there are maturing communities along the US/Mexico border. It's of a smaller scale than the major metros, but there has been, and will continue to be, in-migration to these areas as well, and it's another very interesting market to us. In any case, the West has a lot of infrastructure needs created by this growth—especially water because of the topography and climate in all of those states. And that plays well into what the AE industry does as a whole and some of the things we do in our company. Growth means transportation and general infrastructure and housing and education needs. What's unique here and what makes the challenge in this part of the country a little different is the water issue. How do you support the water resources needs of these communities? The problem is significant, and growth is behind it all. Sure, you could look at the past five years with a somewhat of an elongated drought, but you are always going to have weather cycles. It's the growth that makes coming up with even a short-term patch difficult, never mind a long-term solution to the water resources conundrum.

: What are some of the advantages to working in the West and what are the challenges?
JIM BRADY: When you work in regions where you don't have that big population growth, you have to be a bit more disciplined. You have to know your limitations and what markets you can penetrate. Take the Midwest, for example. The funding there may be a steadier than in the West, but you have to think about how you can get a toehold and slowly creep in and expand. We are having success growing in the Midwest, but there you have to focus on increasing market share and beating the competition to the punch. If you don't have that big population growth, it's more maintenance than new needs and you are not building a lot for a new population. In the West, the opportunities tend to be bigger and your investments can pop more quickly. That doesn't mean you can be undisciplined. Opportunities come and go, and you have to be ready to capitalize, so quick, sound decision-making is important. But you can take some chances and experiment, and catch a wave—and those waves tend to be taller and more frequent in the West. I don't see the growth trends changing much. I think the places that are growing will continue to do so for quite a while.

: Is being based in the West an advantage for attracting and retaining staff?
JIM BRADY: It absolutely is. There is a reason you see the in-migration. I can't speak for individuals, but for a while now, there have been people who have been interested in moving into these regions, and I don't see that diminishing. The Intermountain cities, for example—they will continue to be attractive for all the same reasons they have been for the last decade.
50 in 50: Washington
50 states in 50 weeks: U.S. states economic and infrastructure highlights.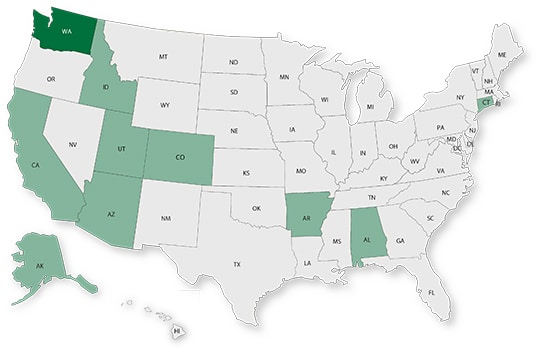 Key Economic Indicators
GDP: $568.3 billion
GDP 5-year compounded annual growth rate (CAGR) (2017-2021): 4.2% (U.S: 1.6%)
GDP per capita: $75,219 (U.S.: $58,154)
Population: 7.7 million
Population 5-year CAGR (2017-2021): 1.0% (U.S.: 0.5%)
Unemployment: 4.3% (U.S.: 3.9%)
Economic health ranking: #11 out of 50
Fiscal health ranking: #28 out of 50
Overall tax climate ranking: #16 out of 50
Key Sectors and Metro Areas
Top five industry sectors by 2021 GDP:
Sector
GDP ($ billions)
% of total GDP
Information
$122.1
21.5%
Real estate and rental and leasing
$63.7
11.2%
Retail trade
$54.8
9.6%
Manufacturing
$52.4
9.2%
State and local
$46.3
8.2%
Top three industry sectors by GDP 5-year CAGR (2017-2021):
Sector
GDP 5-year CAGR
Information
16.1%
Professional, scientific, and technical services
7.8%
Finance and insurance
7.5%
Top three metro areas by GDP:
Seattle-Tacoma-Bellevue
Spokane-Spokane Valley
Kennewick-Richland
Top three areas by population 5-year CAGR (2016-2020):
Olympia-Lacey-Tumwater
Kennewick-Richland
Bellingham
Infrastructure Highlights
Infrastructure: ASCE Infrastructure Grade (2019): C
Washington will receive around $8.6 billion in infrastructure funds from the Infrastructure Investment and Jobs Act (IIJA), which will help the state address aging water and wastewater systems and a high percentage of roads in poor condition (27%) over the next five years. Although Washington has experienced tremendous urban growth in recent years, investments will need to be balanced based on needs of rural areas as well. Additionally, Washingtonians will look to dedicate resources to environmental sustainability and resilience to natural disasters, given its location within the unique Cascadian bioregion. The IIJA will make the following funds available to Washington over the next five years (additional funds may be deployed as federal grants get awarded to states):
Funds
Improvement Area
$4.7 billion
Roads and highways
$1.8 billion
Public Transportation
$882 million
Water infrastructure
$605 million
Bridges replacement and repair
$385 million
Airports
$100 million
Broadband (minimum allocation)
$71 million
Electric vehicle (EV) charging network
$39 million
Wildfires protection
$18 million
Cyberattacks protection
Construction spending (Value of Construction Put in Place – CPiP):
Private Nonresidential 2020 CPiP: $6.2 billion; -3.2% 5-year CAGR (2016-2020), below overall U.S. CAGR of 2.0%
State & Local 2020 CPiP: $12.6 billion; 6.9% 5-year CAGR (2016-2020), above overall U.S. CAGR of 4.8%
AE Industry
ENR 500 firm headquarters (2021): 17
M&A activity since 2018:
30 deals with buyers from Washington
39 deals with sellers from Washington
For customized market research, contact Rafael Barbosa at rbarbosa@morrisseygoodale.com or 972.266.4955. Connect with him on LinkedIn.
Subscribe to our Newsletters
Stay up-to-date in real-time.