Word on the street > AE Industry Intelligence: Issue 90
AE Industry Intelligence: Issue 90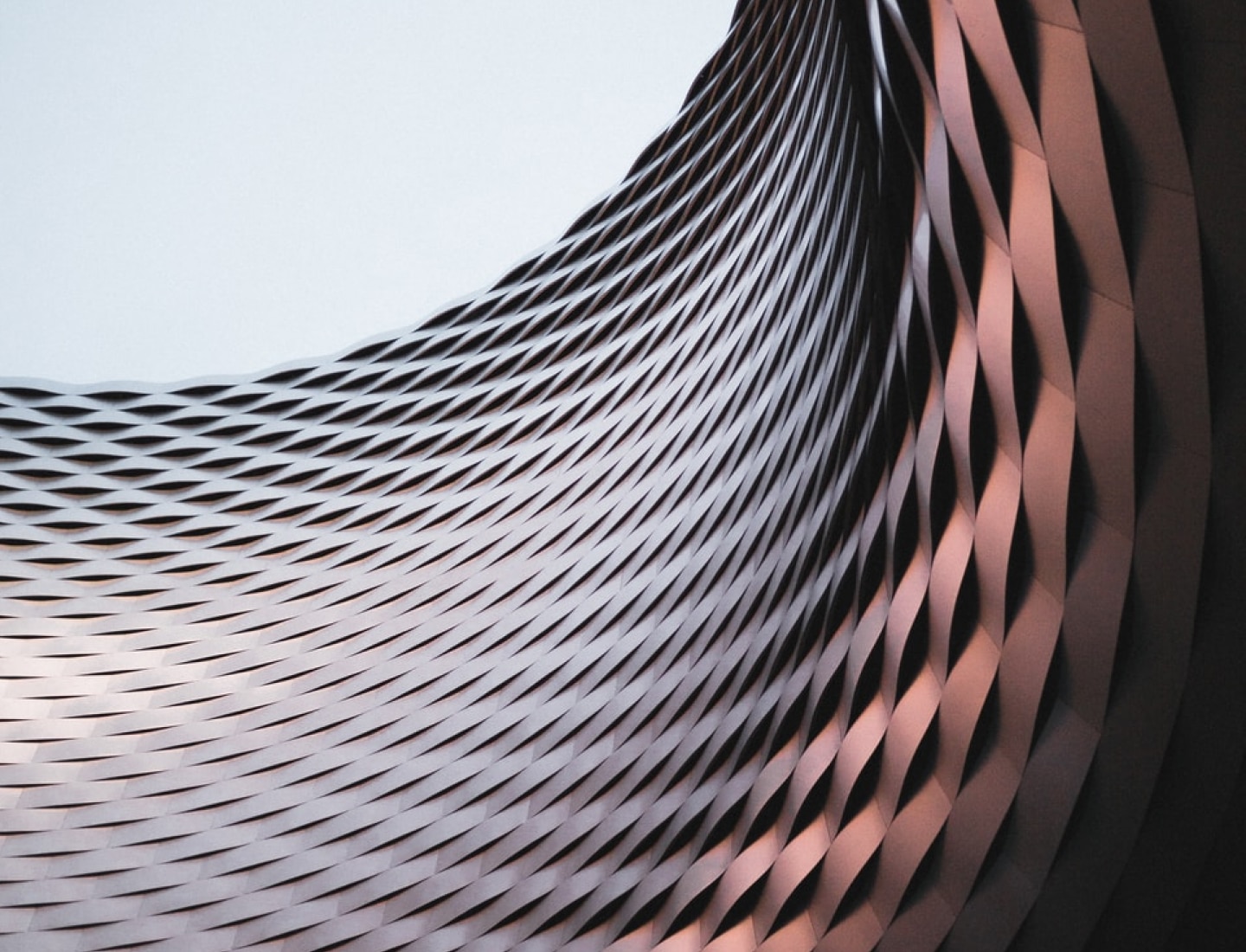 The New (Public) Kids On The Block
The involvement by publicly traded AE firms in industry consolidation has been steadily declining since the Great Recession. But that dynamic changed last year with the arrival of some new players on the scene.
When the publics ruled: In 2007, one-quarter of industry transactions in the U.S. involved a publicly traded acquirer. Most of these acquisitions were made by industry icons—many refer to them as "mega firms"—that are now in the Billion Dollar Revenue Club such as Stantec, Jacobs, AECOM, Tetra Tech, Arcadis, Genivar (which went on to acquire WSP), Cardno, Fugro, ICF International, SNC-Lavalin, TRC (now privately held), and SAIC. Others, including AMEC and URS, went on to be acquired (by other publicly traded firms) themselves. Much of this activity involved massive consolidation of the transportation, water, power, and energy sectors. Multiple ENR 500 brands were acquired along the way.
Decline and fall: From 2008 through 2011, the publics still accounted for on average one-fifth of all transactions annually—but a shift was in the works. Their appetite and their ability to close transactions in the U.S. was beginning to wane. From 2012 through 2016, many shifted their acquisition focus overseas to faster-growing economies. Since 2017, many have found themselves in a dramatically different M&A environment with fierce competition for targets from private equity buyers. The result? While the absolute number of transactions grew each year over the past decade, acquisitions by publicly traded firms steadily declined to a low of just 7% in 2018 and bounced along at that rate through 2020. It appeared that the influence of the publics had reached a steady and much diminished state.
Beginning of a renaissance? Then last year, things changed—pretty dramatically. The number of U.S. acquisitions by publicly traded buyers almost doubled from 22 to 41. Publicly traded acquisitions increased from 7% to 10% of all domestic transactions. But the familiar "mega firm" brands were not in the vanguard of this renewed acquisitive growth by the publicly traded cohort. Instead, the charge was led by a couple of relative newcomers to the public capital markets.
New players out in front: Two of the three most prolific publicly traded acquirers of U.S. firms last year were Montrose Environmental (Irvine, CA) (NYSE: MEG) and Bowman Consulting Group (Reston, VA) (NASDAQ: BWMN). The former went public in the "pandemic" summer of 2020, the latter in the "what, this pandemic is still here?!" summer of last year. Between them, they made 14 acquisitions in 2021, accounting for almost one-third of all deals in the U.S. by publicly traded firms. Neither are in the Billion Dollar Revenue Club, and I doubt that either are considered by any objective measure to be "mega firms." However, they—along with NV5 (Hollywood, FL) (NASDAQ: NVEE), which also made six acquisitions in 2021—were by far the most active of the publicly traded buyers.
Different era, different game: Sure, the better-known, publicly traded brands were also active in 2021. WSP announced four U.S. acquisitions, Tetra Tech announced three, and Stantec made two. However, it's the group of new kids in town—such as Atlas Technical Consultants (Austin, TX) (NASDAQ: ATCX), which went public in February 2020 and announced two deals last year—that have been blazing a trail. The acquisitions made by these newcomers tend to be much smaller than those taken on by their "mega" peers. In this way, these acquisitions are very different than those from a decade ago during the period of massive consolidation. These new buyers are not acquiring ENR 500 brands—yet. Instead, they are focused on building scale in particular market niches where their business models and value propositions for M&A targets are differentiated from other acquirers.
What's next? We can expect that this new crew of publicly traded buyers will successfully build scale over the next five years of hyper-consolidation of the AE industry through the acquisition of AE and environmental firms between $5 million and $25 million in revenue. It's also likely that they will be joined in the market by a handful of new publicly traded firms that emerge from the continuing crop of private equity backed roll-ups that are in play.
Soak up the sun in Miami this March! Our Southeast States M&A Symposium is taking place at the stunning Mandarin Oriental Miami on March 23 and 24. Connect poolside with over 120 (and growing!) AE industry executives, buyers, sellers, and investors in the nation's most exciting city. The M&A market in the Southeast is so hot that we've had to increase the meeting space not once but twice and added outdoor networking and dining options. Register today to reserve your cabana in the sun. All this plus continuing education credits!
M&A up 34% year-over-year: The pace of industry consolidation over the past year is up 34%. This week there were 11 new transactions of AE and environmental firms announced in FL, IA, ME, NY, AZ, TX, NC, SC, and PA.
2021 M&A smashed records: Get all of the stats and trends in our 2021 AE M&A Year-in-Review Infographic here. Morrissey Goodale Vice President Jon Escobar provides his commentary on the past year and what lies ahead here.
Congratulations to our client PRIME AE Group (Baltimore, MD) (ENR #236): They announced the acquisition of Prosser (Jacksonville, FL), a planning and engineering firm that supports clients in diverse markets including the Department of Defense, transportation, healthcare, higher education, commercial, retail, and residential. We're glad that our work for PRIME AE Group could help bring these two great AE firms together.
Congratulations also to our client FOX Engineering (Ames, IA): They announced their merger with multidisciplinary engineering firm Strand Associates (Madison, WI) (ENR #178). As a result of the merger, Strand's Iowa office will be known as FOX Strand. We're glad that through our work we were able to support the team at Fox Engineering in making this combination of two super Midwest firms a reality.
Questions? Insights? What do you see as the future of publicly traded AE and environmental firms? Email Mick Morrissey at mmorrissey@morrisseygoodale.com or call him at 508.380.1868 or connect with him on LinkedIn.
Want To Get Things Done? Watch Your Language (Part 2)
Last week, you were introduced to the concept of making and securing reliable commitments. Here's a recap:
• Over the next few years, production capacity will continue to be a fundamental constraint for the vast majority of AE industry firms. Reliability will separate winners and losers.
• Low reliability generally results in chaos, lots of pressure, and unmet expectations (i.e., dissatisfaction). Lack of good intentions or "drive" is typically not the problem. More often, it's a fundamental communication issue.
• Focusing on making and securing "reliable commitments" taps into how AE professionals are wired:
• They like to be effective
• They can be more effective if the folks "upstream" give them what they need when they are expecting it
• They like to think of themselves as being highly reliable
• They often find that their own levels of reliability offer great opportunities for improvement (why wouldn't anyone want to get better at being reliable?)
• Improving reliability throughout your organization requires the following:
• A focus on improving the interfaces and hand-offs on projects
• Promoting a culture where the staff can better manage countless informal commitments
• Training yourself and others to go "on alert" to recognize when a commitment is necessary and assure that the basic communication steps have been taken
• Insisting on reliable commitments throughout the firm
• The five basic elements of a promise and the five elements of a reliable promise include: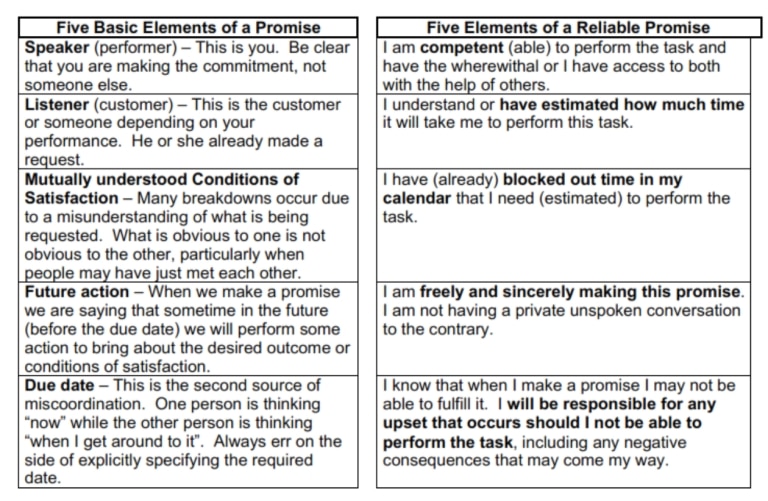 Part 2
This week's entry provides examples of reliable requests, how to detect when people are "waffling" on their commitments, reliable ways to respond to a request, and how to begin developing reliable commitment skills.
Reliable Commitments
Let's start with a simple example of a typical request:

What's missing? Lots. For starters, we don't know who the performer is. Maybe Joe is taking responsibility and delegating the task, but that's not entirely clear. Also, what does "fixed" mean? Do we even know what's wrong with it? Finally, there's no timeline at all— not asked for and not offered. What are the chances Harry is going to be satisfied with the outcome? Slim to none.
Now for another example: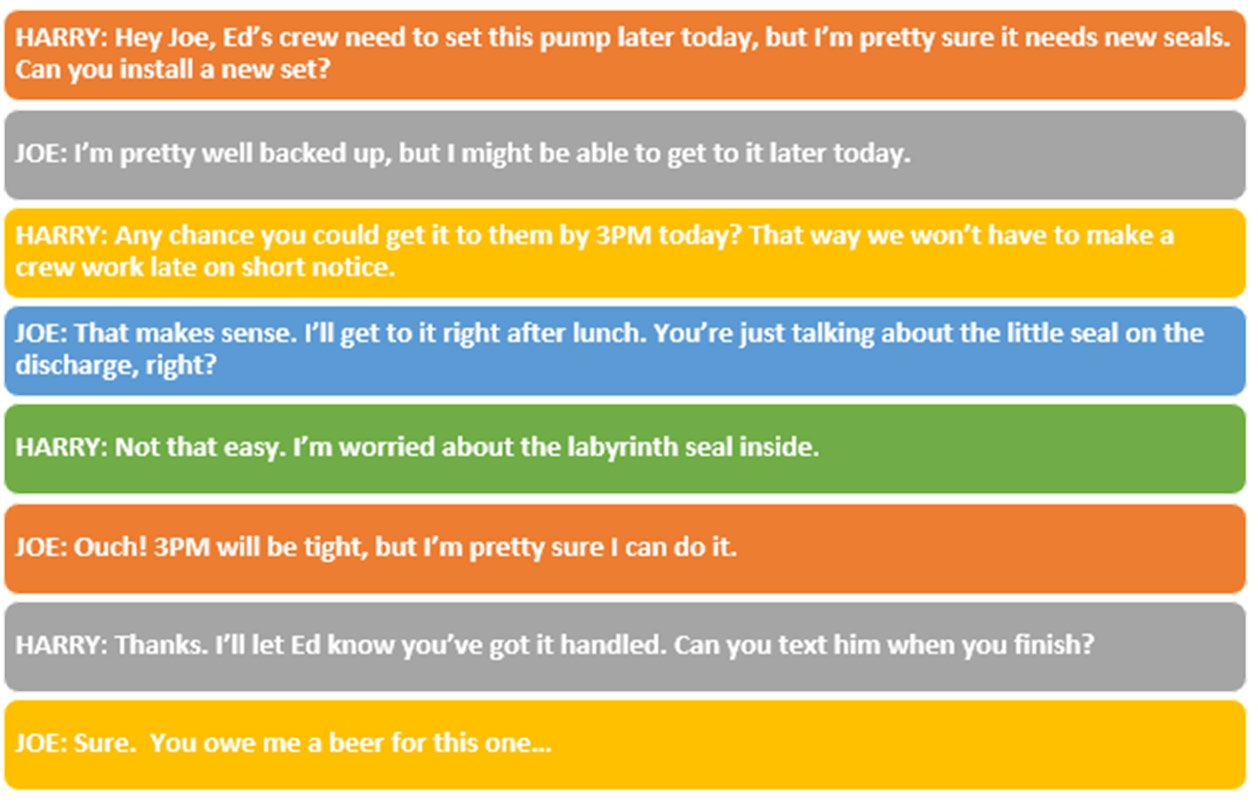 How does this request compare to the last one? For starters, we know Joe is the performer and we know Ed is the customer. Also, the conditions of satisfaction are clear, and so is the problem. The timeline is established, and Harry confirms that Joe will "declare complete" by texting Ed when he's done. The chances this commitment will be kept are much higher than in the previous example.
Waffle Strategies
Resist the urge to be overly optimistic at the first hint of agreement and diligently ferret out "waffles" (attempts to dodge commitments). To separate good intentions from promises and hopes from commitments, listen for these dead giveaways:
Hope. "Hopefully I can get to it tomorrow."
I'll try. "Let me see what I can do. I'll give it my best shot."
Sometime. "I'll have it to you sometime next week."
Pre-recognition of excuse for failure. "This is a lot to get done by the end of the week, and I have four other projects I'm working on."
Not blocking out the time. As the old saying goes, the dullest ink is far more reliable than the brightest memory.
The Six Ways to Responsibly Respond to a Request
As we make requests, we need to make sure performers can respond in one of these six ways so they can be responsible to their whole situation, which involves more than what is just going on at work. Doing this makes people want to be on your team.
1. Ask a clarifying question, not a stalling question
2. Decline (perhaps suggest an alternative in some cases)/promise no
3. Promise/say yes
4. Counter-offer (I can't do that, but I can do this—sometimes it's silly and it's an attempt to stay in a relationship—we don't give ourselves permission to say no)
5. Promise to promise later
6. Conditional—Yes I can do that for you, if…
How to Get Started
Begin by making observations about the conversations that are happening all around you. Keep a log for a couple of weeks and start training your ear by tracking 20 promises:
• They could be ones you make, ones you get, and some you observe
• Notice if all of the five elements of a promise are there
• Follow up to see if the promise was completed as promised
• Note reason for misses
By doing this, you'll never listen to conversations the same way again. Start the exercise with a small cohort and get each person in the group to train two or three other folks. Rinse and repeat!
To learn more about how to improve reliability in your firm, call Mark Goodale at 508.254.3914 or send an email to mgoodale@morrisseygoodale.com.
Four Factors to Watch
1. U.S. Economy
Following the 3.4% annual level GDP decrease in 2020, the economy grew 5.7% in 2021. Last year was capped with a 6.9% growth pace for the fourth quarter, well above the 5.5% estimate. The increase was mostly driven by replenishment of inventories. The country's economy can get a pat on the back for strength and adaptability navigating the pandemic, but this year, growth is expected to be moderate, especially in the first quarter. Apart from the recent COVID-19 surge, government stimulus have faded and interest rates are likely going up to combat inflation. Meanwhile, companies are struggling with the supply of materials and workers.
2. Consumer Economics
Americans softened spending in goods and services by 0.6% in December vs. November, the first decrease in almost a year. Results are attributed mostly to higher prices and the rise in coronavirus infections as more people stayed home. Though wages and salaries advanced 0.7% in December, rising inflation outpaced household income increases.
3. Labor Market
U.S. workers received 4% more in wages and benefits from employers in 2021, as adjustments were made to deal with the tight labor market and inflation. With 4.5 million people quitting their jobs in November, companies desperate to retain and hire posted 10.6 million job openings in December.
The Future Forum Pulse, a survey of 10,737 knowledge workers across the U.S., Australia, France, Germany, Japan, and the UK conducted in November, presented the following key findings:
30% are working from the office every day (down from about 50% pre-pandemic)
58% work in a hybrid arrangement (up from 46% in May 2021)
78% want location flexibility
95% want schedule flexibility
72% of workers who are dissatisfied with their current level of flexibility at work say they are likely to look for a new job in the next year, compared with 58% of total surveyed
4. Infrastructure Investment and Jobs Act (IIJA)
Over the past couple of weeks, agencies have announced more detailed plans for how IIJA funds will be divided among states or allocated to specific programs. The DOT announced a $27 billion, five-year program to replace and rebuild as many as 15,000 bridges (see table below for top 10 states). The Army Corps of Engineers released a list of new and existing civil works projects that will tap into the $17 billion allocated for 2022. The agencies working with oil and gas producing states to address the issue of orphan wells (improperly sealed oil wells that can leak methane and other chemicals) issued a memo with the plan details and will soon begin to deploy $4.7 billion for closure and remediation work.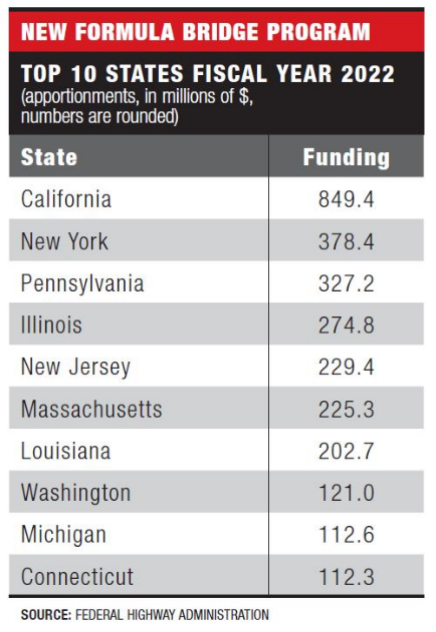 Email Rafael Barbosa at rbarbosa@morrisseygoodale.com or call him at 972.266.4955 or connect with him on LinkedIn.
Subscribe to our Newsletters
Stay up-to-date in real-time.