Word on the street > AE Industry Intelligence: Issue 86
AE Industry Intelligence: Issue 86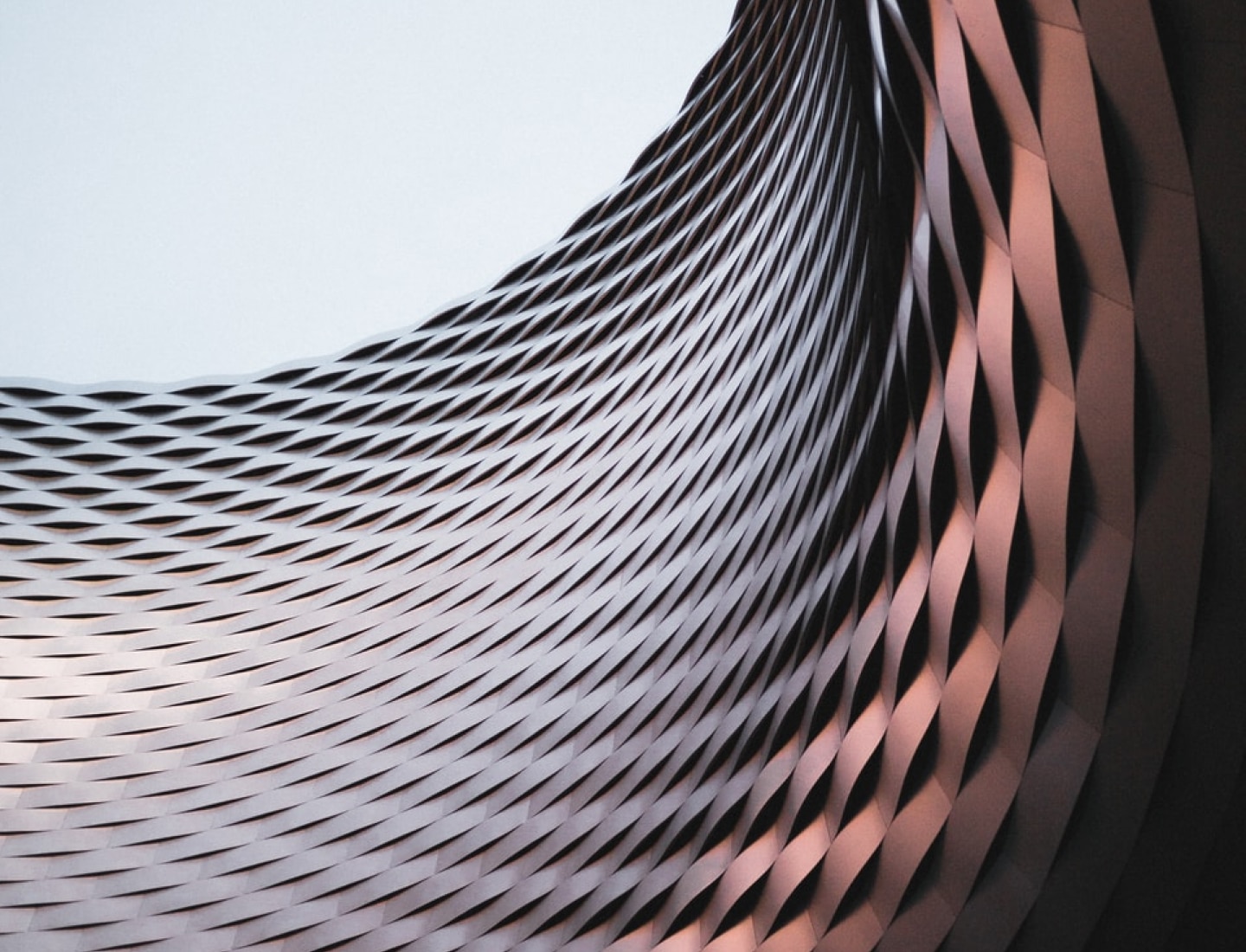 What Could Possibly Go Wrong? or "I've Made A Huge Mistake"
Congratulations! It's been another stellar year for your firm. Your stock price has increased 20%. You've added yet another 12 consecutive months of double-digit profits. Your people are celebrating the Holidays with bigger-than-ever raises and eye-popping, boat-buying bonuses. Despite spending the year complaining to anyone who would listen that it's "impossible to find good people," you've added a bunch of…good people. You're heading into calendar year 2022 with an amazingly strong backlog. These are heady days indeed.
What could possibly go wrong?
Well, plenty according to the smart folks in the Construction and Design practice at global insurance broker Lockton. Director of Practice Risk Management Karen Erger and her team of professional worriers spend their time imagining what could possibly go wrong for design and environmental firms and then coming up with ways to protect them.
Here are some of the trends and risks that they see ahead in 2022 for you to factor into your planning and decision-making:
Scarcity-driven changes: The continued shortage of both skilled labor and building materials will force the industry to move further towards stricter pre-project planning, the use of technology to increase worker safety, enhanced pre-construction (including but not limited to modular construction), and the greater use of alternative building methods and supplies.
Mega-headaches for infrastructure designers? Passing of the Infrastructure Investment and Jobs Act will lead to more much-needed "megaprojects," which frequently involve difficult or uninsurable contract terms for lead designers. Traditionally, project-specific professional liability (PSPL) insurance has been a means of protecting balance sheets from megaproject claims. In the current environment, however, insurer capacity is challenged or limited, and PSPL may not be available or commercially feasible.
Supply chain issues do more than delay your grill delivery: Will A/E firms start to see claims from supply chain issues? Example: Designer specs a specific steel pipe. Contractor can't secure said pipe due to supply chain issues BUT could secure what may be described as a materially similar product that is readily available. Claim alleges the project delay could have been avoided if the designer provided alternatives.
Don't click that link! Cyber extortion coverage is unavailable for purchase or dramatically restricted. Design firms will continue to feel the pressure to increase cyber security budgets and increase resiliency. In other words, take a large chunk of the money you've been saving from minimized internal travel expenses and spend it on shoring up your cyber defense.
Just when you were getting comfortable working from home: Now that many design teams work remotely some or all of the time, managers who formerly relied on "management by walking around" (an excellent way to get your daily steps in) to identify risks will have to develop alternative methods. Example: Will professional liability claims be reported late (potentially resulting in coverage loss) because remote team members don't understand (1) what constitutes a reportable claim under the policy and/or (2) the consequences of late reporting under a claims-made and reported policy?
Wait, it's going to cost me more to be "safe"? As project cost and project risk continue to grow, inflation also puts pressure on claim and litigation costs. Insurance carriers are very focused on their exposure to inflation. Designers will need to find the proper balance of risk retention and risk transfer in their insurance programs. Firms with strong balance sheets and superior claims records may find opportunities to leverage their balance sheets to most efficiently manage their total cost of risk.
Everybody loves Raymond but hates contingencies: Reductions in capacity, scope of cover, and markets interested in supporting PSPL insurance for large design/build programs are likely to drive up the cost of claims, pricing, and retentions for both prime and subconsultant design firms. Where capacity is not available for a project-specific program, a contingency can be an option, but it's not a perfect solution as there is no mechanism to ensure that it be used to respond to claims of negligent design. Accordingly, it cannot serve as a true buffer to the corporate insurance program in the way that PSPL insurance historically has done.
What's in an acronym? There's a big difference between OPPI/CPPI and PSPL: Design professionals should be aware that some of their clients may be purchasing modified OPPI/CPPI policies in lieu of traditional PSPL insurance policies. The modified OPPI/CPPI policy does not afford coverage to the design professional, primarily due to the "insured vs. insured" clause within the policy. The First Named Insured on the policy is the client, so their claims against the design professional would not be covered. Design professionals need to keep in mind that OPPI/CPPI isn't a substitute for PSPL.
No cookies for you! We've traditionally sent cookies to clients and friends of the firm to celebrate the season. This year we've changed things up (sorry, all you cookie-lovers—you know who you are). Instead, we've made a $25,000 donation to the ACE Mentor Program of America to support their work attracting high school students into pursuing careers in the architecture, construction, and engineering industry. We've made this donation on the part of our clients, our friends in the industry, and you, dear reader. Happy Holidays and thank you.
Boom! And just like that, this week the industry passed the 400 deal mark for 2021 with deals in KY, CA, MD, TX, and GA. The industry is consolidating at breakneck speed. A question is: What could slow this consolidation down? And one answer is the industry may run out of quality, transactionable A/E firm sellers. (It's not as crazy as you may think.) All indicators are that 2022 will see another record year of consolidation. As a business leader, you need to determine what this consolidation trend means for your firm. The best way to do that is to come to our Southeast States M&A Symposium in sunny Miami this January.
Congratulations to our friends at JMT (Hunt Valley, MD) (ENR #51): Last week, JMT's leadership team announced their combination with fellow 100% employee-owned Pioneer Holdings (PHI) (Middlesboro, KY), the parent company of Vaughn & Melton Consulting Engineers (V&M) and Tunnel Management, Inc. (TMI). V&M has a significant presence across the Southeast with offices in Kentucky, Tennessee, North Carolina, South Carolina, and Georgia. TMI operates and maintains the Cumberland Gap Tunnel located on US-25E between Kentucky and Tennessee. The combined total of these two companies will bring nearly 300 additional employees to the merger. We're thankful that the JMT team trusted us to help them bring these two awesome employee-owned firms together.
What we're up to on social media this week: A just-released survey by the Massachusetts Business Roundtable found that 77% of its members were still either fully remote or hybrid. This highlights the remarkable differences that now exist in the working, creative, and decision-making models of A/E firms around the country. Workplace dynamics for Boston and New York are VERY different than those in Houston and Tampa, for example, where most—if not all—employees are in the office full-time.
Word on the Street is hanging up its Christmas stockings: And we're hanging it up for the rest of the year. We're going to take the next couple of weeks off to celebrate Christmas and New Years with family, reflect on the year that's been, be thankful for everything we have, and chill out by reading The Power Broker: Robert Moses and the Fall of New York (been meaning do this since I came to the States in '86). Thank you for all of your super questions, suggestions, and comments over this past year. We will see you again on Monday, January 10. And by special request, we're reposting ourWOTS from May 24: Dancing in the Hotel Lobby: Tips for Post-Pandemic Business Travel.
Questions? Insights? What risks are you concerned about in 2022? Email Mick Morrissey at [email protected] or call him at 508.380.1868.
5 Ways To Deal With Risk
Hopefully, you didn't run and hide after reading that first article— because we have some ideas for you on how to deal with risk.
The first thing to realize about risk is that risk is always an assessment. Losing millions of dollars on a project is not a risk— it's a consequence. Not being able to properly staff the project— now that's a risk (and a seemingly ubiquitous one in the A/E industry). So, if you intend to do something about the many risks facing your organization, start with knowing what risk is and what it is not, and get good making assessments.
Now then, onto five ways to deal with risk:
#1: Avoid it. Maybe you don't have the horses to deliver a certain project. You could probably win it, but maybe your employees are already routinely working 60-hour weeks. Maybe your team simply doesn't possess the depth of expertise in critical areas. Or maybe your client leadership bandwidth is non-existent. In any case, you may decide to avoid risk altogether by turning down work. In this super-charged business environment where demand for A/E services is outstripping supply, saying "thanks, but no thanks" will happen more and more.
#2: Reduce it. Reducing risk can be accomplished by planning for it, then taking steps to minimize it. Say you're developing a new software, but you are concerned about end-user engagement— the risk that when the software is released to the market, the users will be resistant to change, or there will be a conflict between users. User testing and surveys, focus groups, frequent releases, and beta testing are all examples of ways to reduce that risk.
#3: Transfer it. If we have an adverse outcome, you pay. That's a classic transfer. You don't want to deal with it, so someone else does. The most common example of risk transfer is insurance. When people purchase insurance, they insure against financial risks. When you buy car insurance, you are buying financial protection against results from an accident. An example of risk transfer in the A/E industry is when a firm hires a subconsultant to take on, say, a particular environmental risk.
#4: Allow it. You may not be able to do much to limit the likelihood of some risks. In that situation, one option is to make a provision for what could happen. A schedule contingency is one example. You might build in schedule float by stockpiling hours so in case the Army Corps approvals take two months longer than originally estimated, for example, you have the wherewithal to deal with it. And if they actually do come through on time, you can take two months out of the schedule right away.
#5: Control it. You've probably all heard of project post-mortems. They are retrospectives that help identify what went right and wrong on a project, and the resulting lessons are carried forward to benefit the next project. But a post-mortem doesn't do a thing to control the risk on a project at hand. A pre-mortem does, however. Pre-mortems are conducted at certain phases of a project (e.g., 30-60-90) to control risk. Reviews are conducted to determine what should be continued, what should be stopped, what should be started, and what should be changed in an effort to reduce or eliminate future problems, or even threats, on an existing project.
As stated earlier, risk is always an assessment. And there are always two assessments to be made about risk. The first is the likelihood of the risk. The good thing about probability is we can at least sometimes positively affect it. The other assessment is the significance to the business. There is little, if anything, we can do about impact.
Below is a simple risk table and a couple of thoughts on how to deal with combinations of probability and impact.

If the probability of a specific risk is rare, just make sure it doesn't move. If the risk is likely, focus on it and move it down the chart as far as possible.
If the risk in the upper-right corner of the chart, don't think you'll win the day by going in with a mood of hope (i.e., "I'll sure try"), or you'll be cleaning up a mess. Instead, re-read the five ways to deal with risk and be deliberate about your approach.
To get better performance out your entire organization, understand that the actions people take are based on the assessments they make. Always. So, practice improving the quality of your assessments and know your options for dealing with risk.
For more information on how Morrissey Goodale can help your firm successfully deal with risk, call Mark Goodale at 508.254.3914 or send an email to [email protected].
Four Factors to Watch
1. U.S. Trade Deficit
After hitting a record-high gap in September, the trade deficit narrowed 18% to $67.1 billion. Exports rose 8.1% and imports went up by 0.9%. Economists predict that with trade improvements, the U.S. might see GDP expansion at a 6.5% rate in the fourth quarter, after the moderate growth rate of 2.1% experienced in the third quarter.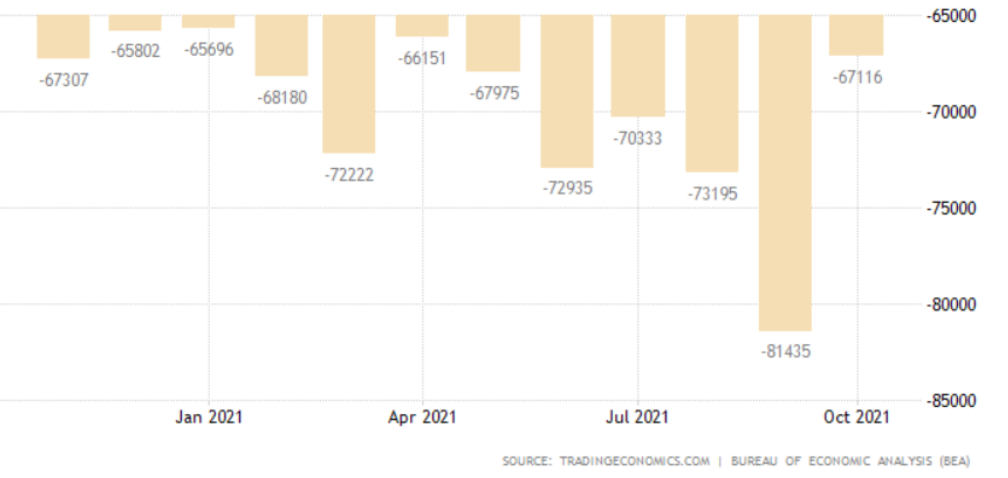 2. Retail Sales
U.S. retail sales increased less than expected and at a softer pace in November, up 0.3% from October. Although the numbers reported by the Commerce Department are not adjusted for inflation, other factors played a significant role in the results. As an example, when lower-income families spend more on gas, energy, and groceries, they might not have much extra for gifts. Additionally, the seasonal pattern changed as consumers started holiday shopping earlier this year. Another factor for a slowdown in expenditures has been shortages due to ongoing supply chain and labor issues.

3. Industrial Production and Capacity Utilization
The Fed released the latest numbers on industrial production and capacity utilization. These metrics focus on manufacturing, mining, and electric and gas utilities productivity. They also serve as a measure of how much capacity is being used from the total available capacity to produce demanded finished products. Manufacturing, which accounts for 12% of the U.S. economy, rose 0.7%, led by a rebound in the auto industry as semiconductors production constraints began to loosen. The mining sector, which includes oil and gas production, rose 0.7%. Utility production was down 0.8%. Industrial capacity utilization, which serves as a gauge for "slack" or room for growth in the economy, was up 0.3% but still below its long-run average (1972-2020).

4. COVID-19
The 7-day moving average of new cases reported on December 15 was 119,546, a 38% increase from the 7-day moving average on December 1, which was 86,893. According to the CDC, 72% of the U.S. population has received at least one vaccine dose and 28% of those fully vaccinated have received a booster dose. As the new Omicron strain is surging, below are three scenarios for the global economy (source: ING):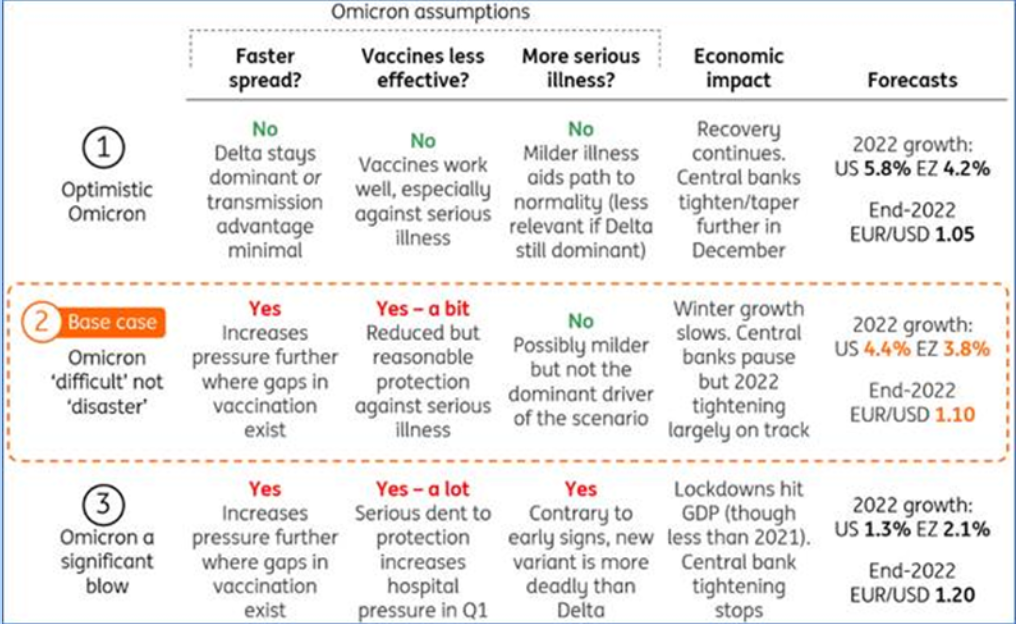 Subscribe to our Newsletters
Stay up-to-date in real-time.