Word on the street > AE Industry Intelligence: Issue 76
AE Industry Intelligence: Issue 76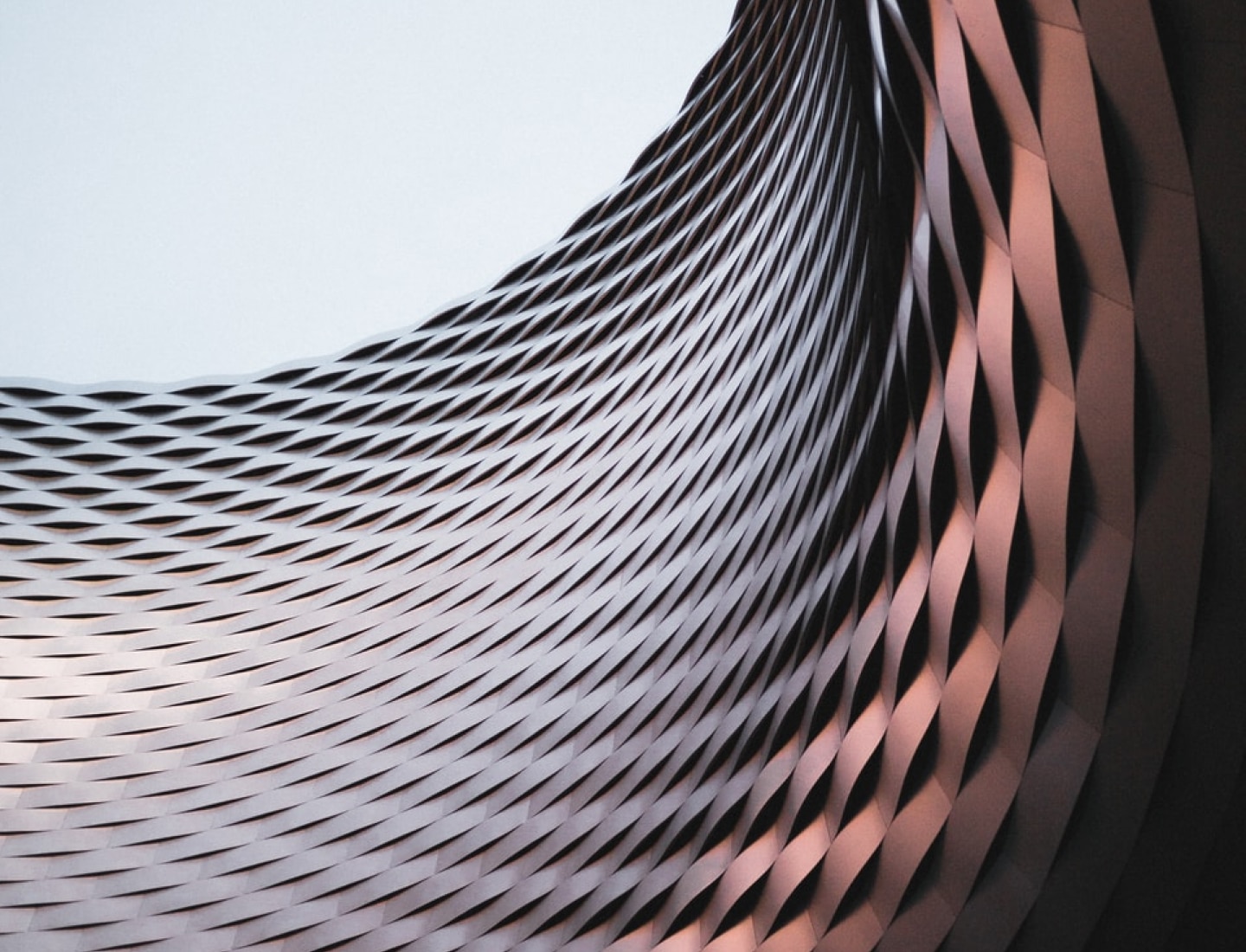 What can we learn from the thirteen most prolific acquirers in the A/E industry?
We got a ton of feedback (some of it even positive) and questions from last week's article Coaching session for sellers: initial meeting "dos" and "don'ts". The most frequent question was "How do I know who a 'real' buyer is versus a time-wasting 'tire-kicker'?" Great question.
We can learn a lot by taking a look at the most prolific buyers of A/E firms in the U.S. and seeing what traits are common to them – because these are real buyers. If you see some of these characteristics in the suitor you are talking to, then there's a better chance that you will get your transaction across the finish line.
Who are the most active buyers of A/E firms in the U.S.? Since the beginning of 2018, these thirteen firms have each made nine or more acquisitions. Combined, they have acquired 154 firms (And counting, some we cannot reveal yet!) over the past three and a half years.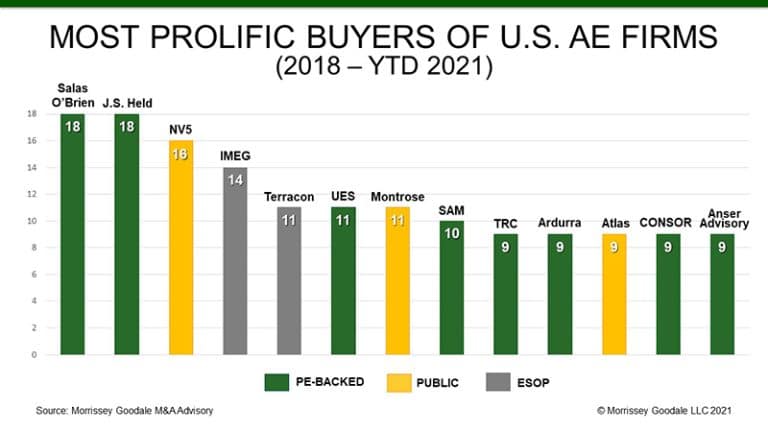 A motley crew – notable for what's missing: The three capitalization models deployed by these thirteen most prolific acquirers are Private Equity/Family Office (8), Publicly-traded (3), ESOP/KSOP (2). What's missing? Pure non-outside capital, non-ESOP employee-owned firms. They are all headquartered in the United States. What's missing? Canada and six other continents, that's what. Where has all the overseas capital gone? Collectively they are proactively pursuing growth in the facilities, infrastructure, geospatial, CM/PM, environmental, geotechnical, and technology arenas. What's missing? Architecture.
100%, all-in committed to growth: Each of these thirteen leadership teams has a clear vision for the future. In that future envisioned state, their firm is both bigger and better. It's not just growth for growth's sake. But growth to serve more clients. To create more expansive and meaningful opportunities for employees. To have a greater positive impact on the communities with which they engage. To improve how they work. And, of course, to create more value for shareholders. To do all of these things, leadership teams look to acquisitions not just to grow their top lines (which too many unskilled unsuccessful buyers do) but to also improve bottom line performance along the way. Many non-prolific buyers never figure out how to increase profits.
Next-level deal teams: These firms bring experience to every step of the acquisition process. They have a defined process to screen opportunities against strategic imperatives. They deploy knowledgeable corporate and business unit or regional leaders to first and subsequent meetings with sellers. They have well-oiled due diligence teams that can within 60 days complete due diligence on every aspect of a seller – no matter what size. They perform a rigorous financial assessment on target firms (known by sellers alternatively as a Quality of Earnings or Colonoscopy) – often carried out by a national accounting firm. They have multiple law firms on retainer to "do their deals" and protect them. They learn from every transaction and institutionalize that knowledge. They get better and better at doing deals, driving down the cost per acquisition and eliminating wasteful processes/actions. This continuous improvement is another one of the reasons they are so prolific.
They don't waste time: They know what types (services, locations, sizes) of firms they need or want to acquire (note to sellers: "need to have" acquisitions generally see higher values than "want to have" ones) to move the needle toward their vision. They expend little if any energy engaging with firms that do not meet their M&A criteria. They have limited bandwidth to process acquisitions, so they are super-efficient in how they deploy their M&A resources.
They date a lot but fall in love rarely (there's a country song in there somewhere): Well actually they've fallen in love 154 times since 2018. With 40,000 plus firms in the industry there are plenty of targets for these acquirers to consider. They are NEVER courting just one firm at a time. They are ALWAYS screening multiple firms. They are air traffic controllers – they have a line of targets stacked up that they are bringing in to land. These leadership teams have remarkable people skills. They bring it all – emotion, knowledge, expertise, vision – to every single meeting with sellers. And I guarantee that in each meeting the seller believes that they are the only one being courted. Wrong. It's a safe bet that to make these 154 acquisitions, these buyers spoke with at least 1,540 firms (10 frogs kissed for 1 deal done is the current amphibious M&A/Cinderella ratio.)
Great firms, even better acquirers: This group of thirteen have strong industry brands for technical expertise, client service, innovation, and being great places to work. In that regard their brand awareness is similar to many of the ENR Top 500. However, what sets them apart from their competition and peers, is their core competency in executing acquisitions. If you want to know what a "real" buyer looks like, then look no further than these thirteen.
The industry is in uncharted territory: With 319 transactions thus far in calendar 2021, we've broken the previous full-year record set in 2019 – and we still have 2.5 months left in the year!
What we're tweeting this week: Texas is the future of America and the American #AE Industry. That's why you should be at our Texas M&A Symposium!
Texas M&A Symposium registration closes today! We'll be closing registration at midnight for our Texas M&A Symposium. Join over 100 industry CEOs, M&A decision-makers and investors from Texas and around the nation later this month in Houston. We're thrilled to co-produce this event once again with our friends at ACEC Texas. But don't delay, we'll be buttoning this up soon.
Who is the leading #AE industry deal-maker in Texas? We are. Check out these industry-leading twenty-four transactions where we have assisted Texas A/E and environmental firms achieve their strategic goals or how we have helped firms enter or grow in Texas. All this talk of Texas is making me want to get a another pair of Lucchese custom cowboy boots.
To see the 150+ A/E and environmental firm transactions that our team has initiated and advised on nationally click here.
Early-bird registration for Southeast States M&A Symposium is now open: Interested in growing through acquisition in the Southeast? Or are you based in the Southeast and considering a merger or sale? Or wouldn't you like to have a business-justified reason to spend a long weekend in Miami this January? If you answered "Yes" to one or more of these questions our Southeast States M&A Symposium in Miami, FL is for you!
Questions? Insights? What characteristics or traits do you see as being common to these most prolific acquirers? Email Mick Morrissey @ [email protected] or call him @ 508.380.1868.
TOO BUSY FOR GOOD HABITS?
Things sure are looking up for many of our A/E clients these days. Projects are rolling in, profits are strong, and prospects are bright. Sure, you may have a hard time finding talent, but all-in-all, you'll take the situation given what the world has endured since Q1 2020.
Yet it's at times like these when we observe firms slipping into some rather bad habits— ones that could be hard to break when the economy eventually goes the other way. Whether it's getting lazy with marketing, limping along with outdated technology, or turning a blind eye to signs of dysfunction in your leadership team, inertia could one day prove lethal.
Here are four steps you can take to avoid letting complacency creep into your firm:
#1. Market Like You're Hungry
Some A/E firms have "full-plate syndrome". They just can't force themselves to take another bite. Because demand is, in many cases, outstripping production capacity, some firms are getting a bit too cavalier about mining project opportunities, solidifying client relationships, and building new ones. It's the perfect recipe for a beat-down when the next downturn arrives. To avoid getting walloped, a) build up your client contact list and hit it often with information your clients can use (positioning your firm as the expert leads to long life), and b) implore your seasoned leaders to build and share their networks with your firm's risers. That means they'll have to delegate and pursue a higher calling (i.e., what the company is REALLY paying them to do). So be it.
#2. Invest in Technology
No Band-Aids allowed. If your firm struggles with file sharing, production quality, or keeping track of clients, you simply have to bite the bullet on this one. Don't settle for a financial system that can't interface with your CRM package, or a situation where PMs can't figure out whether their projects are making money or bleeding it. Buy the good stuff, keep it up to date, train the heck out of your people, and insist they leverage this investment every day. Oh yeah…and set a good example yourself.
#3. Build Organizational Health
A good economy can hide a lot of cracks in a firm's foundation. But when times get tough, organizational health is paramount. Leadership needs to come up big in those situations, but if their personal agendas rise above the needs of the firm, it won't take long for the company to come apart at the seams. So, practice building trust, giving honest assessments, and engaging in constructive conflict, and get healthy BEFORE the heat is on.
#4. Refresh the Office
Yeah, we know. Chances are at least some of your staff are spending a good part of the week, if not all of it, working from home. Nevertheless, don't let your office environment decay. Give folks a reason to want to come back. Create dynamic office space that promotes safe collaboration and engagement, and builds a positive vibe.
Start some good habits today. You won't regret it.
If you'd like more information on how Morrissey Goodale can help your firm achieve sustainable, profitable growth, call Mark Goodale at 508.254.3914 or email him at [email protected].
Four Factors to Watch
1. Government News
Senate officials agreed on a short-term agreement to raise the debt ceiling by $480 billion. According to the Treasury Department it will pay the bills until early December. The bill will go to the House for a vote on October 12. Congress has a few more weeks to move the broad healthcare, education, and climate package forward through the budget reconciliation process. Hopefully, we won't go into overtime and once again deal with yet another shutdown thriller.
2. Inflation
Multiple measures point to broader inflation attributed in large part by the pandemic disruptions in the supply chain. Although some expect it to retract by 2022, there are growing concerns regarding the impact of higher inflation on the 10-year treasuries and the national debt, particularly given the spending by the current administration.
3. Jobs
Amidst a volatile yet positive economic recovery, fewer (way fewer) jobs than expected were added in September (194,000) as many workers exited the labor force. In related news, wages have been rising due to labor market shortages, which adds more pressure to rising prices.
4. COVID-19 Case Numbers
As of October 7, the seven-day moving average of newly reported cases declined 13% vs. the prior week from 106,000 to 93,000.
Subscribe to our Newsletters
Stay up-to-date in real-time.