Word on the street > AE Industry Intelligence: Issue 72
AE Industry Intelligence: Issue 72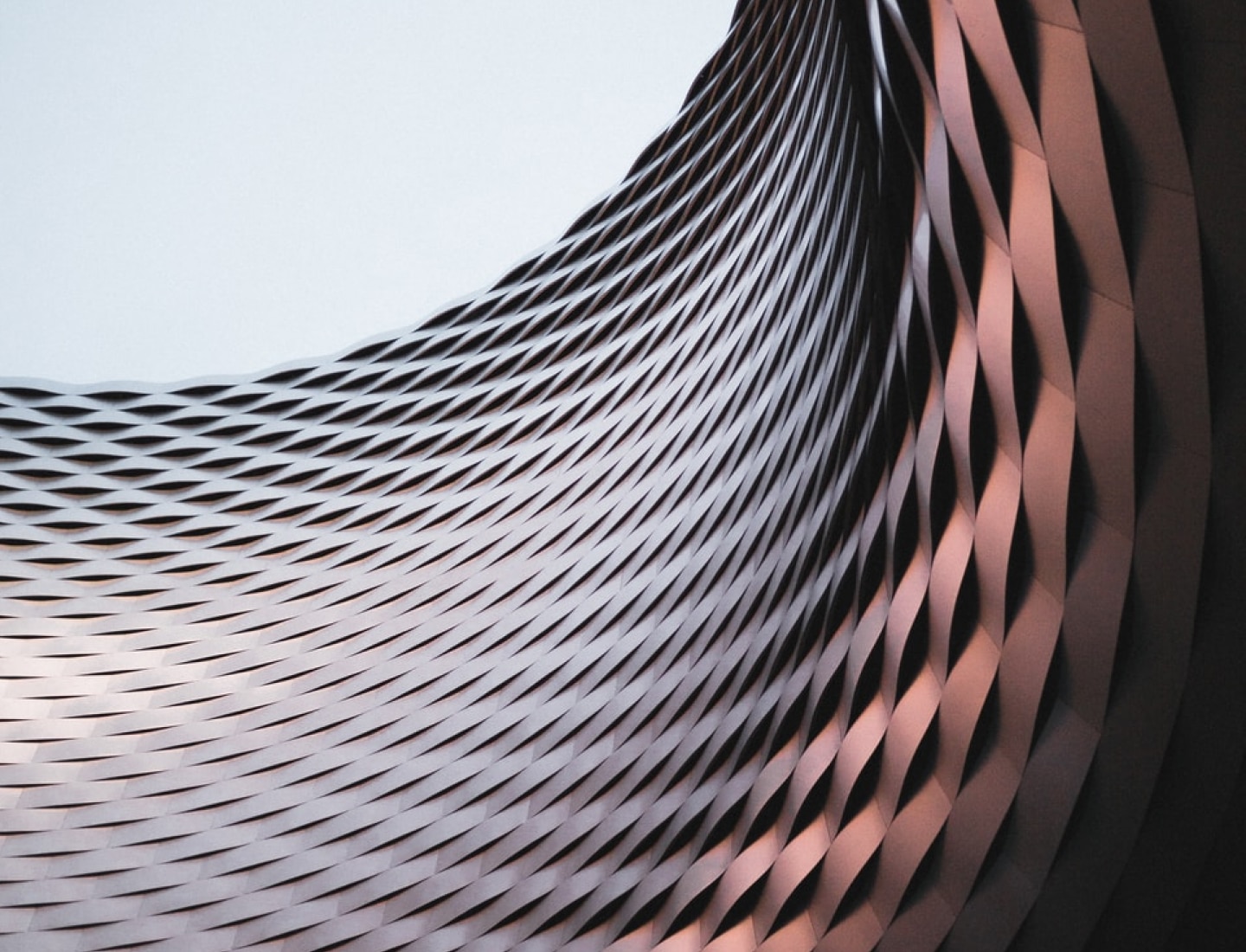 Eleven questions every CEO should be able to answer without fail
I've worked with countless A/E and environmental firm CEOs over the past 30 years. From founders and entrepreneurs to their successors and appointees. From risk-takers and visionaries to order-takers and penny-pinchers. From humble, level-five, servant leaders to blustering braggards. From business-savvy types to those who couldn't calculate their firm's net multiplier. From CEOs who did the hard work of intentionally building and leading high-functioning leadership teams to those who were unaware of the palace coup that was taking place in plain sight around them. (Et tu, Brute?) I've talked with CEOs who were charismatic and inspiring and a (disappointingly) equal number of CEOs who lacked a motivational gene. I've even worked with one CEO who bailed on his firm to go work for a competitor when the going got tough.
Whether or not a CEO is effective or successful depends on multiple factors. Some of these can be controlled by the CEO—many are beyond their control. There's also a healthy amount of luck involved.
However, in my experience, CEOs who can confidently answer* the following 11 questions without fail tend to be more successful and happier in their jobs, get higher grades from stakeholders (internal and external), and have—all things being equal—better-performing firms.
*For the purposes of this exercise, "I don't know" or "I haven't thought about that" do not qualify as confident answers.
If you're a CEO, try answering these 11 questions. If you're not your firm's CEO but would like to better understand who is in the driver's seat, try lobbing one or more of these questions during the Q&A section of your firm's next all-employee Teams meeting.
Eleven questions for CEOs:
What exactly are you responsible for?
Who are you accountable to?
What is your vision for the firm?
What is your firm's brand?
Who is your successor?
When will you retire?
What annual return on investment should your owners expect?
What are the biggest risks to your firm?
What is your firm better at than any other firm?
What's your greatest strength as a CEO?
What's your biggest weakness or failing as a CEO?
Sure, there are a ton of other questions that I ask CEOs when interviewing them such as, "What's your digital strategy?" etc. However, in my experience these 11 questions get to the heart of the matter. Collectively, the responses are a good predictor as to how successful a CEO will be. They provide insight as to the CEO's self-awareness, timeline for getting the job done, and capabilities.
Industry M&A continues unabated and is breaking records: This week we reported 13 more deals, including yet another ENR 500 firm. This brings the total number of deals this year involving ENR 500 firms to a record-breaking 16. The industry is being recapitalized from top to bottom.
Congratulations to our long-time client CP&Y (Dallas, TX): Last week, CP&Y management (ENR #211) confirmed that they had agreed to be acquired by industry leader, STV, Inc. (Douglassville, PA) (ENR #34). We're happy that we could partner with the CP&Y team to help them achieve their goals.
Yet even more congratulations are in order!—this time to our client, Rochester & Associates (Gainesville, GA), on combining with fast-growing DCCM (Houston, TX). We are glad that they trusted us to assist them with this important initiative.
To see the over 130 A/E and environmental firm transactions that our team has initiated or advised on, click here.
The epicenter of industry M&A: Our Texas M&A Symposium is on track to break attendance records. It could be because interest in M&A is at an all-time high and Texas is THE destination state for acquirers. Or it could be that The Post Oak Hotel at Uptown is a stunning venue. We like to believe it's because of the symposium's powerful learning and networking sessions. Join over 100 industry CEOs, M&A decision makers, and investors from Texas and around the nation this October 21 and 22 in Houston. We're thrilled to co-produce this event once again with our friends at ACEC Texas. But don't delay. The symposium is close to being sold out.
What we're tweeting about this week: #AE firm leaders need to rigorously question the value of internal business travel—at least 50% is wasteful. Why give up the profits and efficiencies the industry has gained!? Similarly, client travel should be questioned. Sometimes #designers make a better impression via video rather than in-person.
Questions? Insights? What questions would you ask your CEO? Email Mick Morrissey @[email protected] or call him @ 508.380.1868.
Four Factors to Watch
1. U.S. Economy— Q3 downgraded
Economists at Goldman Sachs reduced third quarter U.S. GDP growth forecasts from 5.25% to 3.5% on the heels of a much weaker-than-expected jobs report. While the Labor Department was figuring on 720,000 new hires in August, the actual number came in at less than a third of projections (235,000), the lowest it's been for any month since January. The Delta wave, a slow July for manufacturing and trade inventory, and a cooling car market all played a role in the dip. However, with some indications that Delta may be showing signs of plateauing relatively soon, stronger numbers are expected in the first half of 2022.
2. COVID-19 Case Numbers—Delta shows signs of relenting; Biden issues new vaccination mandates
In the last week, the seven-day average of daily COVID cases in the U.S. dropped from 164,382 to 147,816; however, 170,460 new cases were reported on September 9.
Seven-day averages of COVID cases increased in Texas and decreased in California and Florida:
California: from 14,941 to 10,071
Texas: from 17,606 to 19,214
Florida: from 19,902 to 14,276
Last Thursday, President Biden announced a number of measures aimed at fighting the continued spread of COVID. A new federal rule will require all businesses with more than 100 people to ensure that every employee is either vaccinated for COVID-19 or is tested weekly for the virus. Other notable measures include:
All federal workers and all contractors that work for the federal government must be vaccinated.
Employers must provide paid time off to get vaccinated.
3. Infrastructure Bill— House of pain
The bipartisan infrastructure plan's passage through the House promises to be bumpy, as pressure to vote against the measure seems to be mounting for House Republicans. Conservative groups are turning up the heat on opposing the bill they say is a restructuring of the social safety net. While the Senate was able to pass the legislation with the support of 19 Republicans, including Senate Minority Leader Mitch McConnell, House Republicans face a much larger backlash from former President Donald Trump who still holds considerable sway, members of the House Freedom Caucus who have vowed to campaign against Republican colleagues who vote yes, and various outside conservative groups who are actively urging "no" votes. The bill faces potential opposition on the other side of the aisle as well, if the $3.5 trillion Democrat-led measure doesn't accompany it. Rep. Alexandria Ocasio-Cortez's recent Instagram post read, "Nothing would give me more pleasure than to tank a billionaire, dark money, fossil fuel, Exxon lobbyist drafted energy infrastructure bill if they come after our child care and climate priorities."
4. Employment—A new pandemic-era low for initial claims
Initial claims for unemployment insurance dropped to 310,000, another pandemic-era low. The number was also below the Dow Jones estimate of 335,000. Had it not been for Hurricane Ida, which resulted in a substantial increase in Louisiana, initial claims might have been even lower. Weekly claims averaged 881,000 at this time last year.
Continuing claims dropped 22,000 to 2.78 million but were higher than the FactSet projection of 2.73 million.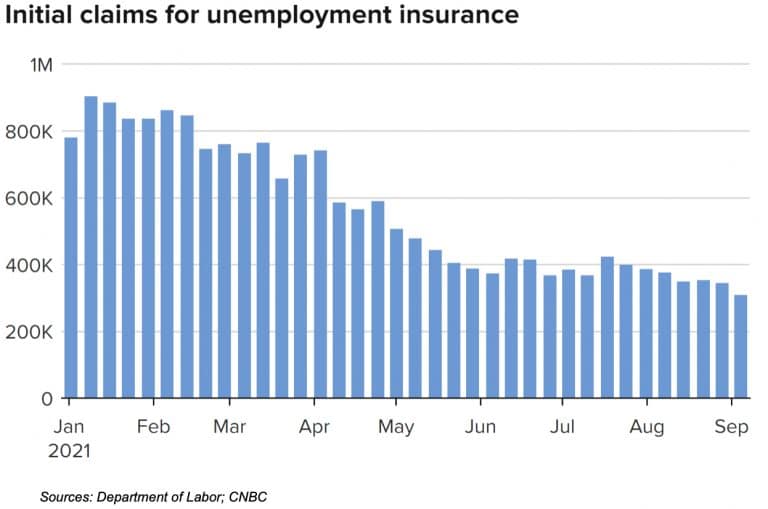 Subscribe to our Newsletters
Stay up-to-date in real-time.