Word on the street > AE Industry Intelligence: Issue 69
AE Industry Intelligence: Issue 69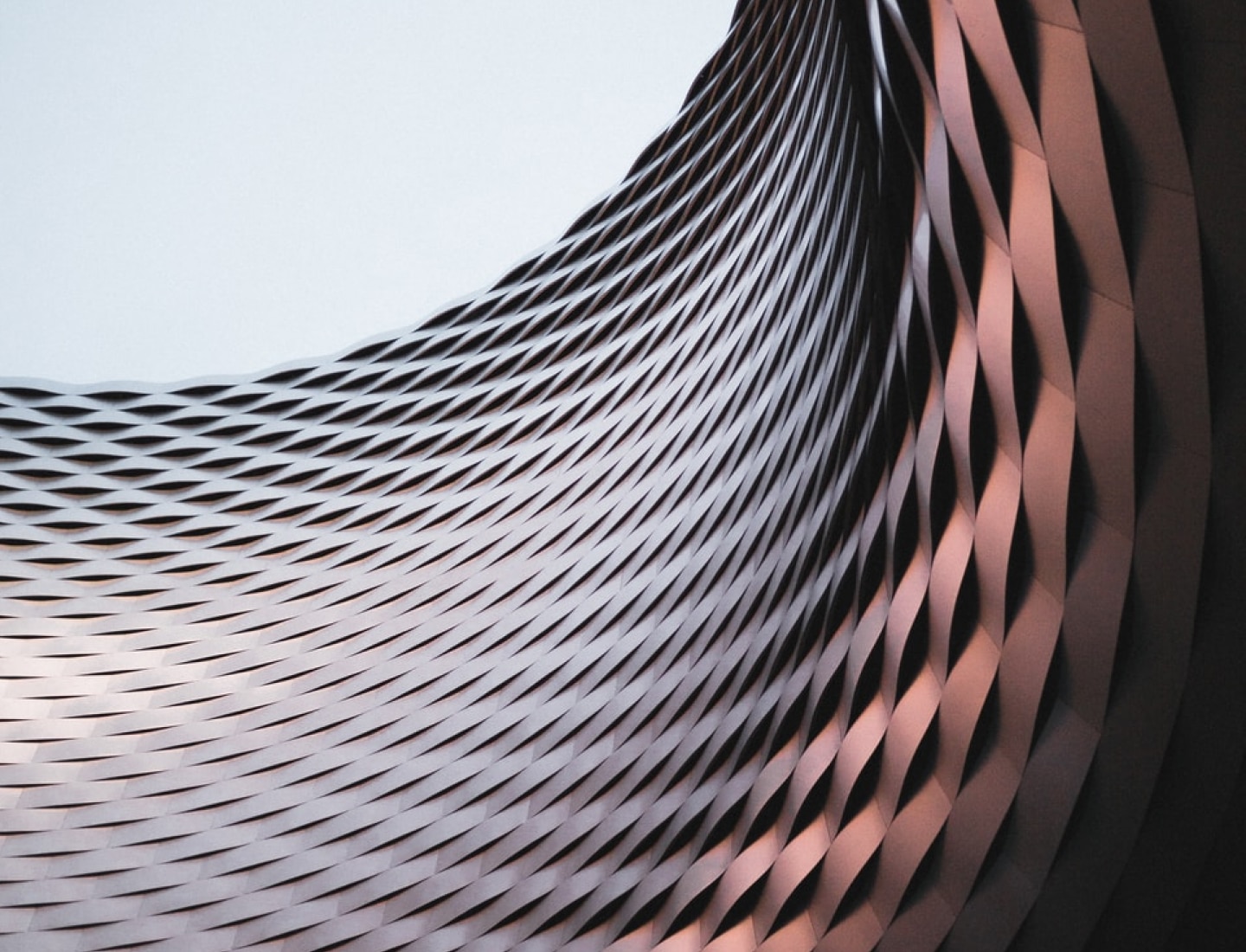 The painful post-pandemic reality for many architecture firms
We've written extensively about how the past 14 months have been a period of remarkable success for the A/E and environmental industry at large. Many firms around the country experienced an increase in demand for their services through the pandemic. They racked up record profits. Their backlogs grew. And they are on track for another stellar year in 2021. Indeed, many are turning down work. But one particular group of designers experienced a very different—and much darker—2020, and it's unclear if a number of them will be able to remain viable into 2022.
Surveys point to the industry's overall resilience: Self-reported revenue for the ENR Top 500 Design Firms increased 1.4% in 2020—essentially flat. The ENR Top 200 Environmental Firms saw a collective increase of 2.7%.* So, much like Sifan Hassan falling in the women's 1500-meter race and coming back to win, the overall A/E and environmental industry still grew and notched up a fifth consecutive year of expansion, even though the economy hit the "pause" button in the spring of last year. But not all firms or sectors were so lucky. (*Excludes $29.7 billion of revenue from Veolia Environmental—a new addition to the list this year.)
An alternate universe for many architecture firms: The story is very different for many of the industry's architectural designers. While revenues remained essentially flat for the overall design industry, the collective top line of the roughly seventy architectural designers among the ENR Top 500 declined 8% during the pandemic. In 2020, those professional services firms offering a narrow combination of architectural design, interiors, and planning fared worse overall than those firms offering engineering services or a combination of architecture with engineering.
Demand destruction: Collectively, the nation's leading architecture firms experienced a painful erosion of some $530 million in revenue last year, with more than two-thirds seeing their top lines decline. The average revenue contraction was 15%. Over a dozen of these leading designers took a greater-than-20% hit to their top lines, with the most pronounced seeing 45% free fall. Smaller architectural designers took disproportionally bigger hits to their business. Firms with overseas operations tended to fare relatively better.
Country road, take me home: While two-thirds of the nation's top architectural designers declined last year, the other one-third grew—on average, by 11%. We saw this trend among smaller designers (less than $20 million in revenue); about two-thirds declined last year while the balance had record years. Why the different trajectories? A May 2021 survey Business Opportunities & Sustainability Trends Amidst a Pandemic, produced by The American Institute of Architects in partnership with Oldcastle Building Technology, provides some insight. The fortunes of architecture firms since March 2020 have been largely tied to the red-hot residential sector.
A tale of two markets: Architectural firms working in the residential sector—particularly the single-family segment—experienced an increase in demand in 2020. According to the AIA's Home Design Trends Survey (HDTS), while residential designers reported a decline in billings at the beginning of the pandemic, by the third quarter they had recovered and were reporting strong growth in their billings (34% for single-family and 12% for multi-family homes) and inquires. Their project backlogs increased on average about 6%. At the same time, demand destruction was in play across other facilities markets, including 49% for retail, 35% for office buildings, and 29% for higher education. While rebounds have been seen in all of those sectors in 2021, they are still not close to fully recovered (more on this below).
The same, but different—very different: Last year, most industry leadership teams went through an unprecedented three stages of (a) managing a stressful rapid move to a brand new remote / hybrid working model, (b) navigating a convoluted and nail-biting application for PPP loans, and then (c) experiencing a surprising and welcome boom in their business. However, architectural designers with little or no access to the residential market experienced (a) and (b) but not (c). These designers experienced all of the trauma of 2020 and none of the upside.
Back to the future (well, 2018): While the rest of the industry was figuring out how to on-board new talent remotely and engage with new clients via Teams, these firms were terminating employees over video while desperately trying to figure out where their business was headed. Headcount at many of these designers was reduced 20% to 50%. Before the vaccines came online in December, many of their leadership teams wondered if their firms would make it into 2021. And even with this year's red-hot economy and resurgence of demand in non-residential sectors, many of these designers will only get back to 2018 levels in their practices. They've essentially lost more than three years of momentum and organizational development and have seen their ownership and leadership transitions stall. They've also been forced to question their business models.
Lessons learned? The easy takeaway is the importance of a diverse business portfolio. For designers, the holy grail of diversification is a portfolio of one-third public sector, one-third private sector, and one-third institutional sector. Designers with a more diversified portfolio that included a residential component weathered the storm better than those that did not. The second lesson for designers to consider is diversification of services offered. While the leading architecture firms declined 8% over the past year, their second cousins—A/E firms, those designers that also offer engineering services—increased revenues by 1% over the same period. The architecture blended with engineering model provides more opportunities for renovation, reimagination and expansion of existing facilities—a work product that was more in demand in 2020 and will be for the foreseeable future. Bringing architecture and engineering together in the firm can be challenging, but it would appear that it could be a more resilient and sustainable business model.
Industry M&A continues at a furious pace: This week we reported 11 new transaction announcements of design and environmental firms around the nation. Mergers and acquisitions are up 31% over the last 12 months with no slowdown in sight.
An Empire State of mind: Congratulations to our client, award-winning landscape architecture and planning firm Trowbridge Wolf Michaels Landscape Architects (TWMLA) (Ithaca, NY), on joining with fellow award-winning engineering, planning, and professional services firm Fisher Associates (Rochester, NY). We are glad that they trusted us to assist them with this important initiative.
Results: To see the over 130 A/E and environmental firm transactions that our team has initiated and advised, click here.
No sleep 'til Houston: Our Texas M&A Symposium is on track to break attendance records. It could be because interest in M&A is at an all-time high. Maybe it's because everyone wants to be in Texas. Alternatively, it could be that The Post Oak Hotel at Uptown is a stunning venue. Or maybe everyone just wants to get out of the house. We like to believe it's because of the powerful learning and networking sessions. Join over 100 industry CEOs, M&A decision makers, and investors from Texas and around the nation this October 21 and 22 in Houston. We're thrilled to co-produce this event once again with our friends at ACEC Texas.
What we're tweeting about this week: More #AE innovation. "Could be?" More like, "Should be!" This touchless Taco Bell could be the future of drive-thrus.
Questions? Insights? How has your architecture firm fared over the past year? What does the future hold for pure architectural design firms? Email Mick Morrissey @ [email protected] or call him @ 508.380.1868.
Four Factors to Watch
1. Infrastructure Bill
Microsoft Corp. co-founder Bill Gates told the Wall Street Journal that his climate investment fund will commit $1.5 billion for joint projects with the U.S. government if Congress enacts a program aimed at developing technologies that lower carbon emissions.
The $1 trillion infrastructure bill that the Senate passed would earmark $25 billion for the Energy Department for demonstration projects funded through public-private partnerships. It would be part of the more than $100 billion that would be allocated to address climate change. The legislation still must pass through the House.
Gates reportedly said a fund run by his Breakthrough Energy could spend the money over three years on projects dedicated to slowing the greenhouse-gas emissions. The Breakthrough projects would draw competition for funds and could include emissions-free fuel for planes and technology to remove carbon dioxide from the air.
2. COVID-19 Case Numbers
In the last week, the seven-day average of daily COVID cases in the U.S. grew from just under 100,200 to nearly 126,900. August 12 saw over 138,500 cases.
Seven-day averages of COVID cases increased in California, Texas, and Florida:
California: from 10,520 to 11,908
Texas: from 11,582 to 14,972
Florida: from 18,120 to 21,244
3. Inflation
While price increases moderated last month, indicating that inflation may finally have plateaued, it appears higher prices are winding through more sectors of the economy. Consumer price inflation did remain elevated in July; prices jumped 5.4% from a year earlier. But prices only increased 0.5% in July, almost half the rate from the 0.9% growth in June, and the slowest growth since February. Yet while some of the major contributors to inflation—like used car prices—slowed last month, costs in other areas, including medical care, housing, and food, rose.
4. Job Openings-to-Unemployment Ratio
Since May, there are more jobs available in the U.S. than there are people looking for work. One emerging challenge is the lack of alignment between the types of jobs being sought and the types of jobs available. While there has been some recent improvement, some hard-hit industries have yet to recover. Prior to the pandemic, 63% of Americans were working. In July, there were 5.7 million fewer jobs than there were in February 2020, according to the U.S. Labor Department. The number of people trying to get back into the workforce has gradually increased since the beginning of the pandemic. The percentage working or looking for a job has increased modestly from a low of 60.2% in April of last year to 61.7% in July.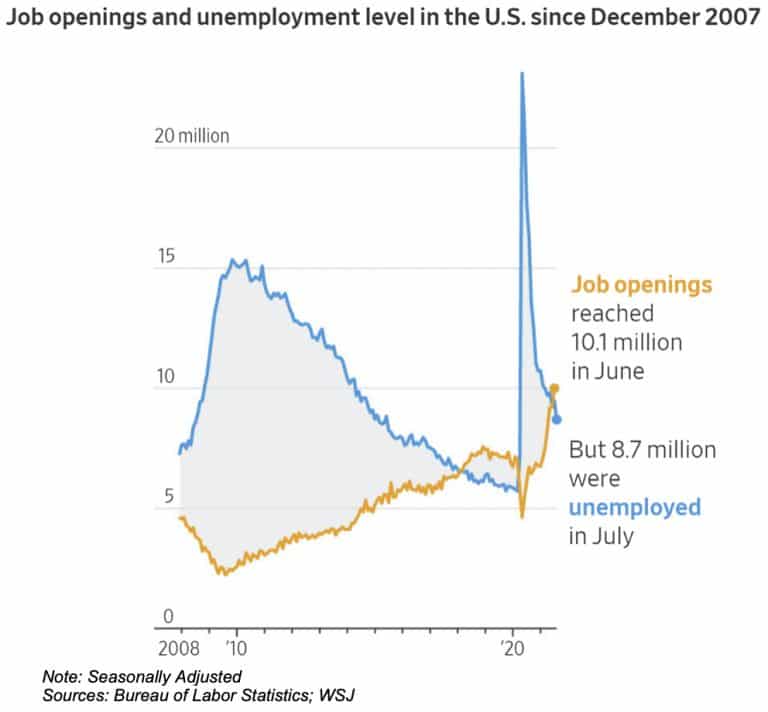 Subscribe to our Newsletters
Stay up-to-date in real-time.