Word on the street > AE Industry Intelligence: Issue 67
AE Industry Intelligence: Issue 67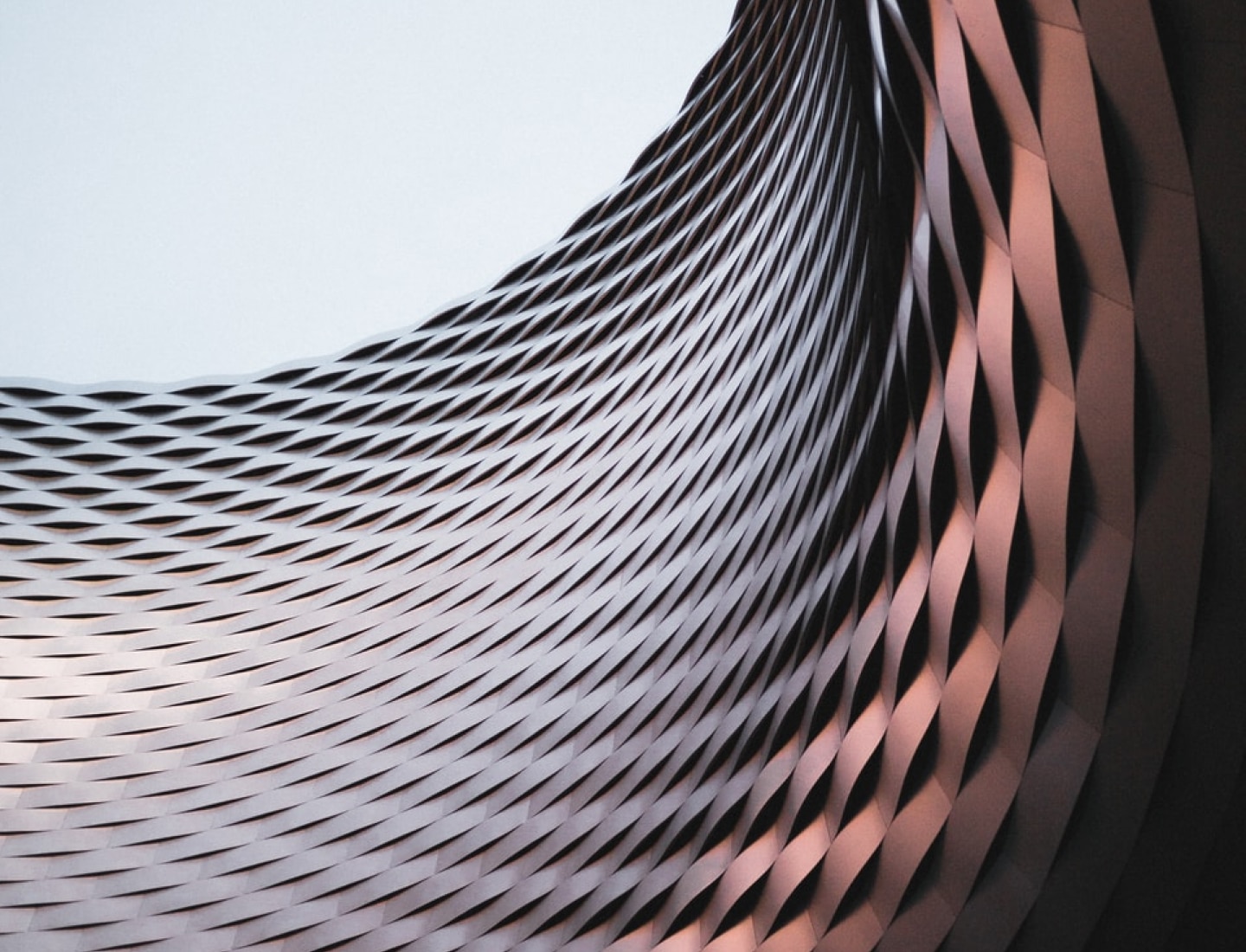 Summertime and the industry's hummin'
We're half-way through the year, and (most of) the A/E industry continues to run at full throttle. Here are some of the national and regional market and industry dynamics that the Morrissey Goodale team is seeing at play during these dog days of summer.
Demand and competition reshaping the life sciences sector: There's no end in sight to the voracious appetite on the part of industry and developers for life science and research facilities. This is resulting in increased competition and consolidation. Smaller design firms with localized life science portfolios are facing stiffer competition from national and niche designers. In the Northeast, the life sciences sector is seeing a lot of repurposing of existing commercial spaces to quickly reconfigure and attract early-stage, growing, biotech companies. In the South and West, it's a lot of greenfield (or desert) development.
Data centers continue to run hot (pun intended): Capacity requirements continue to increase to support e-commerce and hybrid-work models. This despite Amazon forecasting a slowdown in online shopping in Q3 as folks do more shopping in person.
Higher education sector rethink: Design firms with exposure to the college, university, and community college sectors are diversifying into K-12 to hedge their bets. Why? Many see a period of flux ahead for higher education as it wrestles with declining demand/enrollments, redefinition of mission, and rethinking of the traditional campus model. The K-12 sector provides more immediate and solid opportunities as it directly benefits from federal stimulus funding.
The (continued and inexorable) rise of our robot overlords: The manufacturing, industrial, and utility sectors became even more automated over the past 18 months and will continue to do so. Remote monitoring, robot monitoring, remote sensing, and redesigned production lines continue to reduce employee headcount and improve speed to market, which drives down costs. A/E firms investing in design and development of remote systems, data analytics, and ongoing maintenance are seeing tremendous demand and high margins in this space.
Water firms in high demand: Funny, there was a school of thought that consolidation in the water sector ended when CH2M got acquired by Jacobs in 2017. In fact, that was just the beginning of a step function increase in M&A in the water sector that has continued through this summer. Strategic and financial buyers are practically throwing money at firms that have the word "water" anywhere on their website—regardless of how small or where they are located. Why? Well first, in case you hadn't noticed, we're running out of water in the West. Second, there is ample public sector funding at the federal, state, and municipal level flowing into water and wastewater infrastructure. Apparently, it's something everyone can agree upon.
Speaking of M&A, 34 and 36 are your winning numbers: Why? Shot: The pace of industry M&A (that's for architecture, engineering, environmental, and associated services) is up a staggering 34% year over year. Chaser: A full 36% of all A/E and environmental firm sales in calendar year 2021 have involved a financial sponsor—either private equity or a family office. The number of multi-millionaires being created this year in the industry is remarkable.
What are buyers looking for? First of all, buyers are looking to get into the U.S. ASAP ahead of any federal stimulus plan. We've seen a decided uptick in inquiries and interest from European and Asian acquirers. There is strong demand for firms with experience in renewable energy – including wind (both on- and offshore and solar). A/E firms with building efficiency and energy conservation experience are in high demand. Construction engineering and inspection (CEI) firms are being sought after as buyers anticipate work to kick in quickly on "shovel-ready" projects once a stimulus package passes.
Backlogs in Texas boggle the mind: Texas firms—especially those in land development and facilities design—are experiencing once-in-a-generation business dynamics. Backlogs across the state range from one to three years. Essentially, management teams could completely shut down marketing today and still see three years of 20% profitability if they wanted. The demand for A/E services is going to continue to outstrip the supply of A/E service providers in the state for the foreseeable future. Hottest Lone Star metro markets? It's hard to beat Austin and San Antonio right now for either A/E services demand or BBQ. (When in Austin, go to the Ironworks). And all land development is driving transportation and water infrastructure demands. As we wrote in January, geography is destiny.
Can't stop, won't stop in FL and AZ: The development activity in Florida and Arizona is comparable to what we saw in the heady days of the mid 2000s before everything went south in 2007 / 2008. The Tampa and Orlando development markets are booming as are Phoenix and Scottsdale. Priority #1 for home builders remains getting product in the ground for sale pronto. Pricing is secondary. It's a great time to be a residential architect or civil engineer or environmental planner in the Sunshine and Grand Canyon states. (Of course, residential development – both greenfield and rehab – is robust across the nation. However, the scale and pace of activity in the South and West is breathtaking.)
Nobody has figured out the new workplace or work dynamic. And those who say they have are in for a rude awakening when school restarts. Many are getting super creative and flexible in figuring out what's next. We're seeing a lot of firms experimenting with every variety of hybrid model. The key ingredients are a) holding people accountable for performance when not everyone's in the office on the same day, b) creating an environment where people feel connected and valued even though they may not be physically together, and c) understanding what activities need to be performed in the office (collaborative, group) vs. those that are actually best done solo (e.g., documentation, calculations) or could be done anywhere (e.g., Starbucks, your pajamas, or Hawaii).
It's not just important for Olympic gymnasts: Flexibility is at the center of how A/E firms are viewing the post-vaccine workplace. We hear from younger cohorts "waiting to see" if their firms will continue to be flexible in terms of working policies as they have been over the past year. We see firm leaders grappling with how to define a policy that gives flexibility while accounting for on-boarding and development of talent. It's going to continue to be a hot issue. We hear chatter of a "great resignation" or "transfer window" (for you EPL fans) coming this fall. There are concerns that employees are biding their time this summer, going on vacation, and waiting to see what these flexible policies are going to be. If they don't like what they see, they'll move to a competitor or peer that provides them with the flexibility they seek. In terms of the relationship between firms and talent, as Patti Smith belted out in 1988, People have the Power. Leaders need to be thinking about how their policies help them to remain competitive to attract—and then retain—talent. As we wrote in April – make flexibility a feature not a bug!
What's your ESG score? "My what now?!" The importance of your ESG (environmental, social, and corporate governance) score will become more apparent over the next 24 months as it comes into play with your lender, your customers, and your employees. You may be skeptical about this movement. But, just as "wellness" and "community involvement" seemed extraneous to the success of your business 10 or 20 years ago, ESG is fast becoming a hot topic in the Boardroom.
The delicate art of saying "no": With their people maxed out for the foreseeable future, more A/E and environmental firms are turning down work this year than ever before. In some cases, it's an easy—and profession-affirming—decision. (Who really wants to work for that developer that always pays late and beats you up on every penny?) However, turning down work for designers can be a traumatic and fraught conversation. You don't want to damage a long-term relationship, nor do you want to turn off a potential client that you would love to work for in the future. It's also an unnatural action for designers to turn down work; it goes totally against the grain. They are not skilled at doing it. It goes against how they have been wired forever. But that's where we are now. (Next week, the equally delicate art of raising fees.)
Texas is the place to be! Specifically, Houston this Oct. 21 and 22 for the 7th Texas M&A Symposium. Join over 100 industry CEOs, M&A decision makers, and investors from Texas and around the nation. Learn about the latest M&A trends, deal prices, and best practices. We're thrilled to once again partner with our friends at ACEC Texas on this premier industry event. Thanks to our wonderful symposium partners (Lawson & Weitzen and DGC) and sponsors (BSTGlobal and Ames & Gough).
What we're tweeting about this week: The demand for #AE services is going to continue to outstrip the supply of #AE talent for years to come. We cannot continue to run our people at 110%, or we will lose another generation of designers and scientists to adjacent industries and professions—as we have in the past. It's time to get creative.
Best part of last week? Why National Intern Day of course! We love our three awesome summer interns Anne Salamone of Merrimack College, Jack Grady of Boston College and Ben Hamer of Bridgewater State University.
Questions? Insights? What trends are you seeing in the industry? Email Mick Morrissey @ [email protected] or call him @ 508.380.1868.
Four Factors to Watch
1. Infrastructure Bill
The $1 trillion bipartisan infrastructure bill made it through the Senate. Next comes an amendment process, which could drag out as Democrats try to pass its $3.5 trillion, wide-ranging budget framework. Funding expectations appear below:
Category
$ billion
Road & Bridge Improvments
$110
Clean Energy
$73
Passenger and Freight Rail Systems
$66
Broadband
$65
Potable Water
$55
Extreme Weather/Cyber Attack Protection
$50
Public Transit/Bus Modernization
$39
Airport Improvements
$25
Ports
$17
EV Charging Stations
$7.5
2. COVID-19 Case Numbers
In the last week, the seven-day average of daily COVID cases in the U.S. has shot up from 45,300 to over 71,200. July 29 saw over 95,200 cases. The highly contagious Delta variant is responsible for more than 80 percent of COVID cases in the U.S., and people ages 18-49 are now the largest demographic hospitalized.
Seven-day averages of COVID cases increased in California, Texas, and Florida:
California: from 4,027 to 8,048
Texas: from 4,529 to 7,777
Florida: from 10,452 to 13,505
3. Economy
The U.S. GDP grew at a 6.5% annual rate in the second quarter, up slightly from the 6.3% growth rate in Q1 2021. Economists predicted higher growth, but the U.S. economy is now larger than it was prior to the pandemic.
The most recent quarter's surge was buoyed by the massive federal stimulus programs and subsequent consumer spending which surged nearly 12% on the heels of vaccinations and businesses coming back online. About 1.2 million jobs were added in the quarter, and initial jobless claims are trending down once more (see below).
The economy is vulnerable in a number of areas, however. The Delta variant has spurred a growing number of restrictions on businesses (mask mandates, proof of vaccination, etc.), while a percentage of the public could retreat back to their homes as infections continue to mount. Additional threats include unabated inflation, continued disruptions in the supply change, and a chronic labor shortage.
4. Employment
Jobless claims dropped by 24,000 to 400,000 last week—still almost double the number of claims reported just before COVID struck almost a year and a half ago. The four-week moving average, which smooths out volatility in the weekly figures, inched up to 394,500.
While employers added 850,000 jobs in June (the most in 10 months) and workers' wages also increased, employers are having an increasingly harder time finding workers and paying those higher wages.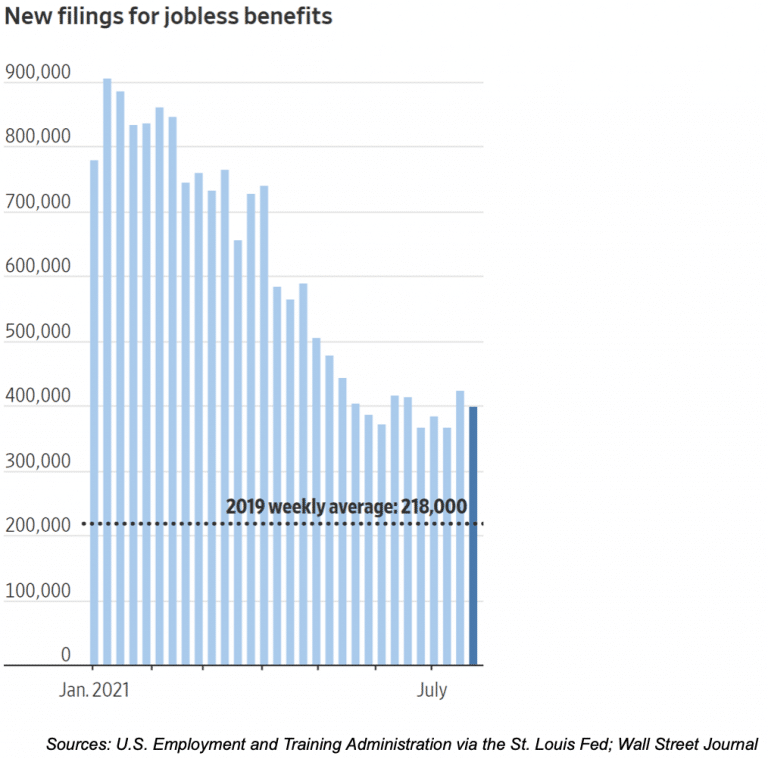 Subscribe to our Newsletters
Stay up-to-date in real-time.