Word on the street > AE Industry Intelligence: Issue 66
AE Industry Intelligence: Issue 66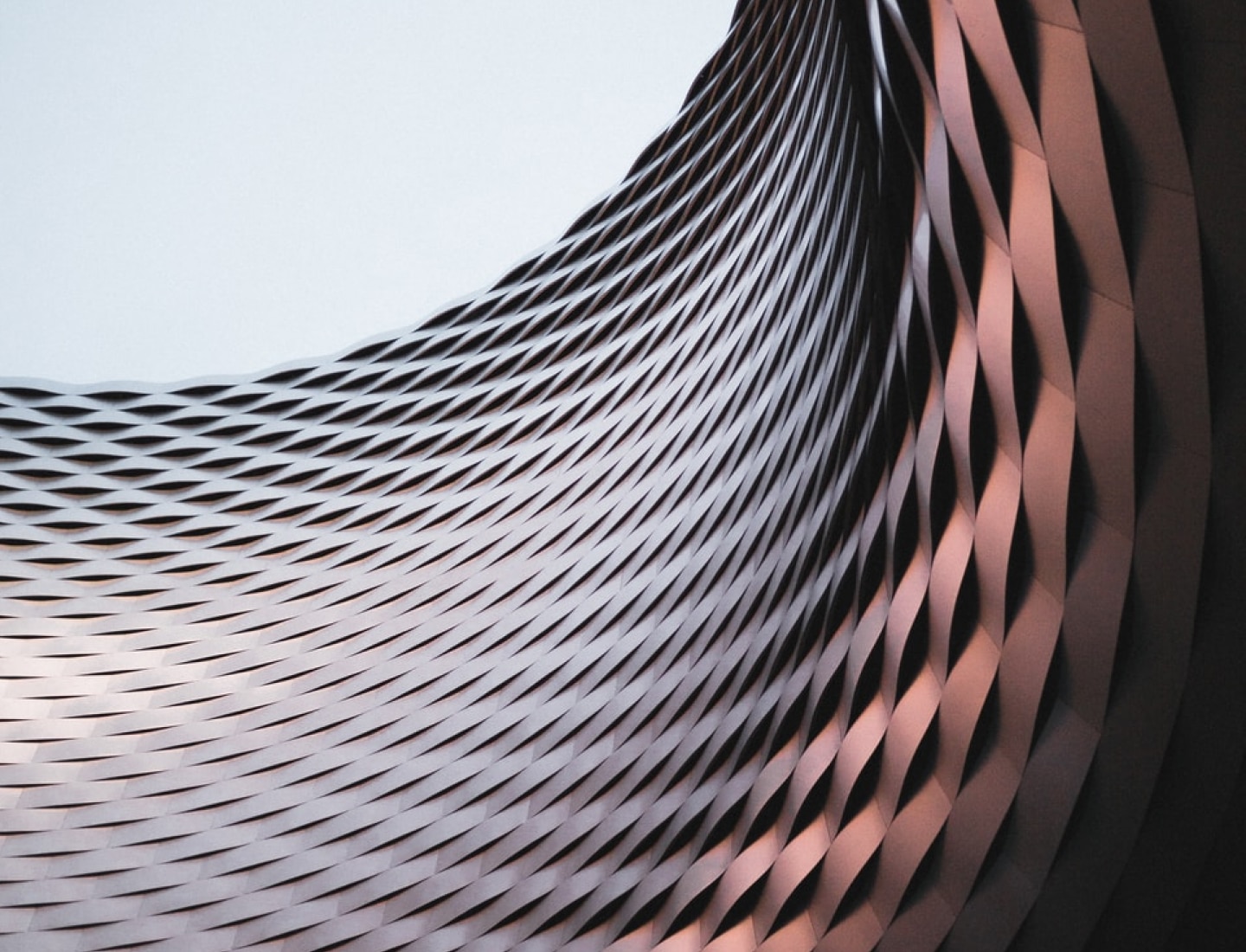 Strategic planning in a post-vaccine world: Do some firms have a competitive advantage?
Our consulting team has facilitated a dozen strategy and Board meetings for A/E and environmental firm clients this month already. These firms range in size from $2 billion to $10 million. They serve a variety of markets. Between them they have offices in all 50 U.S. states and overseas. Their leadership teams are eager to reboot strategic planning that was in play pre-pandemic or spin up new strategic planning initiatives for a post-vaccine world. Additionally, in many cases they are restarting leadership transition plans that were put on pause in 2020. What's striking to us in our strategy and facilitation practice is how different the strategic decision-making environment is for leadership teams compared to pre-pandemic days.
In the good old days: Pre-pandemic, leadership teams made a point of being together physically for strategy and Board meetings. Regardless of the logistics or cost, it was imperative to be together to debate and decide important firm matters. Sure, exceptions were made for Board meetings on a person-by-person, case-by-case basis. But being in each other's presence was the norm for strategy meetings. Big winners from this model were Marriott franchisees and the Hertzes and Uniteds of the world, as well as the folks in accounting who got to spend time deciphering the plethora of dubious expense reports.
A universal approach to strategic decision-making pre-pandemic: Why did leadership teams choose to meet in person pre-pandemic when there was growing use of virtual and video meetings taking place within their own firms and with clients? First, that was the one and only strategy and/or Board format that leadership teams knew. They inherited it from prior leadership teams. They saw no need to change it. Second, they found value in the social aspects that accompanied being together for business reasons, especially if they were located in different offices. Third, they deluded themselves that being together made for better (more direct/honest) discussions. (Everyone knew pre-pandemic that was not actually the case but went along with it.) And fourth, they assumed that being together resulted in optimal decision making, which then would result in improved firm performance. The important point here was that every firm was using the same decision-making format—being together in person.
The pandemic blew up the paradigm: Leadership teams that were unable to meet in person because of travel restrictions found that (surprise!) they could "lead as a team" effectively in a virtual environment (just like their employees were able to work effectively virtually). They discovered that they could have the same quality of discussion virtually that they had in person. And then—to their surprise—their firm's bottom line performance actually improved in 2020, despite them being unable to get together physically. So much for needing to get together to make better decisions!
The emergence of a fragmented post-vaccine leadership landscape: Today, the strategy and Board decision-making approach is no longer homogenous across the industry as it was in 2019. Indeed, there are three distinct decision-making categories at play in the industry right now:
It's 2019 again (sorta) and we're loving it: These are the leadership teams and Boards that are able to meet in person and eagerly embrace the opportunity to do so. They're getting together for off-sites at conference centers and resorts. They're flying in managers from around the country. They're socializing and team-building outdoors (being in a warm weather environment helps!). They're meeting in bigger spaces than they did pre-pandemic. And they are more open than they were in the past to accommodate teammates who do not want to or who are unable to travel. Sure, travel to and from meetings is a hassle and expensive. And of course, the staff at the resorts are all masked, and quality and ease of service is nowhere near what it was pre-pandemic. But the joy on the faces of these teams from being together again is wonderful to see. And for them, the social aspect is worth all of the travel hassle.
Can't believe we're still stuck in 2020: These are the leadership teams that want to but are unable to get together in person and have had to meet virtually since the start of the pandemic. This is a dynamic that is currently in play for leadership teams and Boards in California and states where the Delta variant is spiking. This summer, they were planning to hold their first in-person meetings since the pandemic started. Then their hopes were dashed by the unexpected resurgence of the virus in the form of the Delta variant. So, these teams are having to pivot with respect to the techniques they were planning to use to learn, debate, and make strategic decisions. The sense of disappointment of being unable to meet in person is palpable with these groups.
Choose to be virtual: These are a set of leadership teams that face no municipal code or travel restrictions that prevent them from holding strategy or Board meetings in person. However, they choose to meet remotely, in keeping with (a) their existing virtual workplace model or (b) their comfort level with the virtual workplace model that they have become accustomed to over the past year.
The context for strategic decision-making: Most of these clients—like the A/E and environmental industry in general—have had a phenomenal 12 months of performance. Declines in profitability among this group are the exception not the norm. These leadership teams' outlooks for the future are universally optimistic – with almost every team having one eye on the recapitalization and super-hot valuations at play in the market right now. They are all trying to figure out what their world will look like post-pandemic and where to place their bets and take risks. These are crucial conversations that they are having. The stakes are high.
Is one strategic decision-making format superior? Pre-pandemic, every leadership team had access to the same market information (if they wanted to access it). They made strategic and governance decisions the same way that their peers and competitors did—together and in-person. Today, that's not the case. Different leadership teams are consuming and processing market and best practices information differently—some remote and some in person. Some teams are coming together in person to make strategic decisions about the future of their firms. Others are either choosing to—or compelled to—meet remotely to make high stakes strategic decisions. I cannot stress enough that this is totally different than the pre-pandemic strategic planning environment. Competitor A may be able to assemble its entire leadership team together to make strategic decisions, while Competitor B across the road (river, canal, city, country) may not be able to do so. Which firm is making better strategic decisions? The big question is whether one strategic decision-making format provides (pound-for-pound) a competitive advantage over others. Will the traditional in-person model be the winner? Or will a new virtual strategic decision-making format win the day? And if the traditional in-person model does not provide better results, why perpetuate it?
M&A is up 30% – with private equity leading the charge: This week we reported nine new domestic deals—six of which included private equity (PE). PE now accounts for a jaw-dropping 36% of all transactions this year. The recapitalization of the A/E industry is being televised.
Results: To see the 12 transactions we have helped facilitate this year to help our clients achieve their goals and the over 120 deals that we have helped bring together since 2006, click here.
Texas is the place to be! Specifically, Houston this Oct. 21 and 22 for the 7th Texas M&A Symposium. Join over 100 industry CEOs, M&A decision makers, and investors from Texas and around the nation. Learn about the latest M&A trends, deal prices, and best practices. We're proud to once again partner with our friends at ACEC Texas on this premier industry event. Here's how the attendee list is shaping up:
CEOs / Presidents 45%
From Texas 46%
From ENR 500 firms 75%
Dealmakers 100%
What we're tweeting about this week: The Architecture Billings Index in June reflected continued economic recovery, but a hiring crunch looms, and so more and more #AE firms are saying "no" to certain projects.
What we're also tweeting about this week: A public service announcement to #AE firm leaders. Disconnect from your firms on summer vacation this year. Your firms will do just fine without you checking in every day. And while you're at it, take two weeks off instead of just one.
Questions? Insights? How is your leadership team making strategic decisions in this post-vaccine world? Email Mick Morrissey @ [email protected] or call him @ 508.380.1868.
Four Factors to Watch
1. Infrastructure Bill
Much juggling is going on as lawmakers try to finalize the bipartisan infrastructure deal while keeping Democratic priorities intact. How to pay for it all is the fundamental constraint, and it appears several budgetary techniques that have been leveraged in the past may be called into play. According to an article in the Wall Street Journal, lawmakers could use the following maneuvers to help claim their policies aren't adding to the national debt:
Sunsets. The costs of congressional proposals typically get measured over a 10-year period or budget window. Scheduling a popular proposal to expire after only a few years reduces the official cost and creates an expectation that it will be extended by a future Congress. The Biden administration's plan to extend the expanded child tax credit only through 2025 is one example.
Sunrises. Unpopular tax hikes or spending cuts can be scheduled to take effect in the future. Later, Congress will be pressured to try to prevent the policy from taking effect. For example, in 2017, Congress changed the tax rules for research expenses starting in 2022, resulting in a bill that was within budgetary targets. And now four years later, there is a push from the private sector and both parties to stop the measure.
Killing the dead. Congress can eliminate a program and claim credit for savings, even if the program was going to end anyway. Potentially eliminating or delaying a Medicare prescription-drug rebate created by the Trump administration is one example.
Clock shifts. Congress can make tax cuts appear as revenue-raising provisions, depending on the timing of the revenue.
Growth assumptions. Lawmakers may point to estimates that proposals will pay for themselves by spurring faster economic growth and thus generating more tax revenue, though projections are often exaggerated.
2. COVID-19 Case Numbers
In the last week, the seven-day average of daily COVID cases in the U.S. has shot up from 28,300 to 45,300. July 22 saw over 63,800 cases. Hospitalizations are also on the rise. Seven-day averages of COVID cases increased in California, Texas, and Florida:
California: from 2,992 to 4,027
Texas: from 2,528 to 4,529
Florida: From 6,493 to 10,452
3. Employment
First-time jobless claims jumped from last week's upwardly revised 368,000 to 419,000 and were above the Dow Jones projection of 350,000. The level of continuing claims dropped 29,000 to approximately 3.24 million. The total number of people currently receiving benefits dropped 1.2 million to 12.57 million. A year ago at this time, 33 million people were collecting benefits.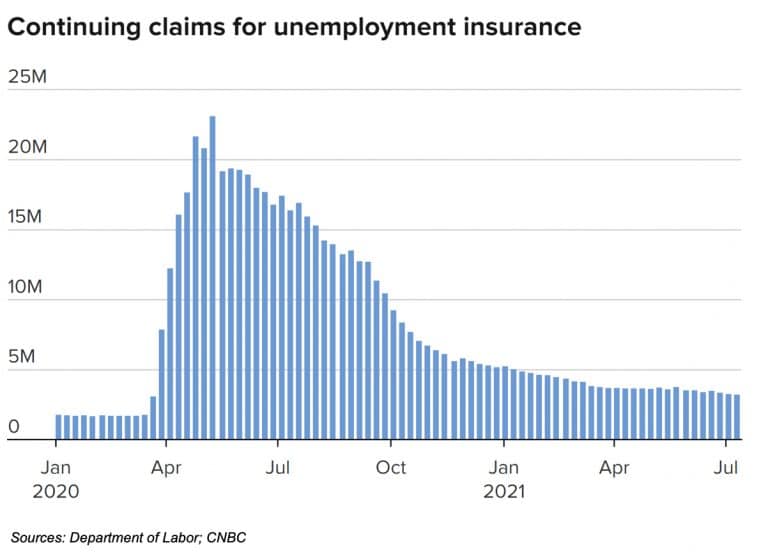 4. Inflation
In a poll of 606 U.S. businesses across industries, 33% say they are raising prices, compared to just 4% that said they are cutting them. Retail and manufacturing businesses led the way, with 44% and 41%, respectively, increasing prices. Food companies are also raising prices as commodity costs rise, and several intend to continue the trend. For example, Mondelez International Inc. raised prices on Oreo cookies and other snacks this year and are reportedly considering price increases for 2022 based on the commodity cost inflation it expects.
5. COVID Vaccine Update
The U.S. now trails Canada, the U.K., Italy, and Germany in terms of doses administered as a share of the total population. While still ahead of Japan and other major economies, the vaccination rate in the U.S. is dropping off as it climbs elsewhere. The U.S. is still short of President Biden's July 4th target of getting 70% of those over 18 vaccinated with at least one shot. The percentage stands at 68%. The vast majority of new infections and deaths remain among the unvaccinated.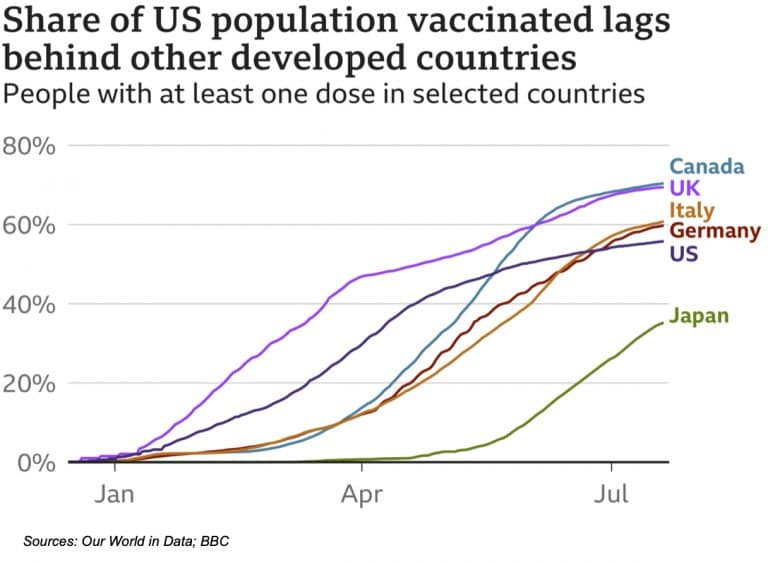 Subscribe to our Newsletters
Stay up-to-date in real-time.