Word on the street > AE Industry Intelligence: Issue 51
AE Industry Intelligence: Issue 51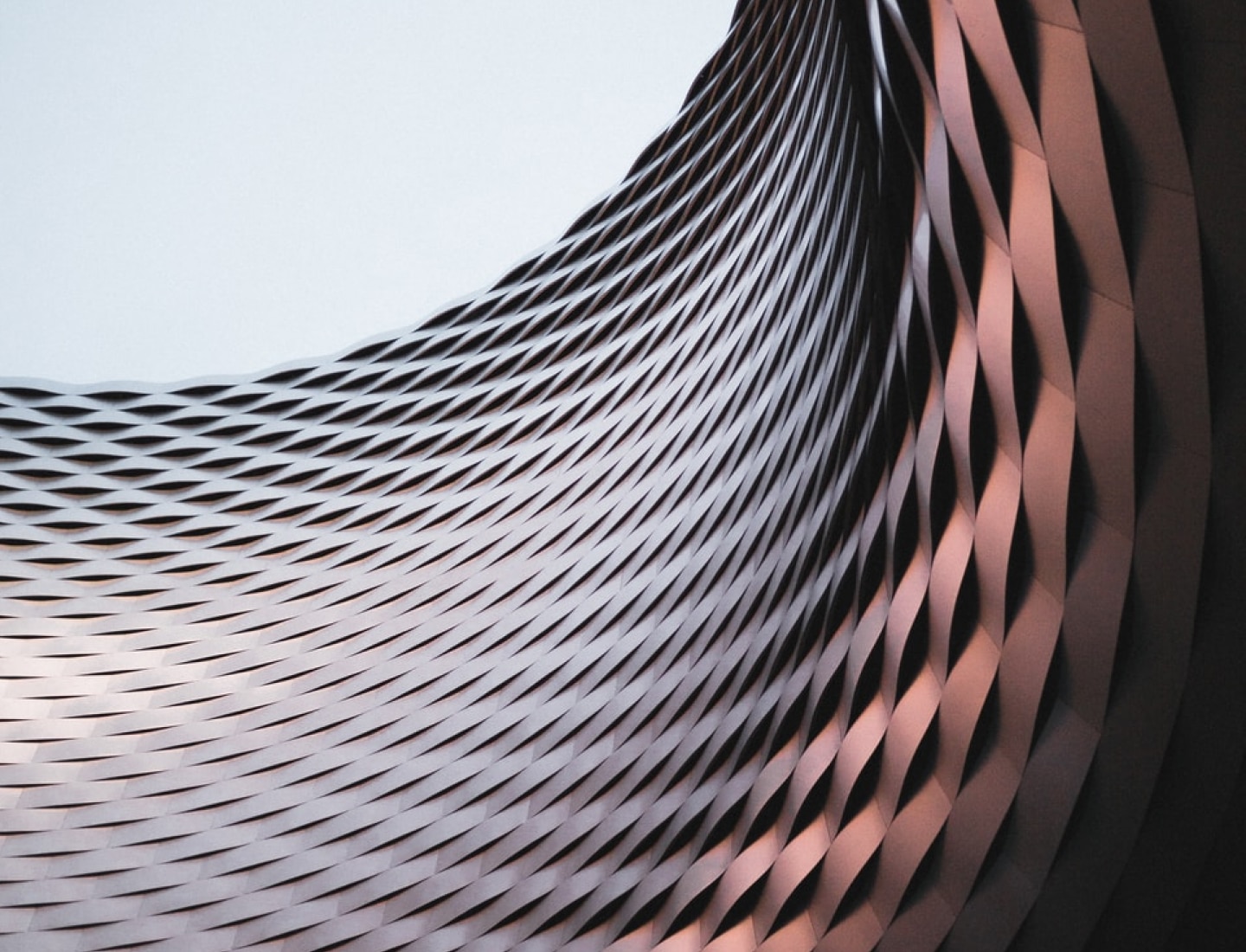 This is cool, but pretty darn weird!
Last week, we hosted the first ever combination Virtual Reality and Livestream events for A/E industry executives. Our New Reality: 2021 Edition broadcast was on Tuesday. On Thursday we hosted our 2021 Q1 M&A Symposium. Not only did we get some awesome feedback from attendees (the inspiration for this week's title) we also learned a thing or two along the way. Here are some nuggets from the week that was.
The year is off to a good start: Most firms are reporting a solid first quarter with backlog holding up. The Texas freeze hit first quarter performance in the state equating to a week or so of lost production. Higher Education is a mixed bag depending on region and the institution's brand and/or endowment. There's quite a bit of "wait and see" to how this sector plays out post-Covid. The travel, leisure and hospitality sectors are coming back on-line…fast. Firms in the food and beverage manufacturing sector are seeing strong demand.
Hope springs eternal: Attendees were cautiously optimistic about messages coming out of Washington about an infrastructure stimulus package. Infrastructure firms were particularly interested in the progress being made on Capitol Hill of a $35 billion drinking water and wastewater bill. (It should be noted that there was decidedly more cynicism about passage of any infrastructure stimulus by the older executives in the VR auditorium.)
Four post-pandemic trends: The A/E industry will be re-shaped by 4 post-pandemic trends – (a) Industry recapitalization, (b) Innovation through digitization and AI, (c) Reimagined relationship with talent and (d) The great U.S. migration.
Four firm types and strategy sets for 2022: There are four A/E firm types headed into the post pandemic world – and for each there is a distinct strategy set to be deployed for success and value creation as follows:
Firm Type
Strategy Set
The Unicorn
Press Your Advantage
The "Have Not"
Pivot to Growth
The Dreamer
Expand the Brand
The Traditional
Invest to Transform
A big bounce in confidence: Inter-state M&A activity is off the charts. The percentage of deals taking place across state lines (buyer in one state acquiring a seller headquartered in another) stands at over 68% for the year. This speaks to the optimism of buyers and their determination to deploy their capital to diversify geographically.
Same probability it's raining in Ireland right now: 80 percent. Four out of five acquisitions or recapitalizations of ENR Top 500 firms are completed by a Private Equity, Family Office, or a publicly traded firm. The pure employee ownership model of industry leaders continues to evolve and is being supplemented by outside, non-employee equity.
Consolidation momentum: Early last week we crashed through 100 deals for the year– the fastest ever we've hit that milestone. This follows on the heels of the hottest 3rd and 4th quarters on record in 2020 (77 and 80 deals, respectively.) It sure feels like we've moved into a new, hyper-active phase of consolidation.
As predictable as death and taxes: As a mature industry, two defining characteristics of the A/E world are business failures and consolidation. Two thirds of A/E firms never make it past the founders and the stats get progressively worse after that. They either go out of business or they sell to provide continuity to clients, opportunities for employees, and liquidity and/or safety for owners.
Private Equity hold times shortening: With a number of high-profile A/E recapitalizations in the news recently, it would appear that our industry is seeing a similar trend to that reported in Pitchbook that showed average hold time of PE investments declining to under five years.
Digital deal-making: Deal processes are unlikely to ever fully return to the way they were pre-pandemic. The most prolific buyers have gotten more comfortable leveraging technology to conduct meetings, due diligence, and other deal processes remotely. Call it the 80/20 rule – 80% of what used to happen in-person can be done faster and cheaper digitally. The movement will lower overall deal costs – a good thing for everybody.
U-S-A! U-S-A! After three consecutive years of decline, the percentage of U.S. deals involving an overseas buyer has ticked up in 2021 to 10%.
M&A Update: This week saw five new deals plus the announcement of a terrific new equity investor for pioneering AEG firm Woolpert.
Registration for our Virtual Reality CEO and Senior Executives Conference in June is open! This first-ever two-day themed VR Conference will focus on Strategy + Execution and M&A/Capitalization. Click here for early-bird pricing. (Re)connect and learn with your peers without the hassle and expense of travelling via fully immersive 3-D Virtual Reality.
VR & Livestream recordings: Click here to purchase a recording of the New Reality: 2021 Edition Broadcast or here to purchase a recording of the Q1 M&A Symposium.
The recordings will provide you with a glimpse of how you can deploy VR technology to facilitate learning and collaboration in your firm – a great way to reduce expenses and lost productivity due to inter-office travel.
Live and in person October Texas M&A Symposium! Our M&A Symposium series is back live and in person starting with our 6th Texas M&A Symposium in Houston this October 21 and 22. Join us as we once again host at the stunning Post Oak Hotel (the ONLY Five Star Hotel & Spa in Houston). Network with A/E executives and investors from Texas and around the nation. Get the latest M&A trends, stats and best practices from industry experts, buyers, and sellers. We're proud to once again partner with our friends at ACEC Texas on this premier industry event. Click here for updates and to be notified when registration opens.
Who we're following on Twitter this week: We loved to see the positive news out of @AIANational on March 24 when the AIA Billings Index turned positive for the first time in a year. In the words of Bill Withers it was….a lovely day.
Questions? Insights? Complaints? Email Mick Morrissey @ mmorrissey@morrisseygoodale.com or call him @ 508.380.1868.
Four Factors to Watch
1. Infrastructure Bill
In Washington, a multipart infrastructure and economic package that could cost as much as $3 trillion is in the works. The initial proposal would include roads, bridges, and other infrastructure, and may also include several climate-change initiatives. Education and other priorities would then take center stage. But there is still plenty of work to do. Republicans will likely bristle at the cost given the $1.9 trillion aid package that just recently passed and are wary of the potential for tax hikes on companies and individuals as a way to finance a new and even more expensive plan. While some Republicans would support infrastructure projects, the price tag and the plan to pay for them would have to be worked out with Democrats. For their part, Democrats are pushing for the administration to strike an agreement with Republicans on infrastructure spending focused on roads, bridges, transit systems and more— which may then open the door to tax measures through reconciliation, since the chances are low that Republicans would agree on potentially substantial tax hikes.
2. COVID-19 Case Numbers
In the last week, the seven-day average of COVID cases increased to 61,500 from 54,700. While still a far cry from the nearly 260,000 cases a day the U.S. was experiencing in early January, spikes happen rapidly. In October, cases doubled from 50,000 a day to 100,000 a day in less than a month. The seven-day average of fatalities dropped slightly from 1,270 to 980, but hospitalizations, which had been steadily dropping in January and February, have plateaued at about 4,800 a day. Seven-day averages of COVID cases dropped in California and Texas, but rose in Florida:
California: 2,900 to 2,600
Texas: 4,200 to 3,800
Florida: 4,500 to 5,000
3. Jobless Claims
According to the Labor Department, first-time weekly claims totaled 684,000, nearly 100,000 fewer than the previous week of 781,000 (adjusted up from 770,000) and lower than the Dow Jones estimate of 735,000. First-time weekly claims have not been under 700,000 since the middle of last March when the pandemic was just beginning to take hold.
Continuing jobless claims dropped to 3.87 million from 4.12 million the previous week.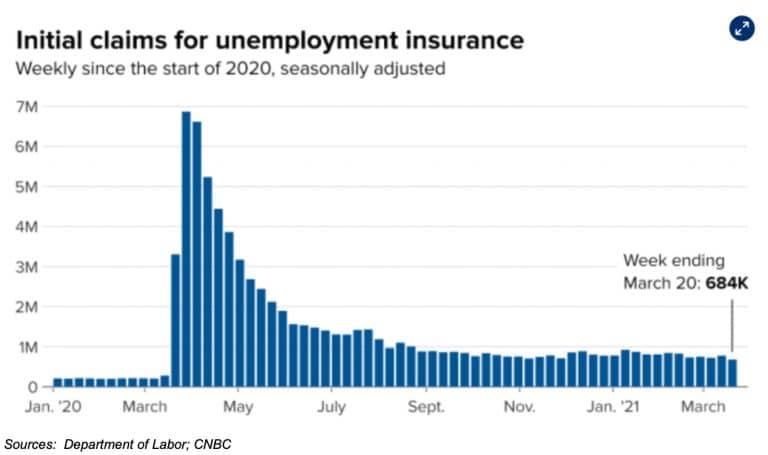 4. COVID Vaccine Update
According to information collected by Bloomberg, 535 million doses in 141 countries have been administered, compared to 413 million doses in 132 countries the week before. The average number of daily doses increased to 14.5 million from 9.5 million the week before. The number of doses delivered is enough to vaccinate about 3.5% of the global population, up from 2.7% the previous week.
To date, 143 million doses have been administered in the U.S., up from 118 million last week. An average of 2.71 million doses per day are now being administered, which is up from the daily rate of 2.46 million last week. At this pace, it will take another four months to cover 75% of the population.
Subscribe to our Newsletters
Stay up-to-date in real-time.