Word on the street > AE Industry Intelligence: Issue 50
AE Industry Intelligence: Issue 50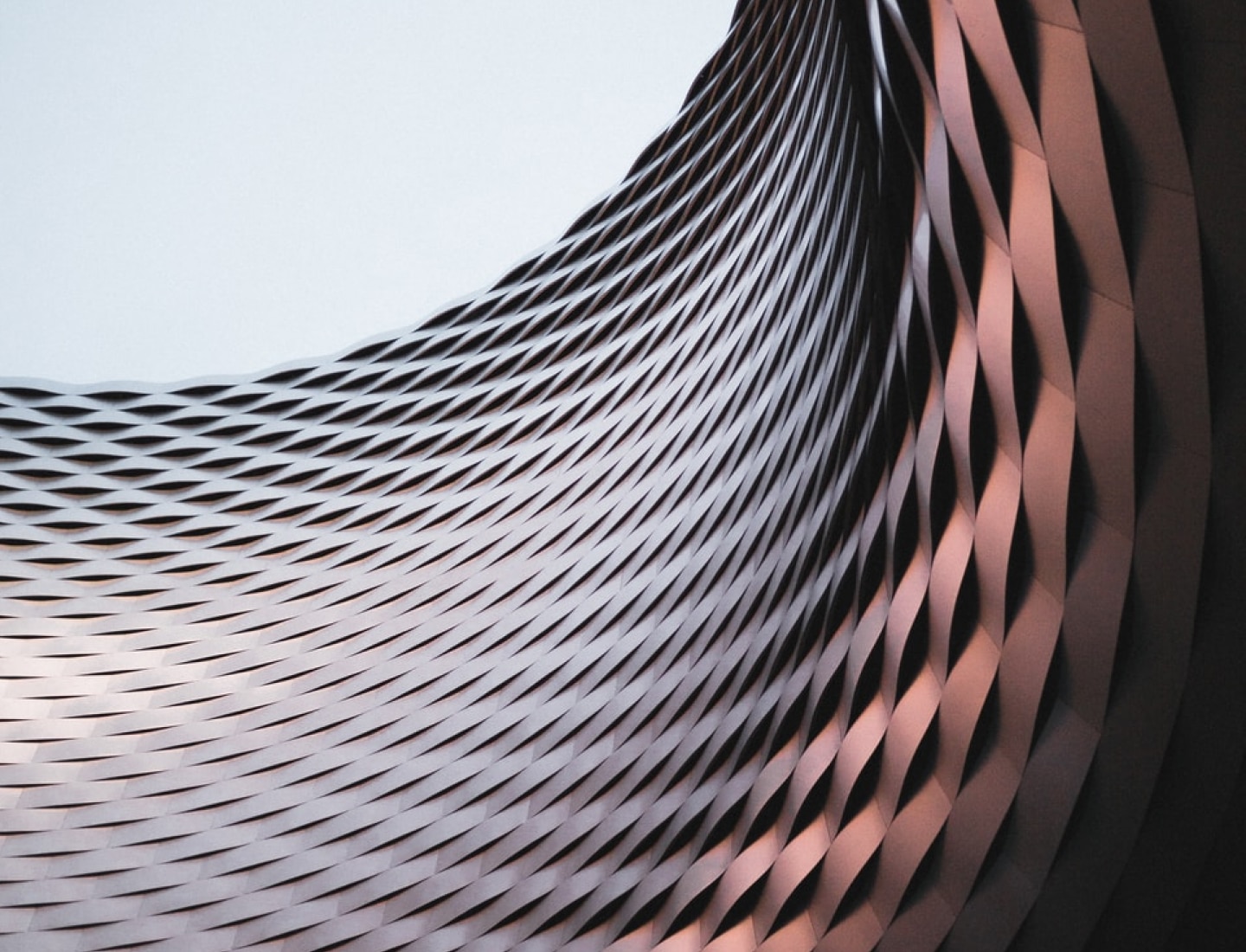 Leading Indicators: Why we're bullish on 2021
Hats off to the folks at the ACEC Research Institute. They are doing a remarkable job advancing the interests of the Engineering and Design industry. Through their recent groundbreaking studies and research they are making clear the industry's economic and strategic importance and contribution to the nation.
What the research says: Their brand new (and must read!) 2021 to 2025 Engineering Industry Forecast is predicting another down year for the industry with output sliding 4%. This follows their assessment of the industry's decline of 7% in 2020. The ACEC research closely aligns with the work done by the team at AIA who continue to report soft business conditions for architects in general, and cautious optimism about a recovery in 2021.
What's the Word on the Street? Here at Morrissey Goodale we've been seeing a different picture of the industry than what the research suggests. More often than not in our strategy, M&A, and executive search work we're encountering firms that not only had record years in 2020 but who are also super optimistic about 2021 – in terms of booked backlog and pipeline of opportunities. In our experience, the biggest challenge for many firms is actually finding the people or acquiring the firms to meet current and anticipated demand in the market. How can the Word on the Street be so different from the research? We were perplexed. (Perplexed I tell you!)
How to explain the disconnect: So, we took a deeper dive on what we have been seeing in the industry to try to match it to the big picture represented in the research. What we concluded is that the overall softness in the industry in 2020 came from dramatic declines in certain sectors (travel, leisure, entertainment, and others) and regions (field services in the Northeast and Mid-Atlantic shut down for a couple of months) that were outweighed by phenomenal performance in other sectors and regions. And while we see this disparity continuing into 2021, it will be in the context of an industry getting back on its collective feet.
Leading indicators point to a phenomenal 2021: We are very optimistic about how the industry will perform in 2021. Our assessment is based on the leading indicators of (a) inter-state M&A activity (which is at record levels and is an indication of confidence on the part of buyers), (b) new Private Equity recapitalizations (an indication of confidence on the part of investors), and (c) hiring activity. We anticipate that when all the numbers from last year are compiled and counted that the industry will report record profits in 2020, and we are confident that performance will be replicated or improved upon this year.
Five performance categories for 2021: For our strategy work, we're allocating industry performance into the following five categories for the year ahead: Continue to Boom, Recovery, Reimagined, Question Mark and Challenged.
Continue to Boom: Sectors that grew through pandemic year 2020 will continue to do so in transition year 2021. These include the red-hot residential sector. Second and third order sectors tied to E-commerce activity will thrive including data centers, warehouses and distribution centers, cargo facilities, cyber security, geospatial and aerospace. The Life Sciences sector will also be strong with demand for research and manufacturing facilities, campuses, and laboratory space.
Recovery: The moribund travel, entertainment and leisure sectors are recovering faster than the final run on the Iron Gwazi. There will be plenty of demand for designers of theme parks, timeshares, resorts, hotels, cruise facilities, and entertainment venues.
Reimagined: Some sectors in this category will continue to be challenged in 2021. However, the opportunities that exist will fall to those A/E firms that understand how facilities will need to be different in the future with respect to contactless interaction, access and egress, ventilation, stakeholder interaction and spacing. Sectors in this category include Workplace, Retail, Healthcare, Commercial, Education, Sports and Entertainment.
The Question Mark: The Federal Government has once again pumped massive stimulus into the economy. Some of this will be directed by states and cities to benefit sectors of our industry. The big question now is whether there will be a Federal infrastructure bill that will further boost state and local spending for transportation, water, power and energy and coastal resiliency. If the Feds get in on the action, it could herald a Golden Era of Infrastructure for the U.S.
Challenged: The Commercial, Office and Workplace sectors overall will be challenged. While there will be some regional bright spots, firms serving these sectors will do well to pivot to adjacent markets. We also continue to be concerned about headwinds in the Oil and Gas sectors in 2021.
Coda: Two weeks ago in our 2021: Systems and people overwhelmed and overloaded article we offered to connect site/civil firms that were under-capacity with firms that needed to outsource work. Well, we were overwhelmed with the response that we got. Firms of every type and size and from every time zone reached out to us. We did our best to make the connections quickly (it took two weeks there was such volume!). We were particularly struck with the number of environmental firms that appear to be under capacity. So, if you are an over capacity civil/site or infrastructure engineering firm and you would like to make a connection with an under-capacity engineering or environmental firm to help you process your work, drop me an email at the address below, and if there is a match we'll connect you.
M&A Update: The industry has now surpassed 100 deals announced for the year. Q1 is on track to be a record for industry consolidation and continues the momentum from the super-heated activity in the second half of last year.
Registration for our Virtual Reality CEO Conference in June is open! This two-day VR conference will focus on Strategy + Execution and M&A/Capitalization. Click here for early-bird registration pricing. Connect and learn with your peers without the hassle and expense of travelling.
VR and Livestream events this week: There's still time to register for this week's VR + Livestream events. On Tuesday we host our New Reality: 2021 Edition Broadcast and on Thursday, March 25 it's our Q1 M&A Symposium. Grab your Oculus headset to fully immerse yourself in the presentations and meet with the Morrissey Goodale team and the other attendees in our VR Auditorium. Or catch the Livestream on your laptop or mobile device. But hurry, VR registration is now limited to folks with Oculus headsets.
In October we return to in-person events with our Texas M&A Symposium. Stay tuned for updates.
Who we're following on Twitter this week: The folks at Parametrix have a terrific social media team. We really enjoyed this clever March 12 tweet from them reflecting on their past year.
Questions? Comments? What's 2021 looking like for you? Would you like to connect with under capacity civil/site or environmental firms? Email Mick Morrissey @ [email protected] or call him @ 508.380.1868.
Four Factors to Watch
1. US Economy
Sectors that were pummeled by the pandemic are bouncing back. Restaurants, hotels, and aviation are perking up fast. Gyms, salons, and spas are also seeing a sharp rise in business.
The increasing number of COVID vaccinations, easing business and state travel restrictions, massive household savings, and multiple rounds of federal stimulus into the economy are igniting the recovery.
2. COVID-19 Case Numbers
In the last week, the seven-day average of COVID cases dropped from 61,400 a day to 54,700. The seven-day average of fatalities dropped slightly from 1,420 to 1,270. Seven-day averages of COVID cases dropped in California, Texas, and Florida:
California: 3,500 to 2,900
Texas: 4,600 to 4,200
Florida: 4,600 to 4,500
3. Jobless Claims
According to the Labor Department, first-time weekly claims totaled 770,000, above the previous week of 725,000 (adjusted up from 711,000) and the Dow Jones estimate of 700,000. The jump is unexpected, but could drop as the economy picks up steam.
Continuing jobless claims stayed relatively flat at 4.12 million.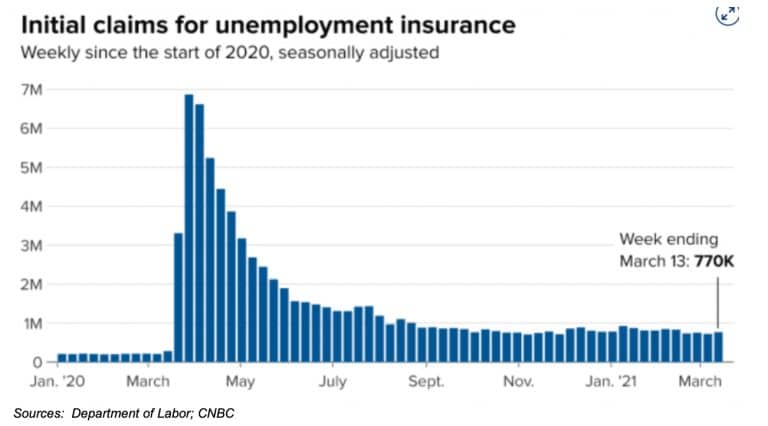 4. COVID Vaccine Update
According to information collected by Bloomberg, 413 million doses in 132 countries have been administered, compared to 356 million doses in 121 countries the week before. The average number of daily doses increased to 9.5 million from 7.23 million the week before. The number of doses delivered is enough to vaccinate about 2.7% of the global population.
To date, 118 million doses have been administered in the U.S., up from 107 million last week. An average of 2.46 million doses per day are now being administered, which is up from the daily rate of 2.39 million last week.
Subscribe to our Newsletters
Stay up-to-date in real-time.