Word on the street > AE Industry Intelligence: Issue 49
AE Industry Intelligence: Issue 49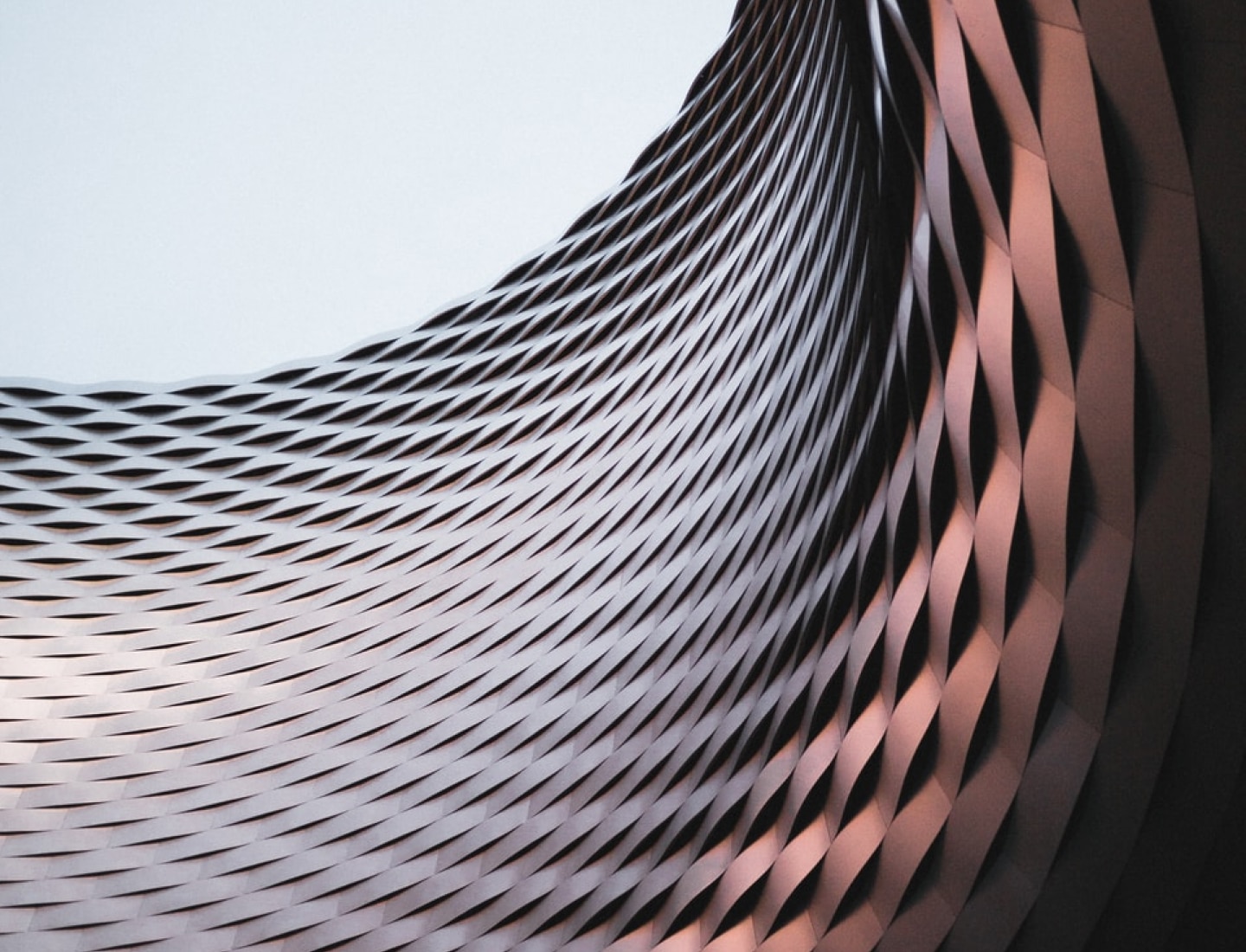 CEOs, it's time to change it up!
My job affords me ample opportunity to experience presentations by the CEOs of some of the leading A/E firms in the world. This year alone I've sat through over 50 of these "show and tells." And I'm here to tell CEOs that if you want your firm to stand out from your competition you need to change things up. Otherwise, you'll continue to look "just like the other guys."
The pitch: Most of the CEO presentations that I view are part of an M&A engagement where we are representing the seller. Typically, there are multiple suitors (leading A/E firms) that are interested in possibly acquiring our client. The standard process is for our client to "meet" initially with these suitors via a 90-minute video call. (Think speed dating, but without the alcohol.) Our client may or may not be familiar with the potential buyer, so this is a great way to test strategic fit and cultural simpatico. The meeting provides the perfect – and often times only – opportunity for the suitor's CEO to present a compelling and engaging description of his firm (90% of the time it's a "him") and make the case why our client should choose to join with them.
The set up: Most of these CEO presentations last between 15 and 20 minutes – more than enough time for a Chief Executive to confidently and succinctly convey what's important to know about the firm he leads and what differentiates it from its peers. Almost all of the presentations are built around a PowerPoint slide deck. During the presentation most of the CEOs are off camera as they talk through the slide deck.
(An important aside) Most of us are made for radio not TV: I'm not going to rehash the advice from my Open Letter to A/E CEOs from July of last year re: communicating via digital channels. But I will say most CEOs still need coaching about how to appear on camera and present via video to effectively represent their firm's brand and distinguish it from competing brands. It's a blind spot for many of them, and it appears no one is stepping up to tell them that and coach them. (#ceosneedhelptoo)
Stunningly similar: What's striking is that ninety-nine-point-nine percent of the time, instead of using the opportunity to differentiate their firm from the competition, most CEOs unintentionally (I assume) deliver a message that essentially says, "we look like everyone else, we speak like everyone else, we operate on the same received wisdom as everyone else, and, before I forget, we really value our people." It's like they are all using the same standard playbook.
Corporate speak: Pretty much, every presentation starts with a (too long) discussion about the firm's history – including a description of the one, two (the most popular number) or three guys who founded the firm and what motivated them to go into business in 1954. There is then a slide that talks about "what's important to us" which is introduced as either 3, 4, or 5 "pillars" that the firm is "built on". These pillars invariably include some variation of "technical expertise" and "people" or "talent". It then moves through a variety of "vital statistics" slides – a veritable blend of words, numbers and icons – (number of employees, offices (do these merit discussion any longer?), services, markets, key clients) intended to describe the totality of firm. The dismount generally follows one or two slides that show revenue and/or profit growth over the past five years. By the time the CEO reaches the end, the narrative presented, and the picture painted — regardless of whether the firm is ENR Top 10 or Top 100, or if it's publicly-traded, private-equity backed or an ESOP, or whether it's A/E, EA or environmental – is "we're pretty much the same as our competition." It's always numbing corporate-speak.
It's a huge opportunity lost: Look, I get it. The CEO feels the need to convey the holistic and total picture of the firm. But by following the conventional linear path and following a safe, "tried and true approach" the presentation only serves to erase any unique aspects of his firm.
Be different AND better: One firm that really knows how to separate themselves from the pack takes a completely different approach. The CEO weaves a narrative based around the people in the firm. She starts by telling a story with a blank slide. "Let me introduce you to Patrick. Patrick has been with us over ten years– that's the average tenure of our under 40-year-old cohort of employees. Patrick works as a designer in our water group which generated $30 million in revenues last year and was our top performing business line accounting for 10% of our business. In that role, he is part of a team of 50 employees based out of our Phoenix and Tucson offices. Patrick is currently working on a 100 MGD wastewater treatment plan for the City of Tucson. "This is the typical size project for this team." As she is telling the story, different features and graphics appear on the slide to describe the business around Patrick – revenues, locations, clients, project photos.
The story continues: "Now, let me introduce you to Jennifer. Jennifer is a project support specialist in our corporate shared services group of 10 employees. She works out of our Denver office, but only 2 days a week. She chooses to spend the other 3 days working from home taking advantage of our flexible work policy and the tech systems that we invest over a $1 million a year updating. Jennifer collaborates with Patrick (remember him?) by providing his team the project support and reports he needs via our ERP to allow him to do his job better and focus on his clients." Again, more graphics, photos and data appear on the slide. You get the picture.
Place your people at the center and keep them there: Using this method the CEO conveys the humanity of the firm she leads. In ten slides, each focused on a particular employee within a different functional area, each related to the one before – she tells the "story" of her firm. In a final 11th slide she brings the ten strands of the story together to show the totality of the firm. The entire presentation is woven around people. It's a radically different approach that differentiates her firm from her competition and sets up a much more engaging conversation with the team she is trying to influence.
M&A Update: The pace of industry consolidation is down 11%. However, this belies the super-heated nature of the market recently. The third and fourth quarters of 2020 saw record activity and that is where Q1 2021 is headed too. The net effect of COVID – which initially caused the M&A market to freeze from March through June of last year, has been to throw more gas on the M&A fire.
March VR and Livestream events: Later this month we'll host the first ever combo Virtual Reality and Livestream events for A/E leaders. On Tuesday, March 23 it's our New Reality: 2021 Edition Broadcast and on Thursday, March 25 it's our Q1 M&A Symposium. Grab your Oculus headset to fully immerse yourself in the presentations and meet with the Morrissey Goodale team and the other attendees in our VR Auditorium. Or catch the Livestream on your laptop or mobile device. But hurry, VR registration closes March 15 (just in time for St. Paddy's Day).
June VR CEO Conference: This June we'll be hosting our third Virtual Reality CEO Conference with new content, format, and even cooler VR features. This two-day conference will focus on Strategy + Execution and M&A/Capitalization. Registration opens this week. Click here to be kept updated.
Who we're following on Twitter this week: The crew at the ACEC Research Institute are pioneering some really cool industry studies. Be sure to give them a follow.
Questions? Comments? Where else do CEOs need some coaching? Email Mick Morrissey @ [email protected] or call him @ 508.380.1868.
Four Factors to Watch
1. US Economy
China's economic growth has outpaced that of the U.S. for many years, but 2021 could see that streak challenged. Economists are revising U.S. growth forecasts due to vaccination rate increases and the recent passage of the $1.9 trillion stimulus package. Goldman Sachs is predicting GDP growth of 6.9% while Morgan Stanley is projecting 7.3% growth, which is closing in on the 8.3% GDP growth rate expected for China.
2. COVID-19 Case Numbers
In the last week, the seven-day average of COVID cases dropped slightly from 62,900 a day to 61,400. The seven-day average of fatalities dropped slightly from 1,730 to 1,420. Seven-day averages of COVID cases dropped in California, Texas, and Florida:
California: 4,700 to 3,500
Texas: 7,300 to 4,600
Florida: 5,400 to 4,600
3. Jobless Claims
According to the Labor Department, first-time weekly claims totaled 712,000, below the previous week of 745,000 and the Dow Jones estimate of 725,000. This number is closing in on the pre-pandemic record of 695,000. Continuing claims dropped by 193,000 to approximately 4.1 million.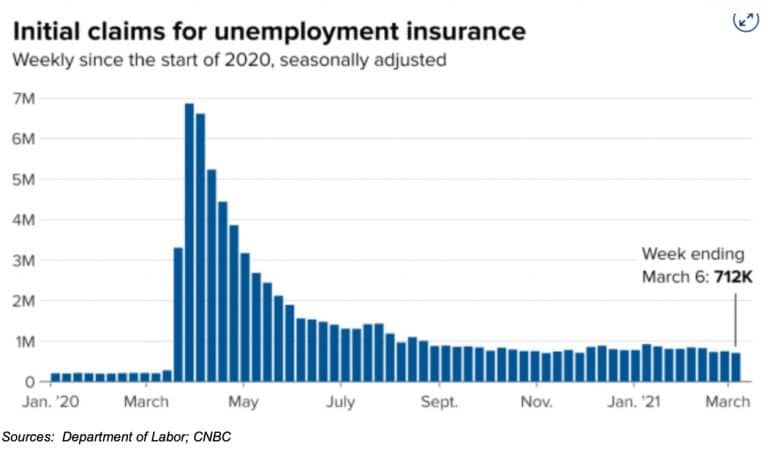 4. COVID Vaccine Update
According to information collected by Bloomberg, 356 million doses in 121 countries have been administered, compared to 291 million doses in 111 countries the week before. The average number of daily doses increased to 9.5 million from 7.23 million the week before.
To date, 107 million doses have been administered in the U.S., up from 85 million last week. An average of 2.39 million doses per day are now being administered, which is up from the daily rate of 2.08 million last week. At this rate, it will take an estimated 5 months to cover 75% of the population with a two-dose vaccine. According to Dr. Fauci, vaccinating 70% to 85% of the U.S. population would enable a return to normalcy.
Subscribe to our Newsletters
Stay up-to-date in real-time.