Word on the street > AE Industry Intelligence: Issue 48
AE Industry Intelligence: Issue 48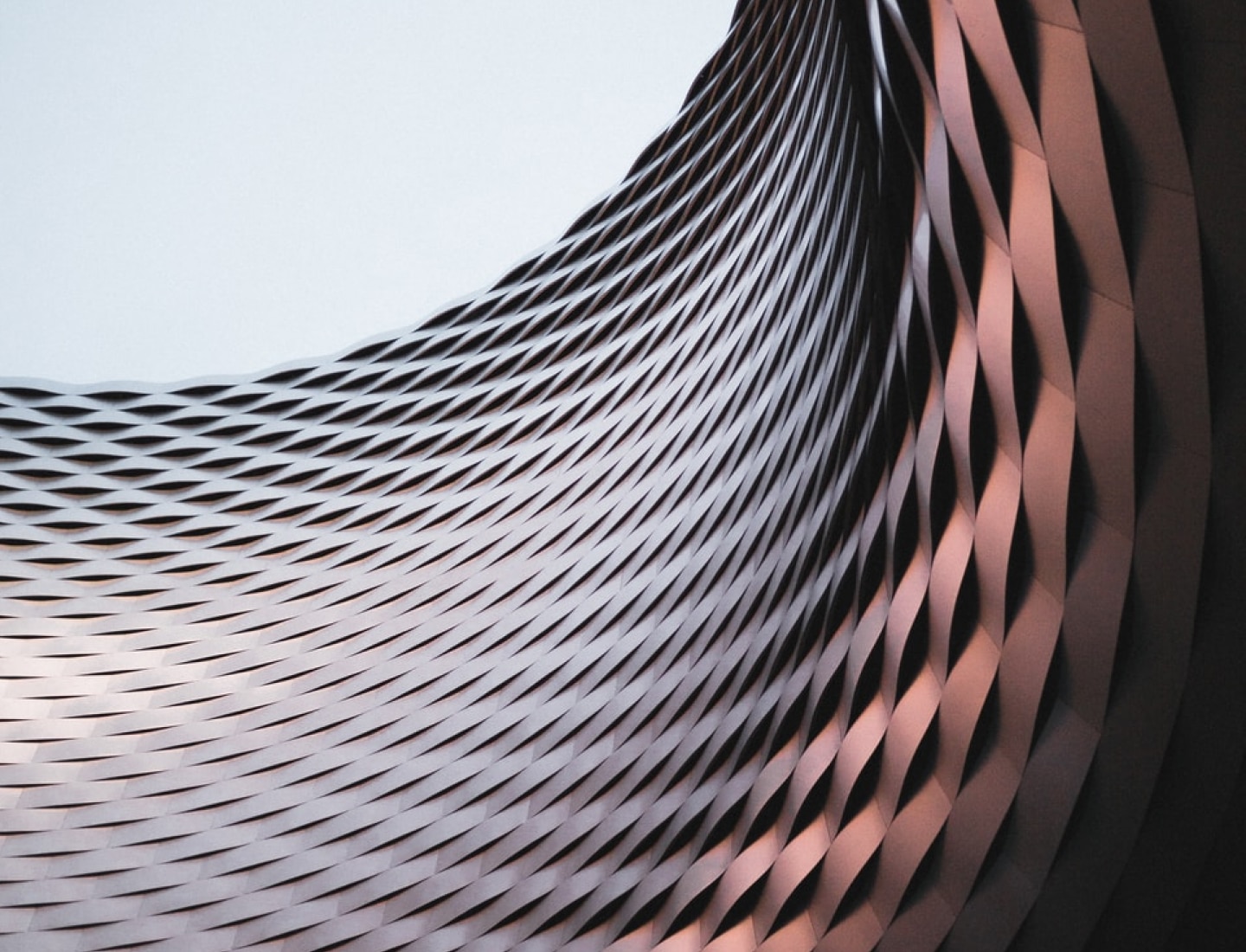 Reading the tea leaves
It's never been easier to lead an A/E firm — the business environment is so predictable. Wait, scrap that….wrong article. The reality is that after experiencing a run of five plus record years, the A/E industry is headed into a decidedly more challenging era. There are multiple trends at play that A/E firm leaders need to be aware of. Some of these are way over the horizon, some we are already in the middle of, some are positive and others more ominous. Here are just a few that keep us up at night here at Morrissey Goodale (where insomnia rules) as we help our clients navigate their New Reality.
M&A Update: By the numbers, industry consolidation in the U.S. is down 12%. However, we are approaching the anniversary of the COVID Freeze when deal-making essentially stopped last year. This year we will power through March and we fully expect 2021 to set a record for deals.
Congrats to our friends at CivilTech! Headquartered in beautiful Cypress, TX, fast-growing infrastructure engineering firm CivilTech announced their merger with pioneering AEG firm Woolpert. We're glad we could help bring these two great firms together!
Something to consider: Giving time off to employees to either receive–or recover from– their vaccine shot. At Morrissey Goodale we're giving every employee a day's paid leave to get or recover from the single-jab J&J vaccine or two days if they get the Pfizer or Moderna vaccine.
March VR and Livestream events: In March we'll be hosting the first ever combo Virtual Reality and Livestream events for the A/E industry. On Tuesday, March 23 it's our New Reality: 2021 Edition Broadcast and on Thursday, March 25 it's our Q1 M&A Symposium. Grab your Oculus headset to fully immerse yourself in the presentations and meet with the Morrissey Goodale team and the other attendees in our VR Auditorium. Or catch the Livestream on your laptop or mobile device. But hurry, VR registration closes March 15 (just in time for St. Paddy's Day).
June VR CEO Conference: This June we'll be hosting our third Virtual Reality CEO Conference with new content, format, and even cooler VR features. This two-day conference will focus on Strategy + Execution and M&A/Capitalization. Registration opens soon. Click here to be kept updated.
Who we're following on Twitter this week: @EdZarenski Ed really knows his stuff when it comes to construction forecasting and spending.
Questions? Comments? Trends that excite or concern you? Email Mick Morrissey @ [email protected] or call him @ 508.380.1868.
Four Factors to Watch
1. Infrastructure Stimulus
Congress is still in the process of passing Biden's $1.9 trillion COVID relief measure, which is expected to head to the president's desk next week. But Democrats are now focusing on a President Biden's "Build Back Better" infrastructure initiative, and the system of 44 energy industry tax breaks is in the crosshairs. Sen. Ron Wyden's (D-OR), who leads the Senate Finance Committee, goal is to replace those tax breaks with three— one each for clean energy, clean transportation fuel, and energy efficiency. GOP lawmakers, however, are signaling to Democrats that their "go-it-alone" strategy on the COVID relief bill damage prospects for collaboration on future legislation.
2. COVID-19 Case Numbers
In the last week, the seven-day average of COVID cases has dropped from about 68,500 a day to 62,900. This compares to 300,000 cases per day in early January. The seven-day average of fatalities continues to remain relatively steady. Seven-day averages of COVID cases dropped slightly in California, Texas, and Florida:
California: 5,500 to 4,700
Texas: 8,000 to 7,300
Florida: 6,100 to 5,400
3. Jobless Claims
According to the Labor Department, first-time weekly claims totaled 745,000 which was lower than the 750,000 estimate from economists surveyed by Dow Jones but slightly higher than the revised number of 736,000 the previous week. Continuing claims dropped by 124,000 to approximately 4.3 million.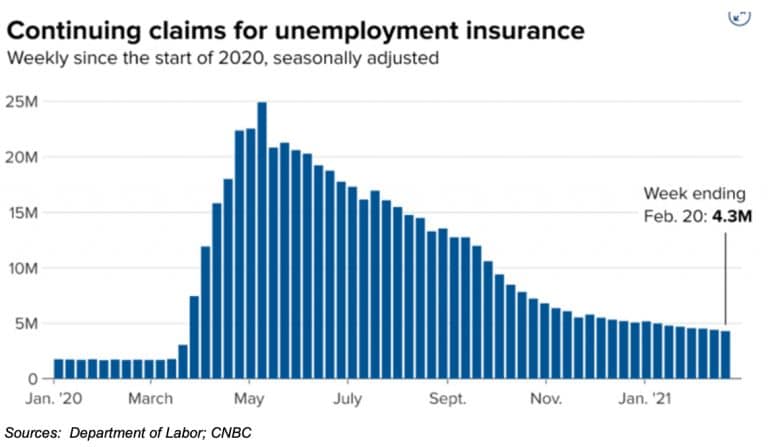 4. COVID Vaccine Update
According to information collected by Bloomberg, 291 million doses in 111 countries have been administered, compared to 236 million doses in 101 countries the week before. The average number of daily doses increased from 6.67 million to 7.23 million.
To date, 85 million doses have been administered in the U.S., up from 72.8 million last week. An average of 2.08 million doses per day are now being administered, which is up from the daily rate of 1.65 million last week. Across the U.S., 25.6 doses have been administered for every 100 people and 74% of the allotment delivered to states thus far have been administered, compared to the previous week of 21.9 doses per 100 people and 78% of the allotment.
Subscribe to our Newsletters
Stay up-to-date in real-time.