Word on the street > AE Industry Intelligence: Issue 46
AE Industry Intelligence: Issue 46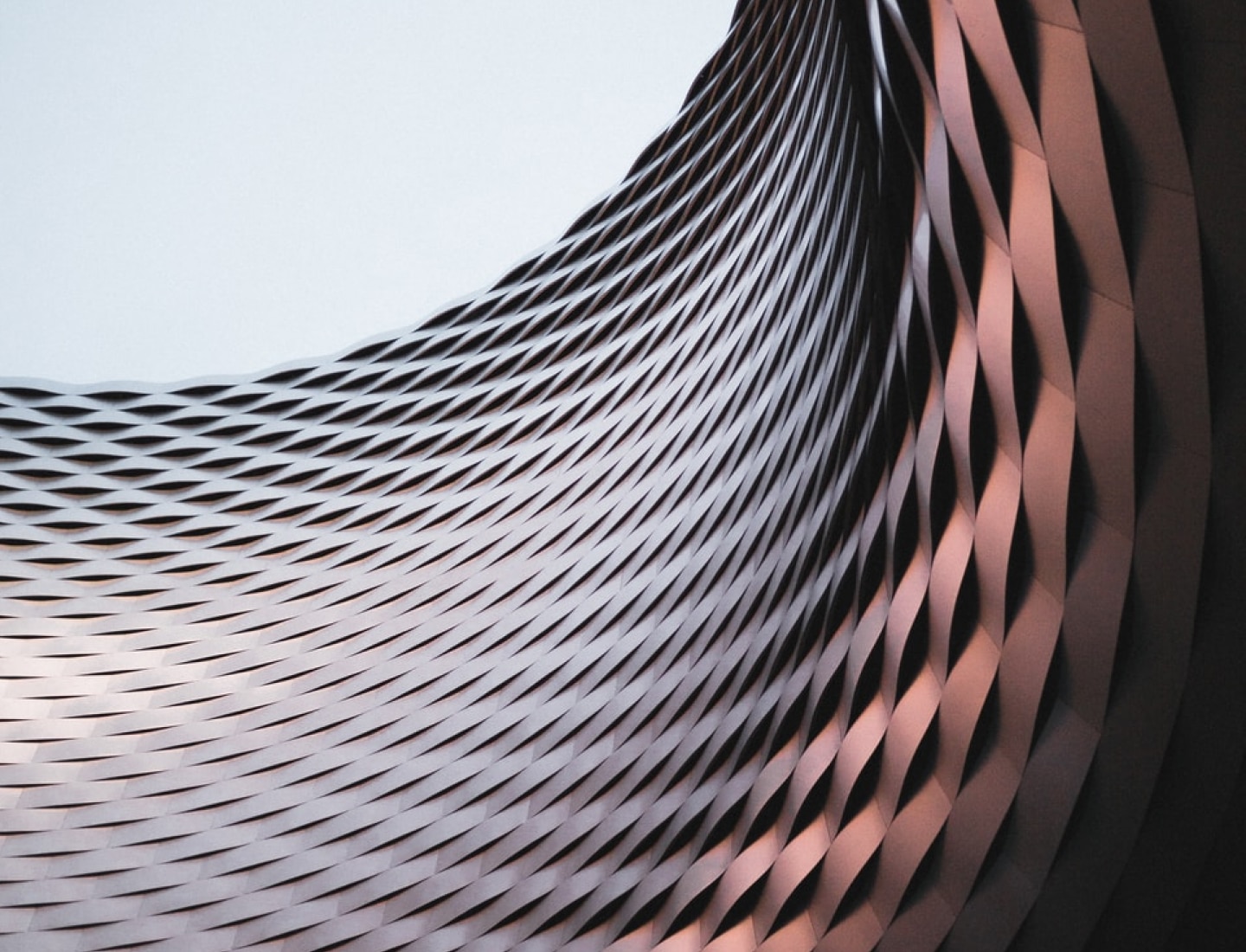 Dispersion: Three massive waves of disruption ahead for the A/E industry
Love him or loathe him (I'm in the first camp) the acerbic Scott Galloway – Professor of Marketing at NYU Stern School of Business, host of The ProfG Show podcast, co-host of the Pivot podcast, and serial entrepreneur – has a knack for identifying and framing trends and enjoys making some thought-provoking predictions about them. He sees the trend of Dispersion as having an equally important impact on the U.S. economy as Globalization and Digitization have had in the past. If he's right, then it will lead to massive disruption in the A/E industry with first and second orders of effect.
What is this Dispersion you speak of? Dispersion is the reshaping of distribution removing unnecessary friction and cost. Essentially cutting out the middleman.
There are three Dispersions in particular that will impact the A/E Industry: All three were in play to some extent prior to the pandemic and have been accelerated by it. The first is immediately apparent, the second and third are less so – and A/E firms will need to factor them into their post-pandemic business strategies.
Dispersion #1 – HQ: Last spring the A/E industry – along with most of the rest of the economy – packed up our offices (although we are sure there are still a few fridges in the Bay Area that have yet to cleaned out) and took part in the great 2020 migration to work from home. And over the past year the psyche of the professional class workforce has been changed forever. When lockdowns and distancing regulations are thankfully a thing of the past, "working" will never be the same again. While many employees will be thrilled to return to offices to meet their friends and future life partners (about one in five married couples meet at work), an estimated 20% to 30% will not. And this cohort will expect much more flexibility in how and where they work. This is the dispersion of headquarters (HQ).
First order effect for the A/E industry: Working from home has mobilized a $3 trillion dollar reallocation of capital from the $12 trillion commercial real estate sector to the residential eco system. This demand destruction is real and structural. Commercial real estate – especially office buildings – will shrink, be reimagined and repurposed. A/E firms with business units that read "Workplace" or "Corporate" or "Commercial" will face a smaller, retooled and more competitive market post pandemic. At the same time, A/E firms with end-markets that read "Community Development" or "Residential" or "Multi-family" will see greater demand for new and improved housing stock. Both sectors will see a greater emphasis on Phygital designs – those that blend the physical and digital worlds. Overall, this shift will favor smaller A/E firms.
Second order effect for the A/E industry: The A/E firm of the future will "work" through a blend of employees that collaborate in-person, via 2-D virtual, in Augmented Reality and in 3-D fully immersive VR. Where pre-pandemic a manager may have made 10 trips annually for training and development, in 2022 she will make half that number and replace the balance with virtual or VR meetings. Why? Because she realized during the pandemic, she didn't have to travel to get the same outcomes and that she could be more cost effective virtually. Office footprints will be reduced – in extreme cases by 90% (there are some REALLY visionary A/E firm leaders out there) — but more likely by 30% to 50%. Lease costs will be lower. Fixed office space will be substituted with on-demand collaboration space (via WeWork or Regus or Airbnb). Startup A/E firms will delay or eschew office investments completely – since it will no longer be a point of pride to "have your name on the door" – as there will be no door. Bricks and mortar as a percentage of revenue for A/E firms will drop from 6% – 8% to 2%- 4%.
Dispersion #2 – Healthcare: Industries with low net promoter scores (NPS) are ripe for dispersion. Customers tire of dealing with inefficiencies. The Healthcare industry has a woefully low NPS – hence the massive dispersion that it is facing. Thirty percent of healthcare spending is on hospitals and hospital services, 20% on physician and clinical services, and 10% on retail prescription drugs. During the pandemic 99% of people who contracted, endured, and overcame the virus or who have received vaccines never set foot in a hospital, doctors office or pharmacy. Telehealth visits jumped from less than 1% of visits to a doctor in the U.S. to 14% in April 2020. Over the past year the delivery of healthcare services has been dispersed from the physical world by digital means. This is a huge time saver for the health services consumer. The trend will continue.
First order effect for the A/E industry: Much like the commercial real estate sector, the medical office sector will shrink and be repurposed as more services are delivered virtually than in person. The ubiquitous Walgreens and CVS pharmacies will shrink (impacting mall design and rents) as prescription drugs get ordered online and delivered by drones. Design firms will face headwinds and cross currents as this sector declines in importance as a physical asset and is reimagined and repurposed.
Dispersion #3 – Higher Education: This is the dispersion away from the artificial constraint of campuses to deliver education through technology. Questioning the value of university campuses and administrators is a major third rail topic and there are major institutional and emotional factors resisting change. However, for years the math around higher education has failed to add up. The pandemic has pulled back the curtain on the business model of academia. Universities have high fixed costs and strong unit economics that work well with growing enrollments. When enrollments decline, they are in trouble. After stagnating for a number of years, enrollments plummeted by 20% in 2020 and that has put massive financial pressure on the higher education sector. The luxury brand universities with the largest endowments will be fine. However, most others will have to change and many will not survive. The physical campus will no longer be the exclusive filter through which all content has to run.
First order effect for the A/E industry: Colleges will deliver a greater amount of learning online. They will increase more scale around the delivery of education beyond traditional physical constraints. This will be necessary to expand enrollments (more fee revenue) while decreasing costs (even more profits). So, their business models will migrate away from the physical world to the digital realm. This will result in more headwinds and crosscurrents for A/E firms that make a living designing campus facilities.
It's not just a river in Egypt. We all know industry disruption is real. We just never think it could happen to us. That's what newspaper owners thought in 2000 just before the internet destroyed their businesses. It's what taxi medallion owners thought in 2012 before Uber arrived in NYC and upended a 100 year old industry. Disruption will take place through dispersion of HQ, Healthcare and Higher Education. And it will impact the A/E industry, and there will – as always – be winners and losers.
2021 Predictions Update: Last November we made our 21 Predictions for 2021. Prediction #14 was that at least one of the industry's publicly traded firms would be taken private. Sure enough on Friday we reported in our weekly M&A update that Aegion (Chesterfield, MO) had agreed to be taken private.
M&A Update: In addition to Aegion agreeing to be taken private by affiliates of New Mountain Capital seven other deals were reported including three in California.
2020 M&A Year in Review: Our 2020 M&A Infographic gives you insight into all of last year's M&A trends and provides our predictions for 2021.
Mark your calendars Part 1: In March we'll be hosting the first ever combo Virtual Reality and livestream events for the A/E industry. On Tuesday March 23 it's our New Reality: 2021 Edition broadcast and on Thursday, March 25 it's our Q1 M&A Symposium. Strap on your VR goggles to fully immerse yourself in the presentations and meet with the MG team and the other attendees in our VR Auditorium. Or catch the livestream on your laptop.
Mark your calendars Part 2: This June we'll be hosting our third Virtual Reality CEO Conference with new content, format and even cooler VR features. Registration opens soon. Click here to be kept updated.
Texas: We're supporting Feeding Texas as they operate food banks for those in need due to the weather, energy and water crisis in the state.
In memoriam: It was with great sadness that we learned of the passing of Steven Stuebs from complications due to Covid-19. Steven was the President of Avid Engineering of Palm Harbor, FL. He was a lovely and kind man, and he will be missed.
Questions? Comments? What dispersions do you see coming down the pike? Email Mick Morrissey @ [email protected] or call him @ 508.380.1868.
Four Factors to Watch
1. Economy
The central bank reported on Friday that the Federal Reserve actions will continue to support the U.S. economic recovery. It appears interest rates will be held near zero at least through 2023. Last month the Fed indicated they would continue to buy about $120 billion in bonds a month until employment and inflation reflect significant progress.
2. COVID-19 Case Numbers
In the last week, the seven-day average of COVID cases has dropped from about 91,000 a day to 73,000. The seven-day average of fatalities continues to remain relatively steady, but numbers should begin reflecting the drop in daily cases fairly soon. Seven-day averages of COVID cases in California, Texas, and Florida dropped in all three states last week:
California: 9,700 to 7,500
Texas: 10,600 to 5,500
Florida: 7,100 to 6,100
3. Jobless Claims
According to the Labor Department, first-time weekly claims totaled 861,000 which was higher than the 773,000 estimate from economists surveyed by Dow Jones and slightly up from the revised number of 848,000 the previous week. Continuing claims also dropped by 64,000 to just below 4.5 million.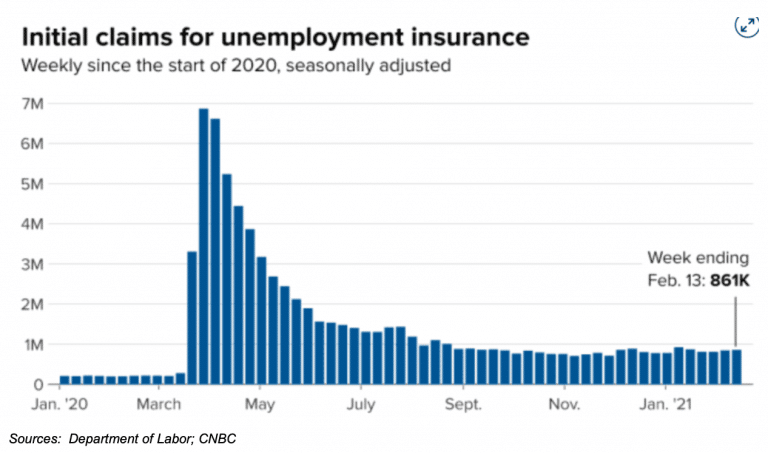 4. COVID Vaccine Distribution
According to information collected by Bloomberg, 193 million doses in 87 countries have been administered, compared to 173 million doses in 77 countries the week before. The average number of daily doses increased from 5.96 million to 6.47 million.
To date, 59.1 million doses have been administered in the U.S., up from 53.8 million last week. An average of 1.58 million doses per day are now being administered, which is slightly down from the daily rate of 1.68 million last week. Across the U.S., 17.8 doses have been administered for every 100 people and 81% of the allotment delivered to states thus far have been administered, compared to the previous week of 16.4 doses per 100 people and 77% of the allotment.
Subscribe to our Newsletters
Stay up-to-date in real-time.