Word on the street > AE Industry Intelligence: Issue 44
AE Industry Intelligence: Issue 44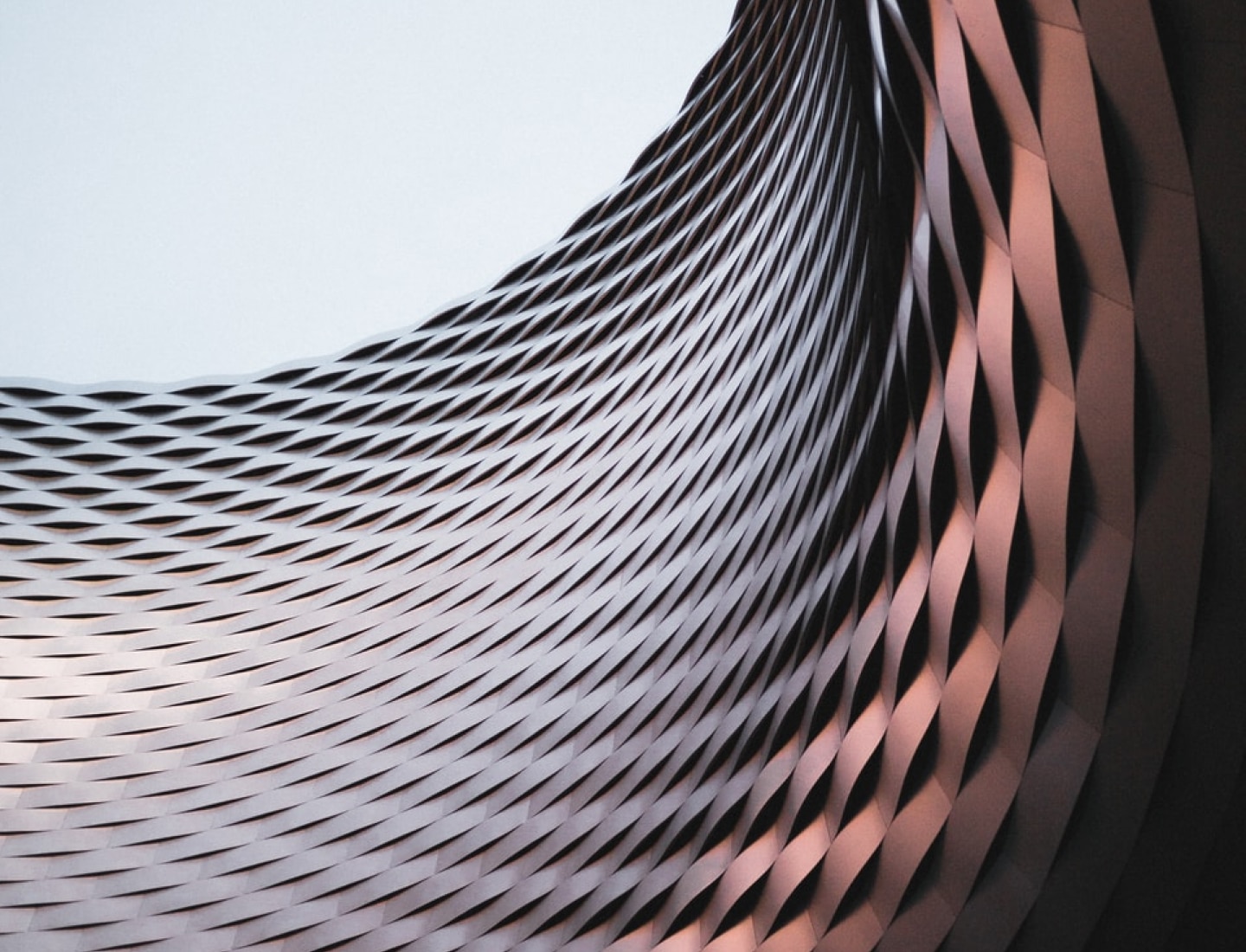 All-employee meeting: 2022 edition (part 1 of 2)
It's February 8, 2022. The world is back to normal – this is AWESOME! You're hosting your firm's first all-employee meeting of the year. As you do, you think back to the all-employee meeting you held on February 8, 2019— way back when the world was "normal" and compare notes.
Your commute 2019: As you had for 15 years, you drove your GMC Yukon to the office. Traffic was worse than ever. Like most of the country you were frustrated that Tom Brady and the New England Patriots had just beaten the LA Rams in Super Bowl LIII. "At least he'll retire now and we'll never have see him play football again!" you declared at your packed neighborhood Super Bowl party. As you crawled along the highway on your one-hour commute, you blasted the Hamilton soundtrack looking forward to the March 2020 trip you had just booked to NYC see the production on Broadway. 2020 was going to be the best year ever!
Your commute 2022: You're running the meeting from your soundproofed, well-lit home office. You only commute into the office during "core hours" on "shoulder days" as defined in the Safely Back To The Office plan you paid the ergonomic safety consultant $50,000 for. You've never fully understood the plan (nobody in your firm does), but you pretend to because it's important to project leadership. Since this isn't a shoulder day, your commute consists of 30 minutes of pre-sunrise meditation with Headspace and another 30 minutes of yoga via Mirror. You spill your chai tea (a new habit you developed in 2020) when you read that Brady has just won a second consecutive Super Bowl with Tampa Bay.
Meeting kick off 2019: At headquarters (everyone knew it was headquarters because that's where all of the corporate staff were located), managers and employees filled the new training room. There was not an empty seat. You were super proud of the investment the firm had made converting a basement conference room to a space dedicated to learning and development for all employees. Your three satellite offices were connected to the meeting via a video conference feed via a HUGE flat screen TV monitor. The audio never seemed to work and there was a terrible delay on the feed from the Duluth office. You resented the $35,000 that you spent on all of the technology. But apparently employees liked to feel "connected" so you OKed the investment and made up for it by striking your IT Director's request to purchase an enterprise version of Teams. That IT budget was getting out of hand you thought to yourself. As always you kicked off the meeting with a safety moment.
Meeting kick off 2022: As you have since the Spring of 2020, you open your laptop (it's always on – you haven't actually turned off in over 18 months) and welcome everyone on Teams. Your Texas and Florida folks are– for the most part– in their offices. Your headquarters is about 30% full (who knew so many folks in so many age groups valued flexibility over the commuting and an opportunity to have "water cooler" moments.) The 30 people you've hired since March 2020 across four time zones and who have never been inside one of your offices are all on Teams and clearly multi-tasking (you surmise they are probably checking out new positions on Indeed since you're tracking higher turnover rates with this cohort). As you have for the past year, you kick off the meeting with an inclusion moment to acknowledge your employees who have chosen not to get the vaccine.
First order of business 2019: You updated everyone on the space constraints at headquarters. Everyone would need to double up in the perimeter offices and workspaces were to be made smaller to fit more folks in. Someone piped in and asked "What about letting us work from home instead? Wouldn't that help with the office space issue?" You paused before you answered. You'd never trusted that anyone could work effectively from home – especially millennials. Those slackers were sure to abuse that privilege. You replied, "There's really no way technically we could have people work from home – that would take years to plan and set up effectively."
First order of business 2022: You announce the dramatic savings the firm has realized by reducing the office space that it leases. You're also closing the Duluth office since the office manager and employees all voted that they didn't want to come into the office and that if they were required to do so they would go work for your competitor. One employee at headquarters (which has been renamed Office A since all of the corporate staff have moved down South) pipes up and asks, "Is it true that shoulder days will be expanded, and if so what will that mean for core hours for the designers?" You have no idea how to respond, so you refer the question to your Chief People & Empathy Officer and move on to the next topic – Sales.
To be continued next week…..
M&A Update: This week saw another dozen M&A announcements. We'll be breaking down all the trends and stats from last year in our 2020 M&A year in review coming soon.
Mark your calendars Part 1: In March we'll be hosting the first ever combo Virtual Reality and livestream events for the AE industry. On Tuesday, March 23, it's our New Reality: 2021 Edition and on Thursday, March 25, it's our Q1 M&A Symposium. Strap on your VR goggles to fully immerse yourself in the presentations and mingle with the team and the other attendees in our VR Auditorium. Or catch the livestream on your laptop. The choice is yours. To see reviews of our past VR events click here.
Mark your calendars Part 2: This June we'll be hosting our third Virtual Reality CEO Conference with new content and features. Registration opens soon. Click here to be kept updated. To see reviews of our past CEO VR Conferences click here.
Questions? Comments? Suggestions for how all-employee meetings will be different in 2022? Ideas on whether Brady is the GOAT? Email Mick Morrissey @ [email protected] or call him @ 508.380.1868.
Four Factors to Watch
1. Economy
If vaccines can indeed turn the tide against the pandemic, consumer spending could begin to turbo-charge the economy as soon as April. There is significant pent-up demand for many services that have been put on hold in the last year. With an extra $1.6 trillion in savings and government aid, expect dining, travel, elective surgeries, and entertainment venues, like movie theaters, arenas, and ballparks, to come back strong. Even clothing will see demand as people begin to venture out more and more for both work and pleasure. Some sectors that benefitted from the pandemic, like grocery stores and auto manufacturers, will level off but remain healthy overall.
2. COVID-19 Case Numbers
In the last week, the seven-day average of COVID cases has dropped from 151,000 a day to under 126,000. Unfortunately, the seven-day average of fatalities has remained steady; however, it is a lagging indicator and the hope is those numbers will drop in the coming weeks. Seven-day averages of COVID cases in California and Florida dropped while Texas saw a slight increase:
California: 20,800 to 13,900
Texas: 17,200 to 17,800
Florida: 11,400 to 8,300
3. Jobless Claims
According to the Labor Department, first-time claims totaled 779,000 for the week ended that was below the 830,000 estimate from economists surveyed by Dow Jones and down from the revised number of 812,000 the previous week. It was the lowest recorded since November. Continuing claims also dropped by 193,000 to 4.6 million— compared to the pandemic-era peak for continuing claims of 24.9 million recorded back in early May.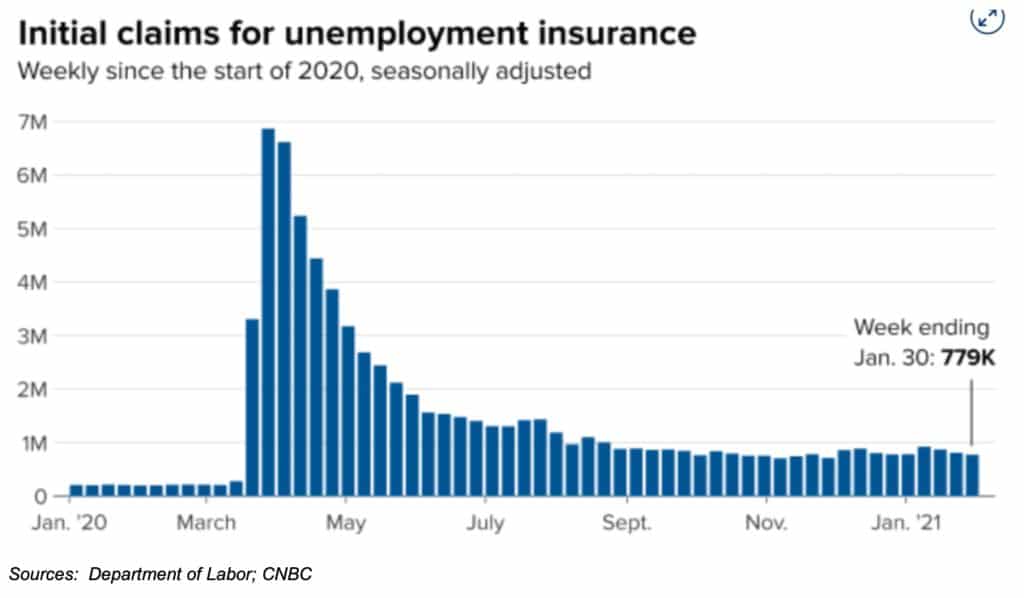 4. COVID Vaccine Distribution
According to information collected by Bloomberg, 128 million doses in 73 countries have been administered, compared to 94.4 million doses in 61 countries the week before. The average number of daily doses increased slightly from 4.47 million to 4.69 million.
To date, 40.5 million shots have been given in the U.S., up from 30.5 million last week. An average of 1.43 million doses per day are now being administered compared to 1.35 million last week. Across the U.S., 12.3 doses have been administered for every 100 people and 68% of the allotment delivered to states thus far have been administered, compared to the previous week of 9 doses per 100 people and 61% of the allotment.
Subscribe to our Newsletters
Stay up-to-date in real-time.