Word on the street > AE Industry Intelligence: Issue 41
AE Industry Intelligence: Issue 41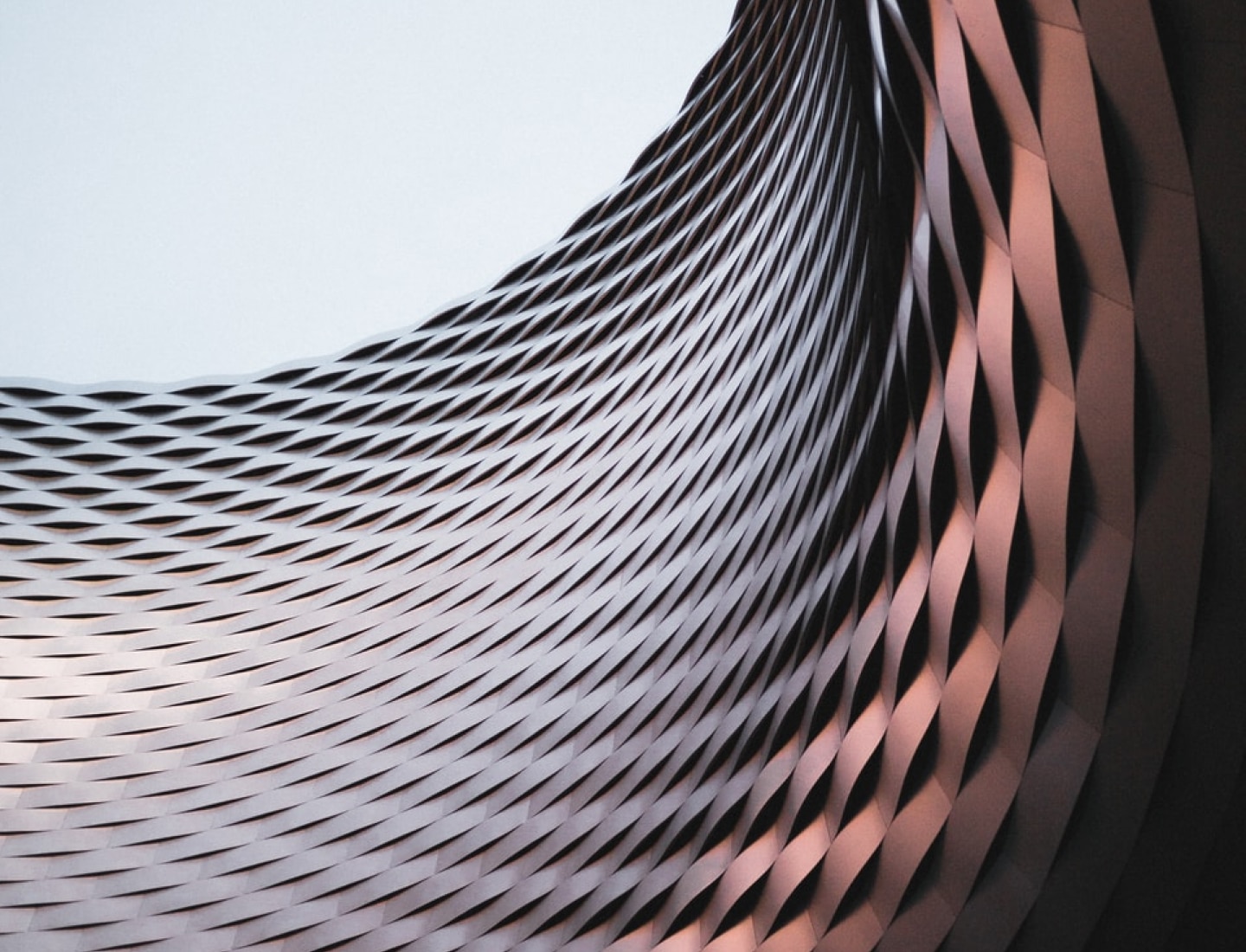 Innovate or Lose
Innovate or lose. 2020 was the year that innovation moved from "nice to have" to "need to have" throughout the industry. From remote working models to the digitization of…well practically everything…firms implemented new ideas to not only weather the pandemic, but indeed thrive through it. Industry innovation will accelerate in 2021 and beyond, championed by younger leaders and new capital models.
Just like Gaul – Innovation can be divided into three parts. Innovation for efficiency, innovation for effectiveness, and innovation for competitive advantage. Let's be clear— innovation is NOT the deployment of technology. But technology has allowed— and in many cases been the catalyst for— A/E firms to translate ideas into increased efficiencies, improved effectiveness, and competitive advantages in 2020.
Innovation for efficiency. The examples of efficiency-driven innovation that most immediately spring to mind involve how most A/E firms have successfully used off-the-shelf 2-D platforms such as Teams to foster connectivity between employees and with clients. A small but growing number of A/E firms are using both VR and AR to also increase efficiency and reduce errors in planning and design. Less obvious but more intriguing is how industry pathfinders are using technologies to increase operational efficiencies for their clients. A great example of this is how engineer Borton Lawson (Wilkes-Barre, PA) in partnership with its sister firm Precise Visual Technologies optimizes business efficiencies that directly impact the bottom line of their customers through digital transformation.
Innovation for effectiveness. Throughout 2020 and into this post-vaccine year, there have been many innovations to engage employees more effectively. Buoyed by strong profits and eager to deploy cash, we've seen firms provide employees with unlimited annual subscriptions to services such as Peloton and Hulu and funded online accounts to stores such as Restoration Hardware for everything needed for an ergonomic home office (all three benefits/innovations could be considered essential under "Health & Wellness" in this New Reality for the A/E workforce). Still others have provided all of their employees with Oculus Quest 2 headsets to not only reward them (what a cool year-end gift!) but to also set up the platform to deliver highly effective training and development in a completely new way in 2021.
Innovation for competitive advantage. The pandemic has turbo-charged all pre-existing trends. Prior to the pandemic, many A/E firms— driven by a strategy to be a consultant of choice— were looking for innovative ways to better meet their clients' needs. More imaginative firms were anticipating challenges and opportunities that their clients had not even considered and were experimenting with solutions and services accordingly. Examples of innovations that have created sustainable competitive advantages are industry leader Terracon's (Olathe, KS – ENR #22) Stage1 Site Selection Tool, and RESPEC's (Rapid City, SD) award-winning Big Sioux River Flood Information System (BSRFIS) which exemplifies the firm's innovation focus of transforming data into knowledge.
Conventional wisdom is that larger firms are better positioned to foster innovation. They have the capital to do so and (presumably) access to a deeper, more diverse bench of talent (good read here on why diversity is important for innovation). However, it's not that simple. Many of the largest industry players are saddled with a top-down 1950s command-and-control organization models that are designed to perpetuate norms and mistakes— neither of which tend to foster innovation or creativity. Plus, in most of these larger firms the profit center leaders rule the roost— and for most of them, the desire to max out annual bonuses for themselves and their teams invariably beats out the argument to invest in innovation for the long term.
That's why there is an accelerating trend of innovation-driven M&A in the industry. Most innovation is happening in smaller, more nimble firms. With younger leadership teams that are intentionally unburdened by legacy organization models, and in many ways closer to their clients than the big industry brands, innovation is thriving among firms in the $5 million to $25 million revenue range. However, they often run into to capital model limitations. Therefore, we are seeing an increase in innovation-driven deals in the industry.
Innovation begins— and far too often ends— in the C-suite. But that's not where the magic happens. The C-suite needs to recognize the imperative for firm-wide innovation and provide the cultural "permissions" and resources— including capital— to foster it. The challenge for our industry is that many in the C-suite still see themselves as leading an architecture or engineering or environmental firm. In the future, the most successful firms in our industry will belong to digital and tech firms that plan, design, and engineer— requiring a completely different leadership mindset.
Industry consolidation continued at a healthy clip last week. Among the 14 deals announced in the U.S., two stand out in particular. The first is Terracon's acquisition of California environmental compliance and engineering specialist Burleson Consulting, indicating the importance of the West Coast markets. The second is GBA's acquisition of Compli, an expert in the dynamic and growing Life Sciences market.
If you have questions about this week's "Word on the Street," or need help planning for or navigating the New Reality, call Mick Morrissey @ 508.380.1868 or email him at [email protected].
Four Factors to Watch
1. Stimulus
President-elect Joe Biden plans to unveil details of a major US infrastructure stimulus plan in February in his first appearance before a joint session of Congress after announcing his first step of massive fiscal stimulus. Biden outlined a "step one" $1.9 trillion stimulus proposal called the "American Rescue Plan" to provide direct payments to individuals, an extension of enhanced employment benefits, financial aid for states and cities, and funds for coronavirus vaccine distribution, testing and prevention efforts.
In February, Biden will present to Congress a separate "Build Back Better Recovery Plan" focusing on infrastructure investment with an emphasis on green initiatives. It will also cover manufacturing, innovation, research and development and clean energy. The president-elect wants to pass a bill in his first 100 days in office, ideally with GOP support, but will use budget reconciliation.
2. COVID-19 Case Numbers
After cresting at over 300,000 daily COVID cases on January 8, totals have been dropping in the last several days and were under 170,000 as of January 17. Fatalities, which were at an all-time high of over 4,400 last week dropped to 1,730. Arizona, California, South Carolina, Rhode Island, and Oklahoma are among the hardest-hit states. However, a more aggressive strain of the virus appears to be making its first appearances in the US and could drive numbers up again.
3. Jobless Claims
According to the Labor Department, first-time claims for unemployment insurance increased to 965,000 last week as signs of a slowdown in hiring due to pandemic restrictions grow. Dow Jones projected 800,000 claims. The previous week's total was 784,000. Continuing claims also increased 199,000 to 5.27 million.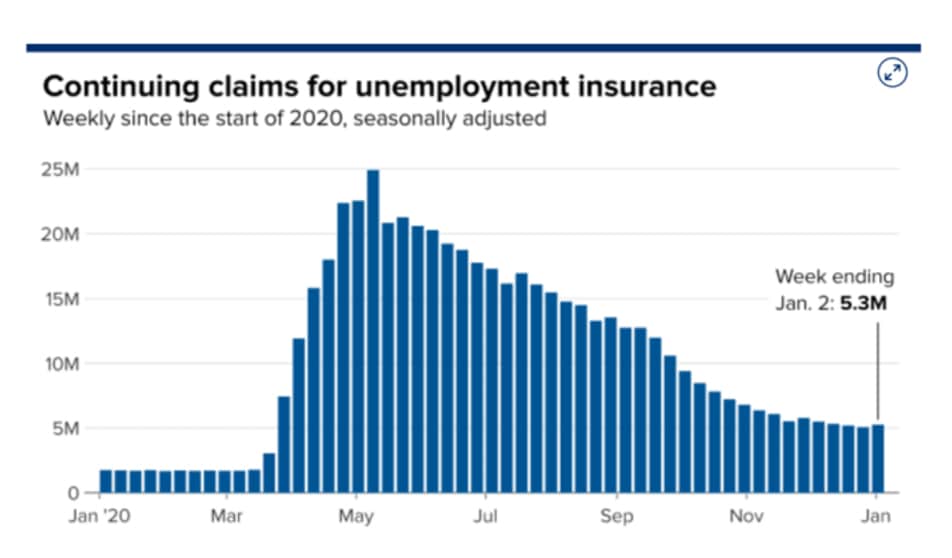 4. COVID Vaccine Distribution
According to information collected by Bloomberg, more than 42.2 million doses in 51 countries have been administered. The latest rate was roughly 2.43 million doses a day, on average. Vaccinations in the U.S. began Dec. 14 with health-care workers. To date, 14.3 million shots have been given (about 4.2% of the population). In the last week, an average of 898,410 doses per day were administered. The U.S. rollout fell short of federal projections as vaccinations proceeded unevenly across the states. The initial round of shots through early January has been mainly distributed through hospitals and other healthcare institutions. The next phase will involve pharmacies and health clinics, broadening the pool of people eligible for vaccinations. Some states are turning sport stadiums and theme parks into mass vaccination centers, as well.
Subscribe to our Newsletters
Stay up-to-date in real-time.