Word on the street > AE Industry Intelligence: Issue 40
AE Industry Intelligence: Issue 40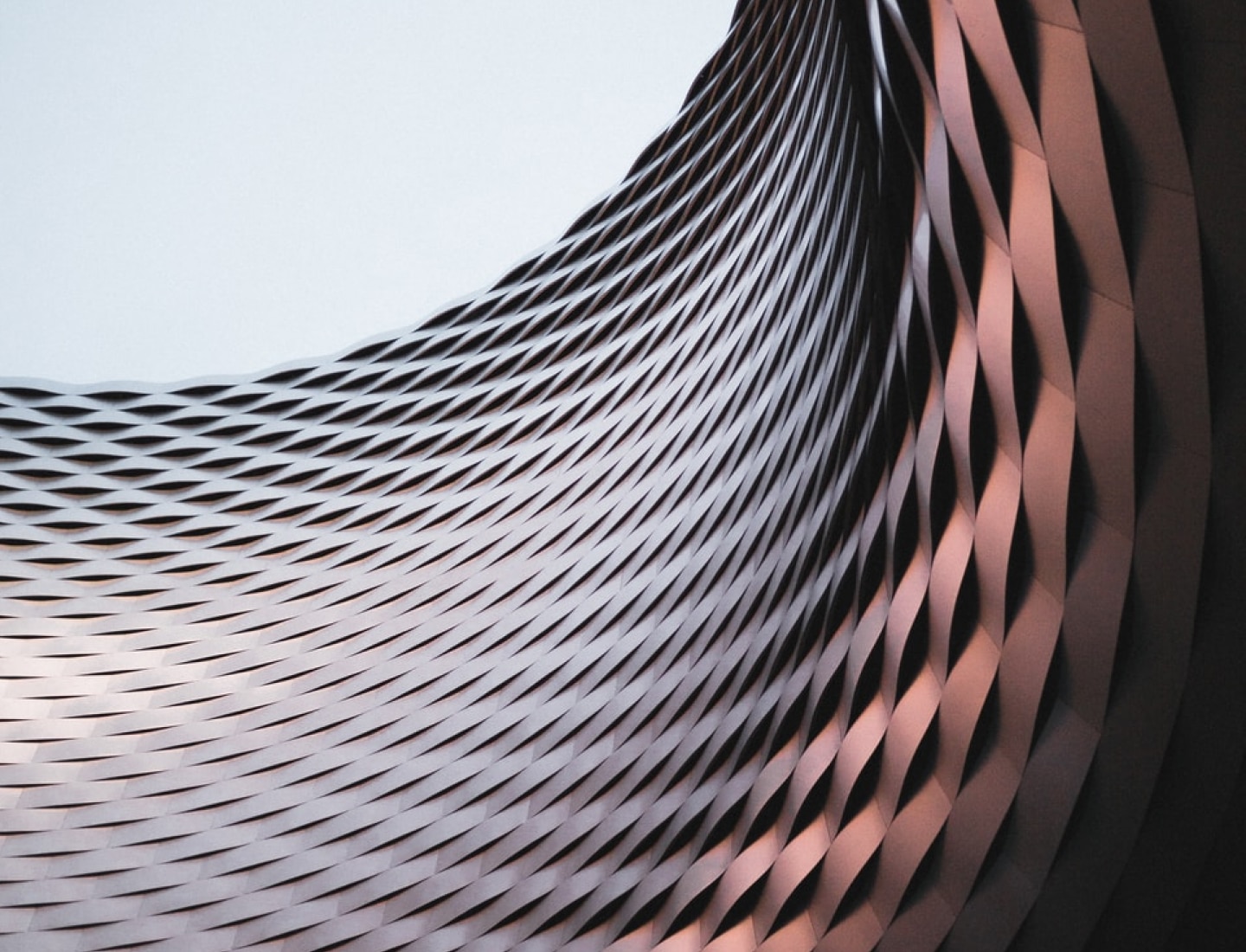 2021: It's really just 2020 in overtime.
The screen writers for the 2020 season of "The A/E industry" delivered drama galore last year. And 2021 is shaping to be more of the same. Many of the plot lines from 2020's annus horribilis will continue to play out well into the new year. And there will be new developments this season to keep us all on the edge of our seats. Let's take a quick preview.
Last year was a record profit year for many A/E and environmental firms. We benefitted from being an essential industry with robust demand in most markets. Even firms that underperformed operationally in 2020 (and most of them were perennial underperformers) caught the wave and had banner years due to reduced expenses and forgiven PPP loans. A question that leadership teams need to ask themselves is "Were we successful in spite of or because of the pandemic?" By and large the tailwinds from 2020 are carrying many firms into the new year.
Industry backlogs are close to all-time highs. This is a similar situation to where the industry was immediately pre-pandemic. This dynamic is still a head-scratcher for many CEOs who kept expecting their backlogs to dwindle in the second half of last year. But thankfully for most firms, they didn't. CEOs are in general feeling cautiously optimistic about the year ahead – much like they were last January!
Stress and burnout continue to take a toll. Industry professional and technical staff – whether working from home or in the field – have been living through what has seemed like a never-ending disaster movie since March. They're working longer hours, managing more projects, and are burned out. Those with kids at home, with elderly or immune-compromised family members, or those whose families have been directly impacted by the virus have endured incredible stress. The pandemic has taken a toll on morale and commitment. Impact varies regionally. For example, many designers in the Northeast and California haven't seen the inside of an office or met in person with a colleague or client in over ten months, while in Texas and Southern states offices are close to full. However, you can see it and feel it everywhere – employees are becoming less connected with their firms. It's particularly noticeable in older employees and managers who feel like they have aged ten years since the last Superbowl.
The cavalry is not coming to save us. A constant refrain from clients is, "We cannot find good people to hire." Everyone from Tuscaloosa, Alabama to Trenton, New Jersey is looking for the same unicorns – talent with three to ten years' experience and great interpersonal skills. They're hard to find, hard to recruit out of their current gig, and quick to move on to some new life adventure once you get them on board. The ACE Mentor Program and others have done stellar work in addressing the shortage of talent in our industry – but the pandemic has exacerbated the crisis.
Everyone is trying to figure out their digital strategy. Recognizing that technology will continue to replace pesky employees and believing that this same technology will liberate them from the death spiral of commoditization – "industry leaders" are searching high and low for the Holy Grail of digitization. The largest firms will figure it out first – a handful already have. These firms will continue to direct their growth and M&A investments away from traditional design services and into technologies. Most firms however will be disappointed to learn that they lack the capital, culture, and requisite business savvy to deploy tech successfully. In the big picture, the arc of the A/E and environmental industries bends toward digital. We are on our way to becoming an IT/digital industry run by designers.
Small firm owners have had enough. If you thought it's been a tough year for managers and employees in their 50s, try spending some time with firm majority owners in the same age bracket. For many, the pandemic has exposed their complete lack of an internal leadership transition option. They see no way out (not to be confused with the AWESOME Kevin Costner movie of the same name) internally. At the same time, the pandemic has accelerated their exit plans. They're burned out and stressed out after a year like no other. With robust backlogs and strong trailing 12 months of profit, many are seeing this as the perfect time to sell (top of the market?). And they are flooding the market – potentially driving down firm pricing. They know that any acquirer for their firm will want them to stick around for about three years after the deal is done. They are already imagining a sweet retirement in 36 months free of all of the stress of ownership. And who can blame them?
The speed at which Private Equity (PE) continues to remake the industry is astonishing. Consider this. PE accounted for 27% of the 302 A/E deals done in the U.S last year, 32% of the deals in the second half of the year, and a jaw-dropping 38% of Q4 deals. In our first weekly M&A Update of 2021, a full 42% of the deals involve PE. We are watching the industry transform rapidly from an employee-owned model to an investor-owned one.
Infrastructure Bill on the horizon. With a Democratic administration in the White House and Democrats controlling both houses, the chances are higher that the industry will benefit from meaningful targeted infrastructure investment in the next two years. Beyond the obvious funding of water and transportation projects, there will likely be emphasis on clean energy and coastal resiliency investments.
2021: The Year of the Vaccine. Light at the end of the tunnel. The two-dose vaccines are here. The single dose versions will hit the street this quarter. The vaccine heralds a "return to normalcy". But we all know that there is no going back to the way business was pre-pandemic. A/E leadership teams are updating their strategic business plans accordingly. They are making decisions about how to take advantage of the opportunities in play in 2021/2022 to capitalize on the flux that will be play as the vaccines are deployed. And they are now able to put some pretty good timing about when the "post pandemic" world will be the New Reality and plan for it.
Everything is in place for 2021 to be better than 2020 for the country and the industry. But we should heed the words of the great philosopher Yogi Berra: "The future ain't what it used to be."
If you have questions about this week's "Word on the Street," or need help planning for or navigating the New Reality, call Mick Morrissey @ 508.380.1868 or email him at [email protected].
Four Factors to Watch
1. Economic Performance
Given additional fiscal stimulus via the Democratic control of both Congress and the White House, GDP is expected to grow approximately 5% this year, meaning that the economy will surpass its pre-pandemic level sometime in the middle of 2021. And despite the spike in COVID cases, fourth quarter growth is expected to be about 4%.
Consumer savings levels dropped to 12.9% in November but are still well above the norm of 7.5%. Savings levels for the year are at 16.7%— meaning there could be a spending surge in harder-hit sectors like travel and dining once the pandemic has receded.

2. COVID-19 Case Numbers
For context, on July 17, the one-day COVID cases tally in the US totaled nearly 76,000 new cases. That was the peak for the summer spike. On Friday, over 300,500 new cases were reported. Unfortunately, fatalities have also been on the rise with more than 4,000 deaths reported on January 7. Arizona, California, and Rhode Island are among the hardest-hit places in the world at this stage of the pandemic, with the highest rates of COVID infections per capita, according to data analyzed by NBC News.

3. Jobless Claims
According to the Labor Department and CNBC, nonfarm payrolls fell by 140,000 in December against the consensus estimate for a 50,000 gain. Hospitality accounted for most of the job losses, as bars and restaurants took a particularly hard hit. Nevertheless, the level of permanent job losses actually fell for the month.
First-time filings for unemployment insurance dropped slightly over the past week despite the indicators that the labor market weakened at the end of the 2020. Weekly claims totaled 787,000 for the week ended Jan. 2 according to the Labor Department, beating Dow Jones projection of 815,000 and the previous week's total of 790,000.
Continuing claims dropped 126,000 to a total of 5.07 million. Recipients from all programs declined by 420,000 to 19.2 million.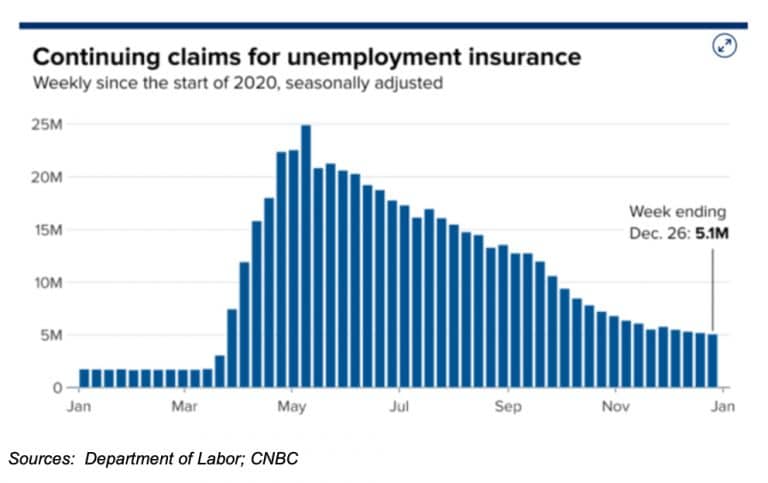 4. COVID Vaccine Distribution
President-elect Joe Biden is planning to increase the amount of vaccine available to states by changing a Trump administration policy that reserved millions of doses that would be shipped when second doses were to be administered. The Biden administration plans to send most of the currently reserved doses out right away, meaning more people will more quickly get first doses. The Biden team is wagering that new doses will be manufactured in time to deliver booster shots within three to four weeks.
But beyond supply, disorganization and hesitancy to taking the vaccines have shown to be problematic in many places. According to the CDC, 22 million doses have been distributed, but only 6.7 million have been administered.
There is also a concern that if problems occur in manufacturing, booster shots will get delayed. Some worry that a weak immune response to the virus could actually pave the way for new virus mutations.
Whether manufacturing and distribution would be able to keep the two-shot regimen on schedule remains to be seen.
Subscribe to our Newsletters
Stay up-to-date in real-time.