Word on the street > AE Industry Intelligence: Issue 28
AE Industry Intelligence: Issue 28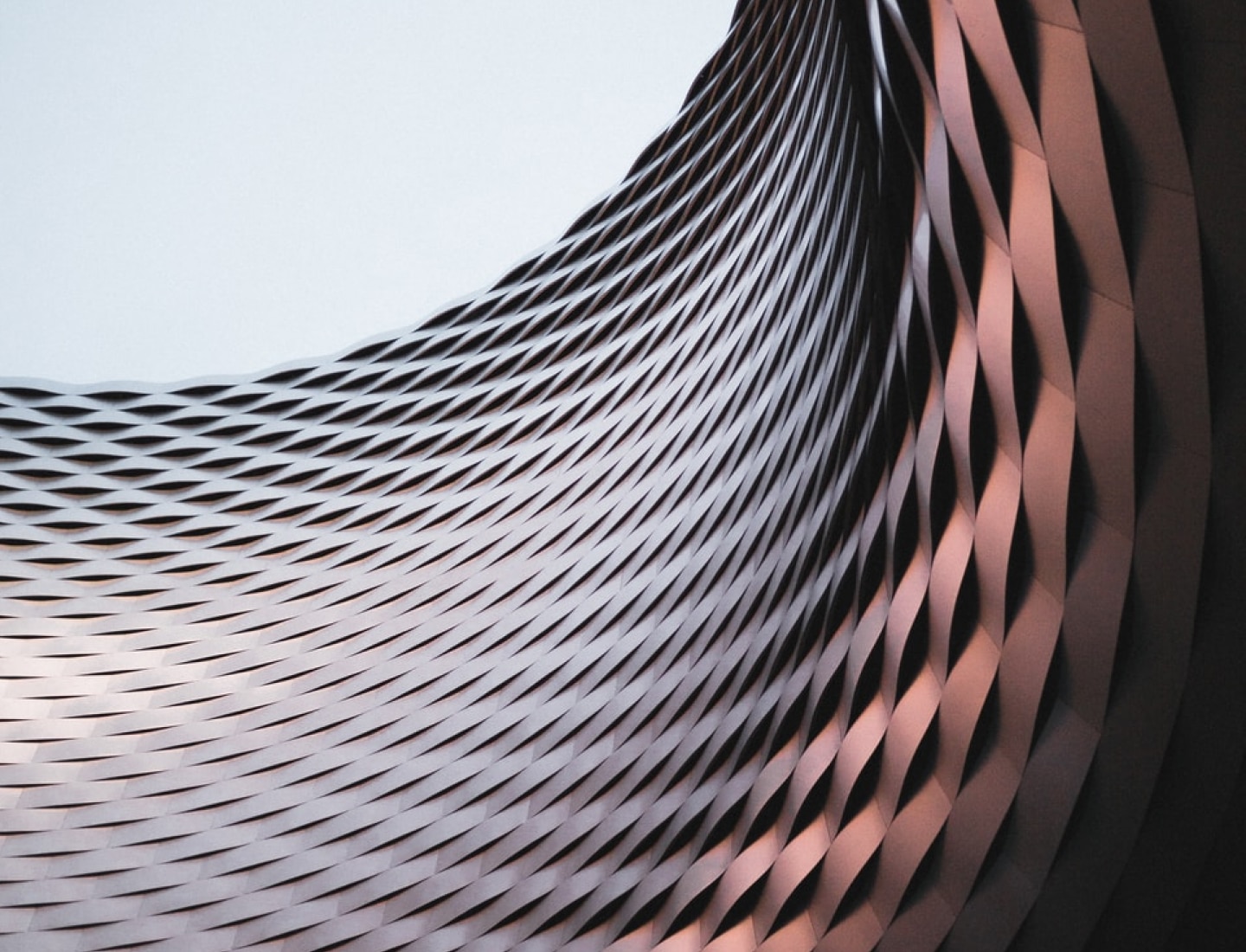 5 THINGS TO WATCH (OR AVERT YOUR GAZE FROM) IN Q4
2020 has been likened to living through the plot of a completely implausible and exhausting disaster movie. The bad news is there is still a quarter of the movie to go and it's got some major twists and turns left that will tee up the sequel to be released in 2021. (Hopefully, it's not part of a trilogy.) So, grab your gluten-free popcorn, here are five things to watch out for as we hurtle toward the end of 2020.
PPP loans forgiveness. It's expected that the SBA will begin the forgiveness process this month. The AEC industry was one of the biggest beneficiaries of this CARES Act initiative. Many firms will likely have more cash on their balance sheets than ever before because of their PPP loan and dramatically reduced monthly expenses. The big question facing CEOs will be how to balance (well-deserved) bonus payouts for a (likely) record 2020 performance. Figuring out how much to invest in people, systems, and branding and how much cash to stash before the end of the year to help weather a 2021— which is looking increasingly dodgy for certain sectors and regional economies— will put leadership skills to the test.
Tax-driven M&A surge. Sellers will have to make a 'game-time decision" on election night as to the timing of their deal closings. If there is a new administration in town and if the Senate flips, there is a very good chance that tax rates will increase next year. If that's the case, sellers will have a huge, but unquantifiable, incentive to get their deals closed by 11:59 PM on December 31 to lock in this year's lower tax rates. The industry consolidated at a record pace in August and September. Deals in each month were double what they were in 2019. With this additional incentive, we are expecting to see a blowout quarter for M&A with many brand name firms changing hands.
Even more volatility. In this craziest of years, it would be no surprise, and really par for the course, if we see the results of the presidential election contested in a way that makes 2000 look like a walk in the park. Any ensuing political and economic uncertainty and potential social unrest between election night and inauguration day will be bad. Once again, CEOs will have to dig deep to determine if and how to communicate with their employees about yet another set of unknowns. How this will impact the scale and timing of any Federal infrastructure stimulus plan in 2021 is hard to predict. In a perfect world, it could be a political win-win for both parties to pass a bill that has been badly needed for over 20 years. Or the political environment post-election could be so toxic, it gets delayed again – to the detriment of the economy and the A/E industry.
2021 reality sets in. 2020 has been a mind-blowing ride and by and large a record year financially for the industry. But as flagged in the latest survey by the ACEC Research Institute, CEOs are getting worried about the outlook for 2021 and are anticipating declines across a broad swath of end markets. Nobody wants to talk about layoffs or staff cuts— especially after everything that their workforce has been through in 2020— but the writing is on the wall and the whispers are starting in Boardrooms. (See Point #2 above for the decisions that CEOs are having to make in Q4.)
Emergence of the next industry-disrupting players. While many leadership teams are worrying about 2021, there are at least two sets of firms leaning into the opportunities that will be presented in next year's challenging market. The first are those firms backed by either private equity or family offices. They are deploying their capital to acquire quality firms to navigate 2021 and emerge as industry leaders on the other side. Heading into the pandemic, these firms accounted for one in five industry deals. Now account for one-in-four. Watch for multiple acquisition announcements from them in the remaining three months of the year. The second set is those firms that are seamlessly blending technology, software, consulting, and design. While big names like Palantir get the headlines, the major action in our industry is in and around the ENR Top 500 where leadership teams have been investing in technology and software initiatives prior to, and during, the pandemic to both meet and anticipate the needs of project owners. The result is the rise of a cohort of tech/design and tech/consulting engineering firms that are growing rapidly and moving way beyond the continually commoditizing world of traditional A/E services firms.
CEO Virtual Reality (VR) Community News and Updates. The dates for our next VR CEO Week have been finalized for January 25 through 29. Click here to be placed on the wait list for the event. Registration will go live soon, and we expect that this event will also sell out early. For updates on our CEO VR Community, click here. The Morrissey Goodale VRCampus— our customized VR meeting and exploration space for CEOs— is available 24/7 for CEOs to hone their VR skills, collaborate with their teams, experiment with VR applications for their firms, and meet with peers, clients, vendors, and potential hires.
Industry M&A continues its wild ride. Having been down close to 20% earlier in the year, frenetic deal-making in August and September means that the 12-month pace of consolidation is now down just 4%. Everything we are seeing now points to another blowout year for industry transactions. Find out what's behind the remarkable resurgence in M&A, hear from the firms that are making it happen, and connect with buyers, sellers, and investors at our 4th Quarter Livestream U.S. M&A Symposium on October 22 and 23.
If you have questions about this week's "Word on the Street," or need help planning for or navigating the New Reality, call Mick Morrissey @ 508.380.1868 or email him at mmorrissey@morrisseygoodale.com.
Four Factors to Watch
1. FAST Act Extension
With the clock winding down on the FAST Act and no multi-year program to replace it anywhere in sight, the White House signed a continuing resolution in early Thursday morning that will run through September 30, 2021. A new, long-term authorization would be a boon to many firms in the A/E and environmental industry, but that won't happen until the House and Senate close the gulf that remains between them.
In the meantime, the extension of the FAST Act includes $13.6 billion to maintain the Highway Trust Fund's solvency at current funding levels ($47.1 billion for highway programs and $12.3 billion for transit programs) through fiscal year 2021.
Given the monumental changes brought on by the pandemic, non-traditional thinking will be required to envision what transportation will look like in a post-COVID environment and how to fund a program that would support it— but expect that thinking to come well after the November elections.
2. COVID-19
The President of the United States is now among the tens of millions who have contracted COVID-19, and daily cases in the U.S. have been steadily rising in the last week from 34,000 to 48,000. With the return to school and resumption of youth sports activities, children and teens now make up 10% of all US cases, up from 2% in April. According to a CDC report last week, about two times more teens were infected than younger children, with most infected children having mild cases. Hospitalizations and death rates remain much lower than those of adults.
Daily totals now average below 1,000 a day, dipping as low as 81 less than a week ago. However, as children return to school with full-time and part-time schedules, another spike in cases could be on its way.
3. Jobless Claims
Last week, first-time jobless claims totaled 837,000, representing a decrease of 36,000 from the week before. It was the fifth consecutive week first-time claims have come in under 1 million, which had been the floor for the five previous months. This compares to about 200,000 claims per week prior to the pandemic. More than two-thirds of states reported declines in claims last week, with the biggest drops reported by Florida and Texas. Continuing claims from those collecting benefits for at least two weeks fell by 980,000 to 11.77 million.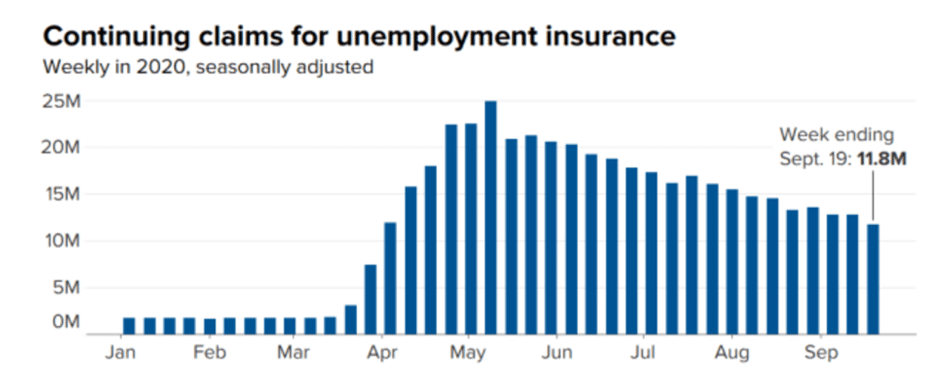 4. Vaccine Watch
According to Moderna CEO Stéphane Bancel, if his company's coronavirus vaccine is proven safe and effective, it could be available to the masses by late Q1 or early Q2 next year. If the vaccine passes safety and efficacy hurdles, Moderna will be able to file a Biologics License Application (BLA) with the FDA by early February. A BLA triggers the FDA to consider fully licensing a drug while an emergency use authorization (EUA) is essentially a fast-track for select use. Bancel expects the earliest Moderna could file for an EUA would be late November. If approved for emergency use, highest-risk individuals would be the first in line for the vaccine.
National Institute of Allergy and Infectious Diseases director, Dr. Anthony Fauci, says Covid-19 vaccinations could start as early as November or December but says it may be late 2021 before things are back to "normal."
Subscribe to our Newsletters
Stay up-to-date in real-time.