Morrissey Goodale can be your secret weapon in the A/E industry's talent war by recruiting highly qualified candidates for hard-to-fill positions and helping you retain top staff.
An architecture, engineering, or environmental consulting firm's greatest asset is its people. Morrissey Goodale's executive search consultants have assisted hundreds of firms with making successful strategic hires. And as the competition for talent grows ever fiercer, our expert consultants use their A/E industry specialization to pinpoint top candidates for your open positions and improve staff retention through employee engagement surveys.
Our executive search and human resources services include:
Morrissey Goodale's extensive industry contacts and personal attention allow us to identify the most talented candidates for your open positions—from the C-suite to junior-level professionals—and guide you through the successful interviewing and hiring process. We meticulously screen all candidates, and our proven methodology and knowledge of our clients' specific needs allow us to consistently provide superior results.
We can take your firm's pulse by providing a safe environment for your managers and staff to give their honest and forthright feedback—all in the spirit of improving employee satisfaction and morale. And since we have talked with literally thousands of architecture, engineering, and environmental consulting professionals, we know how to put issues in their proper context to help you handle them in a healthy and productive manner.
Current executive search positions include:
President / CEO
FORT WORTH, TX: This opportunity is within a regional water-focused engineering consulting firm with over 100 employees across six offices…
More >
Principal Mechanical Engineer
BOSTON, MA: An opportunity within a well-established ENR Top 200 firm with over 500 professionals across…
More >
Latest Thinking on the AEC Industry
A/E Recruiting Flash
Sign up today for Morrissey Goodale's free A/E Recruiting Flash e-newsletter and get the latest thinking on hiring and retention delivered to your inbox.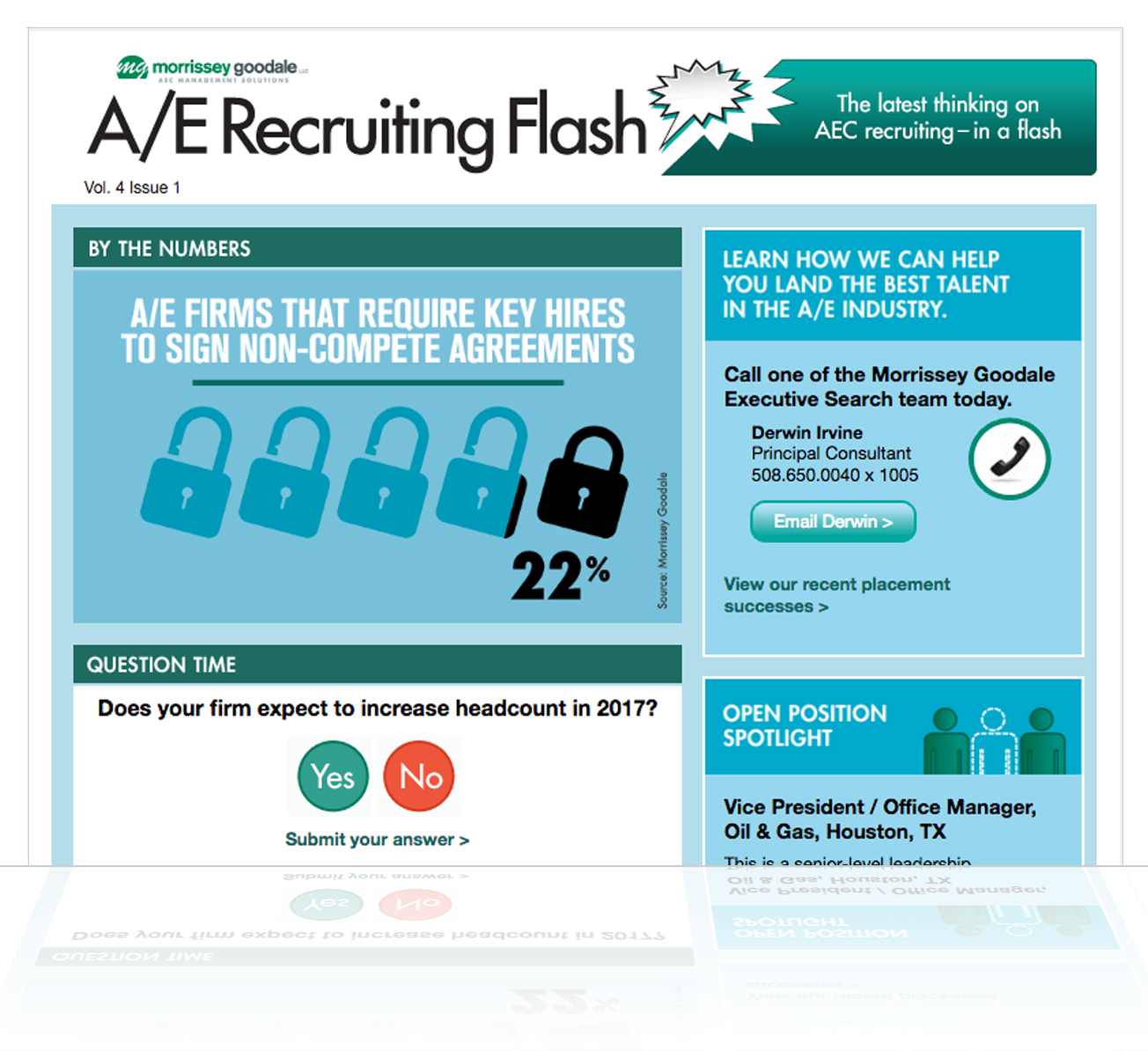 Meet Our Executive Search Team
Due to our A/E industry focus, personalized service, and attention to detail, Morrissey Goodale's executive search team has identified and recruited highly qualified professionals for hundreds of architecture and engineering firms.
Call 508.650.0040 to discuss how Morrissey Goodale Recruiting can help your firm.