Stay informed about the latest AE industry news, trends, and ideas with Morrissey Goodale's free e-Newsletters and videos.
Materials in our AE educational library are written specifically for architecture, engineering, and environmental consulting firm leaders. e‑Newsletters offer brief digests on business management, leadership, recruitment and retention, valuation and ownership transition. Quick-hitting videos feature expert advice and management tips from our veteran consultants.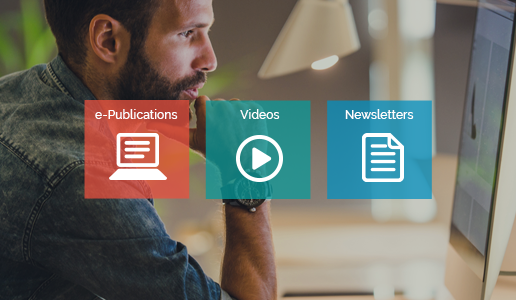 Real-time market and industry intelligence
Weekly AE Industry Intelligence: For the duration of the Coronavirus pandemic, Morrissey Goodale will provide AE leaders with this free weekly bulletin to share real-time market and industry intelligence.

The go-to source for AE industry M&A activity
Stay current on mergers and acquisitions involving architecture, engineering, and environmental consulting firms with Morrissey Goodale's M&A Update. Each weekly issue will provide you with the latest information on deals in both the United States and abroad.

Timely trusted insight and expert advice for AE firm leaders
Stay on top of the latest news in the AE industry with Morrissey Goodale's AE Industry Dashboard. Each issue brings you snapshots of key market sectors, business management ideas, must-know information technology developments, and the latest on staffing, managing, and leading your firm.

What AE firm leaders should know
Read Morrissey Goodale's AE Leadership Letter and learn new ways to get the most out of yourself and your people. Get the latest information on company culture, work-life balance, time management, developing next-generation leaders, travel tips for road warriors, and new management ideas being implemented in other industries.

The latest thinking on AE recruiting—in a flash
Demand for talented, engaged professionals in architecture and engineering firms is at the boiling point—and competition to onboard choice candidates is fierce. For an insider's look at how to beat your competitors to the punch, check out Morrissey Goodale's AE Recruiting Flash.

Expert insight on AE firm valuations and business successions
Whether sold internally to other owners or externally in an M&A transaction, stockholder shares are difficult to value. Morrissey Goodale's AE Valuation & Ownership Transition Advisor is here to help you better understand how AE firms are valued and—perhaps more importantly—what you can do to build value now.
BUSINESS MANAGEMENT IDEAS FOR DECISION-MAKERS
AEC Strategy Briefings
Morrissey Goodale experts address timely topics in these informative videos. Browse our library, and subscribe to the AE Industry Dashboard to receive regular installments.
INSIGHT & PERSPECTIVE ON A/E INDUSTRY M&A ACTIVITY
M&A Takeaways
Produced in partnership with ACEC, M&A Takeaways provide an overview of recent AEC mergers and acquisition activity from Managing Partner Mick Morrissey and Partner Mark Goodale.